By Maxwell Kates 
The calendar does not lie. Looking back at the Milwaukee convention held in 2001, the 31st in SABR's history and the first I attended, it may appear difficult to believe that ten years have passed. I was a new SABR member, having received a one-year subscription and a plane ticket to Milwaukee as a commencement gift, having graduated from the University of Toronto earlier that year.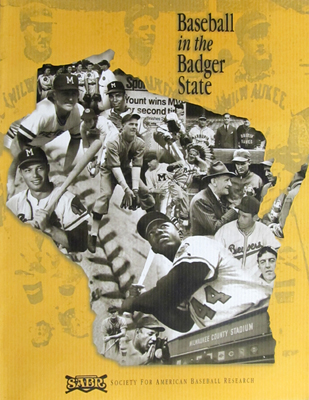 Depending on your perspective, one may credit or blame David McDonald for my membership in SABR. The Ottawa freelance sportswriter attended the SABR convention one year earlier in West Palm Beach, Florida. In an article published in the Ottawa Citizen, McDonald chronicled the keynote address by Elden Auker, special appearances by Hall of Famers Monte Irvin and Tony Perez, and a bus trip to Miami to watch the major league debut of 37-year-old pitcher Joe Strong. When my father read the article, he quickly turned to my mother and said, "Max should join this." On the morning of July 12, 2001, I flew westward on an Air Canada propeller plane from Toronto to Milwaukee. An employment opportunity to sell membership subscriptions for an unpopular Ontario politician, followed by an extended stay at the "Best Little Warehouse in Toronto" would soon follow graduation but, for now, it was SABR convention time.
While airborne, I noticed two men seated towards the front of the plane reading the most recent issue of USA Today Baseball Weekly. I correctly assumed that our destinations were common. The two men were from Halifax, a father and son named John and Robert Carter. Before landing, I learned that John was a partner of a multinational accounting firm while Bob was a lawyer whose colleagues included a former next-door neighbour of mine from Ottawa. After landing in Milwaukee, John, Bob, and I took the shuttle to the Four Points Sheraton, the convention's host hotel. As I was about to check into my room, another delegate warned me that he had switched out of "the stink room" and that the hotel was billed to capacity. I opened the door to my room, only to realize that I had won the jackpot. The scent of stale cigars and a potpourri of unpleasant odours left me searching for a gas mask. To paraphrase Elton John, was this SABR's version of "hazing the new guy"? Eventually, a chambermaid arrived with a can of industrial strength air freshener which she advised me to keep for the balance of my stay at the Four Points.
The 'stink room' incident aside, I decided to visit the vendors' room. The ambiance felt like a miniature card show, with Bob Koehler selling yearbooks, Dick Miller offering second-hand books, and any number of publishers offering an array of their recent baseball books. Bob was a legendary presence in vending rooms past; after purchasing a 1967 Boston Red Sox yearbook and other items from Bob, he advised me with his trademark expression to "give 'em a good home." An army of men clad in yellow t-shirts bearing the likenesses of Joss, Grimes, Mathews, Aaron and Yount patrolled the halls of the convention. These were the members of the local convention committee and included Bob Buege, Dennis Degenhardt and Rick Schabowski, paying homage to "Baseball in the Badger State."
Prior to attending a series of research presentations, I decided to meet some of the other delegates in the lobby, including Paul Gustafson, a Mariners' season-ticket holder from the beginning. One of them I recognized from the back cover of his trivia book, "Curveballs and Screwballs." His name was Doug Lyons and he was wearing a suit jacket to match a shirt and tie along with a pair of New York Yankees shorts. Later on, I joined a gathering around a strange little bespectacled man whose prime objective in baseball research appeared to be uncovering which baseball players were homosexuals (most of his stories were apocryphal).
Off in the distance, two older men who spoke Spanish were discussing the multitude of Latino stars who had emerged from the Texas Rangers' organization. I was beginning to wonder if there were any limitations to "baseball research."
The first research presentation I attended was Ted Hathaway's "Cobb as a Role Model," followed by Jim Vail's "The 60% Non-Solution or Charlie's Last Hustle" and Steven Riss' "From Pike to Green: The Role of Jewish Players in the History of the Game," followed by a panel featuring members of the All-American Girls' Professional Ball League.
The haberdashery at the convention had me wondering if this was a baseball costume party or perhaps the waiting room for a junket to Honolulu. Some of the highlights included a vintage Philadelphia Athletics jersey worn by Steve Krevisky, a vintage 1970s red pinstriped Chicago White Sox jersey that was once worn by slugging infielder Bill Melton, along with countless Hawaiian shirts. And then there were several women dressed as the All-American Girls' Professional Ball League. Small wonder – they were all members of the league back in the 1940s.
Many prior SABR conventions were awarded to commemorate historical events and Milwaukee was no exception. The 2001 season marked the centennial of the American League, a circuit founded in Milwaukee by local attorney Henry Killilea on March 5, 1900, at a hotel called the Republican House. To celebrate the anniversary, SABR organized a party in which delegates from the convention were bussed to Marquette Park. Across the street, Chuck Comiskey was invited to unveil the commemorative plaque on the site of the Republican House in honour of his grandfather's role in founding the American League. I was possibly the only one who did not attend the ceremony, choosing instead to talk baseball in the park with Brewers legend Gorman Thomas and sportswriter Gregg Hoffmann.
After riding the bus back with Steve Steinberg and his son, Matt, along with Greg Funk and his son, Kenny, I entered the individuals' trivia contest along with Leonard Olbinsky from Chicago. There were 50 questions that looked like nothing I had seen before. Who led the Washington Senators in aggregate home runs from 1901 to 1919? You must be joking! I never saw Leonard after the trivia contest, although both of us were astonished to have answered the Senators' question correctly with Walter Johnson.
There were nine spaces open for the semifinals and my 20 correct questions created a three-way tie for eighth place, forcing a playoff with Jim Stringfellow and R. J. Lesch. Since Jim never showed up, R. J. and I were automatically awarded the eighth and ninth seeds in the semifinals.
"What? They put me up against Bill James?"
I can remember exactly where I was sitting in the breakfast room on Friday morning when Doug Lyons learned whose research presentation was scheduled opposite his "Married at Home Plate." For many years after, Doug would often conclude his letters with 'Bill James has his research and I have mine.' Those who attended Bill James' presentation would have learned about his new method of assigning credit for team wins to individual players. His concept of "win shares" transformed the concept of runs created from runs to wins. In his presentation, Bill defined the popup to the catcher as one of the rarest plays in baseball, offering to predict that we would not see one in our game that afternoon at Wrigley Field.
Prior to boarding our bus for Chicago, I purchased a copy of "Baseball's Back in Town," which chronicled the history of baseball in Toronto from the 19th century to 1977, from Dick Miller. An ordained Presbyterian minister, Dick surprised me when he quoted the price of the book in Hebrew. Turns out, he was a Hebrew teacher when he worked as a naval chaplain. Later on, we listened to Norm Richards offer a scouting report on the White Sox starting pitcher. Norm had seen young Mark Buehrle pitch as a high school student in the St. Louis area.
Now, I know what you're thinking. If we were going to watch a game at Wrigley Field, why were we listening to a scouting report about a White Sox pitcher? Simply put, the Sox were visiting the Cubs in an interleague match – on Friday the 13th, no less. Riding the bus along Interstate 94 to Chicago during the height of the construction season, a one-hour bus ride became a three-hour journey, but with dozens of baseball fans who had trivia to ask and stories to tell, who noticed? Initially, I was sitting with Sean Feiler and Bob Kapla from Green Bay, who were quick to point out that both Willie Davis the baseball player and Willie Davis the football player graced the haberdashery of their fair city. Passing through Racine and Kenosha before crossing the state line into Illinois, Jimmy Lindberg, David Block, and Harry Lee, among others, joined in the conversation. Harry had a great trivia question, asking which player had the most lifetime plate appearances against Nolan Ryan without ever striking out. The answer, of course, was Fernando Valenzuela!
This Friday the 13th was anything but unlucky for this SABR member; with my $18 investment in real estate at Wrigley Field, I somehow ended up with a seat behind the plate for one of the hottest tickets in the Chicago sports calendar. A sixth-inning home run by Sammy Sosa, his 30th of the season, was not enough to deliver the win for the Northsiders as the White Sox triumphed, 7-2. The oracle of Bill James was not entirely inaccurate – there was not one popup to the catcher but two, as both Paul Konerko and Jeff Liefer popped up to Robert Machado during the game. The bus ride home was another story; according to SABR legend, one delegate could not find the buses after the game and missed the ride home. Unlike the fictitious Charlie, whose fate on the MTA in Boston was celebrated in song by the Kingston Trio, this man did return, arriving in Milwaukee by Amtrak later that evening.
Saturday morning was time for the trivia semifinals and I was both surprised and humbled to have earned a spot on the roster. There were three men to a match competing for three spots in the finals. Each semifinal had at least one heavy hitter, whether it was Dave Zeman, who wrote an encyclopedia; Bill James, who wrote many encyclopedias; or Scott Flatow, who did not have to write because he is an encyclopedia.
The six challengers knew we had our work cut out for us. Scott mowed down the opposition in his round while Bill won by a decisive margin. Then it was time for Dave Zeman to be challenged by a couple of guys named Joe. It occurred to me that this would be my informal introduction to a wide array of SABR members and I heard at least one reference to "Maxwell Who?" while I was on the dais. People thought that my name sounded made up or that I was a fictional character from "The Maltese Falcon." Either way, I could not figure out how some pisher from Toronto made his way to the semifinals to compete against Dave Zeman. Completely unaware of the score throughout the contest, I was astounded to learn that at the end of the day, I scored more points than Dave did. He played a great game and would return to win another championship six years later in St. Louis.
Groucho joins the immortals.
Immediately after the trivia semifinals was the SABR banquet and keynote speaker. After entering the banquet hall, an older man with glasses and a moustache who spoke with a New York accent asked if I had any place to sit. When I mentioned that I did not, he said, "You'll sit with us." That man's name was Lyle Spatz, and I never forgot his gesture of benevolence. Joining Lyle and I at the table were Joe Dittmar and Tom Howell from Pennsylvania. Also in the audience was Dr. Robert Poser, a Wisconsin physician who pitched for the Chicago White Sox in the 1930s. After lunch we watched Larry Gerlach present the first-ever Roland Hemond Award ... to Roland Hemond.
Following a debate by local high school students, we were introduced to the keynote speaker, Commissioner Allan H. "Bud" Selig. With the incumbent labour agreement set to expire in the new year, everyone in the room could not help but wonder if baseball fans were in for another summer of discontent. Somehow, with each question asked on this and any other controversial topic, Selig avoided offering a direct answer. Then from out of the west rode a man – wearing a five-gallon hat, rainbow suspenders and a gold chain, he would have appeared perfect for a western movie set in 1970s Las Vegas. Running toward the front of the stage as quickly as his legs could carry him, he burst into asking "Hey Bud, is Pete Rose gonna get in the Hall of Fame!?" That question also went unanswered.
We had another baseball game that evening but first we were treated to a Milwaukee Braves' player panel featuring Johnny Logan, Felix Mantilla, Andy Pafko and Bert Thiel. Then we boarded buses bound for Miller Park to watch the Milwaukee Brewers play host to the Minnesota Twins. Corey Koskie proved to be the hero as Minnesota took a 5-3 victory. After watching the retractable roof close to a background of classical music, we returned to our buses for the ride home. But wait a minute? An hour later, we remained in the Miller Park parking lot. Meanwhile, Kevin Saldana and I had a chance to discuss his favourite team, the Anaheim Angels, whether or not the franchise was cursed, and if the pitchman for Hoffy hot dogs in the 1979 Playoff Program was indeed Pat Boone (it was him).
Once we reached the freeway, fireworks in the distance juxtaposed against Lake Michigan. That a city with a pronounced German and Polish heritage such as Milwaukee would celebrate Bastille Day on July 14 appeared to defy logic, apart from the fact that "Milwaukeeans love a party."
Prior to the trivia finals, I realized something. I was hungry. The hotel kitchen had closed and I was left to my own devices. A Burger King across the street appeared to be my oasis until I arrived to find the doors bolted shut. It was 10:32 p.m. and Burger King closes at 10:30 p.m. Fortunately, the drive-thru was still open. Even so, I was denied service. Why? Because I did not have a car, and you needed to have a car for service. Since when do cars eat food from Burger King? No argument that I missed closing time by two minutes or that I would be paying the same money seemed to convince the clerk on the other end of the phone. He was the King and I was not. Fortunately, Dunkin Donuts was still open. The trivia finals loomed with Scott Flatow and Bill James as my opponents. I did not register one single point.
Groucho leaves the immortals.
Sunday morning, as the Vintage Base Ball Players returned from their annual exhibition, Doug Lyons conducted a trivia contest of his own. We learned which member of the Boston Red Sox was born the same day as Monica Lewinsky (Nomar Garciaparra), which three stadiums were named after baseball managers (Comiskey, Connie Mack, and Turner), who Tommy John's dentist was (Dr. Robert McGwire, father of Mark), and what other pitcher besides Tommy John lent his name to a surgical procedure (and no, it was not Lou Brissie).
Some people spent Sunday afternoon watching the Brewers, the Cubs or the Beloit Snappers, others attended Milwaukee's annual circus parade or a local baseball card show where Stan Bahnsen was signing autographs, but for John Carter, Bob Carter and I, the afternoon was spent in a propeller plane flying eastbound to Toronto. The SABR convention was over for 2001, but I would be back the following year in Boston, and many times since.
It is difficult to believe that ten years have passed since the Milwaukee convention. In the program, we were all invited to return to Miller Park to watch the 2002 All-Star Game. Those who did watched a 7-7 tie halted in the 11th inning because managers Bob Brenly and Joe Torre had run out of pitchers. Labour armageddon was averted at the last minute in August. Although the move from County Stadium to Miller Park failed to translate into an immediate payoff for the Milwaukee Brewers, they reached .500 in 2005 and earned a playoff berth in 2008. The Brewers are enjoying another banner season in 2011.
Reading through the pages of the 2001 program, it is sad to see the names of delegates who have attended their final SABR convention. Those who knew men and women such as Ross Adell, Margaret Daniels, Bob Davids, Ron Gabriel, Eddie Gold, Paul Gustafson, Frederick Ivor-Campbell, Herbert Johnson, Clifford Kachline, Evelyn Kachline, Bob Koehler, Phil Nichols, Jason Nogee, Bill O'Neil, Doug Pappas, John Pardon, and Woody Wilson will no doubt remember their contributions to SABR and its annual convention.
Over the next ten years, SABR conventions would celebrate the life of Ted Williams with a panel featuring Johnny Pesky and Dom DiMaggio, watch in amazement an acrobatic catch by Jim Edmonds at the Great American Ballpark in Cincinnati, sing along with Jim Bouton about what "makes a fellow proud to be an Astro," honour Tom Glavine as the Atlanta Braves retired his number 47, and learn which player participated in three different forfeits of the 1970s through the research of Rick Schabowski.
SABR must have been doing something right. Exactly ten years after I flew to Milwaukee for my first SABR convention, on July 12, 2011, I flew home from its most recent annual congregation in Los Angeles.
Maxwell Kates is a SABR member from Toronto, Ontario. For more SABR convention history, click here.