Join SABR by February 28 to get the Spring 2014 Baseball Research Journal
Sign up for an annual SABR membership by February 28, 2014, in order to receive the Spring 2014 edition of the Baseball Research Journal, our flagship publication.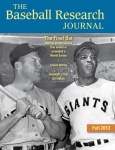 All baseball fans are eligible to join the Society for American Baseball Research. A one-year membership is $65, with discounts available for seniors and students under 30.
You can also sign up by phone at (602) 343-6450; or by mailing this downloadable PDF form and your payment to the SABR office at 4455 E. Camelback Road, Ste. D-140, Phoenix, AZ 85018. We must receive your dues by February 28 in order for you to receive the Spring 2014 Baseball Research Journal.
SABR is also offering its members the opportunity to opt out of receiving the printed version of the Spring 2014 Baseball Research Journal. We'll deliver the e-book version of the BRJ in the format of your choice (EPUB, MOBI/Kindle or PDF) straight to your inbox around Opening Day 2014. Click here to learn more about receiving the e-book edition of the BRJ.
As a SABR member, you'll get three high-quality research publications a year — two issues of the Baseball Research Journal and one The National Pastime, our convention journal — plus web access to articles from all three magazines so you can read them online any time. You also get access to great members-only research resources such as Paper of Record, which has complete online archives of The Sporting News back to 1886.
SABR members also get significant discounts on registering for our national conferences, such as the spring Analytics Conference and the summer Annual Convention. Click here for a full list of SABR member benefits.
This page was last updated February 17, 2014 at 1:53 am MST.