SABR 42: Women in Baseball Panel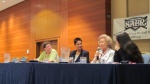 On Thursday, June 28, 2012, our Women in Baseball Panel discussed the evolution of women in baseball throughout the game's history and their future in the sport at SABR 42 in Minneapolis, Minnesota.
Speakers included: Dorothy Seymour Mills, SABR member and co-author of the groundbreaking "Baseball" series; Leslie Heaphy, Negro Leagues historian, chair of SABR Women in Baseball Research Committee, and SABR director; Cecilia Tan, SABR Publications Editor, co-editor of Baseball Prospectus Annual, founder of Circlet Press; Laura Day, Executive Vice President, Business Development, Minnesota Twins. It was moderated by Ann Carroll, reporter/host for Fox Sports North.
Here are some highlights:
On women being denied a chance to play professional baseball

Mills: "When thinking about and researching women's baseball history, I (learned) there were at least three women who were actually signed to minor league contracts. But they never got a chance to play minor league baseball. How did that happen? Well, the same thing happened in other aspects of women's lives. Their contracts were canceled before they were given a chance to show what they could do. The same thing happened twice in 1931 only because she was a woman. … In 1952, a woman was signed but when her team went off to play in another city, she wasn't with them. And this time, there was not only a letter from the Commissioner. There was a threat. If anyone else signed a woman, there would be consequences, there would be fines. Why didn't those women do something about it? Because it was a different era. These women were doing what they were taught to do. They were taught to comply, to go home, politely, and be quiet and do something else. I know, I was born in 1928. We were taught not to object."
On women playing in the Negro Leagues

Heaphy: "Growing up … I was fascinated with the game since I was a little kid. And I never really thought about the idea that women couldn't play baseball. It never occurred to me that it was something women weren't expected to do, that you're supposed to play softball. But reading about it, I began to realize, 'Wow, there's a story missing here.' And my interests developed between a combination of women's baseball and the Negro Leagues because I discovered in my research that there were more women who played at that level (in the Negro Leagues) than there has been at any other higher level of baseball. … Women like Toni Stone. It's a fascinating connection."

On more women being involved in baseball media today

Tan: "Over the last 10 years, I've seen more and more women in the clubhouse, more women in the press box, more women here (at the SABR convention) than there were then. It just continues to grow. The more acceptance of women we have in all aspects of the sport … that's a trend that's not going to stop."



Listen to the audio of the SABR 42 Women in Baseball Panel below:
To download the MP3 file, click here (appx. 1 hour, 33 minutes; 43 MB)
Related link:
---
For more coverage of SABR 42, visit SABR.org/convention.
---
Originally published: July 11, 2012. Last Updated: July 27, 2020.
https://sabr.org/wp-content/uploads/2020/03/research-collection4_350x300.jpg
300
350
jpomrenke
/wp-content/uploads/2020/02/sabr_logo.png
jpomrenke
2012-07-11 16:06:55
2020-07-27 16:53:06
SABR 42: Women in Baseball Panel