"Base Ball in Mark Twain's Time": September 17, 2014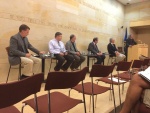 The Connecticut Smoky Joe Wood SABR Chapter presented a panel discussion about Base Ball in Mark Twain's Time on Wednesday, September 17, 2014, at the Mark Twain House in Hartford, Connecticut.
Our panel included SABR members:
David Arcidiacono, author of Major League Baseball in Gilded Age Connecticut
Gary O'Maxfield, commissioner of The Friends of Vintage Base Ball
Bill Ryczek, author of Blackguards and Red Stockings: A History of Baseball's National Association, 1871 to 1875
John Thorn, Official Historian, Major League Baseball
Joe Williams, contributing researcher for SABR's Nineteenth Century Committee
For more information on the Mark Twain House, visit www.marktwainhouse.org.
Click here to view more photos from the Smoky Joe Wood Chapter's Facebook page.
This page was last updated September 18, 2014 at 4:34 pm MST.