To renew your SABR membership for 1 or 3 years, click the link below:
To renew by mail: Print out this downloadable PDF form and mail the form and your payment to the office at SABR, Cronkite School at ASU, 555 N. Central Ave. #416, Phoenix, AZ 85004.
Renewing your SABR membership is easy. An annual SABR membership is $65 (which works out to about $5 a month), with discounts available for three-year rates and for anyone under the age of 30 or over 65. Family and gift memberships are also available.
Auto-renewal: Current SABR members also have the option of automatically renewing their membership. Just choose any of the plans that say "Auto-Renewing" from the drop-down menu to opt into the auto-renewing membership. Please note: You will be notified 30 days in advance before your dues payment is processed and then your credit card will be charged on the day your membership is scheduled to expire. 
5-year digital membership: You can also renew your SABR membership for 5 years at a special digital-only rate of $249, a discount of nearly 25% off a 1-year annual membership rate of $65. This means you are opting in to receive your two editions of the Baseball Research Journal as an e-book instead of by mail. To take advantage of this offer, select the "5 Yr DIGITAL-ONLY" membership rate from the list below.
Membership rates
| 1 Year - Standard | 1 Year - Over 65 | 1 Year - Under 30 | 3 Year - Standard | 3 Year - Over 65 |
| --- | --- | --- | --- | --- |
| $65 | $45 | $45 | $175 | $129 |
---
 (International members wishing to be mailed the two Baseball Research Journals should add $10 per year for Canada/Mexico, and $19 per year for other locations around the globe.)

Membership benefits:
SABR was formed in 1971 in Cooperstown, New York, with the mission of fostering the research and dissemination of the history and record of the game. Our members include everyone from academics to professional sportswriters to amateur historians and statisticians to students and casual fans who merely enjoy reading about baseball history and occasionally gathering with other members to talk baseball.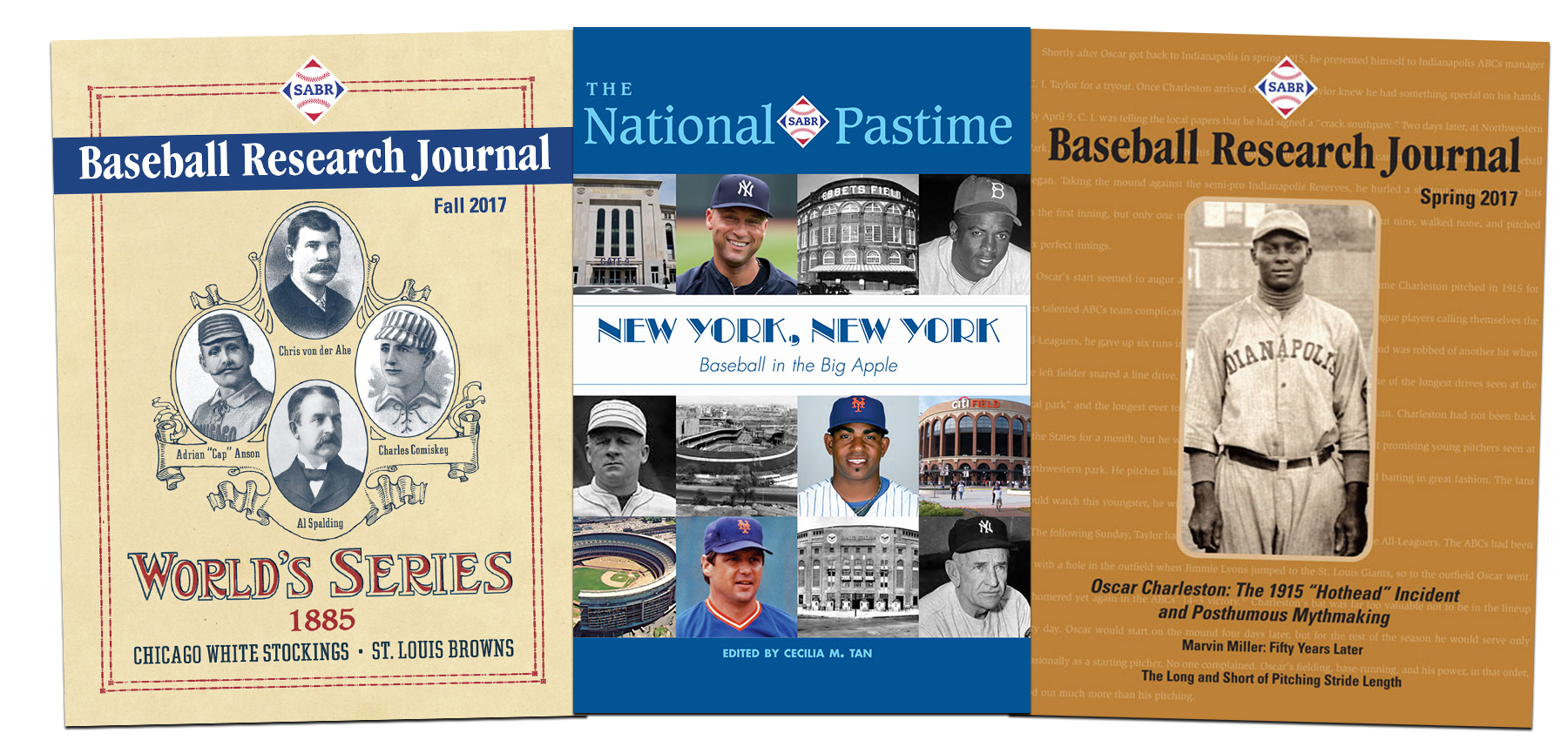 SABR members have a variety of interests, and this is reflected in the diversity of its research committees. There are more than two dozen groups devoted to the study of a specific area related to the game — from Baseball and the Arts to Statistical Analysis to the Deadball Era to Women in Baseball. In addition, many SABR members meet formally and informally in regional chapters throughout the year and hundreds come together for the annual national convention, the organization's premier event. These meetings often include panel discussions with former major league players and research presentations by members.
Most of all, SABR members love talking baseball with like-minded friends. What unites them all is an interest in the game and joy in learning more about it.
Why renew your SABR membership? Here are some benefits of membership:
Two issues of the Baseball Research Journal, which includes articles on history, biography, statistics, personalities, book reviews, and other aspects of the game.
Expanded e-book edition of The National Pastime, our convention journal which focuses on baseball in the region where that year's national convention is held
"This Week in SABR" e-newsletters every Fridays, with the latest goings-on in SABR and highlighting SABR members' research
New e-books we publish through the SABR Digital Library — free to all SABR members
Regional chapter meetings, which can include guest speakers, presentations and trips to ballgames
Online access to back issues of The Sporting News and other periodicals through Paper of Record
Access to SABR's library of research resources
Online member directory to connect you with an international network of passionate baseball experts and fans
Discount on registration to our annual conferences and National Convention
Access to SABR-L, an e-mail discussion list of baseball questions and answers that many feel is worth the cost of membership itself
The opportunity to be part of a passionate international community of baseball fans
Click here for a complete list of Member Benefits and what you receive for your annual dues.
Want more details? Click here for Frequently Asked Questions about getting the most out of your SABR membership.