Buying the White Sox: A Comic Opera Starring Bill Veeck, Hank Greenberg, and Chuck Comiskey
This article was published in the 2015 The National Pastime.
When Bill Veeck and Hank Greenberg arrived at Comiskey Park on March 11, 1959, as the new owners of the White Sox, Chuck Comiskey raced away in his Cadillac. Greenberg waved, but Comiskey did not return the gesture.1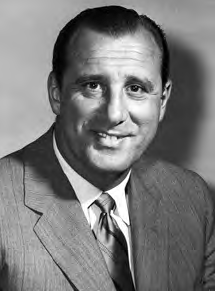 It was as if Chuck, whose grandfather Charles had brought the White Sox to town in 1900, thought he could avoid parting with the family treasure simply by avoiding the men who wanted to buy it. Thus began what the Chicago Sun-Times declared "a stirring chapter in the history of the White Sox, replete with comedy and tragedy."2
The Old Roman had left the team to his son and daughter-in-law, Grace Comiskey, who in turn left the team to their two children, Dorothy Comiskey Rigney and Chuck. Perhaps because she knew of Chuck's propensity to make a mess of things after a few drinks, Mrs. Comiskey gave Dorothy—the older, responsible sister—500 more shares than Chuck. When Dorothy wanted to sell her 54 percent stake to Veeck and Greenberg, Chuck sued to stop her. A judge ruled in Dorothy's favor; Chuck appealed. That didn't work either.3
Chuck wanted Chicago insurance salesman Charlie O. Finley to control the team. Finley, later known for his meddling with the Kansas City and Oakland A's, had seduced Chuck with the promise that he could stay with the Sox and tried to win over Dorothy with a sweeter offer.4 But Veeck and Greenberg already held the option, and in the end, the older sister sold her majority interest in the club to them for $2.5 million.5
Veeck, who had previously owned the Cleveland Indians and St. Louis Browns, and Greenberg, a Hall of Fame player who had owned and run the Indians, wanted to buy out Chuck—or at least 26 percent of the remaining team stock—in order to save $1.3 million in taxes with Veeck's clever scheme for depreciating players' salaries.6 Nuh-uh, Chuck said. He called the partners "raiders" and sued them.7
The Detroit News called the situation "baseball's strangest stalemate."8 Throughout the 1959 season, during which the "Go-Go Sox" of Luis Aparicio, Nellie Fox, and Early Wynn won the White Sox's first pennant since the 1919 Black Sox Scandal and restored the team's good name, the new owners tried to win over Chuck with no luck.
They let Chuck keep his office and raised his salary, but he still wasn't happy.9 He developed an intense enmity for Veeck, a sentiment the maverick owner reciprocated. That left Greenberg, the team vice president and treasurer, to play peacemaker between the two adversaries. That wasn't an easy role for Greenberg, since Chuck was suing him, too.10 The mess was further complicated by Chuck's alliance with his father-in-law, Frank Curran (appointed to the board by Chuck as a minority owner),11 who constantly peered over Greenberg's shoulder to check the team's books.12
Chicago's American reported the Sox' February 1960 board meeting as having "had comic opera aspects altho [sic] the participants were deadly serious about the whole thing." While the directors met, Chuck refused to join them and pouted in his office next door.13
Late in the 1960 season, Veeck began to suffer from a nasty cough and constant headache. Mayo Clinic doctors ruled out a brain tumor but decided that he had a chronic concussion and prescribed complete rest. He and Greenberg chose to sell their shares of the club to Arthur Allyn, Jr., in June 1961 for $2.5 million.14 (Allyn owned 30 percent of Artnell Corporation, which now became the majority owner of the team.) By that time, Comiskey had made himself so irrelevant that he was unaware of the sale. Greenberg agreed to stay on as general manager, but the strain of commuting from New York, where the divorcé was raising his three children, wore him out and he resigned two months later.15
Chuck also sold his shares to another group, believing he could eventually buy them back. He was wrong, and there ended the Comiskey family's hand in the Sox. When Veeck regained his health and returned with Greenberg to purchase the White Sox in 1975, they were able to run the club without any Comiskey interference.16
JOHN ROSENGREN is the award-winning author of eight books, including "Hank Greenberg: The Hero of Heroes." You can find him at www.johnrosengren.net.
1. Veeck, Bill, Veeck as in Wreck, Chicago: University of Chicago Press, 2001, 329; Detroit News, March 12, 1961.
2. Chicago Sun-Times, June 11, 1961.
3. Dickson, Paul, Bill Veeck: Baseball's Greatest Maverick, New York: Walker & Co., 2012. 228; Veeck, 323.
4. Veeck, 324.
5. Veeck, 322.
6. Veeck, 325-7.
7. Veeck, 328; Greenberg, Hank, Hank Greenberg: The Story of My Life, Chicago: Triumph, 2001.
8. Detroit News, March 12, 1961.
9. Veeck, 330.
10. Greenberg, 235.
11. Veeck, 319.
12. Greenberg, 235.
13. Chicago's American, February 19, 1960.
14. Chicago Sun-Times, June 11, 1961; Associated Press, June 10, 2011.
15. Associated Press, August 26, 1961; Rosengren, John, Hank Greenberg: The Hero of Heroes, New York: New American Library, 2013, 340.
16. Detroit News, December 20, 1975.