Lasting Impressions of Harry Caray
This article was published in the 2015 The National Pastime.
Harry Caray's lasting impression and impact on American culture transcends that of a simple baseball personality. He has become a broadcasting legend and an icon of Chicago and major league baseball.
Caray's broadcasts were loud, heartfelt, and earthy. His voice made you want to sing along. Harry was a real natural conversationalist on air. A rare guy that would talk about the game, you could listen to him on air and see the game without watching it. He painted the picture with words. You could see the ball fly across the stadium when he called the game. Harry's words "It might be; it could be; it is! A home run!" Amazing! My favorite visual of Harry was seeing him lean out into the crowd waving the microphone and singing. His style of broadcasting was my inspiration for wanting to take the stick (microphone) and be on air.1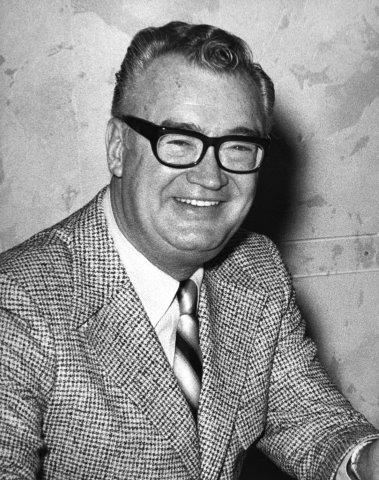 Caray's baseball broadcasting career spanned three metropolises and four major league teams.2 Starting in 1944, Caray began his major league career behind the mike with the St. Louis Cardinals and St. Louis Browns. After more than a quarter century in the Mound City, he worked a single season (1970) with the Oakland Athletics before returning to the Midwest. Caray spent the remaining years of his career and life celebrating baseball with two rivals, the Chicago White Sox (1971–1981) and the Chicago Cubs (1982–1997).
According to the National Baseball Hall of Fame's website, "In his first 41 seasons in the booth, Caray never missed a game, and the fan favorite went on to broadcast over 8,300 games in his 53-year career in the big leagues." For his amazing work as a broadcaster, he was awarded the Ford C. Frick Award by the National Baseball Hall of Fame (1989)3 and was inducted into the American Sportscasters Association Hall of Fame (1989)4 as well as the National Radio Hall of Fame (1990).5
According to Caray's friend and business associate Grant DePorter, Caray's deep love of people and baseball shone through in his untiring devotion to the fans. He was known for broadcasting from the bleachers, signing autographs, sharing a drink with fans at his restaurants, and for keeping his number listed in the telephone book so people could speak with him personally.6
Caray's broadcasts were filled with a unique mix of baseball knowledge, fan's birthdays and anniversaries, and—in later years—comedic commentary on athletes' names. When the games ran long and there was extra air time to fill, he found creative ways to entertain his audience, such as pronouncing players' names backwards or telling stories about his travels with his beloved wife, Dutchie. Often he would joke with his long-time broadcast partner Steve Stone about Stone's playing career.7
Baseball fans have been singing "Take Me Out to the Ball Game," written by Jack Norworth and Albert Von Tilzer, since 1908.8 Thanks to the iconic voice of Harry Caray, the song has transformed the wider American culture in ways that not even Busby Berkeley, Frank Sinatra, Gene Kelly, and Esther Williams were able to accomplish with the MGM musical Take Me Out to the Ball Game.9 The song was a staple in ballparks long before Caray started singing it, but once he did, the nation and, soon, the world started singing along. WGN-TV's status in the 1980s as a cable "Superstation" made it possible for Harry to become a world-renowned figure.10
Caray influenced thousands of people, including one young fan, Matt Wagner, who started doing impressions of Harry in the early 1980s. Growing up in Iowa, Wagner was influenced by Caray's charisma and often imitated his calls at parties. In college, Wagner started a broadcast career modeled in part by Caray's earthy, personable delivery. He even created an on-air personality, inspired by Harry, called Homer. As a teen, Wagner had the chance to try his impersonation out on Caray himself. Caray's feedback was, "Aw, go back home and practice." Wagner did and has since won three of six Harry Caray impersonation contests.11 Although Wagner is not a full-time professional entertainer, he often does Caray impressions for corporate gatherings and special events, such as color commentary for games between the U.S. Military All-Stars and the Field of Dreams Ghost Players.12 He even called a game at the Field of Dreams from a lawn chair at third base.13
Grant DePorter noted that Harry was fond of well-done impressions, among his favorites being Will Ferrell's bits on Saturday Night Live. Ferrell's impressions not only captured the sportscaster side of Caray, but they also nodded to the intelligence and wit for which Caray was known. DePorter has organized a number of Harry Caray Impersonation Contests and knows and appreciates the skills of Matt Wagner. DePorter also approves of the impressions of Caray done by Major League players Ryan Dempster and Derek Holland. He recognizes that these impersonations speak to the respect and love the fans gave Harry, and keep his legend alive for new sports fans that did not get to hear Harry "live." When Harry passed away in February of 1998, he hoped that would be the season his beloved Cubbies would take the series.14
It is no wonder that a personality so bold and personable would remain in popular culture seventeen years after Caray's death. He has been memorialized with a star on the St. Louis Walk of Fame,15 a larger than life-sized bronze statue of him stands in Wrigley Field, and bronze busts of Caray are located inside all six of the Harry Caray Restaurants.16 Radio personalities still adapt his style, impressionists still honor him, and millions of fans still toast his memory.17 
SUZANNE WRIGHT is a writer for Field of Dreams Ghost Players and an independent filmmaker with DreamCatcher Productions who has written and edited for the Field of Dreams' Ghost Player newsletter since 2008. Wright has also co-authored the books "Travels with Ghosts and Other Tales" and "St. Mary's: The Finest Church West of the Mississippi." Suzanne Wright is a new member of the SABR Field of Dreams Chapter.
1. Michael St. Dennis, KXGE-FM air personality, personal interview with author, December 3, 2014.
2. Hughes, Pat. "Harry Caray." Baseball Voices. http://www.baseballvoices.com/html/harry_caray.html (accessed December 8, 2014).
3. National Baseball Hall of Fame. "1989 FORD C. FRICK AWARD WINNER HARRY CARAY." National Baseball Hall of Fame. http://baseballhall.org/discover/awards/ford-c-frick/harry-caray (accessed December 8, 2014).
4. American Sportscaster Association. "1989 Hall of Fame Inductee Harry Caray." American Sportscasters Hall of Fame. http://www.americansportscasters.com/caray.html (accessed December 8, 2014).
5. Radio Hall of Fame. "Harry Caray." http://www.radiohof.org/harry_caray.htm (accessed December 8, 2014).
6. Grant DePorter, telephone interview with author, December 3, 2014.
7. Grant DePorter.
8. Whitburn, Joel. "Jack Norworth." Songwriters Hall of Fame. http://www.songwritershalloffame.org/exhibits/bio/C267 (accessed December 8, 2014).
9. Film Society of Lincoln Center. "Take Me Out to the Ballgame." Film Lives Here. http://www.filmlinc.com/films/on-sale/take-me-out-to-the-ballgame (accessed December 8, 2014).
10. Grant DePorter.
11. Matt Wagner, personal interview with author, December 3, 2014.
12. Joe Scherrman. "Color Commentators Announced for Patriot Night 07.08.09," Ghost Player, LLC. http://www.ghostplayer.us/updates/color-commentary (accessed December 8, 2014).
13. Joe Scherrman, telephone interview with author, December 8, 2014.
14. Grant DePorter.
15. St. Louis Walk of Fame. "Harry Caray." http://www.stlouiswalkoffame.org/inductees/harry-caray.html (accessed December 8, 2014).
16. Grant DePorter.
17. Grant DePorter.