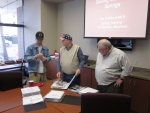 13 members and guests convened at the Stephens Media building in Little Rock for SABR Day. Former major league pitcher Kevin Campbell, a Marianna native and star with the University of Arkansas Razorbacks, spoke about his career with the A's and Twins from 1991-95. Mike Dugan gave an update on the Baseball Trail in Hot Springs, Arkansas that is set to open on March 24. It is a series of plaques that will detail the history of spring training in Hot Springs. Our chapter will be present for the grand opening; more details to follow as they become available.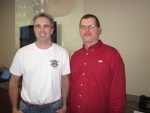 Hot Springs native Don Duren had a Power-Point presentation about major league spring training in Hot Springs. Fred Worth gave another update on his hobby of visiting the graves of former major league players (over 1,200 now!). Caleb Hardwick discussed his new web site project, ArkBaseball.com. Dr. Robert Reising, who spoke about his book on Moonlight Graham at our last meeting, had a short follow-up presentation.
To view more SABR Day 2012 recaps, visit http://sabr.org/sabrday.