The Pacific Northwest Chapter of SABR held a meeting on January 26, 2013, at Safeco Field in Seattle. The event was one of several local chapter gatherings going on across the country as part of national SABR Day activities. In addition to the meeting itself, several NW SABR members volunteered at an informational booth during the Seattle Mariners Fan Fest. One of the exciting things to see was the ongoing construction in left field, as the Mariners are moving in the fences this year. The view above is from behind our booth along the third base line.
The Seattle Mariners provided a great group of guests for the 35 members in attendance. We were able to meet, listen to and ask questions of each of the guests. First up was Chris Gwynn, the Mariners new Director of Minor League Operations. Chris spoke about his new position and his impressions of the Mariners minor league system and some of its top players. Chris was followed by Assistant General Manager Jeff Kingston. Jeff has spoken to the NW SABR group for several years in a row now, and its always good to hear his observations.
Jack Zduriencik followed and gave some insight into various aspects of his position.  Jack talked about the Mariners' recent decision to move in the fences, as well as the expectations he has of some of the young players. Eric Wedge then spoke to the group. Heading into his third season as the M's manager, Wedge provided a candid assessment of the team and expressed a great deal of faith in the talent of the club, expecting to improve both run production and wins this year.
The final guest of the afternoon was the Mariners Baseball Operations Analyst Wesley Battle. Wesley talked about the methods and processes by which the Mariners develop and use technology and statistics across all facets of the organization, and the role the analysts have in developing tools for the coaches, scouts, and managers throughout the organization.
The local chapter members who volunteered for the SABR informational booth at FanFest were Tip Wonhoff, Mark Brunke, Bob Russon, Bill Woodward, Tim Jenkins, Bob Webster, Mike Rice & Rick Solomon. We would also like to thank the members of the Mariners organization who assisted us in having our meeting again at Safeco Field. Corporate Business Assistant Kristin Harwood provided invaluable assistance in helping us set up our NW SABR Booth and Marketing Manager Camden Finney did a fantastic job in coordinating our guests with the Mariners Front Office.
Finally, David Eskenazi exhibited items from his collection of Northwest baseball history in the Diamond Club section in Safeco Field. David is also a member of NW SABR, and there is an online exhibition of photos on our Chapter site. That can be accessed here.
View more photos of the SABR Day event below.
— Mark Brunke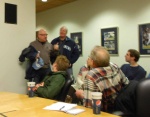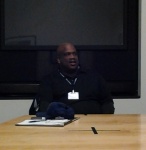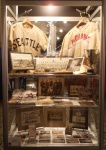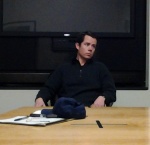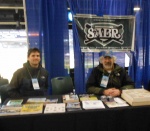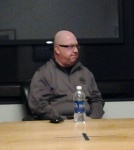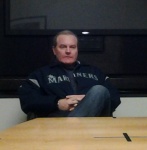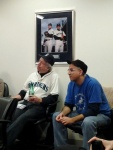 For more information on SABR Day 2013, click here.