SABR Day in Kansas City featured two speakers, former All-Star outfielder Ken Berry and author Bill Young on January 21, 2017, at the Trailside Center.
Ken Berry entertained the crowd of slightly over 20 people with stories about his baseball career and life. He played for 11 different major league managers, but his three favorites were Del Crandall, Chuck Tanner, and Eddie Stanky. These three men taught him things that he would use throughout his 26-year career as a minor league coach and manager. The most important thing he learned from Crandall was how to use a delayed steal, which you can see him describing in the picture above to KC SABR chapter president Roger Erickson. Tanner illustrated to him the power of being positive with your players. While Stanky was the opposite in his demeanor from Tanner, he passed on a wealth of inside knowledge to a young Berry.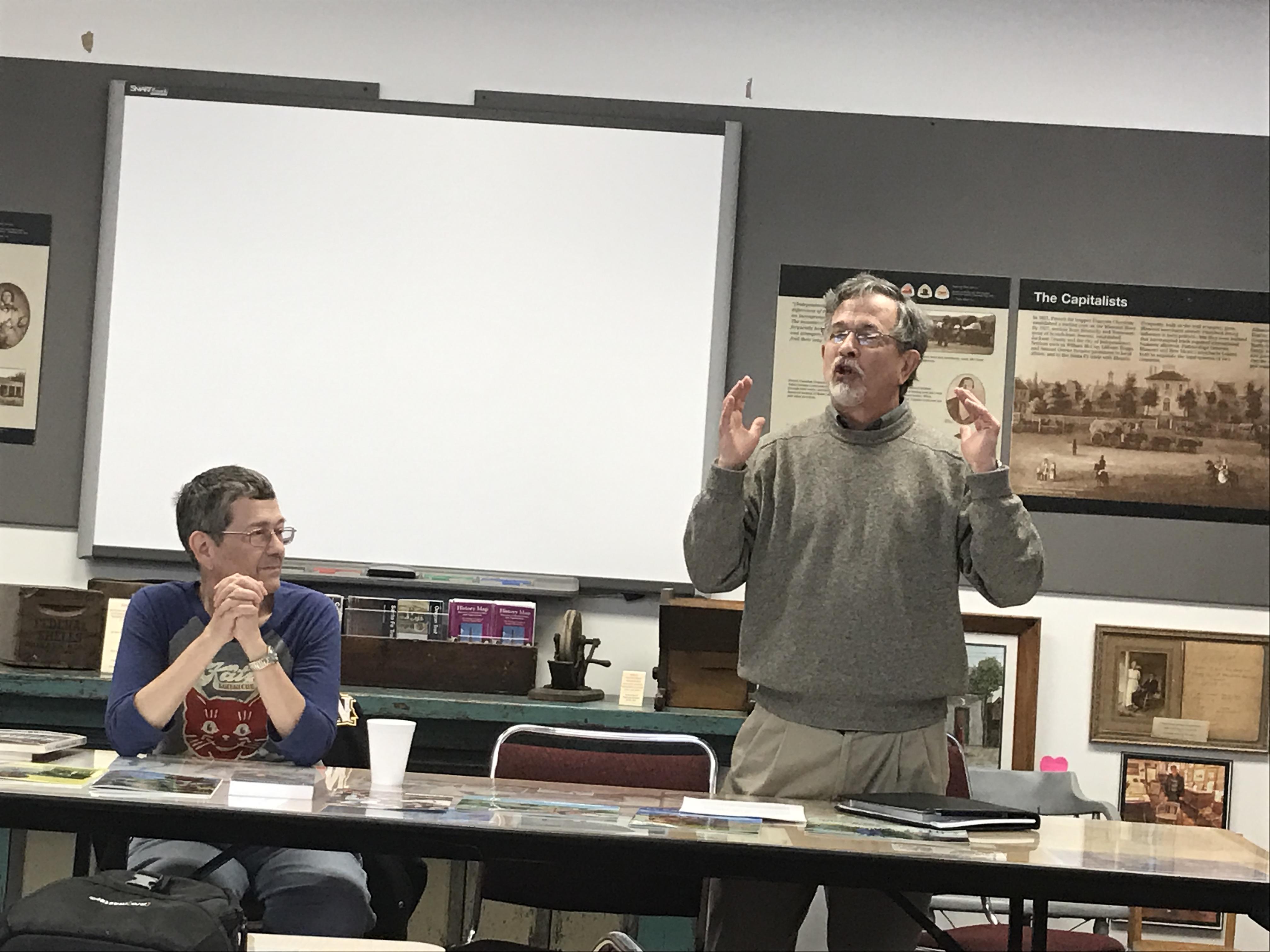 Bill Young is the author of a pair of baseball books, John Tortes "Chief" Meyers: A Baseball Biography, and J.L. Wilkinson and the Kansas City Monarchs Trailblazers in Black Baseball. His talk focused primarily on J.L. Wilkinson, recapping his life and contributions to baseball from forming barnstorming Bloomer Girl teams, on to the integrated All-Nations team, though a 29-year ownership of the Monarchs.
*****
In addition to the two speakers there were several announcements made for upcoming baseball events in the Kansas City area or through SABR. Below are a couple that should be passed along.
Jan Johnson spoke about a project the Kansas Historical Society is undertaking of building a collection of baseball cards for players with a connection to Kansas.
"We are seeking donations of baseball cards showing major league, Negro League, minor league, and college players born in Kansas or a Kansas resident at any time in life. Also sought are cards for any player in the uniform of a Kansas minor league or college baseball team."
If you would like more information or have cards to donate please contact:
Nancy Sherbert, Kansas Historical Society
nsherbert@kshs.org (785-272-8681, ext. 270)
or
Jan Johnson, project volunteer
*****
The 22nd annual Conference on Baseball in Literature and Culture is returning to Ottawa University for the second consecutive year. This one-day conference will take place on Friday, March 31, 2017, in the Schendel Conference Center on the campus of Ottawa University, 1001 S. Cedar St., Ottawa, KS, 66067.
The conference will also include keynote presentations by Jonathan Eig and Jay Johnstone. Eig is a New York Times best-selling author of "Luckiest Man", a story about the life and death of Lou Gehrig, and "Opening Day", a story about Jackie Robinson's first season. Johnstone is a former Major League player, \well known for his pranks and antics in the clubhouse, which he shares in three books he has co-authored, "Temporary Insanity", "Over the Edge" and "Some of My Best Friends Are Crazy."
Several KC SABR members are scheduled to present including:
Mark Eberle, Fort Hays State University: "The Wichita Monrovians and the Colored Western League of 1922"
Todd Fertig, Topeka Capital-Journal: "The Dodgers' Plan B"
Jan Johnson: "'The Happiest Mortal': An Introduction to Walt Mason's True Baseball Fan"
For further info, contact Mike Webber at kcbbfan@aol.com.
— Mike Webber