Chet Covington
"Last year in Newport News, Va., we had the opportunity of watching one of the minor league baseball's most colorful figures. He's Chet Covington, a very portly southpaw who this season is serving his 18th year in OB. With Portsmouth last season, Chet had a 10-5 record. During the game that we saw between Newport News and Portsmouth, Chet went in to relieve the starting pitcher in the fifth inning. Very nonchalantly he strolled to the mound and with great dignity, surveyed his domain – including the stands, for there lies Chet's greatest joy. He loves to perform before the fans, and between batters the huge portsider would toss the ball high in the air, roll it down his arm and in general keep the folks amused while the next batter got ready. In short he's a combination of Bobo Newsom, Pappy Williams and Al Schacht. What amazed us about Chet was his refusal to field a ball. He just ignored such trifles as grounders, bunts, etc. Perhaps his huge girth wouldn't permit such strenuous activities as picking up grounders, but whatever the reason he was a great drawing card.
"Seemingly, Chet never took his pitching duties seriously, but when he was in a clutch, the affable chunker was mean. As we recall, Newport News got two singles off Chet during the rest of the game. And from where we sat it appeared as if Chester just loafed."
— Bill Rumfelt, Rocky Mount (North Carolina) Evening Telegram, May 30, 1950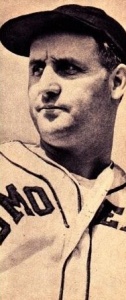 Chet Covington was a very talented left-handed pitcher who didn't begin his career in Organized Baseball until he was 28. Even with the late start he won more than 200 games in the minor leagues in a traveling odyssey with 20 different teams over 15 seasons, but spent only part of one season in the major leagues. Why didn't a pitcher of this caliber stick in the majors? Why did he constantly move from one team to another? Maybe it was because of his mouth, into which he was always sticking his foot. Maybe it was his penchant for disliking his teammates (when he didn't think they were hustling) as well as managers and front-office guys. Maybe it was because he often thought he was the manager as well as a player. Maybe it was because of his numerous suspensions over his career. Or maybe it was because he was never known to withhold an opinion on any given subject. Maybe it was because he didn't field those groundballs or sometimes didn't warm up between innings.
It wasn't because of Covington's pitching ability. Despite all his potential shortcomings, the guy could pitch and pitch not just very well but often great, as his perfect game in 1943 and a 31-9 record in 1946 attest. Maybe, in fact, he was ahead of his time — he felt he should be fairly compensated by owners for his abilities. Or maybe it was as simple as what Covington himself believed: "He was the most misunderstood gent in baseball." Take your pick.
Chester (also known at various times as Chet, Lefty, Chesty, Chester the Great, Tex) Covington was a man who went everywhere and back again over a nine-year prizefighting career and a 15-year baseball career spent entirely in the minors except for a little over three months with the Philadelphia Phillies in 1944. In the minors he was with 20 clubs in 12 leagues over those 15 seasons.
Chester Rogers Covington was born on November 6, 1910, in Cairo, Illinois, the son of David Mark and Mattie Belle Covington.1 He moved to Jackson, Tennessee, with his family a year later. He was one of ten children of a railroad conductor who abused him.2 He became a prizefighter at the age of 13, and for nine years he earned his living in the ring. Starting as a lightweight and retiring as a middleweight, he fought 216 times, ending with a record of 187-19-10.3 He stopped only at his new bride's insistence.4
During this period Covington still loved baseball and often pitched for a sandlot team in the afternoon and fought at night. Why did he fight? "Minor-league ballplayers were starving and I had to make a living fighting. Why, in 1935 the Sanford club of the Florida State League (Class D) had the nerve to offer me $75 a month to pitch."5
In 1934 Covington married Angela Pugliese, whom he had met while playing amateur baseball in Miami before beginning his professional baseball career. The marriage lasted until his death 42 years later. They had one daughter, Carolyn.
Covington switched to baseball full time with Portsmouth, Virginia, of the Class B Piedmont League in 1939 at the age of 28 and was quickly shunted to Tarboro6 and then Goldsboro of the Class D Coastal Plain League that season, winding up with a combined record of 7-9, one of the few years he lost more than he won.
In 1940 Covington went to the Hollywood (Florida) Chiefs of the Class D Florida East Coast League and went 21-7; in 1941 he was with the Fort Pierce Bombers of the same league before being sent to Jacksonville of the Class B South Atlantic League in July, then returning to Fort Pierce at the end of the season. He went 22-7 with Fort Pierce7 and 7-4 for Jacksonville for a combined 29-11 season record.
After his back-to-back 20-plus-win seasons in 1940 and 1941, Fort Pierce sold Covington's contract to the Springfield (Massachusetts) Rifles of the Eastern League. In July Springfield sent him to Birmingham of the Southern Association, where he appeared in only four games. It was there that Covington first exhibited resistance against management; he left the Birmingham team and returned home, whereupon Springfield sold him to Louisville of the Double-A (the equivalent of today's Triple-A) American Association.8
Covington went 3-2 for Louisville the balance of the 1942 season, began the 1943 season with Louisville, and in May was optioned to Scranton of the Class A Eastern League. On May 23, he hurled a perfect game against his old Springfield teammates. Covington was outstanding for Scranton, going 21-7, and was named The Sporting News Minor League Player of the Year. He pitched 251 innings that season, had the lowest ERA (1.51) in Organized Baseball, and hurled nine shutouts. At one point during the season, including the perfect game, Covington had a string of 45 consecutive scoreless innings.9 "I guess my smartest manager was Nemo Leibold at Scranton," he said. "Maybe it was because I had a fine year with him, winning 21 and losing only 7. I had 43 [sic] consecutive scoreless innings and pitched 18⅔ [sic] hitless innings." Louisville recalled him from Scranton on September 1.10
Covington was involved in a riot at Hartford, Connecticut, in an Eastern League playoff game. The fans were so mad at him that two Hartford policemen had to escort him back to Scranton on the train. 11
Covington was a burly man – 6-feet-2, 195 pounds – and was once referred to by a newspaper writer as a behemoth. He would win more than 200 games with the classic windup of the day – right leg way out, glove hand high.12 He was said to use fastballs on 80 percent of his pitches.13
On April 15, 1944, Covington was purchased by the Philadelphia Phillies14 and began the 1944 season on the major-league roster. He went 1-0 in 15 relief appearances for the Phillies before being released to the Utica Blue Sox on June 29. Why was he cut by the Phillies? Not because of his pitching. Covington appeared to be the proverbial "clubhouse lawyer." General manager Herb Pennock said there was "one troublesome player" on the Phillies club. Many reports claimed that Covington was the "disturbing element," to which the pitcher replied that that was "a bunch of hooey." He said that when he was sent to the minor leagues by the Phillies he was glad to go because "Those Phillies had a defeatist attitude."15 On September 7 Covington returned to the Phillies and went 0-1 in four relief appearances over the rest of the season. He never started a game in the major leagues.
According to his obituary in The Sporting News, "Covington was ordered to walk Stan Musial in a tight situation. After the game Covington grumbled, 'Imagine telling a fellow with my stuff to walk Musial.' The next day he was on his way to Utica." The story may reflect the essence of Covington's personality but the details are not supportable, as a review in Retrosheet.org of the games Covington pitched against St. Louis does not show that he ever walked Musial.
Covington continued his antics at Utica, where he was ejected from a game after tossing his glove to the ground.16 He held up a game by refusing to pitch until the grounds crew had raked the mound to his specifications.17 He got into a clubhouse scuffle on the night before he was recalled to Philadelphia in which he reportedly struck several teammates.18
Covington went to spring training with the Phillies in 1945 but on April 5 was placed on the voluntarily retired list as he was working in Miami with Eastern Airlines and said he was making more money there and couldn't afford to play baseball. He was, however, along with some other minor leaguers, playing semipro ball for the Eastern Airlines team in Miami.19
Whatever was the reason why Covington was sent to Utica by Philadelphia and later placed on the voluntarily retired list, he never returned to the majors. He pitched another nine years in the minors with some outstanding seasons although the suspensions and the run-ins with players, including teammates, managers, and owners, began to pile up. It was apparent that Covington was persona non grata in the major leagues.
In August 1945 Covington returned to baseball when the Phillies optioned him to the Chattanooga Lookouts of the Southern Association, where he went 4-3. He went to spring training with the Phillies in 1946 but was released to Tampa of the Florida International League. In that Class C league, Covington was outstanding, going 28-8 during the season and 3-1 in the playoffs to lead Tampa to the league championship over Havana. In June Covington was suspended for "insubordination and indifference after refusing to warm up before a game he pitched and declining to chase down a grounder."20 Upon his reinstatement, he shut out Havana.21 During the season, Covington also sold pots and pans for the Kitchen Kraft Corporation.22
After the 1946 season, Covington declared that he wouldn't play for Tampa again because of a dispute over the division of postseason money.23 Complying with Covington's request, in January 1947, Tampa sold him to Pensacola of the Class B Southeastern League. Covington refused to report and, apparently reversing his decision not to play for Tampa, returned there for the 1947 season. He began the season 12-2 for Tampa and in June was sold to Montgomery of the Southeastern League,24 where he went 13-6 for a combined season record of 25-8. Covington also continued his quest for outside employment. He refereed a wrestling match in Montgomery on September 19.25
Montgomery sold Covington to Miami for the 1948 season. In early May, with a 5-4 record, he was suspended by Miami for "leaving his club's bench in Havana, donning his street clothes and going into the stands."26 He went 9-6 before being sold to Port Chester of the Class B Colonial League.27 After a month in Port Chester Covington was returned to Miami, which sold him to Portsmouth of the Class B Piedmont League.28 He got into a fight with a teammate in 1948 when he looked at him and tactfully dropped a hint that "Somebody's giving our signals to the other team."29 He diplomatically handled a situation that year by threatening to clunk Tiny Parker, Miami club president, on the head with a chair after Parker accused him of "lying down" in a game.30
Covington re-signed with Tampa for the 1949 season and went 11-9.31 While pitching for Tampa, Covington had strings of 35 and 2732 innings pitched without the Tampa team scoring a run for him. Lefty "walked into the front office and told Business Manager Milton Kerr to send me somewhere. I wasn't gonna stay with no ball club that wouldn't get me no runs. The (Tampa) Smokers weren't hustling."33 He was promptly shipped to Palatka of the Florida State league (a demotion from Class B to Class D), where he won 11 and lost 2 the rest of the season. (Covington was the likely starting pitcher in the Florida International League All-Star Game had he not been sent to Palatka.34) Covington also had a public chauffeur's license and drove the bus for Palatka. On August 30, 1949, it was announced that he had been advised by his doctors to give up baseball for the rest of the season because of high blood pressure and fatigue.35 But then it was also reported by The Sporting News that the reason he moved on was that he had had a row with the business manager.36
During the 1949 season Covington was fined by Tampa owner Tom Spicola for "not trying," to which Covington responded, "I only struck out 15 men. They were just mad because I didn't warm up before each inning."37 This was during his "nobody scores runs for me" obsession.
In February 1950 Tampa sold Covington to Fort Lauderdale. Covington responded: "Last winter I offered Owner Tom Spicola $500 for my contract so that I could make a deal for myself. Tom wanted to know if I was kidding. He said that he could get more for me than that. So what happened? Spicola sells me to Fort Lauderdale for $300. I still like Tom personally but I'm gonna beat the brains out of his club every time I face the Smokers."38 Covington went 18-11 with Fort Lauderdale before being suspended. On August 28 he got in a fight during a game with teammate Joe Tuminelli after allegedly accusing the third baseman of failing to go all out on an attempted pickoff play. Manager Chuck Aleno removed Covington from the game and suspended him for the season.39
Covington returned to Fort Lauderdale in 1951 with the intention of pitching only at home and at nearby Miami, Miami Beach, and West Palm Beach while continuing to work as a warehouse supervisor. When the club president later objected to the arrangement, he suspended Covington, who then asked to be placed on the voluntary retirement list.40 Another reason that Covington may have been suspended was that he was flirting with pitching in the Dominican Republic League, but on June 6, 1951, announced that the salary was not enough.41 In a 1952 interview Covington said the reason he retired was a leg injury.42 While on the voluntarily retired list, Covington umpired softball games but could not stay away from confrontation and controversy. On August 18 he was charged with assault and battery after punching a softball player and breaking his jaw during an argument over balls and strikes.43
In 1952 Covington again re-signed with Tampa. On May 31 he took on a unique assignment. Since he held a Florida notary public's license, he conducted a pregame home plate wedding for teammate Lenny Pecou.44 Later he was sold to Lakeland, going 6-10 for his Florida International League season before being sold to Greensboro (Carolina League) for the balance of the season.45
With his skills clearly eroding, Covington re-signed with Fort Lauderdale for 1953, went 1-1 and retired from Organized Baseball. He finished with a minor-league record of 220-126 and that 1-1 major-league mark. Covington did not quit playing baseball, though. In 1954 he pitched for a semipro team, the Stuart Sailfishers of the South Florida Coast Glades league.46
Covington was often called garrulous, belligerent, and loquacious. An episode in Miami says a lot about him. As he went to the mound to warm up for the game he placed the ball on the pitching rubber, yanked a yo-yo from his back pocket and yo-yoed for five minutes to demonstrate the nonchalance with which he regarded the opposing lineup as the crowd howled and jeered.47 An article in the Spring 1953 issue of Baseball Magazine called him a "bush-league Dizzy Dean."
Covington worked as a radio announcer, a salesman, a truck driver for the Terminal Transport Corporation (he was a member of the Teamsters union), a shipping and receiving clerk, a hillbilly disk jockey, a deputy sheriff at the Tampa dog track, a plumbing supply distributor, and a salesman of Hadacol, a patent medicine of questionable provenance that was briefly popular after World War II. He loved to fish in his spare time.
Covington also had his thoughts on players. "Baseball is as inferior as it can get and still survive," he said in 1950. "The boys play better scientifically but they ain't got that old hustle."48
So who was Chet Covington? Why did a man with his talent not play longer in the majors? Obviously his irascible personality was a prime factor. But in a Miami Herald interview in 1997, his wife, Angela, said, "He wanted to be the big fish in the little pond." Even though his Phillies contract was $700 a month he actually asked to be sent down. The Phillies had only used him in middle relief. "He wanted to play," she said. "Please let people know there's a ballplayer out there who loved baseball better than money" Said Covington himself, "Them Phillies jus' didn't pitch ol' Covington enough." Because of his success in the minors, he saw his big-league assignment as an insult.49
When asked by a reporter why he was always getting into trouble, Covington responded, "I would like to be man enough to do the things I have been accused of and if I was I'd have to be 100 years old." 50
Covington died on June 11, 1976, in Pembroke Park, Florida, after suffering a heart attack. He was 65. He is buried in Vista Memorial Gardens in Hialeah, Florida.
Notes