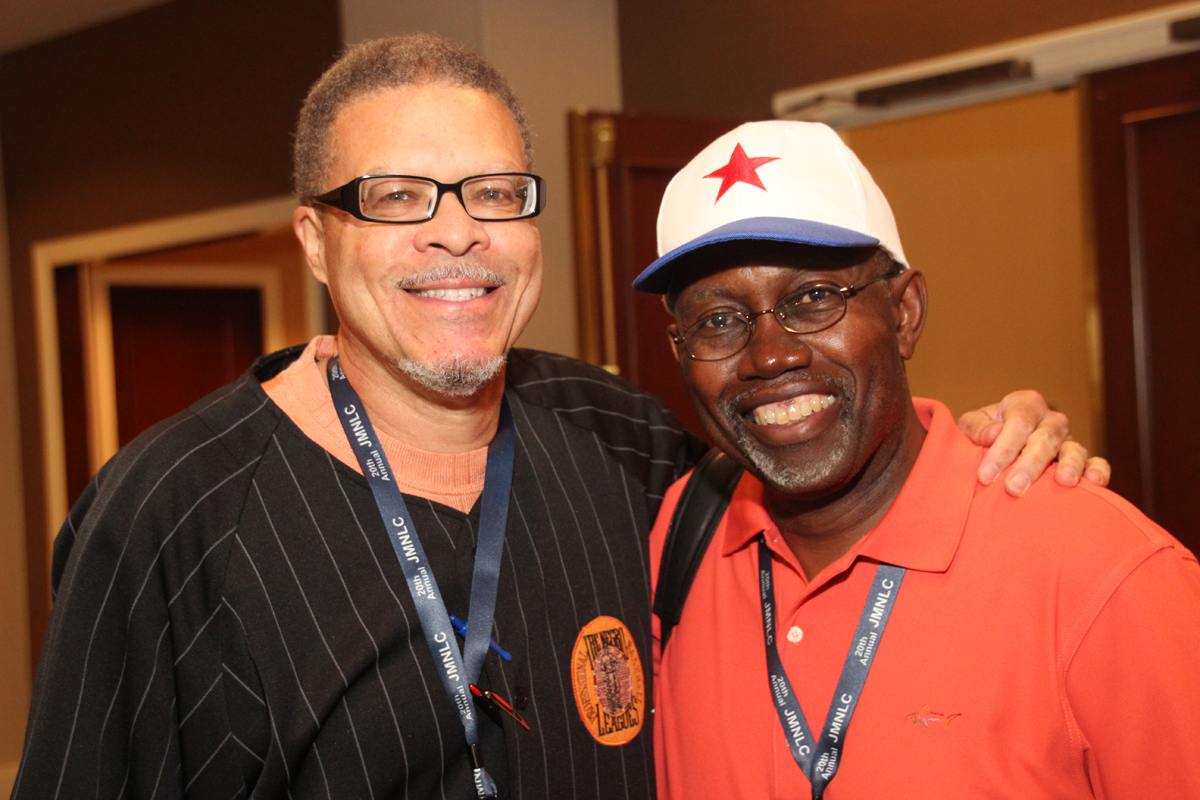 Registration is open for SABR's annual Jerry Malloy Negro League Conference, which will be held on June 2-4, 2022, at the Sheraton Birmingham Hotel in Birmingham, Alabama. All baseball fans are welcome to attend.
Register: Click here to register online for the 2022 Malloy Conference. Full registration is $195 for adults, $140 for students. Single-day registration is also available for $75 for Friday or Saturday. Extra tickets can be purchased for the Rickwood Field bus tours, Thursday's "meet and greet" reception, the Birmingham Civil Rights Institute Tour, or the awards banquet on Saturday night. All of these sessions are included in the full registration package.
Hotel: Please note: Hotel rooms at the Sheraton Birmingham are now sold out. A limited number of rooms are available at the Courtyard Birmingham Homewood, 500 Shades Creek Parkway, Homewood, AL 35209, at a special rate of $145/night (plus tax). Please call 205-879-0400 to book your room at the Courtyard hotel; you must identify yourself as a member of the Jerry Malloy Negro League Conference to get the special SABR rate while availability lasts. The Sheraton Birmingham, our host hotel, is located at 2101 Richard Arrington Jr. Blvd., North Birmingham, AL 35203. Call 205-324-5000 for any questions with the Sheraton.
COVID-19 policy: All attendees must supply proof of a negative test. Those who can provide proof of vaccination are exempt from this requirement. Attendees will be required to follow any additional local public health declarations, including mask mandates. SABR reserves the right to notify guests of its own mask requirement for the event. These policies are subject to change depending on public health conditions. Proof of a negative test means a printout or email from a healthcare provider, pharmacy, or test proctor showing a negative PCR test result within 72 hours or a negative proctored antigen test within 48 hours. A self-administered negative test is not acceptable.
Contact: For questions, email Larry Lester at NTResearch@comcast.net or Leslie Heaphy at Lheaphy@kent.edu.
---
About the Conference
The Jerry Malloy Negro League Conference promotes activities to enhance scholarly, educational, and literary objectives. Since 1998, the event has been the only symposium dedicated exclusively to the examination and promotion of Black baseball history. The conference is open to baseball and history fans of all ages. Each year, monies are targeted to donate books to schools or libraries; raise funds for the Negro Leagues Baseball Grave Marker Project; and award scholarships to high school seniors in a nationwide essay contest and an annual art contest.
The Negro Leagues Committee is one of SABR's original committees, formed in 1971. It has continued to preserve and highlight the contributions of African-American players in baseball history. The committee published the landmark The Negro Leagues Book in 1994, which featured a complete register of more than 3,000 players, team rosters and in-depth histories from leagues of the late nineteenth century to the middle of the twentieth.
---
SABR's Negro Leagues Research Committee is pleased to award $1,000 scholarships to four high school seniors in its 14th annual Thomas R. Garrett Scholarship essay contest in 2022. Click here to download the application forms.
The contest is open to high school seniors and carrying a minimum GPA of 2.5 at the end of their junior year. Students have to write a 1,200-word essay answering a question related to one of the Negro League figures who are the namesakes of the scholarships.
The 12th annual Jerry Malloy Negro League Conference Art Contest is open to all artists in 2022 with the theme, "Looking Back on the Negro Leagues." Art from the winners will be on display at an upcoming Jerry Malloy Conference. The winning entry in the professional and amateur categories will receive a $150 prize and a certificate from the conference and the youth winner will receive a set of art supplies. Photos of the art will also be included in an upcoming issue of Black Ball: A Negro Leagues Journal, published by McFarland & Co. Deadlines to enter: July 30, 2022 (professional/amateur) or September 12, 2022 (youth). Click below to download an application form. Questions can be directed to Leslie Heaphy (Lheaphy@kent.edu).