The 19th annual Jerry Malloy Negro League Conference will be held July 7-9, 2016 in Kansas City. The conference is open to all baseball, history and sports fans of all ages. Registration is now available.
To register: Click here to register online at the SABR Store. Or click here to download a printable registration form and information packet (PDF); you can mail your check or money order before Wednesday, June 29 to SABR Malloy Conference, Cronkite School at ASU, 555 N. Central Ave. #416, Phoenix, AZ 85004.
Please note: Only single-day registration is still available; the full conference registration is now sold out. Single-day registration for Friday or Saturday is $85 for SABR members, $105 non-members. The Thursday education forum only is $20 for SABR members, $35 non-members. You can also purchase tickets to the Meet-and-Greet Reception on Thursday ($20) or the Awards Dinner on Saturday ($65). Kansas City Royals game tickets and Negro Leagues Museum tour tickets are now SOLD OUT!

Book your hotel room: The Malloy Conference will be held at the Sheraton Overland Park Hotel at the Convention Center, 6100 College Boulevard, Overland Park, KS 66211. Limited rooms are available at a special discounted rate of $119/night (plus tax) for singles/doubles or $129/night (plus tax) for triples. Click here to reserve your room today or call (866) 837-4214 and mention the Jerry Malloy Conference. Please note: The cutoff date to book your room at the SABR discounted rate was June 13, 2016.
Schedule: Check out the complete conference schedule by clicking here.
See below for more information on the 2016 Call for Papers, Essay Contest, Art Contest, and Library Grant Program.
The theme of the 2016 Jerry Malloy Conference is "Barnstorming in the Negro Baseball Leagues." Barnstorming has always been a central part of the life of Negro League ballplayers. All Negro Leaguers took part in barnstorming games across the country and in cities like Kansas City. Monarchs great Satchel Paige, whose 110th birthday is being celebrated during this conference, did his fair share of barnstorming. Presentations may focus on any topic related to the theme, or other Negro Leagues issues. Click here to download the Call for Papers (PDF). All applications must be postmarked no later than March 28, 2016, and sent to Leslie Heaphy at lheaphy@kent.edu. Proposals should include a 250-word abstract, plus a brief biographical note with contact information.
SABR's Negro Leagues Committee awarded $1,000 scholarships to five high school seniors in its eighth annual Thomas R. Garrett Scholarship essay contest in 2016: Kevin Vernan Crosby, Jansen Rouillard, Josephine Riedell, Grace Rootes, and Grant Heindselman; click here to learn more about the winners. Students had to write a 1,000-word essay answering a question related to one of the Negro League figures who are the namesakes of the scholarships. The students will be recognized at the Jerry Malloy Negro League Conference on July 7-9, 2016, in Kansas City. The selection committee was comprised of educators Leslie Heaphy, Stephanie Liscio, Mel May, Shawn Morris, and Charles Crutchfield.
SABR's Negro Leagues Research Committee awarded a $500 Dick Clark Memorial Library Grant for 2015-16 to the Geneseo Public Library in Geneseo, Illinois. School and community libraries from across the country are invited to submit grant proposals centering on educating students and the community about black baseball and American history. Click here to download the PDF application for eligibility requirements, submission criteria, and style guidelines. Questions can be directed to Leslie Heaphy (lheaphy@kent.edu), Mark Moore (mmoore@cpl.org), or Tim Bottorff (tbottorf@mail.ucf.edu). 
SABR's Negro Leagues Committee's will hold its seventh annual Art Contest in 2016. The theme is "Black Baseball Life." For professionals and amateurs: Click here to download the PDF application for eligibility requirements, submission criteria, and style guidelines. The entry fee is $30 and the deadline for submission is May 9, 2016. For the youth contest: Click here to download the youth art contest PDF application. The entry fee is $10 (per three entries) and the deadline for submission is May 23, 2016. To pay for your entry fee online, click here.

Art from the winners and runners-up will be on display in a special area at the 2016 Malloy Conference; photos of winning entries and runners up will also be included in an upcoming issue of McFarland Publishers' Black Ball: A Negro Leagues Journal. The winning entries in the professional and amateur categories will receive a $300 prize. The individual student winner will receive a $150 prize and the winning schools will each receive $250 worth of age-appropriate books about Negro League baseball for their libraries. For more information, contact Leslie Heaphy or Larry Lester.
---
2015 Malloy Conference recap:
The 18th annual Jerry Malloy Negro League Conference was held August 6-8, 2015, at the Wyndham Grand Pittsburgh Downtown in Pittsburgh, Pennsylvania. Click here to download the September 2015 edition of "The Courier" newsletter for a complete recap of the Malloy Conference.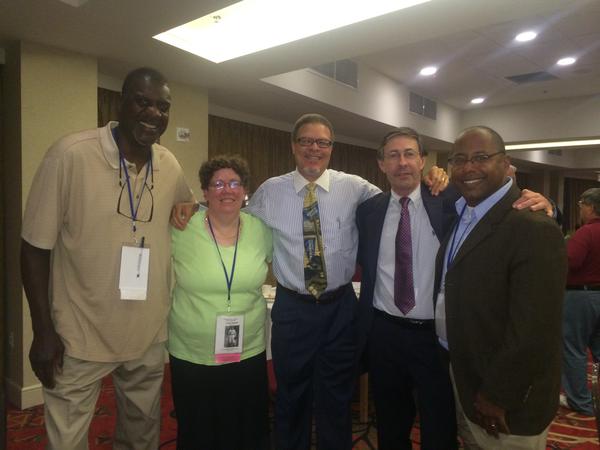 The 2015 conference celebrated the history of black baseball in the Steel City, including a one-hour session with Robert "Bob" Paige, son of Hall of Famer Satchel Paige; a talk by Kevin Kirkland, co-author of Lucky Bats with former Homestead Grays batboy Elijah "Lucky" Miller; and a diverse group of research presentations.
In addition, conference attendees took a special tour of PNC Park and saw a Pirates-Dodgers game; took part in a lively Negro Leagues trivia contest; watched a special video presentation, "Kings on the Hill: Baseball's Forgotten Men," from University of Pittsburgh history professor Rob Ruck; and listened to a panel on how to do Negro Leagues research from historians James Overmyer, Donald Spivey, James Brunson III, and Leslie Heaphy (moderator).
Visit SABR.org/malloy/2015 for more photos and stories from the 2015 Malloy Conference.
---
Who was Jerry Malloy?
Click a link below for highlights from past Jerry Malloy Conferences:
2015: Pittsburgh, PA
2014: Detroit, MI
2013: Newark, NJ
2012: Cleveland, OH
2011: Indianapolis, IN
2010: Birmingham, AL
2009: Pittsburgh, PA
2008: Chicago, IL
2007: Portsmouth, VA
2006: Kansas City, MO
2005: Chicago, IL
2004: Cleveland, OH
2003: Harrisburg, PA
2002: Memphis, TN
2001: Kansas City, MO
2000: Harrisburg, PA
1999: Atlantic City, NJ
1998: Harrisburg, PA