SABR Analytics Conference
March 9-11, 2018
Hyatt Regency Phoenix
Phoenix, Arizona
We hope you'll join us for the seventh annual SABR Analytics Conference on Friday, March 9 to Sunday, March 11, 2018, at the Hyatt Regency Phoenix, where we'll bring together the top minds in the baseball analytics community to discuss, debate and share insightful ways to analyze and examine the great game of baseball. All baseball fans are welcome to attend.
This year's conference will feature the high-quality content you've always enjoyed at the SABR Analytics Conference and the same number of featured panels and research presentations, but there will be a few changes to the usual schedule: We will begin programming early Friday afternoon on March 9 and will run through Sunday afternoon on March 11. The change in schedule is due to the availability at our host hotel this year. However, we have a large block of rooms for SABR Analytics Conference attendees on Friday, Saturday, and Sunday nights.
In addition, the Diamond Dollars Case Competition will start at 6:00 p.m. on Friday evening and the networking reception will be held on Saturday evening, March 10 at the Hyatt Regency Phoenix. Lunch, which is included in your conference registration, will be served at noon on Friday — before the regular programming begins — and also on Saturday between the morning and afternoon sessions.
SABR has a long and storied history with baseball statistical analysis, evidenced by the link between our name and sabermetrics. SABR's long history in this area of baseball research, coupled with our mission of advancing the understanding and knowledge of baseball, makes us the perfect choice to coordinate and host this ground-breaking event.
The Analytics Conference schedule consists of a combination of Guest Speakers, Panels, and Research Presentations — plus the unique Diamond Dollars Case Competition, in which undergraduate, graduate and law school students from across the country analyze and present a real baseball operations decision.
For more information on the 2018 SABR Analytics Conference, click on a link below.
Registration for the 2018 SABR Analytics Conference is available now at the SABR Store. Click here to register today! The conference is open to all baseball fans.

Registration rates:
— SABR members: $395 early registration; $595 afterward
— Non-SABR members: $495 early registration; $695 afterward
— Students: $350; includes one-year membership to SABR. Must be a currently enrolled high school or college student. Please e-mail Blane Ferguson with a photocopy of your student ID to receive the registration promo code.

Please note: Lunch is included with your registration on Friday, March 9 and Saturday, March 10. The networking reception is included with your registration on Saturday, March 10. Specify any special dietary needs when you register.
The 2018 SABR Analytics Conference will be held Friday, March 9 through Sunday, March 11 at the Hyatt Regency Phoenix, 122 N. 2nd St., Phoenix, AZ 85004. Click here to book your hotel room at the special SABR group rate of $229/night (plus tax) for double occupancy. Or call (602) 252-1234 and mention that you're with the SABR Analytics Conference.
Complimentary wireless Internet is available in all rooms booked under the SABR block. The cutoff date to book your room is February 15, 2018. The SABR group rate is only available for the nights of March 9 to March 11, 2018, based on availability.
SABR and Baseball Info Solutions are excited to announce the call for presentations for the seventh annual SABR Analytics Conference. Abstracts of proposed research presentations should be no more than 500 words in length, and must include the abstract's title, review of previous work on the subject, a summary of the research methodology and anticipated results, and the expected contribution to the field of baseball analytics offered by this work. Submissions are open to the general public, with student presenters considered in a separate track.
Send all abstracts to this e-mail address: 2018-analytics-presentations@sabr.org. Please note: Abstracts are no longer being accepted. Note: If your presentation abstract is selected as a semi-finalist, you will be required to register for the conference in order to be eligible for a presentation slot. Click here for complete details and criteria.
With generous funding from The Anthony A. Yoseloff Foundation, Inc., SABR will award up to four scholarships to high school and college students who wish to attend the 2018 SABR Analytics Conference. This scholarship will pay for registration, air transportation and lodging (double occupancy) up to a total value of $1,250. All applications must be postmarked or e-mailed to Jeff Schatzki at jschatzki@sabr.org no later than December 31, 2017.
The objective of this scholarship fund is to encourage student engagement with baseball analytics, and to engender an active interest in baseball research and SABR. The Yoseloff scholarship is to assist young researchers who want to attend SABR's Analytics Conference and to introduce them to fellow SABR members and professionals within the baseball community. Through this fund, SABR hopes to inspire future baseball research, expose students to high-quality research and build the research capability of interested students.
Click here to learn more or to download the 2018 Yoseloff Scholarship application.
The SABR Analytics Conference is pleased to host the unique Diamond Dollars Case Competition on Friday evening, March 9, 2018, at the Hyatt Regency Phoenix. Click here for more details.
In the Diamond Dollars Case Competition, undergraduate, graduate and professional school students from colleges and universities across the country compete against each other by preparing an analysis and presentation of a baseball operations decision — the type of decision a team's GM and his staff is faced with over the course of a season. The cases are developed by SABR President Vince Gennaro, author of Diamond Dollars: The Economics of Winning in Baseball and consultant to MLB teams. The Diamond Dollars Case Competition is the first national competition to be based solely on baseball operations issues.
Four- to five-person student teams are asked to evaluate a baseball operations case problem. The student team presents their analysis and recommendations to a panel of judges that includes MLB front office executives. More than 40 alumni from the Diamond Dollars Case Competitions have secured internships or permanent positions within Major League Baseball.
For more information on the 2018 Diamond Dollars Case Competition, please contact SABR President Vince Gennaro or click here for rules and entry requirements.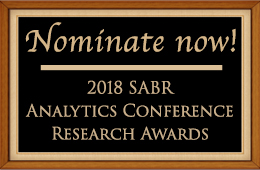 What are the best baseball analytics articles you've read in 2017?
The 2018 SABR Analytics Conference Research Awards recognize baseball researchers who have completed the best work of original analysis or commentary during the preceding calendar year. Click here to learn more or to submit a nomination.
Voting for the winners will be conducted online in January-February 2018 at SABR.org, BaseballProspectus.com, FanGraphs.com, HardballTimes.com and BeyondtheBoxScore.com, with results weighted equally at 20%. Results will be announced and presented at the seventh annual SABR Analytics Conference, March 9-11, 2018, at the Hyatt Regency Phoenix in Arizona.
---
Past coverage: