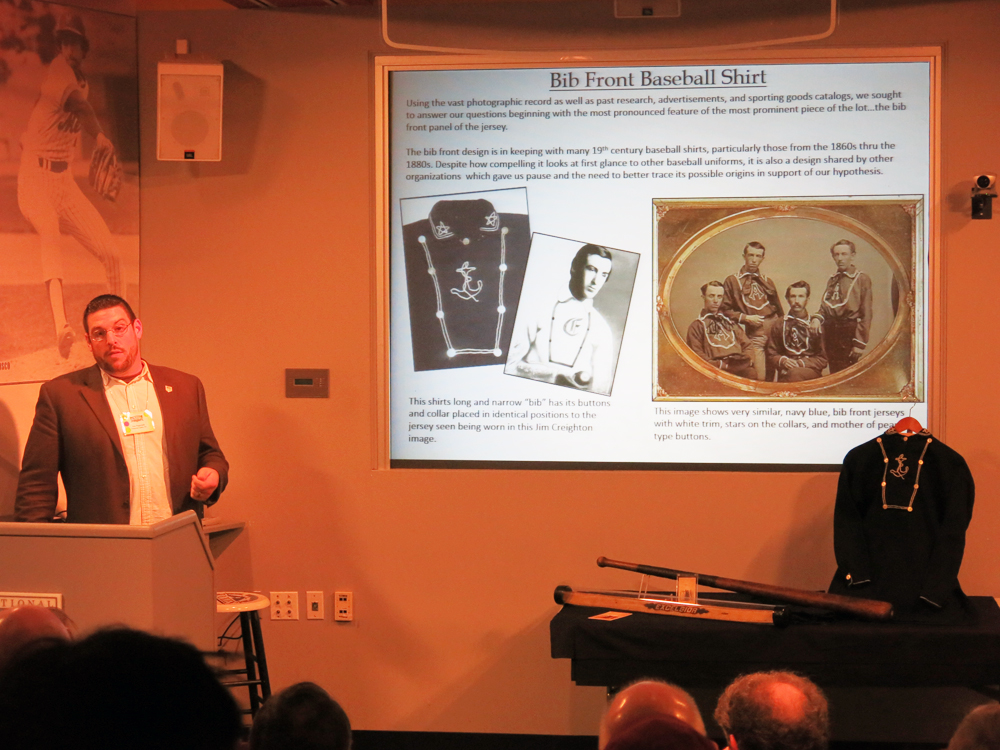 The ninth annual Frederick Ivor-Campbell 19th Century Base Ball Conference will be held April 21-22, 2017, at the Baseball Hall of Fame in Cooperstown, New York. All baseball fans are welcome to attend, but space is limited so RSVP today!
Registration: Registration is $55 per person for the full conference, and includes a buffet luncheon on Saturday. Optional Friday welcome dinner ($46) and Saturday evening banquet ($32) are also available. Click here to download a registration form (PDF). Make out a check for "SABR" with a memo line of "Fred 19cBB" and send payment and completed form to: Peter Mancuso, 6970 Ely Road, New Hope, PA 18938, before February 7, 2017.
The 2017 conference will be highlighted by a keynote address from baseball historian Bill Lamb, along with a panel discussion on SABR's Overlooked 19th Century Base Ball Legends Project with Adam Darowski, Michael Haupert, Joe Williams, and moderator John Thorn; a special presentation of the documentary film "Town Teams: Bigger Than Baseball" by Dorothy Seymour Mills and Mark Honer; a Member Spotlight interview of Joanne Hulbert by Tom Simon; plus book signings, research presentations, and a welcome dinner.
Here is the list of research presentations:
Bob Bailey, "Jack Chapman: A 19th Century Baseball Life"
Jonathan Popovich, "The Game Makers: Purveyors of Baseball Goods in the Northeast from the 1850s–1870s"
Michael Haupert, "William Hulbert and The Birth of the Business of Professional Baseball"
Joanne Hulbert, "Tell Me How You Really Feel"
Chip Martin, "Pud Galvin: Baseball's Forgotten Man"
Bob Tholkes, "Exploring the Origins of The Baseball Umpire"
Herm Krabbenhoft, Keith Carlson, Dave Newman, and Dixie Tourangeau, "Resolution of 1894 RBI Leader"
Tom Shieber, "Home Games: Researching Nineteenth Century Baseball Board Games"
George Skornickel, "Amos Rusie: The Pitcher Who Changed the Game"
Richard Hershberger, "The Fizzled Game-Throwing Scandal of 1879"
For more information on future conferences, visit SABR.org/ivor-campbell19c or contact Peter Mancuso at peterplus4@earthlink.net.
---
Related links: