SABR Convention
Save the date! The 45th annual SABR convention will be held June 24-28, 2015, at the Palmer House Hilton in Chicago. Registration information will be available in early 2015. Click here for more details.
Call for papers: Abstracts for articles focused on Chicago-area baseball for the 2015 edition of The National Pastime convention journal are being accepted through November 15, 2014. Click here for details.
---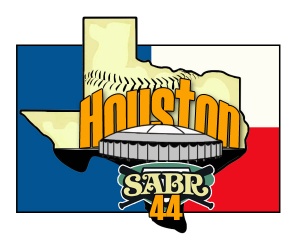 SABR 44
July 30-August 3, 2014
Royal Sonesta Houston
2222 W Loop S Fwy.
Houston, TX 77027

Couldn't make it to Houston? Check out complete coverage of SABR 44 online at SABR.org/convention!
The Society for American Baseball Research held its 44th annual convention on July 30-August 3, 2014, at the Royal Sonesta Houston, in the heart of the Galleria, just minutes from downtown and Minute Maid Park.
Check out stories, photos, and multimedia clips from the SABR 44 convention in Houston:
Wednesday, July 30

Thursday, July 31

Friday, August 1

Saturday, August 2

Around the Web
About SABR 44

The featured speakers at SABR 44 included Reid Ryan, President of Business Operations for the Houston Astros; and Larry Dierker, former Astros pitcher, broadcaster, and manager who is also the namesake of the local Houston SABR chapter.
In addition, we had several exciting panel discussions, including:
College Baseball Panel with Roger Clemens

, seven-time Cy Young Award winner and University of Texas legend, coach

Jim Gilligan of Lamar University, Mike Gustafson of the College Baseball Hall of Fame, and moderator Mike Vance


Decision Sciences Panel led by Astros GM

Jeff Luhnow

and executives

Sig Mejdal

and

David Stearns

Astros Player Panel with

Art Howe

,

Alan Ashby, Larry Dierker, and moderator Bill Brown


From Playing Field to Front Office with

former American League president

Dr. Bobby Brown

, former Astros player and GM Bob Watson

, former All-Star first baseman and GM

Eddie Robinson, and moderator C. Paul Rogers III

Houston Colt .45s Panel with

Jimmy "Toy Cannon" Wynn

,

Bob Aspromonte

,

Hal Smith

,

Carl Warwick

, sportswriter

Mickey Herskowitz, and moderator Greg Lucas

1980 Houston Astros Panel with

Enos Cabell

,

Jose Cruz

, coach

Deacon Jones

, GM

Tal Smith, and moderator Kenny Hand

Media Panel with Astros broadcaster

Bill Brown

,

Evan Drellich

of the

Houston Chronicle,

Alyson Footer

of MLB.com, Toronto Blue Jays broadcaster

Buck Martinez, and moderator Brett Dolan

Women in Baseball Panel

with

Jana Howser

of the College Baseball Hall of Fame, All-American Girls Professional Baseball League alumnus

Marie "Red" Mahoney, Leila Rahimi of Comcast SportsNet Houston, Alyson Footer of MLB.com, and moderator Leslie Heaphy
On Saturday, August 2, SABR convention attendees had the opportunity to visit Minute Maid Park for an exclusive pregame ballpark session with Houston Astros executives and players. Before the Astros' 6:05 p.m. game against the Toronto Blue Jays, two SABR 44 panel discussions took place inside Minute Maid Park.
We also visited Constellation Field, home of the Atlantic League's Sugar Land Skeeters, for a game against the Bridgeport Bluefish on Thursday, July 31. Before the game, former Houston Astros president and SABR member Tal Smith, a special advisor to the president of the Skeeters, welcomed SABR 44 attendees, along with Ira Liebman, voice of the Skeeters and also a SABR member.
There were 32 groundbreaking presentations of baseball research — including a study of the Astrodome and its place in popular culture; facial hair and the 1972 World Series; the Retroactive All-Star Game Project; an examination of MLB managers and leadership qualities; an insider's look at Cuban baseball defectors; an in-depth study of team chemistry in baseball; and the Negro League Houston Eagles.
The Awards Luncheon included keynote speaker Larry Dierker, along with the presentation of SABR's highest honor, the Bob Davids Award. As always, there was the highly competitive and entertaining SABR Trivia Contest finals on Friday night.
For more coverage, visit SABR.org/convention.
Get your copy of Houston Baseball: The Early Years 1861-1961


All SABR 44 convention attendees received a free copy of Houston Baseball: The Early Years 1861-1961, edited by Mike Vance and produced by SABR's Larry Dierker Chapter, as part of their registration goody bag.
The story of Houston's transition from the minors to a Major League city is one that includes all manner of politics, personalities and back room deals that feature some of the biggest names in the sport. Houston Baseball: The Early Years 1861-1961 also has chapters on the black baseball teams in Houston that ran on a parallel course in the days of segregation. It has amateur, women's and youth baseball, high school and college teams and even covers the media that covered baseball. There is an amazing collection of stories on the days when Houston was a Spring Training site and on the numerous exhibitions that brought the cream of the big league crop through town.
Richly illustrated and expertly told, Houston Baseball: The Early Years 1861-1961 is a story for all fans of Houston baseball and Houston history. Learn more about the book at http://www.houstonbaseball.org.
Click here for SABR member Bill McCurdy's preview of Houston Baseball: The Early Years 1861-1961, with video by F.X. Flinn.
Souvenir edition of The National Pastime: SABR 44 attendees also received a souvenir print edition of The National Pastime, our annual convention journal, focusing on baseball teams, players and events in the Houston area. All SABR members, whether you attend the convention or not, can download the expanded e-book edition of The National Pastime or read any article online at SABR.org/research/2014-national-pastime.
For more information on SABR conferences throughout the year, visit SABR.org/events.
---
Related links: