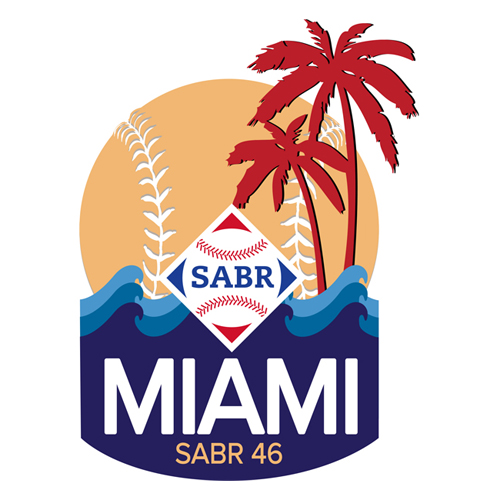 SABR 46
July 27-31, 2016
Hyatt Regency Miami
400 SE 2nd Ave.
Miami, FL 33131
(305) 358-1234
We hope you'll join us for what promises to be a spectacular SABR 46 convention in the summer of 2016 in Miami, Florida. Hotel and conference registration for the 2016 convention is now available. Click here for more information on SABR 46 registration rates, all-inclusive packages and optional sessions. Or click here to register for SABR 46.
The annual SABR convention, which is open to all baseball fans, often includes top featured speakers from around the baseball world — front office executives, players, managers, scouts, writers and analysts — innovative panel discussions, groundbreaking research presentations, major and minor league games, tours of historic ballparks, the SABR Trivia Contest, the Awards Luncheon, and most of all, the opportunity to make and renew baseball friendships over the course of this spectacular and memorable event.
SABR 46 information
Registration: Click here for complete information on SABR 46 registration rates, all-inclusive packages, and optional sessions. Or click here to register for SABR 46! We're again offering a special all-inclusive rate for the annual SABR convention. For $269, a savings of $40 off the regular rate, SABR members can get:
— 1 full conference registration (regular rate: $199)
— 1 premium Home Plate Box ticket to the Miami Marlins game on Friday, July 29 — includes special pregame ballpark session/tour and roundtrip bus transportation ($60 value)
— 1 ticket to the Awards Luncheon on Friday, July 29 ($50 value)
Non-members can pay $299 for the all-inclusive rate. The deadline to register at the all-inclusive rate is Monday, June 13, 2016.
Hotel: Click here to book your room at the Hyatt Regency Miami online. Our host hotel overlooks the Miami River and Florida's famed Biscayne Bay, and it's just 15 minutes from South Beach and two miles from the Port of Miami. SABR 46 attendees will enjoy easy access to Miami's best attractions like Mary Brickell Village, the James L. Knight Center, Coral Gables, and the Latin flavor of Little Havana. Please note: The deadline to book your room at the SABR group rate of $129/night (plus tax) is Monday, June 13, 2016. If you have any questions about your reservation, please call the hotel at (305) 358-1234.
Pregame ballpark session/tour: SABR 46 attendees will have a special opportunity to visit Marlins Park for an exclusive pregame ballpark session with Miami Marlins executives and players, including Barry Bonds, Don Mattingly, Andre Dawson, and ESPN's Eduardo Perez. Before the Marlins 7:10 p.m. game against the St. Louis Cardinals on Friday, July 29, a special SABR 46 panel discussion will take place at Marlins Park followed by a ballpark tour for convention attendees. Purchase of SABR 46 conference registration AND a game ticket will be required to attend this special session. A SABR 46 Marlins game ticket also includes roundtrip bus transportation. Click here to learn more.
Want to throw out the first pitch at Marlins Park? Thanks to the generosity of the Miami Marlins, anyone who makes a donation of $1,000 or more to the SABR General Fund between May 1 and June 15, 2016, will have the opportunity to go on the field for batting practice before the Marlins game vs. the St. Louis Cardinals on Friday, July 29 at Marlins Park. Participating donors will also be entered into a drawing to throw out the first pitch at the Marlins game on July 29. This special opportunity is only available for up to six SABR donors (or a guest of your choosing.) Click here to learn more.
Call for presentations: SABR invites all members to present their research findings to their colleagues attending SABR 46 in Miami. Oral presentations are expected to last 20 minutes, followed by a five minute question-and-answer period. Posters will be presented, with the author on-hand to discuss the work, during a poster session of 90 or so minutes, and will probably remain on display throughout the convention. The submission deadline for SABR 46 abstracts was Sunday, March 20, 2016. Click here for complete details and criteria.
Yoseloff Scholarship: With generous funding from The Anthony A. Yoseloff Foundation, Inc., SABR will award up to four scholarships to high school or college students to attend SABR 46 in Miami. The deadline to apply was May 1, 2016. Click here to learn more.
Top speakers and panelists


SABR 46 will have top featured speakers from around the baseball world, like front office executives, players, managers, scouts, writers and analysts. Here are some of our featured speakers and panelists:
Michael Hill, Miami Marlins' President of Baseball Operations
At our special pregame ballpark session at Marlins Park on Friday, July 29, we will welcome two of baseball's greatest players to SABR 46 in interview sessions.
Barry Bonds, Marlins hitting coach and baseball's all-time home run champion
Don Mattingly, Marlins manager and former All-Star first baseman 
Andre Dawson, Marlins front-office executive and Hall of Fame outfielder
Eduardo Perez, ESPN analyst, former major-leaguer, and son of HOFer Tony Perez

Our convention in South Florida will also feature a distinct Latin flavor, with panels and presentations on many aspects of Latin-American baseball history. Stay tuned for more details on speakers and panelists at SABR 46.
2003 Marlins Championship Panel
Jack McKeon, who managed the Marlins to the 2003 World Series and spent parts of 16 seasons as an MLB manager
Moderator: Dave Van Horne, Ford Frick Award-winning broadcaster who has been the Marlins' primary radio play-by-play announcer since 2001
More speakers TBA
Perspectivas del Béisbol: Covering Baseball for Hispanic Fans On ESPN Deportes
Ozzie Guillen, the outspoken former major-league shortstop and manager who led the Chicago White Sox to the 2005 World Series championship
Ernesto Jerez, an Emmy Award-winning play-by-play announcer for ESPN Deportes' "Sunday Night Baseball" since 1995
Enrique Rojas, an ESPN Deportes reporter who has covered MLB and the winter leagues for more than 20 years
Moderator: Leonte Landino, the chairman of SABR's Luis Castro/Latin America Chapter who produces all baseball properties on ESPN Deportes and writes for ESPNDeportes.com
César Brioso, a digital producer for USA Today and the author of Havana Hardball: Spring Training, Jackie Robinson, and the Cuban League
Peter C. Bjarkman, who is considered to be one of the foremost authorities on Cuban baseball history; he is the author of Cuba's Baseball Defectors: The Inside Story and A History of Cuban Baseball, 1864-2006
Adrian Burgos Jr., a professor of history at the University of Illinois and the author of Cuban Star: How One Negro League Owner Changed the Face of Baseball and Playing America's Game: Baseball, Latinos, and the Color Line
Moderator: Anthony Salazar, chairman of SABR's Latino Baseball Research Committee and editor of its newsletter, La Prensa del Béisbol Latino
More details and the complete schedule will be announced at SABR.org/convention soon.
Get your copy of The National Pastime convention journal

All SABR 46 attendees will receive a souvenir print edition of The National Pastime, our annual convention journal, focusing on baseball teams, players and events in the Miami area. All SABR members, whether you attend the convention or not, will receive the expanded e-book edition of The National Pastime in their inboxes later this summer.
Pre-order your SABR logo shirts, caps, or souvenir baseballs online
Polo shirt: $35
T-shirt: $20
Baseball cap: $30
Souvenir crystal baseball: $40
(Each item will feature the new SABR logo)
Avoid the rush at registration, and pre-order your SABR logo polo shirt, T-shirt, baseball cap, or souvenir crystal baseball online when you register for SABR 46! Deadline to pre-order: Monday, June 13, 2016. Please indicate shirt size (adult S to XXXL) when you register.  Your items will be available to be picked up when you arrive at the SABR convention. (Sorry, we cannot mail out any pre-ordered items after the convention.) Caps are one-size-fit-most.

The souvenir baseballs are crystal paperweights measuring about 3 inches around, with an embossed SABR logo in the center.

Please note: A VERY LIMITED number of polo shirts and T-shirts will be available for purchase on-site at the SABR convention. To guarantee that you get a SABR logo shirt, please place your order online by June 13.

A note from our hosts
With unbridled excitement, the South Florida Chapter is looking forward to hosting the 2016 SABR national convention. We are thrilled to continue on the tradition of gathering SABR members from not only the four corners of the United States, but friends from other parts of the world, including Latin America, England, Australia, and Asia.
Miami is known for its vibrant diverse culture, international flair, and generous spirit of making all who come to the Magic City feel welcome. For the second time in SABR's history, the national convention will be held in Florida. Like most metropolitan areas, Miami has its own unique history with baseball: from the humble beginnings of town ball; to the first organized professional leagues beginning with the inclusion of the Miami Seminoles in the early 1910s, a long history of minor league baseball including teams competing in the Florida International League from Fort Lauderdale, West Palm Beach, Miami, and Miami Beach; the Miami Marlins of Bill Veeck and Satchel Paige competing in the International League, the training ground for upcoming talent in the Florida State League, as well as a rich history of spring training baseball dating back to the early 20th century.
Many exciting and informative sessions are being planned for SABR 46, including dozens of presentations with an array of interesting speakers, numerous panel discussions, and representatives from professional baseball, including the hometown Miami Marlins. In addition, the Philadelphia Phillies and St. Louis Cardinals will be in town in conjunction with the convention, and ballgame outings will be planned for all to enjoy at beautiful Marlins Park.
For those of you who are interested in other local goings-on, outside activities will be coordinated so everyone can partake and absorb the Miami experience. Suggestions for local eateries, museums, and local hot spots will be provided.
As we like to say, Bienvenidos a Miami.
Many happy innings,
Sam Zygner
Chair, South Florida Chapter
---
Related links: