SABR Convention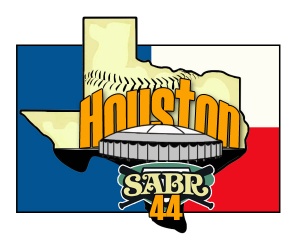 SABR 44
July 30-August 3, 2014
Royal Sonesta Houston
2222 W Loop S Fwy.
Houston, TX 77027
(713) 627-7600
We hope you'll join us for what promises to be a spectacular SABR 44 convention in 2014 in Houston, Texas. Hotel and conference registration for the 2014 convention is available on-site beginning at noon Wednesday, July 30 at the Royal Sonesta. Click here for more information on SABR 44 registration rates, all-inclusive packages, single-day rates, and optional sessions.
Check out some early coverage from the SABR 44 convention in Houston:
Wednesday, July 30

Thursday, July 31

Friday, August 1

Information
Single-day rates are available on-site for Thursday, July 31; Friday, August 1; and/or Saturday, August 2. The rate includes admission to all convention panels, research presentations, and committee meetings at the Royal Sonesta Houston. The rate does NOT include the following optional events: Sugar Land Skeeters game on Thursday; Awards Luncheon on Friday; or SABR 44 ballpark session and Astros game on Saturday. In order to attend any of those events, you must purchase an optional ticket separately. Click here for more information on single-day rates at SABR 44. (Please note: Single-day attendees will not receive a complimentary copy of Houston Baseball: The Early Years 1861-1961 or The National Pastime in their registration packets.)
About the SABR 44 convention

The SABR Convention, which is open to all baseball fans, includes top featured speakers from around the baseball world — front office executives, players, managers, scouts, writers and analysts — innovative panel discussions, groundbreaking research presentations, major and minor league games, tours of historic ballparks, the SABR Trivia Contest, the Awards Luncheon, and most of all, the opportunity to make and renew baseball friendships over the course of this spectacular and memorable event.
Guest speakers at SABR 44 are expected to include:
Reid Ryan, President of Business Operations for the Houston Astros
Roger Clemens, seven-time Cy Young Award winner and a college baseball legend at the University of Texas
Jeff Luhnow, General Manager for the Houston Astros
Tal Smith, former Astros President and former SABR Director
Jimmy Wynn, an early Colt .45s star whose number has been retired by the Astros
Larry Dierker, longtime Astros player, broadcaster and manager
Bill Brown, current Astros television broadcaster
Dr. Bobby Brown, former American League President
Buck Martinez, former player and current Toronto Blue Jays broadcaster
Bob Watson, former player and general manager for the Astros
Eddie Robinson, longtime player, general manager and baseball executive
Bob Aspromonte, original Colt .45 and former Brooklyn Dodger
Marie "Red" Mahoney, alumnus of All-American Girls Professional Baseball League
Mickey Herskowitz, noted baseball author and sportswriter
Jim Gilligan, Lamar University baseball coach with more than 1,000 career wins
Click here to learn more about our featured speakers at SABR 44.
Experience SABR 44 at the ballpark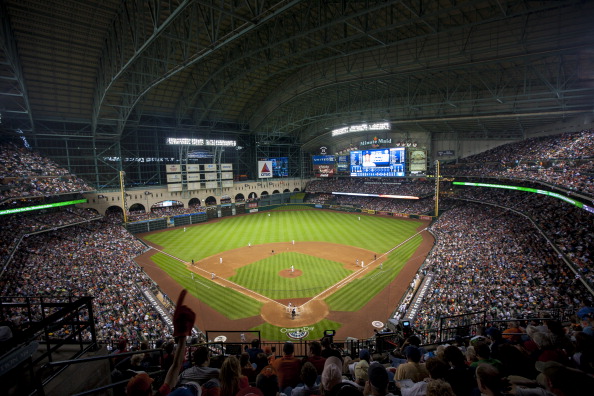 A special treat is in store for SABR 44 attendees this summer. On Saturday, August 2, SABR convention attendees will have the opportunity to visit Minute Maid Park for an exclusive ballpark session with Houston Astros executives and players.

Before the Astros' 6:05 p.m. game against the Toronto Blue Jays, two SABR 44 panel discussions will take place at Minute Maid Park.
The Astros Player Panel at 2:30 p.m. will include Art Howe and Alan Ashby. The Decision Sciences Panel at 3:30 p.m. will be led by Astros GM Jeff Luhnow with front-office executives Sig Mejdal and David Stearns.
Purchase of SABR 44 conference registration AND a game ticket will be required to attend this special session at Minute Maid Park.

Because of this special arrangement with the Astros for Saturday night's game, the SABR 44 Trivia Contest semifinals and finals will be moved to Friday night. The Awards Luncheon will still take place on Friday afternoon and the Donor Breakfast on Saturday morning, as usual.
Students, apply for a Yoseloff Scholarship to attend SABR 44
With generous funding from The Anthony A. Yoseloff Foundation, Inc., SABR will award up to four scholarships to high school or college students to attend SABR 44 on July 30-August 3, 2014, in Houston, Texas. This scholarship will pay for registration, transportation and lodging up to a total value of $1,250.
The objective of this scholarship fund is to encourage high school and college-level student engagement with baseball research and to engender an active interest in baseball and SABR. The Yoseloff scholarship is to assist young researchers who want to attend SABR's annual convention and to introduce them to fellow SABR members. Through this fund, SABR hopes to inspire future baseball research, expose students to high-quality research and build the research capability of interested students.
Click here to learn more about the Yoseloff Scholarship to attend SABR 44 in Houston.
Get your copy of Houston Baseball: The Early Years 1861-1961


All SABR 44 convention attendees will receive a free copy of Houston Baseball: The Early Years 1861-1961, edited by Mike Vance and produced by SABR's Larry Dierker Chapter, as part of their registration goody bag.
The story of Houston's transition from the minors to a Major League city is one that includes all manner of politics, personalities and back room deals that feature some of the biggest names in the sport. Houston Baseball: The Early Years 1861-1961 also has chapters on the black baseball teams in Houston that ran on a parallel course in the days of segregation. It has amateur, women's and youth baseball, high school and college teams and even covers the media that covered baseball. There is an amazing collection of stories on the days when Houston was a Spring Training site and on the numerous exhibitions that brought the cream of the big league crop through town.
Richly illustrated and expertly told, Houston Baseball: The Early Years 1861-1961 is a story for all fans of Houston baseball and Houston history. Learn more about the book at http://www.houstonbaseball.org.
Click here for SABR member Bill McCurdy's preview of Houston Baseball: The Early Years 1861-1961, with video by F.X. Flinn.
Souvenir edition of The National Pastime: SABR 44 attendees will also receive a souvenir print edition of The National Pastime, our annual convention journal, focusing on baseball teams, players and events in the Houston area. All SABR members, whether you attend the convention or not, will receive the expanded e-book edition of The National Pastime in their inboxes later this summer.
A note from our SABR 44 hosts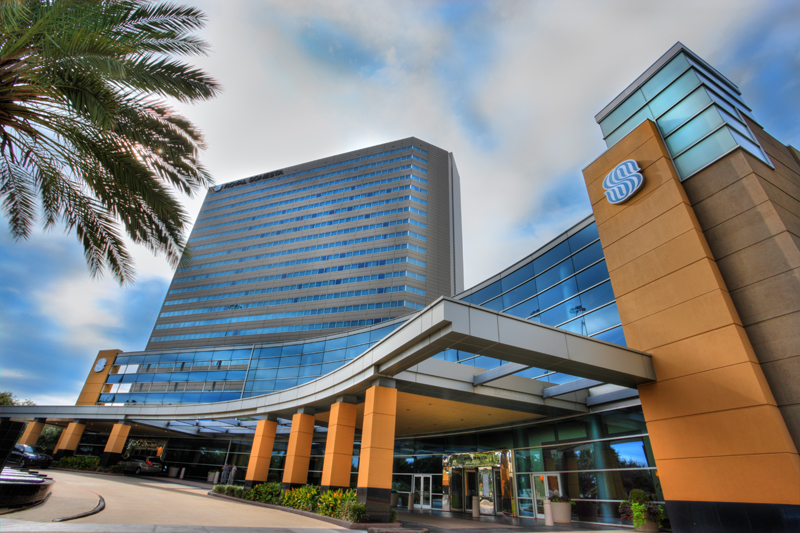 On behalf of Houston and the Larry Dierker Chapter, and our co-hosts, the Rogers Hornsby Chapter of Austin-San Antonio, we're excited about the opportunity to follow in the footsteps of all the fine places that have previously hosted SABR conventions. Our goals are clear and our work has been cut out for us, but we know that you'll enjoy everything our great city has to offer during SABR 44 in the summer of 2014.
We've already started lining up activities and seeking an array of speakers and panel guests that will interest even the most seasoned baseball people among us. The days will be filled with many of the past players, managers and executives who call Houston home. Our chapter is named after a pitching phenom who signed with the Colt .45's at the age of 17 and has been a part of the organization ever since, serving as a player, broadcaster, club ambassador and four-time division-winning manager. You can count on SABR member and Houston baseball icon Larry Dierker to be part of the festivities.
Another member who will be very visible is Tal Smith, whose baseball career dates back to the 1950s, encompassing front office time with the Reds, Astros and Yankees. We'll also be calling upon players from a pool of local residents that includes former big league stars such as Monte Irvin, Jimmy Wynn, Bob Watson and many more. And, of course, you can bet there will be a segment on sabermetrics and its use by our hometown team, the Houston Astros.
We're proud to show off our downtown Minute Maid Ballpark, which is one of the best in the majors, and we'll visit a brand-new independent league park in nearby Sugar Land. SABR 44 attendees will receive a souvenir print edition of The National Pastime, our annual convention journal, and there's even a brand-new book on Houston's ballplaying past which will be released to coincide with SABR 44.
In addition to the activities inside the hotel and an exclusive ballpark session for convention attendees on Saturday afternoon, there will be other offerings to get you out into the nation's fourth-largest city, as well. You'll be staying at the Royal Sonesta Hotel in the heart of the Galleria, not far from many top restaurants, bars, theatre and music venues. The museum district is only a short drive away, and if you wish to venture a bit further, it's less than an hour to Space Center Houston or to historic Galveston, the island city on the Gulf of Mexico.
We'll even offer an insider's list of dining recommendations so you can sample a little of the diverse fare that has made our hometown a consensus top-5 restaurant city in America. You'll find Houstonians to be friendly and pretty laid back. That's to be expected in the second-southern-most city to ever host a SABR convention. So count on great food, hospitality and talking baseball. What more can you ask? See you in Houston in 2014.
— Bob Dorrill, Marsha Franty
Larry Dierker (Houston) Chapter
— Gilbert Martinez
Rogers Hornsby (Austin/San Antonio) Chapter
For more information on SABR conferences throughout the year, visit SABR.org/events.
---
Related links: