Bob Heise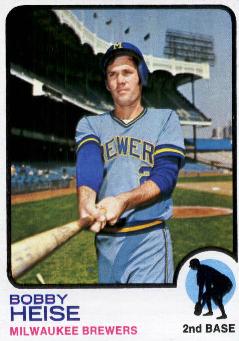 Robert Lowell Heise was born in San Antonio, but doesn't remember a thing about the place. His father, William Heise, was an officer in the military and was moved around quite often. Bob remembers more of Lompoc and Vacaville, in California. Bob's father had a degree in sociology and criminology and, after his military career, served in corrections work, ending up at the California Medical Facility in Vacaville. Bob's mother stayed at home to look after Bob, his younger brother Ben, and their sister. After Bob graduated from high school, she got her master's degree and became a schoolteacher. Ben Heise played in the Cleveland Indians organization, making it as high as Triple-A; his team won a gold medal in the Pan Am Games. Ben was an infielder, too, but wasn't able to climb the final rung of the ladder.
Baseball appealed to Bob early on. William Heise played fast-pitch softball and had played football in college. It was in Lompoc that Bob first remembers becoming interested in baseball at the age of 5. "I knew that's what I wanted to do. It was imbedded with me. And I just took it very serious. I wanted to play ball, all my life. His dad was supportive, but the drive came from within: "He played catch with me and encouraged me to, but most of the encouragement came that I wanted to do it on my own. It was my love. That's what I wanted to do." When the family moved to Vacaville, Bob was 9 and Little League was starting up, fielding four teams. Bob played infield. After Little League, it was American Legion, Babe Ruth, and high school ball. At Vacaville High, he helped spark the Bulldogs to the 1964 Golden Empire League championship. Bob's American Legion Post 165 team, coached by his father, won the league championship in 1965. "Bob was a very intense ball player, but that was one of the things that was so great about him," remarked Vacaville High's athletic director Tom Zunino. Heise graduated from high school in 1965.
Following Bobby Heise's development was scout Roy Partee, who signed him for the Mets at age 18 in February 1966. In the winter of 1965, Heise had played in the Peninsula League just for fun -- it wasn't semipro -- and Bud Harrelson of the Mets was at one of the games, keeping an eye out on behalf of Partee. "You would play a doubleheader on Saturday and a single game on Sunday. I was playing second base, and Buddy Harrelson, I think, told Roy Partee, 'This kid has a little talent.'" Partee offered Heise a contract. There was a bonus, but it was, in Heise's words, "Very little. Very little. I'll leave it at that."
Heise was assigned to a Mets farm team in Jacksonville, Florida, for extended spring training in 1966 and then to Greenville, South Carolina. With the Single-A Greenville team in the Western Carolinas League, Heise played in 122 games, batting .283 with six homers and 50 RBIs and 90 runs scored. He was named to the league's all-star team. In 1967, he played in Durham, another Single-A team in the Carolina League. He hit for a higher average, .298, but with just one home run and 37 RBIs. In 1967, Heise joined the Mets after a stretch in the United States Marine Reserve, getting into his first game on September 12 as the starting second baseman against the Atlanta Braves. Heise was 1-for-4 that day, singling with two outs in the ninth. He was caught stealing to end the inning, and the Braves scored twice in the bottom of the ninth to win the game, 4-3. By season's end, Heise played in 16 games and hit for a .323 average. It was his first of 11 major league seasons.
Heise saw only limited action each of the next two years, as a September call-up both in 1968 and 1969. In 1968, he was a regular for Jacksonville in the International League, as he was in 1969 for Tidewater. Both seasons were solid, if not spectacular. He got in four games (hitting 3-10), for the historic 1969 Mets, although he was not on the post-season roster.
In 1970, Heise made the big league club out of spring training - but it was for the San Francisco Giants. The Mets had traded him and Jim Gosger to the Giants for Ray Sadecki and Dave Marshall on December 12, 1969. With San Francisco, Heise more or less split his time between backup roles at shortstop and second base, getting into 67 games, but batting only .234. Before his time in the majors was up, Heise accumulated 1,144 at-bats but he hit his one and only major league home run on June 30, 1970, off Danny Combs. The Giants were hosting the San Diego Padres at Candlestick Park.
Does Heise remember it? "Yeah! They made a [phonograph] record of it, and I played it for my grandson just recently. He found it in a drawer. So we played it for him." It's not the sort of thing one forgets. He had some good people around him in the lineup that day - Bobby Bonds was leading off, Heise was batting second, Willie Mays was in the three hole, and Willie McCovey was batting cleanup. In the third inning, Coombs made a mistake and Heise hit one out. The Padres won the game nevertheless, 3-2.
Heise had flashes of real success. He was traded to the Brewers on the first day of June in 1971 and during one stretch of 10 games for Milwaukee, there were three separate games in which Heise went 3-for-4. They were the exceptions, though. Heise batted .234 in 1970, and hadn't had a hit his first 11 at-bats for San Francisco in 1971 prior to the trade to Milwaukee. He hit .254 for the Brewers that year, improving to .266 in 1972 when he had a career-high 271 at-bats. In 1973, he hit just .204 and was traded to the Cardinals for Tom Murphy in December. In mid-1974, St. Louis traded him to the Angels at the July 31 deadline for a player to be named later. After the season was over, the Cardinals got Doug Howard. "I loved the Angels," Heise says today. "They gave me the opportunity to play. I was having a great year with Tulsa, hitting .340 or something like that, playing for Kenny Boyer." Heise improved while playing more regularly for California, hitting .267 in the second half of the 1974 season.
In one of the first trades of the off-season, Boston sent Tommy Harper to the Angels in December 1974 and Heise became a member of the Red Sox, just in time to be on the pennant-winning 1975 Red Sox team. Heise batted just .214, but knocked in 21 runs, making key contributions. His best day was during a July 6 doubleheader in Cleveland, where he went 4-for-7 with five RBIs. He pretty much won the first game, driving in three runs in a 5-3 Red Sox win. Heise's RBIs were sometimes vital ones; he recalls having five game-winning hits in 1975. Come the playoffs and the World Series, though, all the regular infielders were healthy -- Carl Yastrzemski, Denny Doyle, Rick Burleson, and Rico Petrocelli. "I was there, and my whole family was there. All the regulars played. The regulars played and hit .300. You got to realize the position that you're in, and what your job is. And you don't bitch about it. I did not bitch about it. The Red Sox treated me great. Tom Yawkey treated me really well. I really didn't expect to be treated that well. I had always been treated like Frank Lane would treat you in Milwaukee: 'If you're not under contract...' or 'I'll bury your ass in the minor leagues.' That's how I got treated in my time."
Heise was with Boston for the full 1976 season, but saw much more limited action: just 56 at-bats (though he hit .268). After the season, the Sox sold Bobby Heise to the Kansas City Royals in early December. He put in a full year playing under Whitey Herzog with the Royals, typically a late-inning sub in 54 games and accumulating only 62 at-bats. Kansas City made it into the playoffs, losing in five games to the New York Yankees. Once again, Bob hugged the bench as the regulars saw all the action. Again, he doesn't voice dissent. "I think the baseball person I had the most respect for of this whole game while I was playing, was Whitey Herzog ... They let me go, then I knew it was over. Maybe I'd been losing a step here, a step there. If it was Whitey Herzog who let me go, I knew it was over. I didn't bitch about it and complain. So I guess that was it."
Bob Heise took retirement philosophically. "I sort of did. I wanted to raise my kids. I wanted to be at home. And that's what I did. I became a police officer, and I did that for 26 years until a couple of years ago. I retired, and I got cancer. I had cancer for about two and one-half years and right now I've beat the cancer. At my last checkup, I was cancer-free." Heise's work in corrections saw him work at Vacaville himself, as well as San Quentin and a couple of other facilities. He also worked fighting fires for 16 years.
Heise has two children and two stepkids. One son was, Heise says, "very good in baseball, but he did not have the drive I had." He served in the Army instead, and graduated from police academy, going on to get a college degree. Heise himself gets offers to join some of the card and memorabilia shows, but hasn't taken up the offers, recognizing that there, too, he'd be playing the role of a utilityman. He's content to stay home in his small two-stoplight town and play golf several times each week.
Did he feel happy when the Red Sox finally won it all in 2004? "I did. I did, for one person -- Tom Yawkey. He treated everybody really great. He ripped up my contract twice in that '75 [season]. Before I came over for Tommy Harper, I kind of wrote a letter and said that I, you know, I signed this for California and the Angels. Going to Boston will cost a little more. They ripped it up. One time after I drove in some big important RBIs and we were going to get into the playoffs, he ripped [it] up again. And then after that, he gave me another raise. We're talking about little [amounts], but back in those times, they were big." [laughs] Mr. Yawkey was "One of the best owners in baseball, ever. So wherever he's at, you know, you know, in his grave or whatever, that was really great to see Boston win it last year.
"You know, I have an American League Championship ring, and it says Boston Red Sox on it. And it's a thing that I'll get to pass down to my son, Bobby Jr. And now he just had a son, that's Robert Lowell Heise III, and he'll pass it down to his kid."
Sources
Personal interview, August 23, 2005
The Reporter, Vacaville CA