Rod Gaspar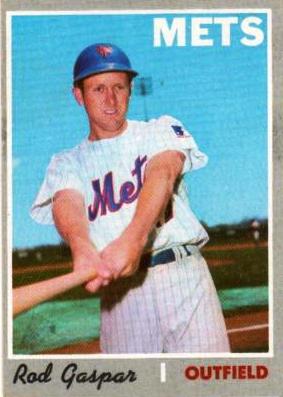 Though his major league career was limited to parts of only four seasons, Rod Gaspar was anything but a footnote player. While he played in only one full year in the majors, it was as a world champion. Gaspar led National League outfielders in double plays while scoring a pivotal run in the 1969 World Series. Six years later, he witnessed a second baseball "miracle" in Honolulu. Wherever he played, Gaspar was known for his spectacular outfield play and his late-inning heroics.
Rodney Earl Gaspar was born on April 3, 1946, in Long Beach, California. The son of an ironworker and a homemaker, he and his two brothers were raised in a working-class environment. Gaspar was initially noted as a good athlete at Lakewood High School. Playing baseball and basketball, he was an All-City athlete in 1964, his senior year. On the diamond, he was particularly adept at hitting for average, baserunning, and defense in the outfield. His baseball acumen earned him a scholarship to Long Beach State University. The New York Mets thought enough of Gaspar to draft him in 1966 after he batted .393. He decided to remain in school, hitting .342 in his junior year. The Mets drafted Gaspar once again in June 1967. This time, he signed with scouts Nelson Burbrink and Dee Fondy. His first team was Williamsport in the Eastern League. Although Gaspar hit only .260 at the Mets' Double-A affiliate, it was enough to place him as one of the top ten hitters in the league.
"We played in a pitcher's league," he recalled. "The air was heavy and the lights in most of the ballparks were not good. In Pawtucket, the sun would set in center field. There was only one guy who hit .300 and that was my teammate, Bernie Smith. He hit exactly .300. (actually, .306)." The Mets moved their Double-A affiliate to Memphis in 1968, where Gaspar proceeded to tear up the opposition, leading the league with 160 hits and batting .309 with 25 stolen bases to earn a Texas League All-Star berth. Gaspar then reported to the Mexican Winter League, again batting better than .300. The young outfielder continued his meteoric rise through the Mets' farm system, receiving an invitation to training camp at St. Petersburg in 1969. But could the switch-hitter who stood 6 feet tall and weighed 160 pounds crack a roster already boasting Tommie Agee, Cleon Jones, and Ron Swoboda in the outfield?
"I was just up from Memphis and they didn't know who I was. [Gil] Hodges didn't know who I was, the coaches didn't know. ... no one did," Gaspar told author Stanley Cohen. He appeared destined for Triple-A Tidewater when fourth outfielder Art Shamsky hurt his back. "Gil started me in the outfield and I went on a hitting streak. I think I hit in 13 straight games and they ended up keeping me."
Gaspar learned on his 23rd birthday that he had made the team. He told sportswriter Ferd Borsch, "I was at the right place at the right time." His greatest thrill at that time in his career was being told he was the Mets' starting right fielder against the expansion Montreal Expos on Opening Day, April 8, 1969. Going 2 for 5 with a stolen base and an RBI, he remarked that "the thrill of being out there will always be with me." With the tying run on second base, he was struck out by Carroll Sembera to end the game, an 11‑10 victory for the Expos in their first-ever game. Having lost their previous seven National League openers, the Mets continued their tradition of beginning each season below .500. This season, however, would end very differently than the first seven.
Although relegated to a supporting role when Shamsky returned from the disabled list, Gaspar was often called on in clutch situations, rarely disappointing his manager or his fans. He credited Hodges with understanding and using the talents of all his players to field a formidable club.
"[Gil] really knew how to utilize his personnel. I always felt a part of the club. I know I wasn't a star but I knew I was a contributor." Gaspar added that Hodges "made every player feel a part of that unit and vitally important to the team's success." Deep into retirement, he remained enthusiastic when describing the symbiosis he shared with Mets fans, calling them "the best, the most energetic, and among the most passionate in baseball."
Gaspar saved his most monumental efforts for games against teams from his native California. On May 30 before a crowd of 52,272, he hit a home run off the San Francisco Giants' Mike McCormick. His teammates rallied to overcome a 3‑0 deficit, tying the game and ultimately winning, 4‑3. It was the second victory in what became an 11-game winning streak. A week later, on June 7 in San Diego, Gaspar rapped a triple off Jack Baldschun in a 4‑0 victory over the Padres. Perhaps the most unusual game of Gaspar's rookie season occurred on August 30 at Candlestick Park in San Francisco. As the Mets and Giants were deadlocked in the bottom of the ninth, Gaspar was in left field as Willie McCovey strode to the plate.
"McCovey was the league MVP that year and I think they intentionally walked him more than any other player," he said. With one away and Bob Burda representing the go-ahead run on first base, Gil Hodges had Tug McGraw pitch to McCovey. The Mets decided to play the percentages by invoking "the McCovey shift." Donn Clendenon stood "on the line" at first, Tommie Agee played in right-center field, and Gaspar shifted to left-center. This is how Gaspar remembered the play:
As soon as McCovey hits the ball, [Burda] takes off. We were playing in Candlestick Park, and if you're familiar with the weather in San Francisco, you'd know that the field was wet. He hits "a high fly ball down the left-field line" as our announcer Bob Murphy describes it and it lands fair [by a foot], near the warning track. There was no way I could catch the ball. My only thought was, Burda was the winning run and I had to throw him out at home plate. As I approached the ball it was stuck in the ground. I grabbed it bare-handed, pivoted off my left foot and threw blindly toward home plate. Thankfully it was a strike to catcher Jerry Grote.
As Gaspar remembered the play, Grote must have been so shocked by the long throw that he forget that Burda was only the second out. The catcher rolled the ball to the pitcher's mound as if the inning was over. Donn Clendenon, one of impeccable mental alertness, raced to the mound to field the ball and threw it to Bobby Pfeil to nab McCovey at third base. Just your average 7-2-3-5 double play—on a hit no less—for those keeping score. The Mets went on to win the game, 3‑2, when Clendenon hit a solo home run off Gaylord Perry the following inning.
When the dust cleared on the 1969 pennant race, the Mets sat atop the National League East Division, finishing ahead of the Cubs by eight games. Amid a surplus of talented outfielders, Rod Gaspar led the senior circuit with six double plays in just 91 games in the field. He also led the Mets with a dozen assists and stole seven bases in ten tries. At the plate, he batted .228 with 14 RBIs and drew 25 walks while fanning just 19 times. However, despite their 100 victories and a sweep of the favored Atlanta Braves in the National League Championship Series, not everyone took the Mets seriously on the eve of the World Series—least of all, Frank Robinson of the American League champion Baltimore Orioles.
After the Orioles had swept the Minnesota Twins in the American League Championship Series, Robinson heard that Rod Gaspar had predicted that the Mets would win the World Series in four games. Robinson said, "Who in the hell is Ron Gaspar?" Fellow Baltimore outfielder Paul Blair eavesdropped on Robinson's sarcasm, correcting him, "That's not Ron. It's Rod, stupid!" In a retort worthy of an Abbott and Costello routine, Robinson said, "All right, bring on Rod Stupid."
Notwithstanding Robinson's overconfidence, the Mets and Rod Gaspar enjoyed the last laugh in Game Four of the World Series. With the score deadlocked 1‑1 in the 10th inning, the Mets summoned Gaspar to run for Jerry Grote, who had led off with a sun-aided double. After an intentional walk, J.C. Martin came to bat for Tom Seaver. Martin put a perfect bunt down the first-base line. Orioles southpaw Pete Richert fielded the ball and threw toward first baseman Boog Powell, but the ball glanced off Martin's wrist. Meanwhile, Gaspar steamed home with the winning run.
As he remembered the play, "I could see it hit and I just took off. Eddie Yost, our third base coach, [who stood only two feet away] was screaming for me to go home, but I never heard him. There were over 55,000 people there and the noise was incredible. Only after I turned and saw the ball rolling toward second base that I took off for home and scored. The first person to greet me was the winning pitcher, Tom Seaver. It was his only World Series victory in his career."
It also turned out to be the last time Gaspar got into a postseason game in his career. Manager Gil Hodges did not resort to his bench in Game Five, a 5‑3 triumph to win the Mets the first world championship by an expansion team. Quite literally, the Miracle Mets were the toast of the town, appearing on the Ed Sullivan Show. New York was an exciting city to be young and famous in, and Rod Gaspar enjoyed every minute of the 1969 season and its aftermath. Gary Gentry, also a '69 rookie, was his roommate and Gaspar developed close friendships with other young teammates including Wayne Garrett, Ken Boswell, Art Shamsky, Bob Pfeil, and Danny Frisella. Frisella grew to serve an important role in Gaspar's personal life when in April 1970, the relief pitcher introduced him to Sheridan Poulton. Rod and Sheridan married three months later, on July 7, 1970.
Despite the personal milestone, 1970 was a bittersweet season for Gaspar. On the heels of winning a World Series in his rookie year, he spent most of the year in Triple-A Tidewater. Looking back on the season, Gaspar blamed only his "nickel-brained attitude" for failing to make the big club.
"For the first time in my life, I didn't work out after the 1969 season. Gil wanted me to play in Venezuela. I said, 'Heck, why do I have to go down there?' So I didn't play any ball over the winter and I reported to spring training out of shape." He added that "if I hadn't been sent down to the minors, there was something wrong with them. I should have been sent down." Playing for Tidewater, Gaspar found his swing, batting .318 and knocking in 37 runs. When he was recalled, the Mets found themselves embroiled in a pennant race with the Cubs and the Pirates. Seeking a right arm as bullpen insurance, the Mets acquired pitcher Ron Herbel from the Padres on September 1. While Herbel pitched well, compiling a 1.38 ERA in 13 innings, the Mets fell short of a second consecutive division title. Meanwhile, as the Mets still owed the Padres one player, and Gaspar was dispatched to San Diego on October 20. Watching Gaspar as a Met, Padres president Buzzie Bavasi remarked that he "made you like him because he hustled and played hard all the time."
Gaspar attended San Diego's 1971 spring training camp in Yuma, Arizona, one of eight candidates vying for a starting outfield role. Though considered by many to be the leading contender to play left field, Gaspar again had a poor spring training. Manager Preston Gomez optioned him once to the Hawaii Islanders of the Pacific Coast League. Hawaii enjoyed an unusual arrangement as the Padres' top farm club. In an attempt to bring major league baseball to Honolulu, general manager Jack Quinn signed his own players, operated his own farm system, and even participated in the amateur draft independent from any big-league organization. Gaspar joined a roster loaded with well-traveled veterans including Merritt Ranew, Tom Satriano, Leon Wagner, and Steve Whitaker. Quinn added to his club's credentials on June 16 when he signed free-agent third baseman Clete Boyer.
Dave Baldwin, who'd been a reliever for Gil Hodges and later Ted Williams in Washington, also wound up in Hawaii and lived in the same apartment complex as Gaspar. Acquired in a cash deal with the Milwaukee Brewers prior to the 1971 season, Baldwin remembered Gaspar's "great range" and his ability to "go get 'em in the outfield." Baldwin saw Gaspar as an ideal complement to the older players in the Islanders' lineup. Extra-inning heroics remained a specialty of Gaspar's. Hosting Tacoma on April 12, the Islanders were tied, 2‑2, in the 10th inning when Gaspar delivered a two-out single to score Rafael Robles as the go-ahead run. Two nights later, Gaspar hit his only home run of the season as Hawaii shut out Tacoma, 6‑0.
As Dave Baldwin remembered, they brought a unique brand of fandom to the baseball diamond. "They always had a great time whether we won or lost. In addition, the weather was always perfect for baseball. Many of the women dressed in leis and muumuus. Honolulu Stadium was ideal for the fans—they felt close to the action, a part of the game. They would yell out advice to us about putting on the hit-and-run or shading the outfield to the left for a particular hitter. The fans helped the players play better, something I never saw on the mainland." One year earlier, Hawaii fans had supported the team in droves, nearly outdrawing the Chicago White Sox as the Islanders decimated the Pacific Coast League with a record of 98‑48. Vendors at Honolulu Stadium offered concession items including sashimi, poi, and boiled peanuts. Jim Bouton, who pitched for the Vancouver Mounties in 1969, remembered sampling siamin soup—a concoction of shredded pork, noodles, and native herbs—while awaiting his turn to pitch from the bullpen.
By the end of May 1971, Gaspar was batting .326, including an astonishing .500 in 120 at-bats as a leadoff hitter. Only once in the first two months did he fail to reach base. For the season, Gaspar set an Islanders record with 107 walks while batting .274 and stealing 26 bases. In September, he was promoted to San Diego, where he went 2 for 17 off the bench for the Padres.
Gaspar remained under contract with the Padres organization throughout his tenure in Honolulu, and this status would play a pivotal role as his baseball career evolved. In 1970, Mets general manager Bob Scheffing offered Gaspar a raise from the minimum $10,000 to $19,000, a salary he earned again in 1971. When demoted to Hawaii once again in 1972, Gaspar was removed from the Padres' 40-man roster. Accordingly, general manager Edwin Leishman restructured his contract to a minor league deal paying $2,000 a month. Under the reserve clause, their actions were standard procedure among baseball executives. Gaspar felt differently.
"Knowing me at the time, I probably said that 'I'm not going to sign that,'" Gaspar said. "Leishman basically told me that if I wouldn't sign, I could stay in Hawaii. We had a relief pitcher named Al Severinsen who felt strongly about what other players were offered in their contracts. He felt badly for my situation and encouraged me to negotiate for my 1971 salary." Gaspar filed a grievance with Major League Baseball, which he won; thus, he was entitled to receive the $7,000 differential at the end of the season.
Regardless, Gaspar batted only .234 in 111 at-bats for the Islanders in 1972. Manager Rocky Bridges did not play him regularly and on July 1, the Padres loaned his contract to the Cincinnati Reds. Reporting to the Indianapolis Indians, Gaspar made his presence known immediately when on July 4, he scored the winning run on a bases loaded 12th-inning single. His highlight with the Indians came on July 26 when Gaspar homered off Don Shaw in the bottom of the ninth to win the game.
Though opening the 1973 campaign on the Islanders' bench, Gaspar earned a spot in the starting lineup by the end of April. What transpired was another .300 season in which he drove 48 runs. Gaspar attributed his regained success partly to new manager Roy Hartsfield. Replacing Bridges on May 21, Hartsfield extolled Gaspar as "a consistent hitter" whose "fielding speaks for itself," adding that "he deserves another chance in the majors." Gaspar proved his manager's fielding report when he executed more than a dozen spectacular catches in the span of just two days. He caught a 430-foot moonshot at the center-field gate on June 23 to rob Eugene's Bob Spence. The next day, Gaspar rapped a triple with the bases loaded before his leaping catch deprived Dick Wissel of a home run.
Gaspar began the 1974 season yet again in Hawaii, but the Padres recalled him in May. However, after a disappointing 3-for-14 stay, he was demoted to Hawaii after the All-Star break. By now, it was apparent that without a modern playing facility, Jack Quinn could never succeed at bringing a major league franchise to Hawaii. While the promising Aloha Stadium was under construction, it would not be ready for baseball until 1976. In the meantime, the Islanders were relegated to the now-derelict Honolulu Stadium, a place that neither the American nor National League could endorse, what with its miniscule grandstand, paltry 81 parking spaces, and decaying infrastructure. It was called the Termite Palace, according to future systems engineer Dave Baldwin: "The well-known joke was that all the termites were holding hands, but if they ever let go, the whole thing would fall apart."
What followed was nothing short of a miracle. Although the Islanders consistently fielded talented teams, exhaustive road trips usually relegated the club to a .500 record. In 1975, the Islanders took first place on May 7 and never looked back. Amid freezing rain in Salt Lake City on May 19, Gaspar scored three of the Islanders' 19 runs as Gary Ross pitched a bizarre five-inning perfect game against the Gulls. In a Ross victory over Tacoma on June 22, Gaspar had three hits. He scored the go-ahead run against Phoenix on July 8. After his teammates were no-hit in the first game of a July 17 doubleheader, Gaspar homered in the nightcap in a 10‑2 revenge victory. At the end of the regular season, Gaspar had 58 RBIs and a .264 batting average as the Islanders cruised to an 88‑56 record and a first-place finish in the West Division. Only months after facing removal from the league, the Islanders triumphed over the rival Gulls to win the Pacific Coast League championship in six games.
The Islanders were finally allowed to move to the cavernous Aloha Stadium in 1976, celebrating with another Pacific Coast League championship. Gaspar set a personal record with five home runs, including two off David Clyde in a 19‑1 decimation of the Sacramento Solons on May 5. He enjoyed a 21-game hitting streak in May, lifting his batting average from .259 to .328. On August 18, Gaspar thrilled the Honolulu fans with another tiebreaking single as the threat of postponing the game by curfew was only minutes away. He ended the year batting .298.
Although Gaspar earned a place on the Pacific Coast League all-star team, the outfielder was disappointed when the Padres did not recall him. Meanwhile, Roy Hartsfield was hired to manage the expansion franchise in Toronto. Although several Islanders, including Chuck Hartenstein, were invited to train with the 1977 Blue Jays in Dunedin, Florida, Gaspar was not among them. Disappointed, he decided to retire from baseball. Years later, he asked Hartsfield why he was not drafted. Replied the manager, "I would have loved to draft you. You would have been my Opening Day center fielder. Trouble was you were a National League player and I could only draft from the American League." Hartsfield had control over only the expansion draft and not over other trades and purchases. Although Padres farmhands John Scott, Dave Roberts, and Dave Hilton joined the Blue Jays from Hawaii, their contracts were purchased in separate transactions.
"I was 30 years old and had enough of the minor leagues," Gaspar said. "I was tired of the travel and fed up with the time away from my family. We had two kids under the age of five. I decided to retire and get a real job." The Gaspars returned to California, settling in Mission Viejo with their children, Heather and Cade, and would later welcome sons Corte and David and daughter Taylor to the family. Yet it is one child in particular who occupied the forefront of Gaspar's thoughts.
"I would like to talk about our fourth child, David Matthew Gaspar, a very talented and wonderful boy. He died of leukemia at the age of nine in 1992. Obviously, it affected our family as well as many other people. For years, our other children would not talk about David in my presence. All the pictures of him were put away. They grew up in a state of fear, having seen death firsthand. Obviously I was wrong in how I handled David's death. My wife, Sheridan, is much tougher than I concerning this situation. She learned how to grieve, I didn't. Over the last couple of years I have opened up my feelings concerning our boy. The pictures have returned, but even as I write this today I get sad. Hopefully I am coming across as a father who mishandled the death of his son, and not merely looking for sympathy. I wouldn't want anybody to feel sorry for my situation."
Two years after the family tragedy, Cade followed in his father's footsteps by signing a professional contract with the Detroit Tigers. An excellent pitcher and shortstop at Pepperdine University, he was previously drafted by the Astros and the Yankees. In June 1994, the Tigers selected him as their first draft choice, signing him for $825,000. After posting a record of 1‑3 with a 5.58 earned-run average at Lakeland, he was assigned by the Tigers to a weight training program. Cade's rapid muscle development forced him to change his delivery. Consequently, he hurt his arm. He was traded to the Padres in March 1996 and retired after one season at Rancho Cucamonga. The elder Gaspar remembered numerology playing a significant role in his son's baseball career:
"Throughout his career, Cade always chose to wear one of two numbers. Number 17 was his dad's number with the Mets, and number 3 was the Little League number worn by David Matthew Gaspar."
Rodney Earl Gaspar went to work in the financial services industry after retiring as a player, specializing in asset management, insurance, and business planning. His children provided him and Sheridan with seven grandchildren. Gaspar won several national titles in handball—"the technique is the same as baseball." Despite his numerous talents and complexities, Gaspar will always be remembered as a member of the Miracle Mets.
Twenty years after the first championship at Shea Stadium, Gaspar told Maury Allen that "there was something so special, so exciting about the 1969 team." Two decades beyond, Gaspar continued to be reminded of the millions of fans who were enthralled by the accomplishments of his club.
"As I'm sure all my teammates still get fan mail about that year, I do also. You can easily imagine that when people find out that I played for the 1969 world champions and they see 'the ring,' the atmosphere changes. What a wonderful baseball year. What a great group of guys. We were the best."
Sources
"American Association" in The Sporting News. St. Louis: July 22, 1972: 38.
"American Association" in The Sporting News. St. Louis: August 12, 1972: 34.
"Deals of the Week" in The Sporting News. St. Louis: May 25, 1974: 40.
"Giants Face Some Tough Challengers" in The Sporting News. St. Louis:
February 26, 1972: 25
"Pacific Coast League" in The Sporting News. St. Louis: May 1, 1971: 37‑38.
"Pacific Coast League" in The Sporting News. St. Louis: May 29, 1971: 40.
"Pacific Coast League" in The Sporting News. St. Louis: September 4, 1971: 40.
"Pacific Coast League" in The Sporting News. St. Louis: July 12, 1975: 33.
"Pacific Coast League" in The Sporting News. St. Louis: July 26, 1975: 32.
"Pacific Coast League" in The Sporting News. St. Louis: August 2, 1975: 34.
"Pacific Coast League" in The Sporting News. St. Louis: May 22, 1976: 38.
"Pacific Coast League" in The Sporting News: St. Louis: June 12, 1976: 46.
"Pacific Coast League" in The Sporting News. St. Louis: September 4, 1976: 28.
"Rod Gaspar." Brooklyn: Topps Chewing Gum Inc., 1971: 383.
Allen, Maury. After the Miracle: The Amazin' Mets—Two Decades Later. New York: St. Martin's Press, 1989.
Armour, Mark. "The Revolution Started Here—The Story Behind Ball Four" in Rain Check: Baseball in the Pacific Northwest. Cleveland: The Society for American Baseball Research, 2006.
Borsch, Ferd. "A New Lease on Life—Boyer in Hawaii" in The Sporting News. St. Louis: July 3, 1971: 42.
Borsch, Ferd. "Hawaii Favorite Gaspar Reaching Bat Potential" in The Sporting News. St. Louis: August 11, 1973: 33-34.
Bouton, Jim. Ball Four: The Final Pitch. North Egremont, MA: Bulldog Publishing, 2000.
Cauz, Louis. Baseball's Back in Town: From the Don to the Blue Jays, A History of Baseball in Toronto. Toronto: Controlled Media Corporation, 1977.
Cohen, Stanley. A Magic Summer. New York: Harcourt Brace Jovanovich, 1988.
Collier, Phil. "McCovey Finding Home Run Range," The Sporting News. St. Louis: August 10, 1974: 12, 33.
Cour, Paul. "Ollie, Going the Other Way, Finds Bright Path as Padre" in The Sporting News. St. Louis: April 17, 1971: 16.
Eger, Bob. "Islanders to Wear PCL Crown in New Ballpark," The Sporting News. St. Louis: October 11, 1975: 35.
Elliott, Bob. The Northern Game: Baseball the Canadian Way. Toronto: Sport Classic Books, 2005.
Herbat, Ray. "Ross Has Short Perfecto in Weirdo at Salt Lake" in The Sporting News. St. Louis: June 7, 1975: 40.
Johnson, Lloyd. The Encyclopedia of Minor League Baseball. Durham, NC: Baseball America, 1997.
Markusen, Bruce. Tales From the Mets Dugout. Champaign, IL: Sports Publishing Inc., 2005.
Schoor, Gene. Seaver. Chicago: Contemporary Books Inc., 1986.
Weiss, Bill. "Pacific Coast League Batting and Pitching Records," The Sporting News. St. Louis: July 8, 1972: 32.
Weiss, Bill. "Pacific Coast League Batting and Pitching Records," The Sporting News. St. Louis: September 20, 1975: 33.
Weiss, Bill. "Pacific Coast League Batting and Pitching Records," The Sporting News. St. Louis: September 25, 1976: 35.
Weiss, Bill, and Marshall Wright. "Team 38: 1970 Hawaii Islanders" on Minor League Baseball History: Top 100 Teams: 29 pars. [Journal Online]. Available from http://web.minorleaguebaseball.com/milb/history/top100.jsp?idx=38. Accessed 25 October 2007.
Weissman, Harold, ed. New York Mets 1969 Official Year Book. Flushing, NY: The Metropolitan Baseball Club, Inc., 1969.
Weissman, Harold, ed. New York Mets 1970 Official Year Book. Flushing, New York: The Metropolitan Baseball Club, Inc., 1970.
Acknowledgments
Dave Baldwin, Buzzie Bavasi, Clifford Blau, Craig Burley, Rod Gaspar, Sheridan Gaspar, Bill Gilbert, Paul Hirsch, Bruce Markusen, Kelly McNamee, Rod Nelson, Andrew North, John Pardon, Tito Rondon, Dennis Van Langen