Billy Holm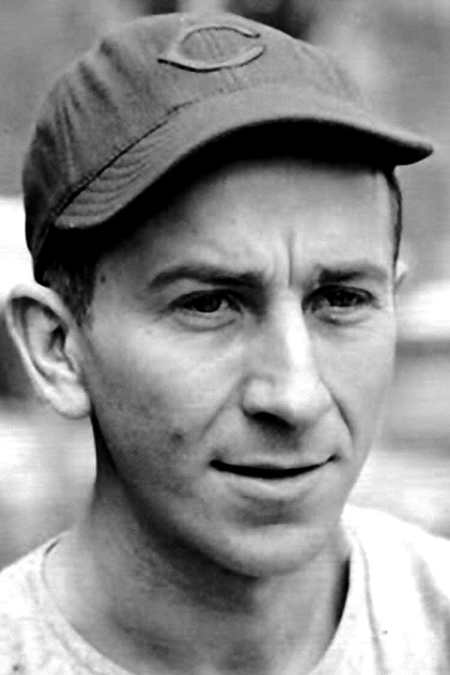 Billy Holm was a wartime player. He had 11 minor-league seasons on his résumé, from 1932 through 1942, before he finally had his chance to make the big leagues. There's little doubt that the 30-year-old career minor-league catcher made it to the big time only because of the paucity of talent caused by so many younger players entering military service or performing necessary work for the war effort. Holm hit for a .156 average in 282 major-league at-bats, with just four extra-base hits and 15 RBIs. When the war was over, he returned to the minor leagues for seven more seasons.
Holm was born in Chicago on July 21, 1912. He claimed a German family background. He attended the Gallistel Elementary School and the city's Bowen High School for three years. A player questionnaire he completed for the National Baseball Hall of Fame in 1963 says that this first team in professional baseball was the 1932 Columbus Foxes in the Southeastern League (Class B). He appeared in just nine games, going 1-for-7 before being moved to Knoxville of the Class A Southern Association. He didn't play much more there, but he did collect his first home run and hit .200 in 30 at-bats.
In 1933 Holm became part of the New York Yankees system, in which he played all the way through the rest of the 1930s. His first assignment was in Class C, with the Wheeling Stogies (Middle Atlantic League), and he hit .239 in 305 at-bats. The 5-foot-10, 168-pound right-handed batter played for three teams in 1934: the Stogies, the Springfield Ponies, and the Norfolk Tars, hitting for a combined .238 average in 256 at-bats. In 1935 he played most of the year for the Class C Akron Yankees, but also got into 10 games for Norfolk. He played for Norfolk all of 1936, hitting .314 (with 10 homers) in 95 games with the Piedmont League (Class B) Tars. In November 1935, he married Elaine Hahn.
His 1937 season saw him bump up to Class A, playing for the Binghamton Triplets in the New York-Penn League. He hit .255. In a 1938 season in Double-A, with the Newark Bears (78 games) and Kansas City Blues (2 games), he boosted his batting average to .265. His 1939 season was also spent with the Bears, hitting .267 and again showing some power with seven home runs. The Bears won 104 games in 1938 but just barely made the International League playoffs in 1939, winning a one-game tie for fourth place. They took it to Game Seven of the second round, but lost to Rochester.
After the '39 season, Holm parted ways with the Yankees and became part of the Chicago Cubs farm system, the "peppery young catcher" (he was 26 at the time) purchased from Newark by the Los Angeles Angels of the Pacific Coast League at the recommendation of their new manager, Jigger Statz. He was considered a "team ballplayer and a smart receiver" and was "expected to play an important part in developing the promising young pitchers on the Angels."1 One of the qualities Statz liked about Holm was his versatility, as he could also play the infield. Bob Ray of the Los Angeles Times wrote about one time he'd filled in at shortstop a couple of years earlier and his team went on an eight-game winning streak.2
In 1940 Holm shared catching duties with Chico Hernandez, and the Cuban catcher actually caught a few more games, but given the very long PCL season, Holm still caught in 92 games (appearing in 10 more) and hit for a .231 average. Los Angeles finished in second place, and lost to first-place Seattle in the league playoffs. Holm got less work in 1941, and produced less (.197 in 198 at-bats, albeit with five homers to 1940's one), but he was with the Angels the full season.
Holm spent most of 1942 with the Tulsa Oilers of the Texas League, where he hit about the same (.204) in 110 games. He appeared in only four games with the Angels. In 1943, with so many players out due to war, Holm got the bulk of the playing time (in part due to fellow catcher Ed Fernandes' injury). When Holm himself suffered a split finger in late July, the Angels signed a 15-year-old boy, Billy Sarni, and for a while he was the team's first-string catcher. The Angels finished the season 21 games ahead of the second-place San Francisco Seals, with so much room to spare that four members of the team, Holm, Andy Pafko, Johnny Ostrowki, and Bill Schuster, were called up to the Chicago Cubs in the latter half of September. All four played in the September 24 win over the Phillies. For all but Schuster, it was their major-league debut. Holm was 1-for-4, a single, and he also drew a base on balls. Pafko drove in four runs in the 7-4 victory, and then won a game on September 30 with an RBI single in the bottom of the 12th. Billy Holm had just the one hit and finished the 1943 season 1-for-15, without either driving in a run or scoring one. His fielding was better than his hitting: He played the whole year – an even 100 games in the minors and the majors – without making an error.
Holm was a major leaguer in 1944 and 1945. In a full season with the Cubs, he hit .136 in 1944, despite a serious case of boils on his legs and knee, with 18 hits in 132 at-bats, appearing in 54 games through his final game on August 29. Holm was still on a Los Angeles Angels contract and was taken by the Boston Red Sox in the Rule 5 draft after the season. He missed being with the Cubs as they won the National League pennant in 1945, but played in 58 games for the seventh-place Red Sox, the most active of four catchers backing up Bob Garbark, and hitting .185, driving in nine runs, and scoring 12. In early October, Red Sox general manager Eddie Collins sold Holm's contract to the Portland Beavers.
It was back to the PCL and Holm hit just .176 in 238 at-bats over 101 games. He was prevented from joining Portland for spring training by two things: a trio of cracked ribs suffered in a collision at the plate late in the 1946 season, and then an attack of pleurisy soon after he set out driving west. 3
Holm appeared in only seven games in '47, playing for Portland. He returned to the Yankees' system in 1948, appearing in 24 games for the Newark Bears, hitting .273 in the very limited action. The next couple of seasons repeated the patter – a total of five at-bats as a player-coach with Kansas City in 1949 and 24 games with the Newark Yankees (in Newark, Ohio) in 1950. In the latter year, Holm's primary job was as manager of Newark, an entry in the Class D Ohio-Indiana League, also a Yankees affiliate, which finished one game out of first place. New York moved Holm to Class C in 1951, to manage the Joplin Miners – and they finished even closer to first place, ending the season a half-game shy of winning the Western Association pennant.
Holm's final year in baseball was 1952, as manager of the unaffiliated West Palm Beach Indians in the Class B Florida International League. He put himself up to bat 27 times and hit .222 before he was replaced after the season's first 72 games.
After baseball Holm became a woodworker with Millwork Specialties. He was one of the founders of the Portage, Indiana, Little League and worked in his later years as a bus driver for the Portage Township schools. He died of a heart attack on July 27, 1977, at St. Catherine's Hospital in East Chicago, survived by his wife, Elaine, and their three daughters, two sons, and 15 grandchildren. The youngest of their daughters was Robin Christine Constance Holm, her two middle names selected by Elaine Holm in honor of Christy Mathewson and Connie Mack.
February 1, 2011
Sources
In addition to the sources noted in this biography, the author also accessed Holm's player file from the National Baseball Hall of Fame, the online SABR Encyclopedia, the Encyclopedia of Minor League Baseball, Retrosheet.org, and Baseball-Reference.com.
1Los Angeles Times, December 5, 1939.
2Los Angeles Times, December 13, 1939.
3The Sporting News, April 2, 1947.