Jack DiLauro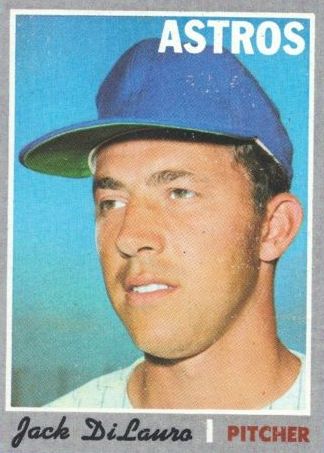 Jack DiLauro, a left-handed pitcher from Akron, Ohio who appeared in 23 games for the New York Mets in 1969, played a small but valuable role in the Mets' march to the National League pennant that season.
Jack Edward DiLauro was born on March 3, 1943 in Akron. He starred in football, basketball, and baseball at Akron North High School and earned a football scholarship to the University of Akron, which he declined in favor of signing a professional baseball contract.[1] DiLauro also pitched in the Greater Akron AA Baseball League for competitive players 18 years old and over. Joining the Tramonte Black Labels in 1961, DiLauro had an 8-1 record in 1962 and led that team to the Greater Akron AA championship that season.[2]
In 1963 DiLauro signed a contract with the Detroit Tigers for a $15,000 bonus[3] and sent the 19 year-old prospect to Jamestown of the New York-Penn League. Following a 14-10, 3.54 ERA season, the Tigers moved him to the Class A Duluth in the Northern League where DiLauro posted a 14-8 record and a 2.81 ERA. Next came Rocky Mount (Class A Carolina League) and then a promotion in 1966 to Syracuse, Detroit's Triple-A International League team and the last hurdle for DiLauro to make the majors.
DiLauro showed some promise in Class AAA, especially after the Tigers moved the Syracuse team to Toledo for the 1967 season. "Akron was about a two-hour drive from Toledo, so I could come home once in a while," DiLauro told Bruce Winkworth of the New York Mets Inside Pitch. "My parents and my brother and my old buddies used to come up and watch me pitch. I'd been playing long enough so that it didn't bother me at all to pitch in front of friends and family."[4]
Getting some home cooking didn't hurt DiLauro on the mound either. In 1967 he was 6-5 with a 4.88 ERA and helped the Mud Hens to victory over Columbus in the 1967 International League playoffs.[5] In 1968 he improved to 11-6 and 3.65 ERA. DiLauro felt he had nothing left to prove in the minors and he itched to get a chance to join Detroit, but the Tigers were in pretty good shape just then. The 1968 Tigers rolled to their first pennant since 1945 and, after losing three of the first four World Series games, reeled off three straight wins to shock the Cardinals and claim the world championship. Detroit's rotation seemed pretty much set for the '69 season with staff that included reigning AL MVP and Cy Young winner Denny McLain (31-6 ), World Series hero Mickey Lolich (17-9 ), Earl Wilson (13-12 ), Joe Sparma (10-10 ), and John Hiller (9-6 ). DiLauro thought there were plenty of teams that needed pitching. The Mets, who had a lot of good young talent, were not on that list.
Nevertheless, the Tigers shipped DiLauro to New York for minor league catcher Hector Valle prior to the 1969 season. "It was a surprise when I got traded to the Mets. I had pitched against Seaver and McGraw and Gentry and some of those guys when the Mets were in Jacksonville. When I got traded, I looked at the pitching staff. I didn't know much about Koosman, but I knew about Seaver, that he had a great arm and a good head, and I knew Ryan could throw a million miles an hour, but didn't know where it was going. Gentry and McAndrew were both up there."[6]
"I'm thinking, 'Jeez, I get traded to the Mets, of all places to go. I'm going to be back in the minors and might never get called up.' They were just so young, and at 26 years old, I was the oldest rookie that the Mets had at the time."[7]
DiLauro began the season in Tidewater under the watchful eye of farm director Whitey Herzog, who had scouted the southpaw and had recommended him to the Mets even though DiLauro's reputation lacked a power game. According to DiLauro, Herzog "seemed to know that a guy could win without throwing a ball through a wall. I owe him a lot for that chance." [8]
After four very good minor league starts, DiLauro was called up after Nolan Ryan, who had missed some playing time with blisters and military reserve training, was placed on the disabled list on May 11 with a pulled a groin muscle. Ryan would return in June but DiLauro's performance kept him with the Mets for the rest of the season.
In his major league debut on May 15, 1969 at Shea Stadium, DiLauro was called in to relieve Don Cardwell in the fourth inning as manager Gil Hodges went with a pinch hitter for Cardwell in the third inning with the Mets down, 4-1.Leading off for the Atlanta Braves was the eighth-place hitter, shortstop Sonny Jackson. He greeted DiLauro with a double to left. Pitcher Pat Jarvis unsuccessfully tried to bunt Jackson to third and struck out. Jackson was caught stealing third and Felipe Alou flied out to end the inning. DiLauro retired Atlanta one-two-three in the fifth and his first outing in the big leagues was a success, even though the Mets still wound up losing the weekday matinee.
On June 4, DiLauro may have made his greatest contribution to the team and its pennant chances. It was his first start and, according to writer Maury Allen, "may have been the game that convinced the Mets they were a contending team."[9]
On Monday June 2, Jerry Koosman led the Mets to a 2-1 victory over the Dodgers that put them back to .500 (23-23 ) and one game behind second place Pittsburgh and 8 ½ behind the Cubs. On Tuesday, Tom Seaver and Tug McGraw combined on a three-hitter to push them past the Pirates in the standings. The Wednesday afternoon game preceded a long, 12-game, four-city road trip that would begin in San Diego.
DiLauro told writer Stanley Cohen, "Gil told me I'd be starting two or three days in advance but it felt more like a month. I was really nervous, and it took me a couple of innings to settle down."[10]
Both DiLauro and Dodgers starter Bill Singer were on top of their games. DiLauro gave up a double to Bill Russell in the first and a double to Ted Sizemore in the second but he extricated himself with the help of Bud Harrelson's glove and some effective pitching. During one stretch in the game, DiLauro retired 19 consecutive batters. Unfortunately, the Mets had been unable to put up any runs against Singer and the game remained scoreless when DiLauro was lifted for a pinch hitter in the ninth. The New York Times reported that DiLauro was "accorded a standing ovation" for his "variety of curveballs" that stymied the Dodgers.[11] The Mets went on to take the game in the 15th inning, stretching their win streak to a club record-tying seven games. They had won two consecutive series at home and would win the next four on the road. By the time they returned to Shea on June 20 they were in second place, six games behind the Cubs.
DiLauro called that game the "biggest thrill of my career." He told Cohen, "I had been pitching in the minors for six years, trying to make it to the big club; and now, after my first start, to get an ovation like that from a New York crowd…it's a moment I'll never forget. Of course it would have been even better if I'd have gotten the win, but still…"[12]
After a gap of 11 days, DiLauro was tapped to start against in Los Angeles on Sunday afternoon, June 15. He would be pitching against future Hall of Famer Don Drysdale. DiLauro allowed his first runs in the major leagues—on a home run by Andy Kosco—and Jack suffered his first loss in the majors, 3-2 . In his first 22 2/3 innings as a Met, however, he had an ERA of 1.19.
Six days later he threw another good game against St. Louis at Shea but lost again. A two-run home run by opposing pitcher Nelson Briles pushed the only runs against him across the plate. His next outing, other Cardinals hit the ball hard off him as well and he dropped to 0–3. After that DiLauro was relegated to the bullpen. He picked up his first major league win in relief at Montreal's Jarry Park in the second game of a doubleheader on July 20.
"I was no green rookie," DiLauro told Allen, "I had been around baseball six or seven years by then. I felt if I pitched well I would get a chance to make a career. I pitched well (a 2.40 ERA in 63 2/3 innings) but it didn't matter. I wasn't very comfortable with Gil Hodges there. He just never talked to me. I don't think he talked to anybody other than his coaches. I don't think there was a single player on that team who had a one-to-one with Gil."[13]
"I hung out with the other rinky-dinks on the team, [Rod] Gaspar, Bobby Pfeil after he came up from Tidewater, a couple of the scrubs. I got close to Nolan Ryan. He was very unhappy there. He never got along with Hodges. He was not used properly. Anybody could see the greatness in him. Somehow or other he was never used in turn, something would come up, a rainout, an injury, anything to disrupt his schedule. They never explained anything to him. Nolan never talked negatively about anybody, but you could see he was unhappy. He grumbled once in a while about being stuck on that team. But he could throw smoke. Wow. I think he was lucky to be traded away when he was. He might not have achieved all those things if he stayed in New York."[14]
Regardless of Jack DiLauro's sentiments, the Mets went on to overtake the Cubs, defeat the Braves in the first National League Championship Series and emerge as World Series champions. After that last start in St. Louis on July 1, Jack appeared in another 16 games for New York, all in relief but he never appeared in the Mets sweep of Atlanta or their four games to one triumph over the Baltimore Orioles. In fact the Mets used only six pitchers in the World Series and the three relievers (Don Cardwell, Ron Taylor, and Ryan) combined for only 5 2/3 innings of work.
Still, DiLauro was very proud of the Mets' accomplishments that season. "That was the year of dreams, really," he told Winkworth. "It was like the words Casey coined, 'It was amazin'."[15] DiLauro usually wears his championship ring and is pleased to show it to all who ask. Unfortunately, that magic carpet ride ended quickly after the Series. DiLauro and Ed Charles were dropped from the 40-man roster to protect younger players like Jon Matlack, Les Rohr, John Milner, Tim Foli, Fred Reahm, and Dave Schneck.[16] DiLauro hoped he could earn an invitation to spring training, the first in his career.
Instead, the Houston Astros took DiLauro in the Rule V draft. The Astros were in need of a left-handed relief pitcher for the 1970 season so Houston personnel director Tal Smith fed scouting reports on 300 lefties available in the draft to a computer in their business office. DiLauro came out on top. Smith told The Sporting News that "the value to the scouting department is in getting a 30-second answer in summary to evaluations that, done manually, used to take all winter. Last winter was the first time we used it, and we used it for all positions and angles for ready references on trades and deals."[17]
While the New York management said it hated to move him to the Tidewater (International League) roster and expose him to the draft at the season's end, the club had too many young pitchers who had to be protected.[18] Initially, DiLauro saw it as another opportunity.
"I was a victim of the Mets' outstanding pitching staff," DiLauro told Cohen. By going to Houston, DiLauro could continue his progress on a team that really needed him. "For two months [in 1970], I was the best reliever in the majors, but from August 28 [actually, August 25] until the end of the season I never threw a pitch."[19] Beginning on April 21 through July 6, Jack appeared in 22 games without yielding an earned run. He finished the season with a 4.28 ERA in 33 2/3 innings pitched and a 1-3 record. A falling out with manager Harry Walker and GM Spec Richardson, due in part to a misunderstanding,[20] ended his career with Houston. DiLauro was sold to Hawaii of the Pacific Coast League after spring training in 1971.
Eight games into the season Hawaii sold DiLauro to the Atlanta Braves, who put him in AAA again with Richmond. DiLauro gave up 26 earned runs in 38 innings (0-5 , 6.16 ERA). The Braves released him and DiLauro signed with the Class AAA club of the Montreal Expos in the International League, the Peninsula Whips. A good season with the Whips (4-2 , 3.30 ERA in 60 innings) did not earn Jack a call-up to the majors. He engineered a trade to Texas for 1973, but that fell through. "I never did go to spring training with the Rangers," DiLauro told Winkworth. "I had contract problems with them. I was supposed to go to spring training with the big league club and have a chance of making it. In the offseason they picked up a couple more left-handers, so they didn't take me to camp. I couldn't come to terms with a minor league contract, so I more or less retired at the old age of 29."[21]
After retirement, DiLauro returned to Akron and joined the Koenig Sporting Goods Company. Eventually he became district manager of the chain of 31 stores. He also continued to pitch in the Greater Akron AA League leading the Easton Sports Pride to two league championships. When he retired in 1975, Jack became the AA League President for two years.[22] He resides in Malvern, Ohio with his wife Jane.
In 1974 Jack DiLauro was inducted into the Summit County (Ohio) Sports Hall of Fame[23] and in 1984 he was inducted into the Greater Akron Sports Hall of Fame.[24]
DiLauro told Maury Allen, "I left baseball with a bitter taste. I guess I think about those days too much. I was used. They needed me at the end of the season. I was only 29 when I was finished with baseball. I didn't have anything to do, anyplace to go, any training for anything else. I never made any money in baseball so it was all very hard for me. I got this job [Koenig Sporting Goods] and became the manager a few years back. We are all right now. I have a nice house on a lakefront site. We're comfortable."[25]
"I wanted more of the game. I didn't want to leave so early. I wished I could have gotten along better with the managers and the front-office people…hardly a day goes by that I don't think about something relating to the Mets of 1969. I guess I always will." 26
Sources
The Akron Beacon Journal
The New York Times
The New York Mets Inside Pitch
The Sporting News
Allen, Maury, After The Miracle: The 1969 Mets Twenty Years Later (New York: Franklin Watts, 1989)
Cohen, Stanley, A Magic Summer: The '69 Mets (New York: Harcourt Brace Jovanovich, 1988)
---