Sep 14, 1968: Oakland (4) at Detroit (5)
Denny McLain began the morning the same as he always did. His wife woke him up around 10:30. Breakfast was two eggs and sausage, and a Pepsi, his favorite drink. A half-hour later, a representative from the Hammond Organ Company showed up at Denny's home, and they discussed business. Denny was a fine player, and had a gig upcoming in Las Vegas. He was also a fine baseball player, and by noon he had to adjourn the meeting, because it was time to head to work. He was a pitcher for the Detroit Tigers, and on September 14, 1968, his record stood at 29 wins and five losses. He was the talk of the sporting world, as he was gunning for his 30th victory that day.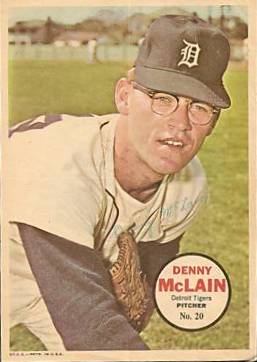 It was something that hadn't been done in 34 years, not since an equally-brash pitcher named Dizzy Dean accomplished the feat for the St. Louis Cardinals. McLain's Tigers were facing the newly-transplanted A's from Oakland. During batting practice, A's catcher Jim Pagliaroni paraded around the infield with a homemade sign on his back, which read, "Chuck Dobson goes for No. 12 today."1 McLain stepped into the cage and took a few practice cuts. He immediately broke a bat. Teammate Mickey Stanley picked it up and tossed it into the dugout. "Somebody save the bat Denny McLain broke on the day he won 30."2
After BP, Denny drank another Pepsi. A gaggle of reporters swarmed around him at all times. He had fun with them. "Yes, I'm going to ask for $100,000, and that's a low figure."3 He also complained about a recent feature article about him in Time magazine. "I didn't like the booze and broads angle."4 Poor misunderstood Denny. Still, he recognized the import of the moment. "Isn't this something?" he asked. "I mean, isn't this something?"5 A reporter inquired how he felt. "I feel fine," he replied. "I guess I'll get a little nervous when I get out there. But I don't feel anything yet."6 His catcher, Bill Freehan, lent some levity to the proceedings. "This is a pretty loose club."7
The Saturday afternoon contest was the main event across the nation, being broadcast on NBC television's "Game of the Week." As Detroit Free Press writer Jack Saylor put it, "This was the World Series, Mardi Gras, and the Academy Awards all wrapped up in one."8 Among the throng of 33,688 at Tiger Stadium was none other than Dizzy Dean himself, sporting a big white cowboy hat and a western-style string tie. "I'll tell ya, I think he's a great pitcher," Dean observed. "He pitches a lot like me ... throws it hard and light although he's not as fast as I was. He kicks up that left leg the same way I did."9
The Tigers were well on their way to the American League pennant, so the drama was focused solely on McLain. Oakland, on the other hand, was a middle-of-the-pack club, although they did have some fine young players that helped turn them into a championship club in a few years. One of those players was 22-year-old Reggie Jackson, who had hit 26 home runs thus far in his first full season in the majors. It was Jackson who opened the scoring in the top of the fourth, with a two-run homer into the lower deck in right. He was given a standing ovation by the players in the Oakland dugout.
Detroit's Norm Cash saw Jackson and raised him one, with a three-run dinger in the bottom half of the inning. The old ballpark shook as the crowd came to life. Two teenage girls in the upper deck waved a banner reading, "McLain and Freehan – Our Power-Charged Battery."
Oakland tied the game on a Bert Campaneris single in the fifth, which scored Dave Duncan. In the sixth, the kid Jackson slammed his second home run of the game, a solo shot into the upper deck in right. All week prior to the game, he'd been hearing Denny this and Denny that, and he was tired of it. He was determined to carry his team to victory on this day. Before the game, when he'd been told what McLain had had for breakfast, Jackson pointed out for the record that he'd had "two eggs over, a Spanish omelette, six pieces of bacon, a glass of milk, hot tea, cereal, and peaches. And a vitamin pill."10 In the battle of the breakfasts, Jackson was ahead so far.
The score remained A's 4, Tigers 3, heading into the bottom of the ninth. Al Kaline pinch-hit for McLain leading off the frame, so if Denny was going to get his 30th, Detroit would have to mount a game-winning rally right there. Facing Diego Segui, Kaline worked the count to 3-2, and then took a pitch just off the outside corner. Ball four. The tying run was on base. Dick McAuliffe, unable to lay down a bunt, finally popped up to third for the first out. Mickey Stanley singled, sending Kaline to third. That brought up Jim Northrup, who sent a dribbler to first baseman Danny Cater. Kaline raced home to try to tie the game. Cater's throw to catcher Duncan was wild, and Kaline scored. Northrup was safe on first, while Stanley took third on the play.
"They told me when I got to third," Kaline said later, "that I should go in if the ball wasn't hit too hard in the infield. So when Northrup's ball was just a trickler, I took off. I made up my mind that if the ball was there already I would grab the catcher with my hands and try to knock it loose from him. I was going to give it my best shot. I saw Duncan go up for the ball just before I hit him. He spun me around but I saw the ball go by him and crawled over to the plate and touched it with my hand to make sure."11
Up to the plate stepped Willie Horton. The outfielders were extra shallow for a play at the plate. On a 2-2 pitch, Horton hit a liner over the head of left-fielder Jim Gosger, who probably would have caught it had he been playing at normal depth. Stanley danced across the plate with the winning run, and, in the words of Free Press columnist Joe Falls, "It was VJ day all over again."12
As the Tigers celebrated on the field and in the clubhouse, and as the fans, refusing to leave, screamed themselves hoarse, the person in the ballpark who was the most disappointed was Reggie Jackson. "All for nothing," he fumed, referring to his two home runs. He had also cut off a runner at home plate with a rifle throw, and made a fine leaping catch in the outfield. "Oh, I hated to lose this game. Why did it have to be us that he beat for that 30th one?"13 Meanwhile, the man of the hour came out of the dugout for a curtain call. "Look at this, willya?" McLain yelled, awed by the whole scene. "Look at those people! I can't believe it!"14
In the locker room after the game, a reporter asked Horton if he'd had a plan up there at the plate. "Plan?" Horton retorted. "I didn't have any plans. I just decided that I was going to hit the ball and run like hell."15
Dizzy Dean was delighted at the outcome. "I got a great thrill out of it," he said. "And to win it in the ninth inning like that ... It's one of the greatest games I ever saw."16
After the game, while holding court with reporters in front of his locker, McLain was asked if he had told his teammates anything in the dugout in the final inning. "I didn't say anything. But when [Kaline] got on, I knew we had a chance."17 The Tiger rally was "fantastic. What else can you call it?"18
His line score looked very good: Nine innings, six hits, four runs (earned). Ten strikeouts, one walk. And even though it had not been an easy victory by any means, McLain noted, "There was no way I could get tired today."19
And how was he going to celebrate his 30th win? "Drink more Pepsi," McLain said, smiling. "A whole lot of Pepsi."20
Notes