14th Jerry Malloy Negro League Conference Kicks Off Thursday in Indianapolis
When the Society for American Baseball Research was founded on August 10, 1971, just a single player from the Negro Leagues had been elected to the National Baseball Hall of Fame — the ageless pitching wonder Satchel Paige, who delivered his speech on the library steps in Cooperstown on the afternoon before SABR's first meeting. Today, largely due to the research of SABR members over the ensuing four decades, there are 35 representatives from baseball's pre-integration leagues for black players with plaque in the Hall of Fame gallery.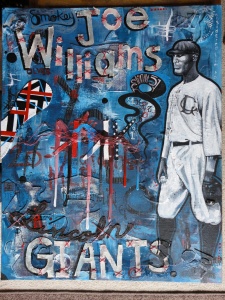 "Smokey Joe Williams", by Bill Cormalis Jr.: winner (professional) of the 2011 Negro Leagues Committee art contest
SABR's Negro Leagues Research Committee — one of its original committees, formed in 1971 — has continued to preserve and highlight the contributions of African-American players in baseball history. Led by co-chairs Dick Clark and Larry Lester, the committee published the landmark The Negro Leagues Book in 1994, which featured a complete register of more than 3,000 players, team rosters and in-depth histories from leagues of the late nineteenth century to the middle of the twentieth.
The committee has also spawned the Negro Leagues Baseball Grave Marker Project, which was started in 2003 by SABR member Jeremy Krock and has provided proper grave markers to the unmarked graves of more than 20 former Negro Leagues players around the country. (Their work was featured this week in an "NBC Nightly News" special that can be viewed here.)
SABR members and nonmembers alike can learn more about the Negro Leagues Committee and its groundbreaking work beginning today at the 14th annual Jerry Malloy Negro League Conference, which runs from July 21 to 23 at the J.W. Marriott in Indianapolis, Indiana.
The Malloy Conference, hosted by SABR's Negro Leagues Committee, promotes activities to enhance scholarly, educational, and literary objectives. For the past 13 years, the event has been the only symposium dedicated exclusively to the examination and promotion of black baseball history. The conference is open to baseball and history fans of all ages.
On-site registration fees are:
Three-day registration, $170.
Friday-Saturday registration is $150 for adults; $100 for students.
Single-day registration is $90.
Room rates for the JW Marriott hotel are $139/night. Click here to reserve your room.
Each year, monies are targeted to donate books to schools or libraries; raise funds for the Grave Marker Project; and award scholarships to high school seniors in a nationwide essay contest and a nationwide art contest. (Winners in the essay contest and the art contest were announced earlier this spring.)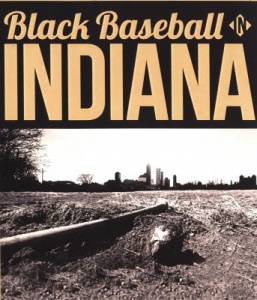 The theme of this year's Malloy Conference is "Black Baseball in Indiana," which is coincidentally the title of a half-hour documentary film produced by students at Ball State University's Virginia B. Ball Center for Creative Inquiry, under the advisement of Negro Leagues historian and SABR member Geri Strecker, a two-time recipient of the McFarland-SABR Baseball Research Award.
"Black Baseball in Indiana" was screened on July 7 to SABR 41 attendees during the national convention's Film Festival in Long Beach, California. Several of Strecker's students were on hand to introduce the film and discuss it afterward.
As a result of their research, the Indiana Historical Society will place a commemorative marker at 4:30 p.m. Friday, July 22 at the site of Washington Park, where the first Negro National League game was held in 1920. The old ballpark, on the grounds of what is now the Indianapolis Zoo, had been lost for decades.
In 2009, Strecker discovered photos at Carnegie Mellon University that revealed the location of Greenlee Field in Pittsburgh, home to the Pittsburgh Crawfords and Homestead Grays, powerhouse Negro Leagues clubs in the 1930s.
For more information on the Jerry Malloy Conference, visit http://www.larrylester42.com/jerry-malloy-negro-leagues-conference.
---
Photo galleries: View photo galleries from the 2011 Jerry Malloy Conference here
This page was last updated July 25, 2011 at 12:55 pm MST.