Bagwell, Raines, Rodriguez elected to Baseball Hall of Fame in 2017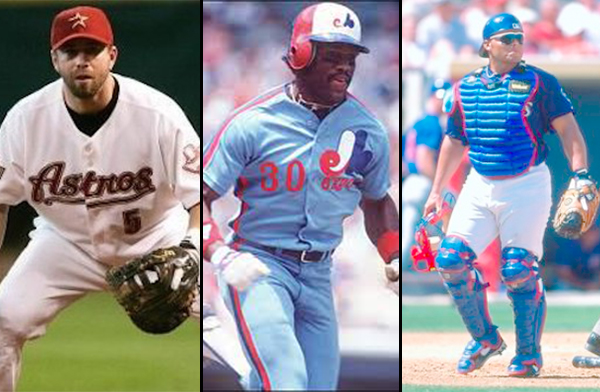 Jeff Bagwell, Tim Raines, and Ivan Rodriguez were announced as the newest inductees to the National Baseball Hall of Fame on January 18, 2017.
Bagwell, the unanimous 1994 NL MVP and star first baseman for the Houston Astros, received 86.2 percent of the 442 ballots cast by the Baseball Writers' Association of America in his seventh year on the ballot. He will join his longtime teammate and friend Craig Biggio, who was elected in 2015, in the Hall of Fame this summer.
Raines, the Montreal Expos speedster with the fifth-highest total of stolen bases in baseball history, received 380 votes (86.0 percent) in his 10th and final year on the writers' ballot. His campaign surged past the 75-percent threshold required for election after an initial total of 24.3 percent in 2008.  
Rodriguez became the second catcher, along with Johnny Bench, to make it to the Hall of Fame in his first year on the ballot. He won 13 Rawlings Gold Glove Awards and was named American League MVP in 1999. He received 336 votes (76 percent).
The 2017 Hall of Fame Induction Weekend will take place July 28-31 in Cooperstown, New York.
San Diego Padres closer Trevor Hoffman fell five votes shy of the required 332 for election, finishing with 74.0 percent in his second year on the ballot. A record nine players received votes on more than half the ballots cast, including first-timer Vladimir Guerrero (71.7 percent), followed by Edgar Martinez (58.6), Roger Clemens (54.1), Barry Bonds (53.8), Mike Mussina (51.8), and Curt Schilling (52.3).
Find all published SABR biographies for Baseball Hall of Fame inductees — including the Class of 2017 — by clicking here.
This page was last updated January 31, 2017 at 12:30 pm MST.