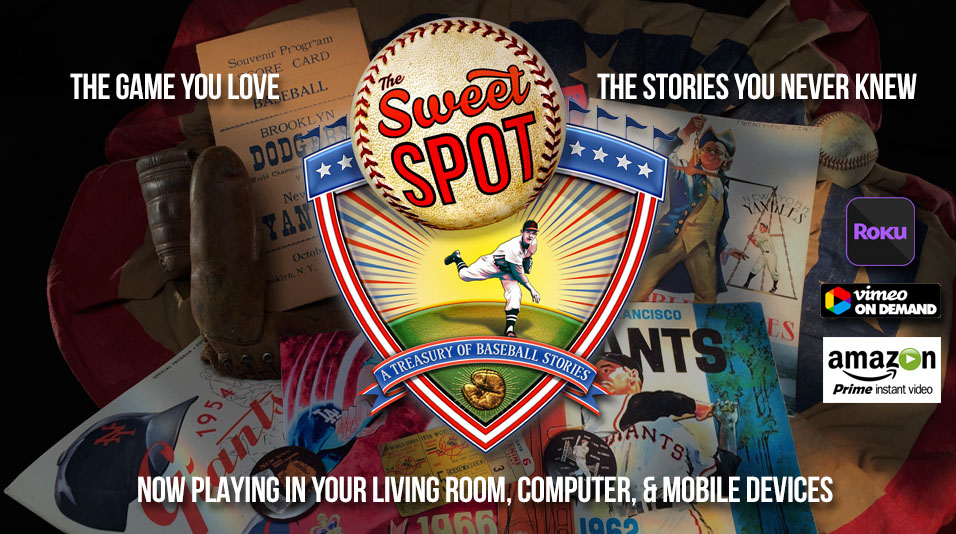 The San Francisco Public Library and SABR's Lefty O'Doul/San Francisco Bay Chapter will present award-winning baseball documentarian Jon Leonoudakis for an evening of baseball stories with special guests at the San Francisco Public Library's Koret Auditorium, 100 Larkin Street, on Tuesday, March 28, 2017, at 6:00 p.m.
All baseball fans are welcome to attend this free event.
Leonoudakis, a San Francisco native, has three films in the permanent collection of the National Baseball Hall of Fame. He will present his latest project, an ambitious multimedia effort, The Sweet Spot: A Treasury of Baseball Stories. The project's focal point is a new streaming TV channel dedicated to baseball. His Evzone Media studio recently launched The Sweet Spot on Amazon Prime, Roku and Vimeo on Demand, making broadcast history as the first indie studio to debut a dedicated baseball channel on three streaming outlets. The channel features his signature original documentary anthology series of the same name, capturing and curating stories from people across the baseball spectrum to take the pulse of the game in the 21st century.
In addition to the channel, The Sweet Spot will also publish soft and hard copy books of the interview sessions. "Two of my inspirations for this project are Lawrence Ritter's The Glory of Their Times and Studs Terkels' Working," said the filmmaker. "Oral histories are important to our history and culture, and my goal is to contribute to the narrative of baseball, which has always been a reflection of American society." The project has also spawned apparel, including t-shirts and their own custom baseball card series.
"Our mission," said Leonoudakis, "is to preserve baseball history, celebrate a love of the game, and tell stories that transcend sport." The filmmaker has interviewed coaches, players, artists, writers, fans, photographers and others that comprise the backbone and lifeblood of the game. Some of those interviewed are Jim "Mudcat" Grant, the first African-American to win 20 games in the American League, former Giants outfielder Mike "Tiny" Felder, San Francisco-based artist Mark Ulriksen, author Nancy Finley (Finley Ball), and former Topps baseball card photographer Doug McWilliams. Leonoudakis will be screening episodes from the series featuring Ulriksen, McWilliams, Felder and Finley, all of whom are scheduled to attend and will participate in a Q&A session after the screening.