SABR 44: 1980 Houston Astros Panel
We're pleased to introduce the featured panelists for the 1980 Houston Astros Panel at SABR 44, which is scheduled for 10:00 a.m. on Friday, August 1 at the Royal Sonesta Houston. This panel will discuss the Astros' memorable 1980 National League West championship team, the first in Houston major league history to make the postseason.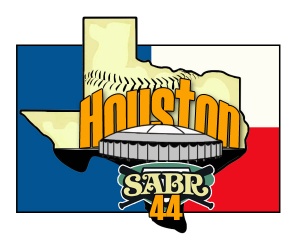 Visit SABR.org/convention for a complete schedule of panels, research presentations, and committee meetings, as well as registration information and details.
Please note that all speakers are subject to change depending on availability.
Here are the panelists for the 1980 Houston Astros Panel:
Enos Cabell: Signed by the Baltimore Orioles as an amateur free agent in 1968, Enos played third base, first base, and outfield for five teams over 15 major league seasons from 1972 to 1986. He compiled 1,647 hits with the Astros, Tigers, Dodgers, Orioles and Giants. In retirement, he worked as an Astros broadcaster from 1991-96 and has served as the Astros' special assistant to the general manager since 2005, helping to evaluate talent in the organization's farm system. His honest feedback and keen recommendations have helped shape the Astros' minor league system into one of the best in baseball.
Jose Cruz: Jose is in his 31st season with the Houston Astros, having spent 13 years as a player, 13 years as a coach and the last five seasons as a special assistant to the general manager. At the time of his retirement after the 1988 season, he held the franchise records in games played, at-bats, hits, total bases, and triples. Nicknamed "Cheo," he has been involved in all of the Astros' nine postseason appearances. His number 25 was retired by the team in 1992.
Deacon Jones: Deacon has spent nearly five decades in baseball, as a player, coach and scout. He appeared in 40 major league games for the Chicago White Sox over parts of three seasons from 1962 to 1966, and hit .318 as a minor leaguer in the White Sox system over 12 years. After he hung up his spikes, he became a roving hitting instructor and minor league manager for the White Sox until Astros manager Bill Virdon hired him to be the major league hitting coach in Houston, which he did from 1976 to 1982. He also worked as a scout and coach for the New York Yankees and San Diego Padres before Roland Hemond hired him to be an advance scout for the Baltimore Orioles in 1988. He spent 20 years in that role until retiring in 2007. Now, he makes his home in Houston and scouts part-time for the Orioles.
Tal Smith: Tal has served in every top leadership position with the Houston Colt .45s/Astros franchise in three separate tenures, beginning as the farm director in 1961 and culminating as president of baseball operations from 1994 to 2011. He supervised the construction of the Astrodome and the introduction of Astroturf, and later had a similar role in the design of Minute Maid Park. In between, he was the Astros' general manager from 1975-80, building a team that won Houston's first division title in 1980. Afterward, Tal formed a successful consulting firm advising baseball teams on salary and personnel matters. In recent years, he has served as special advisor to the Sugar Land Skeeters independent team. The Astros created "Tal's Hill," a unique 10-degree incline in center field at Minute Maid Park, to honor his contributions to baseball in Houston.
Moderator: Kenny Hand: A graduate of the University of Texas-Arlington, Kenny has been an award-winning media fixture in Houston for the past 37 years. At the Houston Post, he was the beat writer for the Houston Astros for eight seasons and covered several championship teams. He then went on to being a sports columnist for ten years. He is a lifetime member of the Baseball Writers Association of America and a voting member of the Texas Sports Hall of Fame. Kenny is now the Associate Publisher of Texas Links.
For more information on SABR 44 or to register, visit SABR.org/convention.
This page was last updated June 11, 2014 at 1:59 pm MST.