SABR 44: Astros Player Panel at Minute Maid Park
We are pleased to introduce the SABR 44 Astros Player Panel, part of the exclusive SABR 44 ballpark sessions at Minute Maid Park.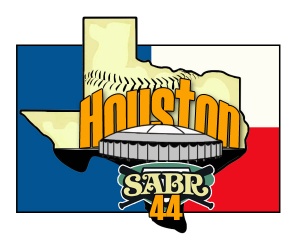 This panel, scheduled for 2:30 p.m. on Saturday, August 2 at Minute Maid Park, will bring together Houston Astros players to talk about their lives and careers in baseball.
Learn more at SABR.org/convention. All baseball fans are welcome to attend. Please note that conference registration AND an Astros game ticket is required to attend the ballpark session at Minute Maid Park. Registration will not be available at the ballpark. You must register for SABR 44 at the Royal Sonesta Houston hotel no later than 1:00 p.m. on Saturday, August 2.
Expected speakers include:
Alan Ashby: Alan returned to the Houston Astros' broadcast booth in 2013 after a six-year stint as an analyst with the Toronto Blue Jays. He was a mainstay behind the plate for the Houston Astros for 11 seasons, and was the Astros' starting catcher for both the 1980 and 1986 NL West Division championship teams. He caught three no-hitters (Ken Forsch, Nolan Ryan, and Mike Scott) during his 17-year career before retiring in 1989. He began his broadcast career with the Astros in 1998 and was inducted into the Texas Sports Hall of Fame in 2000.
Art Howe: Art is one of a handful of people to play for and manage the Houston Astros. He spent 11 years as a player with the Astros, Pittsburgh Pirates, and St. Louis Cardinals from 1974-85, and was a dependable starter at first base and third base for the Astros' 1980 and '81 playoff teams. After retiring, he served as a coach with the Texas Rangers, the Astros, and the Colorado Rockies before he was hired by the Astros as their manager in 1989. He managed the Astros for five seasons and helped set the foundation for the team's run of success in the late 1990s. In 1996, he was hired by the Oakland A's, where he saw his greatest success as a manager. Art led the A's to two American League West titles in 2000 and '02, and a postseason berth as a wild card in 2001, compiling a .530 winning percentage in seven seasons. In his 14-year managerial career with the Astros, A's, and New York Mets, he finished with a 1,129-1,137 record. His career win total ranks in the top 50 all-time entering the 2014 season. He now lives in Houston and works as a pregame and postgame TV analyst for CSN Houston.
Moderator: Bill Brown: Bill is in his 28th season as the television voice of the Houston Astros, and has more than 30 years of experience broadcasting MLB games. Earlier this year, he was named the Texas Sportscaster of the Year by the National Sportscasters and Sportswriters Association. In 2004, he was inducted into the Texas Sports Hall of Fame in Waco, Texas. In addition, he was recognized on the Astros' Media Wall of Honor at Minute Maid Park in 2011 and was the recipient of the Fred Hartman Excellence in Sportswriting Award from the Texas Press Association in 2012.
Visit SABR.org/convention for a complete schedule of panels, research presentations, and committee meetings, as well as registration information and details.
Please note that all speakers are subject to change depending on availability.
This page was last updated July 30, 2014 at 12:00 am MST.