SABR 44: Decision Sciences Panel at Minute Maid Park
We are pleased to introduce the SABR 44 Decision Sciences Panel, part of the exclusive SABR 44 ballpark sessions at Minute Maid Park.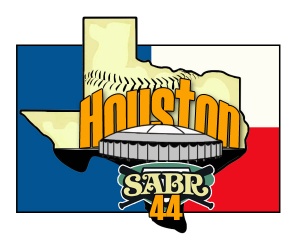 This panel, scheduled for 3:30 p.m. on Saturday, August 2 at Minute Maid Park, will focus on the Houston Astros' innovative front office, led by General Manager Jeff Luhnow, and their plan for the future of the organization.
Learn more at SABR.org/convention. All baseball fans are welcome to attend. Please note that conference registration AND an Astros game ticket is required to attend the ballpark session at Minute Maid Park. Registration will not be available at the ballpark. You must register for SABR 44 at the Royal Sonesta Houston hotel no later than 1:00 p.m. on Saturday, August 2.
Expected speakers include:
Jeff Luhnow: Jeff has served as the General Manager of the Houston Astros since 2011. He has a well-earned reputation for scouting and player development. During his first season with the club, the Astros' minor league affiliates managed the highest combined winning percentage of all 30 major league organizations. Prior to joining the Astros, he spent eight years as the Vice President of Scouting and Player Development with the St. Louis Cardinals, who won two World Series during his tenure. Fluent in English and Spanish, Jeff established a baseball academy in the Dominican Republic and extended the Cardinals' scouting in Venezuela. The Cardinals won five minor league championships under his watch and produced the best system-wide minor league record in 2010. In addition to his work in baseball, he has worked as an engineer, technology entrepreneur, and management consultant. He is a graduate of the University of Pennsylvania and holds an MBA from the Kellogg Graduate School of Management at Northwestern University.
Sig Mejdal: Sig was named Director of Decision Sciences for the Astros in January 2013. In his role, he helps the Baseball Operations Department evaluate players by reading and extracting various forms of data from scouting reports, medical reports, minor league statistics, and other information. Prior to joining the Astros, Sig worked for the St. Louis Cardinals as Director of Amateur Draft Analytics, where he was involved with modeling analysis and data-driven decision making throughout all levels of the organization. He has two engineering degrees and advanced degrees in Operations Research and Cognitive Psychology/Human Factors from San Jose State University. He has been a longtime member of SABR, first joining as a teenager in 1991.
David Stearns: David is the Assistant General Manager for the Houston Astros, where his responsibilities include player evaluation, player transactions, and contract negotiations. He also helps oversee the Astros' scouting and analytics departments. Prior to joining the Astros, he served as the Director of Baseball Operations for the Cleveland Indians in 2011-12. He spent 2008-11 working in the MLB Commissioner's Office, where he was the Manager of Player Relations. He is a 2007 graduate of Harvard University.
Visit SABR.org/convention for a complete schedule of panels, research presentations, and committee meetings, as well as registration information and details.
Please note that all speakers are subject to change depending on availability.
This page was last updated July 23, 2014 at 4:10 pm MST.