SABR 44: Houston Colt .45s Panel
We're pleased to introduce the featured panelists for the SABR 44 Houston Colt .45s Panel, which is scheduled for 10:30 a.m. on Thursday, July 31 at the Royal Sonesta Houston. This panel will discuss the colorful era of the Colt .45s, Houston's first major league baseball team, established in 1962.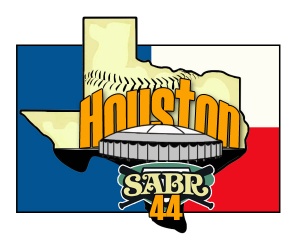 Visit SABR.org/convention for a complete schedule of panels, research presentations, and committee meetings, as well as registration information and details.
Please note that all speakers are subject to change depending on availability.
Here are the panelists for the Houston Colt .45s Panel:
Bob Aspromonte: Bob was an original Colt .45 when major league baseball came to Houston in 1962. He was also the last Brooklyn Dodger active in the major leagues when his career came to an end in 1971 and later he would also become the last of the original Colt .45s to leave the franchise. In his first year with the expansion Colt .45s, Bob set a record for third basemen with a stretch of 57 consecutive games without an error. He scored the first run in Houston major league baseball history when Al Spangler tripled him home in the first inning of the first game ever.
Mickey Herskowitz: Mickey is nothing if not prolific as a writer. He has jointly written or ghost-written biographies of people ranging from Dan Rather to Mickey Mantle, from Bette Davis to Nolan Ryan, from Howard Cosell to John Connally. That is not a complete list by a long shot. But Mickey started as a sportswriter in Houston and he covered the Houston Colt .45s when they were born. He was on the inside not just with the players but with the movers and shakers who brought baseball to what is now the nation's fourth-most populous city. His baseball work was honored with induction into the Texas Baseball Hall of Fame. In recent years, Mickey has been teaching the next generation from a pulpit he has set up at Sam Houston State University just a few miles up the road.
Hal Smith: Hal is most famous for his game-tying home run in the eighth inning of Game Seven of the 1960 World Series for the Pittsburgh Pirates. But he also has a footnote in Houston baseball history. Smith was an original Colt .45 after being selected from the Pirates in the expansion draft. Smith hit the first home run in Houston major league history in 1962. In that first season, Hal did more catching than anyone else. His playing time dwindled the next season and by the end of the 1964 season spent with the Reds, Hal retired at 33 years old. Hal had a solid .267 major league batting average over ten seasons. He now lives in Columbus, Texas, about 70 miles west of Houston.
Carl Warwick: Carl is a native Texan, born in Dallas and a graduate of Texas Christian University in Fort Worth. He played for the Colt .45s in both 1962 and 1963 between stints with the St. Louis Cardinals, where he had the greatest success during his six-season career. Carl made his major league debut with the Los Angeles Dodgers in 1961. With the Colt .45s, he played regularly in the outfield. On May 17, 1963, he homered and had four hits in support of Don Nottebart, who threw the first no-hitter in franchise history against the Philadelphia Phillies.
Jimmy Wynn: "The Toy Cannon" was the first power hitter in Houston major league baseball. He was not an original Colt .45, but he got here as fast as he could. He joined the team in the second season, 1963, and was a Colt .45/Astro for 11 seasons from 1963 through 1973. He later had a two-year stop with the Dodgers and parts or all of one seasons with the Braves, Yankees and Brewers. Jimmy hit 223 home runs in his 11 Houston seasons and finished his career with a total of 291. He averaged 25 home runs per season despite playing nine of his prime years in the massive and dead-air Astrodome. Though not a high batting average hitter he crushed 37 home runs in 1967 despite playing half his games in the Astrodome and was edged out for the NL home run title by Hank Aaron who hit 39. His one other 30+ home run year was with the Dodgers in 1974 when he hit 32 to go with a career high 108 RBI.
Moderator: Greg Lucas: Greg first saw Colt Stadium as an eyesore resting in the Astrodome parking lot in 1970 while in the Army stationed in San Antonio. But 14 years later, he was announcing his first Astros game from the Astrodome with DeWayne Staats. After a stint in the NBA and in North Texas as a Rangers announcer, he joined Astros telecasts full-time in several roles from 1995 through 2012. Earlier this year, he published Baseball: It's More Than Just A Game. He has also broadcast some home games for the independent Sugar Land Skeeters on ESPN3.
For more information on SABR 44 or to register, visit SABR.org/convention.
This page was last updated June 10, 2014 at 4:37 pm MST.