SABR 44: Media Panel
We're pleased to introduce the featured panelists for the SABR 44 Media Panel, which is scheduled for 2:30 p.m. on Friday, August 1 at the Royal Sonesta Houston. This panel will discuss media coverage of the Houston Astros and other on-field and off-field issues that affect the game.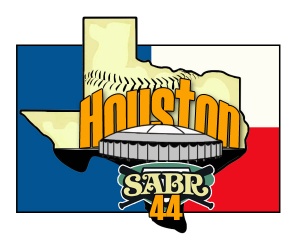 Visit SABR.org/convention for a complete schedule of panels, research presentations, and committee meetings, as well as registration information and details.
Please note that all speakers are subject to change depending on availability.
Here are the panelists for the SABR 44 Media Panel:
Bill Brown: Bill is in his 28th season as the television voice of the Houston Astros, and has more than 30 years of experience broadcasting MLB games. Earlier this year, he was named the Texas Sportscaster of the Year by the National Sportscasters and Sportswriters Association. In 2004, he was inducted into the Texas Sports Hall of Fame in Waco, Texas. In addition, he was recognized on the Astros' Media Wall of Honor at Minute Maid Park in 2011 and was the recipient of the Fred Hartman Excellence in Sportswriting Award from the Texas Press Association in 2012.
Evan Drellich: Evan covers the Houston Astros for the Houston Chronicle. Previously, he covered the Boston Red Sox for the Springfield Republican/MassLive.com and MLB.com, and was also a part of MLB.com's national desk, covering spring training, the All-Star Game, and the postseason on location. He has also worked for Newsday in New York City and the Press & Sun-Bulletin in Binghamton, New York. He holds a bachelor's degree in English from State University of New York at Binghamton.
Alyson Footer: Alyson is a national correspondent for MLB.com and formerly was the social media director for the Houston Astros. A graduate of the University of Cincinnati, she covered the Astros during their playoff runs in 2001, 2004, and 2005, the year the Astros were in the World Series. In her role as social media director, she helped connect Astros players and fans through social media platforms and helped provide greater access to various Astros fan and blog sites. She continues to be active on Twitter, Facebook, and on her MLB blog, Alyson's Footnotes at footer.mlblogs.com.
Buck Martinez: Buck has spent 45 years in baseball — 20 years as a professional catcher with the Kansas City Royals, Milwaukee Brewers, and Toronto Blue Jays, and 25 years as a broadcaster. During his 12 years with the Toronto Blue Jays, he has served as field manager in 2000-01, a TV color commentator and his current role as a play-by-play announcer. Buck also managed Team USA in the initial World Baseball Classic in 2006. He has worked as an analyst for the Baltimore Orioles and ESPN, where he earned a Sports Emmy for his coverage of Cal Ripken's 2,131st consecutive game in 1995. He has also done color commentary on the Sunday Game of the Week on TBS.
Moderator: Brett Dolan: Brett has nearly 20 years of professional baseball play-by-play experience, including seven years on the Houston Astros radio broadcast team. He can be heard on ESPN3, ESPNU, CSN Houston, TD Radio and CBS Sports Radio 610. He has also been a broadcaster with MLB Network and Fox Sports Southwest. A graduate of the University of Iowa, Dolan lives in Sugar Land with his spouse, Betsy, and children, Will and Kate. He marks witnessing Craig Biggio's 3,000th MLB hit as one of his favorite sports experiences.
For more information on SABR 44 or to register, visit SABR.org/convention.
This page was last updated June 18, 2014 at 10:47 am MST.