SABR 44: Women in Baseball Panel
We're pleased to introduce the featured panelists for the SABR 44 Women in Baseball Panel, which is scheduled for 4:30 p.m. on Friday, August 1 at the Royal Sonesta Houston. Women have played our national pastime as children and adults probably as long as their male counterparts. The development of softball has largely obscured the rich history and current involvement of women in the hardball world. This discussion will bring into focus the role of women in baseball, past and present, through the real life, and varied experiences of our panel members.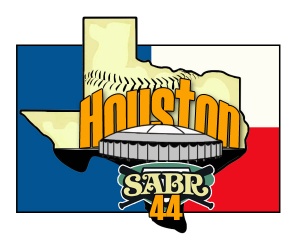 Visit SABR.org/convention for a complete schedule of panels, research presentations, and committee meetings, as well as registration information and details.
Please note that all speakers are subject to change depending on availability.
Here are the panelists for the SABR 44 Women in Baseball Panel:
Alyson Footer: Alyson is a national correspondent for MLB.com and formerly was the social media director for the Houston Astros. A graduate of the University of Cincinnati, she covered the Astros during their playoff runs in 2001, 2004, and 2005, the year the Astros were in the World Series. In her role as social media director, she helped connect Astros players and fans through social media platforms and helped provide greater access to various Astros fan and blog sites. She continues to be active on Twitter, Facebook, and on her MLB blog, Alyson's Footnotes at http://footer.mlblogs.com.
Pam Gardner: Pam worked for the Houston Astros for 24 years, working her way from Director of Communications to President of Business Operations. She held the latter post for 11 years. During her tenure, when she was often the highest-ranking female in baseball involved in day-to-day operations, she spearheaded the building and opening of Minute Maid Park as the club set attendance records. Since leaving the Astros, she has been CEO of a consulting firm and also has served on the board for the Harris County-Houston Sports Authority.
Jana Howser: Jana is Executive Vice President for Development for the College Baseball Hall of Fame. She is the daughter of longtime major league player and manager Dick Howser, who also played and coached college baseball for years. That made her a natural to be part of the College Baseball Hall of Fame when it was founded in Lubbock, Texas. She is a board member for the Dick Howser Trophy, which is awarded to the top collegiate baseball player each season. A graduate of the University of Missouri-Kansas City, she has worked as a teacher and coach on the high school level.
Marie "Red" Mahoney: Red is the only native Houstonian to have played in the All-American Girls Professional Baseball League. During World War II, she worked at Gray Tool Company while playing fast-pitch softball for a local team. In 1947, she was recruited to play for the AAGPBL, first with the South Bend Blue Sox and then in 1948 with the Fort Wayne Daisies. As in her amateur years, Red's speed made her a desirable outfielder. Returning to Houston, Red was employed by Kodak and her baseball career was largely forgotten until the 1992 release of "A League of Their Own." In 2006, Red was inducted into the Texas Baseball Hall of Fame. A dedicated fan of the game, Red is an enthusiastic member of the Larry Dierker Chapter.
Moderator: Leslie Heaphy: Leslie has been a member of SABR since 1989 and chair of the Women in Baseball Research Committee since 1995. She was elected to the SABR Board of Directors in 2010 and serves as the Board liaison to research committee chairs. She is an Associate Professor of History at Kent State University at Stark and publishes in the area of the Negro Leagues and women's baseball. In 2008, she became the founding editor of the journal Black Ball, published by McFarland.
For more information on SABR 44 or to register, visit SABR.org/convention.
This page was last updated June 24, 2014 at 1:15 pm MST.