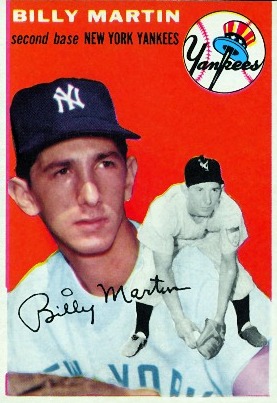 As a player on the great New York Yankee teams of the 1950s and later as a manager with five different major league clubs, Billy Martin was known to be brash, bold, and fearless. He played the game hard and made no excuses for the way he handled himself on or off the field. To this day many people, including his off-and-on boss, George Steinbrenner, considered Martin a baseball genius for the intuitive way he managed his ballclubs.
When asked about Martin's prowess as a field general, former New York Yankee manager Casey Stengel, who had known Billy since his minor league days in Oakland, told the Sporting News in an interview printed on August 23, 1975: "He's a good manager. He might be a little selfish about some things he does and he may think he knows more about baseball than anybody else and it wouldn't surprise me if he was right." Asked why he thought so highly of Martin as a player, Stengel replied, "If liking a kid who never let you down in the clutch is favoritism, then I plead guilty."
As difficult, irascible, and pugnacious as he was, Martin commanded respect as a manager. In 1987, in a poll of 600 former players he ranked eighth among some heavyweights--behind Casey Stengel, Joe McCarthy, Walter Alston, John McGraw, Connie Mack, Earl Weaver, and Al Lopez, and ahead of Whitey Herzog, Sparky Anderson, and Tommy Lasorda. [1]
Alfred Manuel Pesano Jr. was born in Berkeley, California, on May 16, 1928, to Alfred Manuel Pesano Sr. and Joan (Salvini) Pesano. Joan, who went by the nickname Jenny, was of Italian descent, and Alfred Sr. was born in the Azores. Alfred Sr. abandoned the family when Billy was eight months old, and Jenny later married a nightclub singer named Jack Downey. Alfred Jr.'s maternal Italian grandmother called him Bella or Bellitz when he was an infant and this name eventually evolved into Billy. Soon after his mother changed the family name to Martin. [2]
Billy started out playing baseball on the sandlots around Berkeley, and while in high school joined up with the Oakland Junior Oaks. The Junior Oaks were an amateur ballclub sponsored by Oakland's Pacific Coast League team. During this time, Martin, showing his proclivity for a good fight, was spending his free time boxing in the amateur ranks around the San Francisco/Oakland area.
Graduating from high school in 1946, Billy signed his first professional baseball contract with the Idaho Falls Russets of the Class D Pioneer League. He played 32 games at third base for the Russets, not hitting much, but playing solid defense in the infield. Even with his lackluster batting, Oakland Oaks owner Brick Laws saw something in the youngster and purchased his contract from Idaho Falls.
The following year, Martin struggled at the plate and in the field, causing Oaks manager Casey Stengel's farming him out to the Phoenix Senators of the Class C Arizona-Texas League. Once in Phoenix, Billy regained his confidence, appearing in 130 games for the Senators and hitting .392.
In his next two seasons with Oakland, Martin, moved to the middle infield, played well defensively and began to hit more consistently. During his early tenure with the Oaks, Billy complained to manager Casey Stengel about hitting eighth in the batting order. Stengel, who enjoyed a father/son relationship with the brash youngster, told him that he was actually the second cleanup hitter. Martin grudgingly accepted Casey's explanation and that night collected two hits and three RBIs.
In October 1949, Oakland sold Martin and outfielder Jackie Jenson to the New York Yankees for cash and a player to be named later.[3]
Martin, reunited with his former mentor Stengel [4], made his major league debut on April 18, 1950, against the Boston Red Sox. He banged out two hits in the eighth inning of a 15-10 New York victory. A short time later, Billy, Duane Pillette, and future Hall of Fame first baseman Johnny Mize were sent down to the Kansas City Blues of the American Association on 24-hour recall. The move was made just before the May 17 deadline, which required major league teams to trim their rosters down to 25 men.
A month later, Mize and Martin were recalled to the Yankees. Mize was brought up to fill in for injured first baseman Tommy Heinrich. Billy was acquired to replace second baseman Snuffy Stirnweiss, who had been traded to the St Louis Browns.
Martin complied a .250 batting average in his first season in the bigs and, aside from 1955, never hit over .267. However, Billy's forte was his consistent defense and his ability to come up with the big hit in crucial situations.
During the off-season, Martin and teammates Whitey Ford and Bob Brown were drafted into the military. Billy spent five months in the Army during the winter of 1950-51 before being discharged in the spring for hardship reasons due to financial responsibilities to his wife, sister, mother and stepfather.
Once again, Billy rejoined the Yankees at the May 17 deadline. Because of his military service, he was placed on the National Defense List and retained this designation for a year. (Each major league team was allowed to keep one player from the list for every five active players on their roster.) Martin made one appearance as a pinch-runner in the 1951 World Series. The Yankees defeated the New York Giants in six games, Martin's first of four World Championship teams.
After the 1951 season, Martin and a group of major and minor league stars traveled to Japan for a series of exhibition games. The Americans, under the managerial guidance of Lefty O'Doul, played a 15-game schedule against the best players in Japan, finishing with a record of 13 wins, one loss and one tie.
Near the end of the Japan tour, Dom DiMaggio, Mel Parnell, Ferris Fain, George Strickland, and Martin, flew into the Korean battle zone and spent two days visiting the front lines. Comedian Johnny Price was also part of this entourage that risked their lives to boost the morale of the U.S. troops.
The following March, Martin broke two bones in his right ankle demonstrating his sliding technique for a Joe DiMaggio television show. The injury caused him to miss the first few weeks of the 1952 campaign.
Shortly after he returned to the Yankees, Martin got into a fight with Boston's rookie shortstop Jim Piersall under the grandstands at Fenway Park. A few weeks later, he got into another scuffle with Brown's catcher Clint Courtney. Around this time the national newspapers started referring to Martin as "One-Round."
The Yankees won the American League pennant in 1952 and went on to face their cross-town rival Brooklyn Dodgers in the World Series. The Yanks came out on top, and Martin's miraculous catch of a wind blown pop-up by Jackie Robinson in the seventh inning of Game Seven with two outs and the bases loaded helped seal the win.
Martin and Courtney got into another scuffle during the 1953 season, and that same year he exchanged blows with Detroit Tigers catcher Matt Batts. Because of his growing reputation as a fighter, players on opposing teams were coming in hard at second base, trying to injure the 160-pound second baseman on nearly every close play around the bag.
In an article from the August 3, 1953, Miami News, Stengel commented, "Billy's being hit with the hardest blocks this side of a professional football field." Martin simply said, "They can slide as hard as they like, as long as they slide clean. When they don't slide clean they'll hear it from me. Otherwise, they'll get no complaints." Rough slides aside, Martin finished with the second highest fielding percentage of all American League second basemen.
The Yankees went on to capture their fifth consecutive American League pennant and again squared off against the Brooklyn Dodgers in the Fall Classic.
New York came out on top in the first two contests, but Dodger ace Carl Erskine cooled off the Yankees' hot bats in Game Three with a 14-strikeout performance. After the game Erskine told the United Press, "It's hard to believe but players like Phil Rizutto and Billy Martin give me a lot more trouble than hitters like Mickey Mantle and Yogi Berra. You just can't strike out Rizutto and Martin. At least I can't anyway."
The two teams split the next pair of games in the series, and the stage was set for Martin's heroics. With one out in the bottom of the ninth inning, the Yankee second sacker smacked a base hit off Clem Labine plating Hank Bauer with the game-winning run. It was the Yankees' fifth consecutive World Championship.
Martin's performance in the 1953 World Series was superb, his 23 total bases in a six- game series eclipsed the old mark of 19 that was set by Babe Ruth 30 years earlier. Billy collected 12 hits, including two home runs, two triples, a double, and seven singles. This was the most hits in a six-game World Series and tied the mark for a seven-game series. His .500 batting average, five extra base hits and two triples also tied the record for a six-game Series.
When asked about Martin by a reporter from the United Press, Yankee manager Casey Stengel replied, "Look at him. He doesn't look like a great player--but he is a helluva player. Try to find something he can't do. You can't."
On January 2, 1954, Martin was awarded the Babe Ruth Memorial Award, given to the best player from the previous World Series.
Shortly after the birth of his daughter Kelly Ann later that month, Martin was reclassified 1-A by the Berkeley draft board. Billy immediately appealed the decision, claiming that he had his estranged wife, the former Lois Berndt, whom he married in 1950, along with Kelly, sister Joan, his mother, and stepfather to support.
Losing his appeal, he was drafted into the Army a month later. When informed of the draft board's ruling, Billy told a reporter, "I'll go happily, if they can figure out some way to support my dependents."
Coincidentally, early in the 1952 season Yankee second baseman Jerry Coleman gave his glove to Martin right before he left to report for Marine duty, telling the young infielder, "Use it, Billy, and make it proud." Now two years later, Captain Coleman was back from the service after flying 63 combat missions in Korea and replacing Martin, who was now leaving to fulfill his military obligation.
In late April, Martin applied for a hardship release from the military, but General Robert McClure turned him down. McClure held a news conference at Fort Ord in California telling members of the Associated Press that in his opinion Martin did not qualify for a hardship case. McClure also said that Martin could possibly be sent from Fort Ord to Washington, D.C., for reassignment and possible overseas deployment.
A month later, an Associated Press article reprinted in the May 25, 1954, edition of The Day noted that Billy was claiming to be treated unfairly by his commanding officers at Fort Ord. A short time later, William E. Hess, a member of the House of Representatives and the Chairman of the Senate Armed Forces subcommittee, learned of Martin's allegations and contacted him. Hess's subcommittee had been looking into claims that the military was showing preferential treatment toward professional athletes. Martin wrote to Hess informing him that not only was he not given preferential treatment, he was actually being discriminated against because he was an ex-New York ball player. Among his complaints, he was not given as many weekend passes as his fellow trainees and was not allowed to play on the Fort Ord baseball team. Hess, after hearing Martin's allegations, asked Secretary of the Army Robert T. P. Stevens to look into the matter [5].
After basic training, Martin was sent to Fort Carson, Colorado, where he eventually rose to the rank of corporal in the 61st Infantry Regiment. During that time, he was player/manager of the post baseball team. The former Yankee logged in time at every position on the diamond, including pitcher, hitting over .500 and leading the Fort Carson team to a 15–2 record in 1955. Billy also was a member of the base basketball team. Coach Dick Swan, a former Indiana University Hoosier, said Martin had one of the best one-handed shots on the entire squad.
Martin was given a furlough that expired on the same day the World Series was scheduled to start. He immediately flew to Kansas City to rejoin his former team, in town playing a series against the A's.
Martin worked his way back in the Yankee lineup, hitting .300 in 20 games. New York edged out Cleveland for the American League pennant and once again drew the Brooklyn Dodgers in the Series.
The army extended Martin's furlough, which allowed him to participate in the 1955 World Series. New York ended up losing in seven games, but Billy performed well, finishing with a .320 batting average.
Billy the Kid, as he was now being called in the media, got into a shoving match with Dodger catcher Roy Campanella after he was thrown out trying to steal home in the sixth inning of the opener. After the game, Martin told the Associated Press, "I wasn't sore. I just don't like being pushed around. I might have punched him in the nose if it hadn't been the World Series."
Although he missed most of the season, the players on the Yankees voted Martin a full share of the $5,598.58 given to each member of the losing team.
Martin continued to play well for the next few years, but his reputation as a brawler and carouser were not ingratiating him with Yankee management and most importantly, general manager George Weiss. After a much-publicized brawl at the Copacabana nightclub in New York, Martin was traded to the Kansas City A's.
New York needed a left-handed hitter, so Martin was dealt for well-traveled outfielder Harry "Suitcase" Simpson. Billy initially accepted the deal as standard baseball business, but later stopped talking to Stengel over what he perceived to be his manager's not fighting hard enough to keep him on the team.
Billy played the rest of the 1957 season with the A's and on November 20 was traded with four other players to the Detroit Tigers. In return, Kansas City received five major leaguers and a pair of unnamed farm hands. Martin was livid over the trade, telling the Associated Press, "They just can't throw us [players] around from one club to another without us having a say-so."
On November 20, 1958, Cleveland general manager Frank Lane needed a second baseman, so he orchestrated a deal that sent pitchers Don Mossi and Ray Narleski along with infielder Ossie Alvarez to the Detroit for pitcher Al Cicotte and Martin.
It was the third time that the scrappy infielder had been traded in 17 months, but Martin was undeterred, telling Joe Durbin of the United Press International, "It will be nice to be back on second again," further noting, "It's no fun moving but I've got a job to do there."
The trade worked out well for both teams, as the Indians were able to move Vic Power from second to first base, and the Tigers acquired a fifth starter, Don Mossi, for their pitching rotation.
In December 1959, Billy was on the move again, this time to the Cincinnati Reds with pitcher Cal McLish and outfielder Gordy Coleman in exchange for infielder Johnny Temple.
On August 6, 1960, Martin was suspended for five days and fined $500 by National League President Warren Giles for punching Cubs pitcher Jim Brewer in the face. The incident occurred after Brewer had thrown a pitch behind Martin, the ball caroming off the fiery second baseman's bat and hitting him in the head. On the next pitch, he swung and missed, letting the bat fly in the direction of the pitcher's mound. While Martin walked out to retrieve the Louisville Slugger, Brewer picked it up and took a few steps toward the Reds infielder. Feigning to reach for the bat, Billy unleashed a right-handed haymaker that landed squarely on Brewer's face, fracturing the orbital bone around the pitcher's eye. The Montreal Gazette of August 6, 1960, printed Martin's description of the incident, "Brewer threw at my head and nobody is going to do that. I was in the hospital last year when I got hit in the face and had seven fractures. Nobody is going to throw at my head again. That first pitch by Brewer was behind my head and Cub pitchers knocked me down three times on Wednesday." Both benches cleared during the incident, and Martin was ejected from the game.
The Cubs lost Brewer's services for the season, and the team filed a civil suit against Martin for $1,000,000 in damages. After almost a decade of litigation, the lawsuit was finally settled for $10,000 in 1969. Informed that a settlement had been reached, Billy replied, "Do they want a check or cash?"
In December 1960, the Reds sold Martin's contract to the Milwaukee Braves. Billy failed to win the Braves second base job away from incumbent Frank Bolling, and in June of 1961 was traded to the Minnesota Twins for shortstop Billy Consolo. The Twins acquired Martin to take the place of Billy Gardner, who was at the end of his career.
In the spring of 1962, Martin lost the second base job to rookie Bernie Allen and was released by the Twins. Although the Kansas City A's had expressed an interest, Billy decided it was time to retire as an active player and pursue other interests on and off the field.
Throughout his major league career, Billy Martin was a fair hitter who always seemed to come through in the clutch. He made the All-Star team in 1956 and finished his major league career with a .257 batting average and 64 home runs. Steady with the glove, he usually showed above-average range.
Billy played in five World Series, coming out on the winning end four times. He appeared in 28 games, collecting 33 hits, two doubles, three triples, five home runs, and 19 RBIs while posting a .333 batting average.
After he hung up his spikes, the Minnesota organization hired Billy as a special scout. He also took a public relations job with a local brewery. By 1965, he was back on the field, taking over as the Twins' third base coach. The following June, he was named manager of Minnesota's Triple-A affiliate in Denver.
Martin succeeded Cal Ermer as manager of the Twins in 1969. In his first year, the team went 97-65 and finished in first place in the newly formed American League West division.
Their opponent in the first best-of-five American League playoffs was the Baltimore Orioles. Baltimore swept the Twins in three games, and Martin was criticized in the press for some of his decisions during the series. For example, he started pitcher Bob Miller in the third game; Miller was knocked out of the box in the second inning. When Twins owner Calvin Griffith asked him why he started a pitcher who had a 5-5 record during the regular season, Martin told him, "Because I'm the manager, that's why." The rash comment led to Martin's firing a few days later.
Griffith actually informed the media that he would not be bringing Martin back for the second year of three-year deal before giving Billy the news in a telephone call. In regard to the firing, the Twins owner gave an interview to the Associated Press, which was later reprinted in the Miami News of October 13,1969: "Billy is popular to a certain degree. You know Billy can go into a crowd and charm the hell out of you, but he ignored me. I asked him to come in and see me several times and he didn't. I think the Twins are just as much a part of me as they are of Billy Martin."
Martin had been on shaky ground with the Minnesota front office all season for numerous reasons, including criticizing the Twins farm system in the press and for getting into a well-publicized fight with pitcher Dave Boswell, a twenty-game winner, outside of a Detroit bar in early August.
Billy took a year off from baseball and went to work for radio station KDWB in Minneapolis. The following October, the Detroit Tigers hired him as their manager.
In his first year with the club, Martin guided Detroit to 91 wins and a second place finish in the American League East.
In 1972, Martin's Tigers edged out the Boston Red Sox by a half-game for the American League East pennant but lost to Oakland in the playoffs. The series was marred by a heated brawl in the seventh inning of Game Two. The donnybrook started when A's shortstop Bert Campaneris threw a bat at Tigers pitcher Lerrin LaGrow after being hit by a pitch. Martin was incensed and had to be restrained from going after Campaneris.
While the team was conducting spring training in 1973, Martin and Tigers rookie prospect Ike Blessitt were arrested outside of a Lakeland, Florida, restaurant. Blessitt had a disagreement with a patron in the establishment; Martin, acting as peacemaker, took the young player outside to calm him down. Lakeland law enforcement arrived on the scene and according to Martin directed racist remarks toward Blessitt, who was African-American. When the Tigers manager objected to the police comments, both men were arrested and charged with using profanity in a public place.
A few days later, Billy quit as manager of the Tigers due to a disagreement with general manager Jim Campbell over a fine that Martin had levied on outfielder Willie Horton. Campbell actually increased the fine on Horton, making Martin so mad he resigned from the team. Reconsidering his rash decision, he returned to the ballclub the following day.
During the 1973 season Martin, acting upon the recommendation of a friend [6], discovered Ron Leflore playing for the baseball team at the Jackson State Penitentiary in Michigan. Martin was so impressed with LeFlore's skills as a ballplayer that he contacted prison officials and arranged a tryout for him with the Tigers. Detroit management agreed with Martin's assessment and signed him to a contract. Meeting the requirements of his parole, LeFlore played nine years in the majors, finishing with a .288 lifetime batting average.
On September 2, 1973, the Tigers fired Martin, with one year left on a reported $65,000 annual contract. Martin was finishing up a three-day suspension for ordering his pitchers to throw spitballs when he learned of his release in a phone call from general manager Jim Campbell.
The spitball incident occurred a few days earlier in a game against Cleveland Indians. Martin felt that Indians pitcher Gaylord Perry was doctoring the ball and in an effort to show him up ordered Tigers pitchers Jim Coleman and Fred Scherman to use saliva and Vaseline on their pitches. Martin blatantly told reporters after the game about his tactics, leading to his suspension from American League president Joe Cronin.
When asked by a reporter from the United Press about his firing, Martin replied, "They did what they thought was right and I did what I thought was right." Martin had been cautioned by Campbell not to make disparaging comments in the newspapers about Commissioner Bowie Kuhn, Joe Cronin, and various Tigers front office personnel. Martin repeatedly disregarded the warnings, and the spitball incident was the final straw.
When Texas Rangers owner Bob Short found out that Martin was available, he told Whitey Herzog, his current manager, that he would fire his grandmother for the chance to hire Billy. A few days later, Short fired Herzog and hired Martin, leading to the deposed Ranger manager's reply: "I'm fired, I'm the grandmother." [7]
The Rangers had lost 100 games or more in the previous two seasons, but under Martin they won 84 games and finished in second place. Texas signed a number of high priced free agents the following year, but the club faltered. On July 20, 1975, the team's new owner, Brad Corbett, fired Martin.
A few weeks later, Billy was hired as the manager of the New York Yankees by owner George Steinbrenner, replacing Bill Virdon, who had been let go in late July.
The Yankees responded well to Martin, and the next season they won the American League East pennant. New York defeated Kansas City in the playoffs and drew Cincinnati's Big Red Machine in the World Series. The New York bats fell silent in the Series, scoring only eight runs while losing four straight games. Martin wasn't around to see the final out of Game Four as he was tossed by first base umpire Bill Froemming in the ninth inning. The ejection occurred after Martin threw a baseball at home plate umpire Bill Deegan. Talking to the Associated Press after the game, the Yankees' fiery manager explained: "Deegan threw three balls at me when he was changing baseballs. One hit me in the chest and another almost hit me in the mouth. I threw the ball at him in disgust because I thought he called a brutal game and I got tired of him throwing balls at me
The 1977 campaign was tumultuous for the Yankees as Martin openly feuded with owner George Steinbrenner and newly acquired superstar Reggie Jackson. Martin, in the first year of a $100,000 contract, was rumored to be on the chopping block for most of the season.
Despite the turmoil, the Yankees won the American League East and defeated the Kansas City Royals in the playoffs. The Bronx Bombers went on to defeat Tommy Lasorda's Los Angeles Dodgers in Martin's only World Series championship as a manager.
In a show of support, just before Game Six of the Series, Yankee owner George Steinbrenner rewarded Billy's good work with a $50,000 bonus and a brand new Lincoln Continental. When asked by a sports writer about the Yankee skipper getting a bonus, Martin's major antagonist Reggie Jackson's reply was printed in the October 17, 1977, edition of the Milwaukee Sentinel: "The club needed that. The timing was perfect. Obviously, it was planned that way. He has been through probably more than I have. I didn't know until I got to the park that Billy got his bonus. I could see in his face he was more relaxed. Maybe now he can look like 49 instead of 99."
In 1978, Martin made disparaging comments about Steinbrenner and Jackson: "One is a born liar and the other convicted." Not surprisingly, he was forced to resign on July 24. Billy was rehired in 1979 and then fired at the end of the year after the Yankees failed to reach the playoffs for the first time since 1975.
In 1980, he was hired to manage the Oakland A's by the team's eccentric owner Charlie Finley. The A's incorporated Martin's aggressive style of inside baseball, eventually known as "Billyball," with great success. The 1981 season was divided into two parts because of the player's strike. The A's won the first half of the schedule and went on to sweep the Royals in the initial round of the playoffs. Unfortunately, they were swept by the Yankees in the American League Championship series. Oakland played poorly under Martin in 1982 and, amid criticism of his handling of the A's pitching staff, he was let go on October 20, 1982.
The Yankees brought back Martin as manager in 1983 and on July 24 he became embroiled in one of the most controversial plays in modern baseball history. The incident occurred after Kansas City Royals third baseman George Brett clouted a two-run homer off Goose Gossage with two outs in the top of the ninth inning at Yankee Stadium that gave the Royals a one-run lead. Martin had been aware for a while that Brett used more pine tar on his bat than was allowed by league rules. Billy decided that this would be a good time to bring it to the attention of the umpires. The men in blue agreed with Martin, and the home run was disqualified, constituting the last out of the game. Kansas City protested the game, and American League president Lee MacPhail ruled in favor of the Royals. The game was scheduled to be resumed on August 18, 1983. The Yankee front office informed the public that they would have to pay full admission to see the rest of the game, which led to a group of fans bringing forth a civil suit that was filed in the Appellate Division of the New York Supreme Court. Eventually, Yankee management relented, allowing fans that had stubs from the July 24 game to get in the ballpark for free while charging bargain prices for those who wished to buy tickets. Only 1,200 people showed up to watch Hal McRae strike out to end the top of the ninth and the Yankees fail to score in the bottom half of the inning. The game officially ended with the Royals leading 5-4.
Billy was cut loose once again by Steinbrenner on December 16, 1983, and replaced by Yogi Berra. Martin had two more managerial stints with the Yankees in 1985 and 1988 but he failed to finish out the season in either year.
On August 10, 1986, the New York Yankees held a ceremony to retire his jersey number, which was number one, and dedicate a plaque with his likeness at Monument Park in Yankee Stadium. The plaque read, "There has never been a greater competitor than Billy." When speaking to the crowd that day, Billy said with great emotion, "I may not have been the greatest Yankee to ever put on the uniform but I was the proudest."
During his tenure as a major league manager, Martin's off-field exploits were legendary, getting into fights with team officials, bar patrons, a cab driver, a marshmallow salesman, and two of his pitchers.
Leaving the Yankees in 1988, he remained on the team's payroll as a special consultant. A short time later, rumors began to circulate that Billy would return to manage the Yankees in 1990.
In the early evening hours of December 25, 1989, Martin's pick-up truck skidded off an icy road near his country home in Fenton, New York, and plummeted 300 feet down an embankment, flipping over and landing on its right side. The 61-year-old Martin was killed in the accident, and his good friend from his days in Detroit, Bill Reedy, was seriously injured. The two had been drinking at a local bar, and Martin allowed Reedy to drive his truck home that evening.
In the days after the accident, questions arose about who was actually driving the vehicle. Noted forensic pathologist Dr. Michael Baden, working for the New York State Police at the time, examined Martin and the accident scene. All of Martin's injuries were on the right side, leading Baden to conclude that Reedy drove the pick-up and Martin was the passenger. Pursuant to the family's wishes, no autopsy was performed.
Billy Martin's viewing was held at the Campbell Funeral Home in New York City, and thousands of fans from all walks of life filed in to pay their last respects. The funeral took place at St. Patrick's Cathedral, and Cardinal John O'Connor delivered the eulogy. There were over 500 people in attendance, including former President Richard Nixon and numerous baseball executives and a long list of diamond stars, past and present.
Billy Martin was survived by his fourth wife, the former Jillian Gulver, children Kelly Ann and Billy Joe, and one grandchild. [8] The self-proclaimed proudest Yankee was laid to rest at Gate of Heaven Cemetery in Hawthorne, New York, just a stone's throw away from the grave of the greatest Yankee of all, Babe Ruth.
Notes
[1] "Billy Martin" in David Pietrusza, Matthew Silverman, and Michael Gershman, eds., Baseball: The Biographical Encyclopedia (Kingston, NY, and New York: Total Sports Ilustrated, 2000), 715.
[2] "Billy Martin dies in crash on icy road" by William Kates, Associated Press, reprinted in the December 26, 1989, edition of the Madison Courier, p 6
[3] The deal was completed on July 5, 1950, when the New York Yankees sent catcher Eddie Malone to Oakland.
[4] Stengel took over as the manager of the New York Yankees in 1949.
[5] I was never able to locate information pertaining to any action Secretary of the Army Stevens may have taken in the Martin case. The situation may have settled itself as Martin was sent to Fort Carson and made no further complaints about his treatment.
[6] An acquaintance of Martin's named Jim Karella, who was incarcerated at Jackson State Penitentiary, contacted him after watching LeFlore play on the prison baseball team.
[7] This account of Herzog's firing appeared in Richard Sandomir's article, "Life According to Herzog" New York Times, July 25, 2012.
[8] Martin and Lois Berndt were married in 1950; she left him in 1954 and was the mother of Kelly Ann. Sources vary, but Martin and Gretchen Winkler were married in 1959 or 1961, and divorced in 1979; she was the mother of Billy Joe. Martin married Heather Ervolino in 1982; they divorced in 1984. He and Jillian Gulver married on January 25, 1989.
Sources
Nash, Bruce, and Allan Zullo. The Baseball Hall of Shame. New York: Pocket Books 1985.
Pietrusza, David, Matthew Silverman, and Michael Gershman, eds. Baseball: The Biographical Encyclopedia. Kingston, NY, and New York: Total Sports Illustrated, 2000.
Russo, Frank, and Gene Racz. Bury My Heart at Cooperstown, Salacious, Sad, and Surreal Deaths in the History of Baseball. Chicago: Triumph Books, 2006.
Associated Press
Christian Science Monitor
Deseret News
Edmonton Journal
Eugene Register-Guard
Evening Independent
Lewiston Daily Sun
Lodi News
Madison Courier
Miami News
Montreal Gazette
Meriden Journal
Milwaukee Journal
Milwaukee Sentinel
New York Times
Pittsburgh Press
St. Petersburg Times
Pittsburgh Post Gazette
Pittsburgh Press
Rock Hill Herald
Spokane Daily Chronicle
Sporting News
St. Petersburg Times
The Telegraph
Toledo Blade
United Press International