Fred McMullin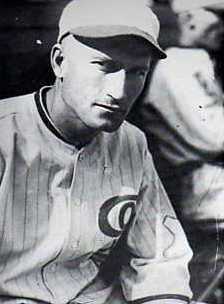 Until his fateful involvement in the plot to fix a World Series, Fred McMullin was known as the Chicago White Sox's "lucky man."1 His addition to the starting lineup coincided with late-season surges to win the American League pennant in 1917 and 1919.
Today, he is mostly thought of as the "forgotten man" -- in a scandal often called baseball's darkest hour. McMullin was the Eighth Man Out, the most obscure of the White Sox players who agreed to throw the 1919 World Series to the Cincinnati Reds. He was banned from organized baseball by Commissioner Kenesaw Mountain Landis and blackballed in semipro games near his home in Los Angeles.2
Fred McMullin's story is a series of contrasts. A man once commended for chasing gamblers off a field in Boston was suspended permanently because he accepted a $5,000 bribe to help his team lose. He was indicted by a Chicago grand jury in a story that made headlines across the nation, yet he spent the final decade of his life as a respected lawman in California.
Frederick Drury McMullin was born October 13, 1891, in Scammon, Kansas. He was the first of nine children born to Robert D. McMullin and Minnie Rea Davis, who were married 11 months before Fred's birth and continued the family's century-long migration from the East Coast to the West. Fred's great-grandfather, Arthur McMullin, was born in Virginia in 1782 and moved to Kentucky, where Drury McMullin was born. Robert, Fred's father, was born in Johnson County, Indiana, and moved to Kansas after marrying Minnie in 1890. Robert worked a stint as a railroad laborer before turning to carpentry, a trade he continued for most of his life. Minnie -- who would outlive her son Fred by 11 years -- was the only child of Antrim Davis and Louisa Rea.3
After Robert and Minnie's sixth child, Dale, was born in 1905, the family packed up and moved to Southern California. They lived on Elmyra Street in the Lincoln Heights neighborhood, a few miles northeast of downtown Los Angeles, and Fred soon enrolled at nearby Los Angeles High School. The LAHS baseball team was a strong one: Fred Snodgrass was a recent alumnus who had signed with the New York Giants, while McMullin was a teammate of Johnny Rawlings, who would also play in the major leagues. Future Yankees star Bob Meusel played there a few years after McMullin and Rawlings left school.4
In 1910, at the age of 20, McMullin joined the Long Beach Sand Crabs of the newly formed Trolley Car League, so named because the teams in Pasadena, Redondo Beach and other towns were all linked together by the transit system of that era. The teams were subsidized by the Pacific Coast League, but underfinanced and many players did not get paid. The league folded after a few weeks.5
Fred took a job as a blacksmith apprentice that summer and continued to play ball around Los Angeles. In September, he had a tryout with Sacramento of the PCL, and made one appearance for them, in a game against the hometown Los Angeles Angels. His play -- he had just one at-bat and fielded one ground ball at third base -- "did not set the [league] on fire." The next year, he played in the Southern State League, for teams in Long Beach and San Bernardino.6
In 1912, McMullin headed north to play for the powerhouse Seattle Giants of the Class B Northwestern League. The Northwestern League was considered "one of the best of the smaller leagues for the development of players,"7 and included such helping hands as former White Sox manager Fielder Jones and New York Giants great "Iron" Joe McGinnity to coach the young prospects.
The Seattle Giants were owned by Daniel E. Dugdale, a local legend who directed Seattle to five Northwestern League pennants from 1909-18 before the team folded. With stars like pitcher Bill James -- who won 27 games in 1912 and helped the "Miracle" Boston Braves to a World Series title two years later -- and infielder/manager Tealey Raymond, the Giants had little use for a green youngster like McMullin. As Seattle fell into last place two months into the season, Fred was sold to the Tacoma Tigers.8
The move paid off for both. The Giants surged to win 27 of their final 31 games to take the pennant, while McMullin finished the year strongly and began to feel at home with Tacoma (which replaced Seattle in the cellar, finishing 62-104.) Mac, as he was often called in newspaper reports, ended his first full professional season with a .250 average, including 21 doubles and six home runs, in 140 games.
Tacoma was a nurturing environment for the 22-year-old McMullin -- it had to be, for Mac regressed in 1913. He hit only .236 and showed little patience at the plate, compiling 631 official at-bats. But he continued to stir up praise with his play in the field, and won himself a starting job at third base, appearing in 172 total games. His appetite for baseball didn't wane during the offseason, as he again played for various winter league teams back home in California before reporting to Tacoma in the spring of 1914.9
Expectations were higher for McMullin after gaining a year of experience under manager Joe McGinnity's Tigers. At 42, McGinnity was a decade removed from his "Iron Man" days with the New York Giants. But his presence in the Northwestern League -- coaching and pitching -- played a role in the development of future major leaguers such as McMullin, Dutch Ruether and Stanley Coveleski.
The 1914 season was a special one for McMullin.
McGinnity placed Fred in the cleanup spot to open the season against Vancouver on April 14, giving the second baseman a great boost of confidence. Three days later, Mac smacked an RBI double in the top of the 11th to beat Vancouver, and hit his first home run of the season on April 22 against Victoria.10 McMullin was frequently the top hitter for the Tigers, who lost 10 straight games in mid-May and sank into fifth place. McMullin made enough of an impression that McGinnity released captain Bill Yohe on June 15 and installed McMullin at his old position, third base.11 It was there that Mac began to set himself apart in the field, and he was frequently cited in newspaper reports for his heady play. For example, on June 25 against first-place Vancouver, he made "one of the best plays of the afternoon," racing in to cover home plate after an errant throw skipped to the backstop, took the throw from the catcher and tagged out a baserunner trying to score from third.12
As the calendar rolled to July, Mac's play was beginning to earn notice halfway across the country in Detroit. The major league Tigers had an option to purchase players from the minor league Tigers (although few of Tacoma's Tigers warranted a second look from Detroit that year.) The Tacoma Daily News profiled McMullin on July 23 with the headline "He May Go Up To Majors; Plays A Great Third Base." The Daily News claimed that "his batting is much better than heretofore and as this was the only thing that kept him from the 'big noise' the past two years, he is almost sure to get his chance." That same afternoon, Mac doubled twice and scored two runs against Seattle to boost his average to .299, although Tacoma's eight-game winning streak was broken in the loss. The next day, he had two more hits, two more runs and "played like a major leaguer. ... No player who has worked on the local field this year could hold a candle to McMullin the way he has been going the past two weeks," the newspaper reported.13
Meanwhile, McGinnity -- in an effort to keep his resurgent Tacoma club from falling further back in the league standings -- was trying keep McMullin from being called up to Detroit so late in the season. But Detroit was insistent, and asked for Mac to report "at once." McMullin's contract was sold for $2,000 on August 13, and Fred left from Spokane to join the Tigers in Cleveland. The Tacoma Daily News bid him farewell with an encouraging note: "If he is given a fair trial, McMullin should make good in the major league. He is a clean living fellow and will keep himself in good shape. He is a hard worker and ambitious to get to the front. It is this type of athlete that usually succeeds in any line."14
But with Donie Bush firmly in place at shortstop, and George Moriarty and Ossie Vitt holding down the fort at third base, the Tigers didn't have much room in the infield to give McMullin a "fair trial." Mac rode the bench for nearly two weeks without once appearing in the lineup for Hall of Fame manager Hughie Jennings. Watching greats like Ty Cobb and Sam Crawford must have been exciting for McMullin, who had never attended a major league game. But he longed to get on the field. He did -- just once. His major league debut came on August 27, 1914, and it was the only appearance Mac made with the Tigers.
Detroit entered the game against Boston at 59-59, a season-worst 20 games behind the first-place Philadelphia A's, and the host Red Sox broke open the contest with six runs in the sixth to take a 9-0 lead behind Ray Collins. Jennings, who had been "devoting a lot of time and attention to the development of the raw material that had been handed to him," decided to empty his bench, sending up rookie Harry Heilmann to pinch-hit in the eighth inning. After the future Hall of Famer drove in a run with a sacrifice fly to center field, McMullin (playing his first game) was called upon to hit for reliever Ed McCreery (playing his last) with one out and two runners on. Against the left-hander Collins, who won 20 games that season, the 22-year-old McMullin was overmatched, striking out weakly. Taking the field for the bottom of the eighth, Mac recorded a hat trick of sorts: a putout, an assist and an error.15
But McMullin's one inning at Fenway Park was the last of his 1914 season. He spent the next month sitting beside Jennings in the dugout for the Tigers, who won eight straight in mid-September to finish in fourth place at 80-73. There seemed to be no room for Mac in the Tigers' infield, and Tacoma exercised its option to re-sign him in January.16
During the 1914-15 offseason, McMullin played for an Imperial Valley winter league team in El Centro, Calif., near the Mexican border; his teammates included major leaguers Dave Bancroft, Slim Love and Emil "Irish" Meusel.17 Although McMullin struggled at the plate, he still attracted the attention of Frank Dillon, manager of the Pacific Coast League's Los Angeles Angels. Dillon was scouting an infielder named Carl Flick when he noticed McMullin flashing the glove at third base. Los Angeles Times writer Harry A. Williams reported that Flick "put up a big talk about the Feds [Federal League] wanting him ... and his demands were exorbitant," so Dillon turned his eye to McMullin instead, and purchased Fred's contract from Tacoma after a few days of negotiations.18 Fred signed with the Angels on February 11.
McMullin was expected to fight for the third-base job with veteran George Metzger, a career minor leaguer. Surprisingly, it was Mac's hitting that was thought to give him an edge. His .293 average at Tacoma in 1914 was nearly 60 points higher than Metzger's, although the Times cautioned that Mac "may encounter considerable difficulty in establishing business relations with the Coast League hurlers."19
Williams' words were on the mark, as McMullin started slowly at the plate while facing faster company. But his play at second base was solid, and he rivaled future major leaguer Joe Gedeon -- who would play an indirect role in the Black Sox scandal a few years later -- among the PCL's top middle infielders. By June 9, McMullin had played in five more games than Gedeon but had been credited with 35 more putouts and 50 more assists. Mac also led the league in errors, but Williams defended him: "A lot of these (errors) were made early in the season before he had accustomed himself to that position. Also, any player who covers lots of territory is sure to make a good many boots."20 McMullin's hitting was also showing signs of improvement, and his average began to creep toward .300 by midseason. When the Los Angeles Times picked its PCL all-star team, Mac was chosen at third base, along with Gedeon and -- coincidentally -- two of Fred's future White Sox teammates, Charles "Swede" Risberg and Claude "Lefty" Williams, playing for Vernon and Salt Lake City, respectively. (Future major leaguers Stan Coveleski of Portland and Los Angeles infielder Zeb Terry also were selected.)21
McMullin sustained his first serious injury on July 23, when San Francisco's Biff Schaller spiked him in the leg in the first inning. Mac was carried off the field and taken to a local hospital. The Seals' team physician said that while the spike was a bad one, a deeper cut could have put Fred out for the season.22 Instead, it left him sidelined for nearly three weeks.
During the layoff, McMullin got married. He and his bride, 23-year-old Delia A. Barnabe, were married on Aug. 5, 1915, by a justice of the peace at the Orange County Courthouse in Santa Ana, Calif.23 Delia was the daughter of an Austrian immigrant who had moved west with her family around the same time as the McMullins a decade earlier; they had also settled in Lincoln Heights. Delia was born in 1892 in Fort Lee, New Jersey, the oldest of Louis and Margaret (Kotze) Barnabe's three children. (Their youngest, Charles Barnabe, born eight years after Delia, played 17 seasons in professional baseball, including 29 appearances for the White Sox in 1927-28.24) Louis Barnabe, who emigrated from Austria in 1884, moved his family to Colorado before settling in Los Angeles, where he worked as a saloon keeper and later as a blacksmith.25
In the meantime, the Chicago White Sox and New York Yankees were engaged in a fierce battle for McMullin's services.
George Davis, a Hall of Fame shortstop for the Giants and White Sox, was now a Yankees scout and he had been watching McMullin and infielder Zeb Terry for weeks. After the Angels returned home from a road trip to San Francisco on August 26, Davis went to Los Angeles vice president T.J. Darmody eager to sign the young pair to contracts. The White Sox had an agreement with the Angels to purchase any player in their lineup, but the deadline for that option was August 15. When White Sox owner Charles Comiskey sent word that he wouldn't take any Angels -- despite reports that one or both might be included in a trade for Cleveland star Joe Jackson -- Terry and McMullin became fair game for New York.26
However, according to Los Angeles Times writer Harry A. Williams, an urgent telegram from Comiskey arrived in Darmody's office 10 minutes before Davis showed up -- closing the deal with Chicago. Reported Williams: "Davis was visibly disappointed. ... The sale of Terry and Mac to the White Sox was outright and for cash, delivery to be made next spring. ... Fast and brainy, Terry and McMullen [sic] not only form the youngest keystone combination in the league, but one of the best in its history. ... It was only by a small fraction of time that Terry and McMullen failed to land with New York instead of Chicago." The two players were sold for $7,000 each.27
The duo finished out the season with the Angels. McMullin hit at a solid .279 clip, with 25 doubles and 33 stolen bases (good for eighth in the league.) He was also the PCL's top sacrifice bunter, with 49. Terry was third with 39, while Vernon Tigers shortstop Swede Risberg was 10th with 30. Risberg would get another year of seasoning on the Coast before joining the White Sox in 1917.
Chicago's infield was growing more crowded by the minute. Despite some inconsistent play, Buck Weaver had been entrenched as the starting shortstop since 1912 -- and no one was going to supplant Hall of Famer Eddie Collins at second. In addition, the Sox had purchased George Moriarty from the Tigers in the offseason, hoping to add some stability at third base. McMullin, Terry and 22-year-olds Fritz Von Kolnitz and Ceylon Wright would all be competing for playing time with the veterans.
Mac had an idea how tough it would be to break into the Sox lineup, judging by his quote in the Los Angeles Times on Oct. 15: "The only chance I would have against Collins at second base would be for Eddie to drop dead."
But other voices were more optimistic.
In Los Angeles, Harry A. Williams reported: "Chicago might be able to use McMullen [sic]. Third base is Fred's natural position and the Sox need strengthening at that point."28 Chicago Tribune writer James Crusinberry added: "(McMullin's) coming has been overshadowed by the talk of getting [Frank] Baker or [Fritz] Maisel or [Ray] Chapman. Manager [Pants] Rowland and President Comiskey had a long talk with Johnny Powers, president of the Los Angeles club, and seemed inclined to believe that they will have a star in this unknown from the west. Powers declared McMullin the best on the coast and likely to prove a sensation in the major league."29 The Atlanta Constitution reported that Mac "had a name out on the coast as a fielding flash and a kid with lots of sand [hustle]."30
But it was ex-Los Angeles Angel Terry, not McMullin, who won the shortstop's job in spring training, while Buck Weaver began the season at third base. Mac would have to wait to get a chance in the big leagues.
Even his first appearance with the White Sox was not an appearance at all -- on April 16 against the Browns, McMullin was sent up to pinch hit for pitcher Mellie Wolfgang in the seventh inning. St. Louis then substituted Dave Davenport for starter Carl Weilman, who had walked the bases loaded. So Chicago manager Pants Rowland replaced McMullin with lefty-hitting Jack Lapp to face the right-handed Davenport instead. Lapp walked to force in a run, but the Sox still lost the game, 6-5.31
Mac's chances, however, were improving through attrition.
In that April 16 game, it was Zeb Terry's error that opened the floodgates for the Browns to score five runs in the fifth and win. The next morning, Terry blistered his arm on a hot steam pipe in the clubhouse before the game and Mac went in for him in the fourth inning. He made five chances "with ease" and started a double play, but also made his first error. At the plate, McMullin grounded out in his only at-bat before being pinch-hit for in the ninth by Nemo Leibold. The Sox rallied from a 5-0 deficit before winning 6-5 in 11 innings.32
Mac got his first major league hit a week later at Cleveland, a single off left-hander Fritz Coumbe, after subbing for Terry at shortstop again. Pants Rowland emptied his bench in the 9-2 loss, using 17 players.33 The Sox, with a 6-8 start, had fallen to seventh place by percentage points, and Rowland was looking to shake things up. On April 27, he benched Terry and inserted McMullin into the starting lineup, moving Weaver back to his old spot at shortstop. Rowland also sat down right fielder Eddie Murphy, shifting Joe Jackson there and placing John "Shano" Collins to left field, "so thorough was the earthquake engineered by Manager Clarence." The Chicago Tribune reported: "McMullin was inserted next to the leadoff [hitter], where he apparently was the right man. He proved capable of sacrificing or hitting the ball according to the demands of the situation, and Weaver had been doing neither with consistency."34
The moves paid immediate dividends, as the Sox's three-game losing streak ended with a 5-3 win. McMullin had two hits in four at-bats, and stole a base. Surprisingly, he didn't handle a single chance at third. Rowland stuck with the revamped lineup the next day, and Mac singled to drive in his first major league run, the Sox's only run in a 2-1 loss to Cleveland, on April 28.35
Chicago ran off three straight wins after the shakeup, but then lost 9 of 11 to fall into last place. Still, McMullin was earning his keep in the starting lineup -- his first three-hit game came on May 7 (coincidentally, all of those hits came against Fritz Coumbe of Cleveland), and he was hitting .309 through May 10.36 Despite his average, Mac had only scored one run through 23 games -- but the Sox, with a well-known reputation as the "Hitless Wonders" after winning the World Series in 1906 despite a .230 team batting average, had already been shut out five times by the end of May.
A bad break cost McMullin the best chance he would have to hold onto a regular spot. On June 2, Mac sustained an injury in a pregame practice at Detroit. It was originally diagnosed as a badly sprained foot, thought to put him out for a couple of weeks. It turned out to be a bone fracture, and it sidelined him for more than a month. He was hitting .295 -- 26 hits, all singles, in 88 at-bats -- ranking him 10th in the American League, and had helped the Sox to second place in team fielding percentage, although Chicago was still sixth in the league standings.37
While McMullin was out, the Sox strung together a few short winning streaks and moved within 31/2 games of first-place Cleveland. But their infield was a mess -- Terry couldn't stay healthy and couldn't hit when he was in the lineup (he hit .190 in 1916.) The Sox were forced to employ Fritz Von Kolnitz and Cy Wright for the time being. Mac returned to the team in late June, after his cast was taken off. The Sox began a seven-game winning streak the next day to move into third place.38
McMullin returned to the starting lineup on July 10, going hitless in seven at-bats in a doubleheader against the Red Sox. (The Sox played seven doubleheaders in the next 10 days, going 7-7 at Boston, Philadelphia and Washington.) The Chicago Tribune reported: "McMullin was put on third base in both games, handling everything in his usual stylish manner. He didn't get a hit, but he lined the ball right at someone twice in the first game and once in the second."39
The time off had disrupted McMullin's hitting stroke. He began a 1-for-19 slump, dropping his average to .252, and he had still scored just three runs. But by early August, the Sox had won nine straight and were a game back of Boston. Chicago moved into a tie for first place on August 4 behind a 3-2 victory over Washington; McMullin squeezed in Jack Ness for the game-winning run in the seventh.40
That RBI proved to be a catalyst for Mac at the plate. He finally recorded his first extra-base hit on August 6 -- two of them, in fact, when he doubled twice in a 2-1 loss to Washington.41 But Chicago's run atop the American League lasted less than a week. The Red Sox took three of four from the White Sox at Comiskey Park; Boston did not relinquish first place after taking over on August 9.
Meanwhile, McMullin's injuries were hampering him on the field, and Rowland began substituting pinch runners for Fred, who couldn't shake a recurring charley horse. But Terry and Von Kolnitz also had the injury bug, and Fred returned to the lineup for a spell when Buck Weaver went out with an illness. Mac received little playing time the rest of the year, as the White Sox remained close to Boston in the standings, pulling within a half-game on September 16. But the Red Sox won two of three at Comiskey Park that weekend to effectively seal the pennant, and Chicago finished 21/2 games out in second place.
For his part, McMullin hit .257 in 68 games (just eight runs scored) and, more importantly, secured his spot on the major league roster. He went home to California pleased with his performance and optimistic about 1917.
In November, he helped the Angels celebrate a "day" for ex-Cub Frank Chance. The "Peerless Leader" had managed Los Angeles to the PCL championship, and McMullin and Terry returned to play against the Angels as part of an all-star team formed for the occasion. Mac went two for four, batting cleanup in front of 6,000 fans at the Angels' home stadium, Washington Park, and Chance scored the winning run for the Angels in the 10th.42
Later that month, on November 23, Fred and wife Delia had a son, William, at home in Los Angeles. Mac was overjoyed -- even going so far as to publicly request a trade back to the Coast League so he could be closer to his family. That wasn't going to happen, of course, but Comiskey was keeping an eye westward anyway. He bought Swede Risberg's contract from the Vernon Tigers and also brought in outfielder Elwood "Speed" Martin from Oakland during the 1916-17 offseason, giving the Sox more PCL alums (9) than any team in the American League.43
McMullin's "holdout" didn't last long; he signed another one-year deal with Chicago on February 27 and prepared for training camp at Mineral Wells, Texas.44
Once again, half of the Sox infield was secure with Eddie Collins and Buck Weaver entrenched at second and third base, respectively. Thirty-year-old veteran Chick Gandil had been purchased from Cleveland for $3,500 to shore up first base.45 Shortstop was the only open position -- and four players were fighting for it.
McMullin seemed to have the edge over incumbent Zeb Terry, who had beaten Fred out for the job last season. Terry's recurring injuries and .190 batting average were not reliable enough for a team that was expected to battle Boston for the pennant. Von Kolnitz, meanwhile, announced his retirement midway through camp to go work on his father's farm in Virginia. That left Risberg, and Swede made a strong impression during the exhibition schedule. McMullin began training with the reserve squad as Risberg took his practice with the regulars.46 It appeared that Weaver's move to third base -- Mac's "natural" position -- was going to keep Fred out of the lineup, as Swede was far superior at shortstop despite having played second base coming up through the minors.
Risberg won the shortstop job to open the season and the White Sox started on fire, winning five of their first six games and nine of their first 11. Pitcher Eddie Cicotte, on his way to a league-leading 28 wins and 1.53 ERA, no-hit the St. Louis Browns in his first start on April 14.
By the end of the month, the Sox were tied for first place and their lineup was set -- not to mention healthy. As a result, McMullin and four other reserves remained in Chicago as the team left for a road trip to Cleveland and St. Louis. Mac had only made two pinch-hit appearances, grounding out both times.47
It wasn't until May 20 that Mac got any extended time in place of Risberg -- even then, it took an injury to Swede, and a pinch-hitter for Zeb Terry, whom McMullin replaced in the sixth inning, for Fred to get into the game. Mac's first start in 1917 did not even count as an official game: it was an in-season exhibition on May 28 in Waterloo, Iowa, although he made the most of his action, getting two hits and scoring twice. Mac got another start -- and two more hits -- in a June 4 exhibition at Newark, N.J.48
On June 16, McMullin's name appeared in the same sentence with gamblers for the first time. This time, he was hailed as a hero (at least in Chicago.)
The White Sox had come to Fenway Park for four games with the second-place Red Sox, who began the series 11/2 games behind Chicago. After Lefty Williams blanked Boston 8-0 on Friday, June 15, Eddie Cicotte and Babe Ruth hooked up in a pitcher's duel the next afternoon, when threatening clouds appeared in the sky. With the White Sox ahead 2-0 in the fifth inning, rain began to fall. Some fans behind first base, disappointed at the score, began cries of "call the game!" -- ostensibly, to save the rain checks on their tickets. But newspapers in both Chicago and Boston reported the real reason: to keep their bets on the home team from being lost.
The Red Sox management had only staffed the game with two policemen for security, far too few to prevent an uprising in the stands. With two outs in the fifth -- one more out, and the game would become official -- "some tall man in a long rain coat took command. Waving to his comrades to follow, he boldly leaped out upon the field. In ten seconds, he must have had 500 followers." On the surface, they appeared to be heading for the covered pavilion to escape the rain. But this also was the part of the park "where the so-called sporting men congregate daily" -- and it was there that "the first cries of 'call the game' were heard, and it spread like wildfire." Once on the field, the "rain-check athletes" milled around until officers from the nearby Boylston Street police station arrived and shooed them into the grandstands. It took 45 minutes to clear the field.49
In the meantime, White Sox catcher Ray Schalk berated the few officers who were present, "in language not suitable for parlor, [Schalk] questioned the courage of a patrolman, who was willing to show him, using Ray as the subject, that he was game enough."
Near the Chicago dugout, where the fans were being herded off the field, the White Sox players desperately tried to make their way under the stands and out of harm's way. In the commotion, McMullin and Buck Weaver got into an altercation with a fan, who later identified himself as Augustine J. McNally, of Norwood, Mass. The Chicago Tribune reported: "During the fussing, [McNally] is supposed to have bumped McMullin's fist with his eye. Also he is supposed to have had his fingers on the railing just when Weaver let his bat fall."50
Eventually, the dust settled and play resumed in the fifth. Weaver became one of the first few players to hit a home run over the left-field wall at Fenway (not yet painted green, or known as "The Monster"), and the White Sox beat the Red Sox, 7-2.
The trouble lingered for McMullin and Weaver, who were served with arrest warrants -- McNally had filed assault charges in Roxbury District Court -- the following Monday. But after losing a Bunker Hill Day doubleheader, the White Sox immediately took off for Chicago, and the case was defaulted until the players could return to Boston later that summer. The trial was delayed again on July 31, and the charges were dropped by the time the Sox finished their final road trip to Fenway in late September.51
Ban Johnson raised a ruckus after hearing of the riot in Boston. The founder of the American League "declared war on gamblers," whom he admitted publicly had instigated the riot. "Gambling has never been tolerated by our league," Johnson said. "This spring, [Red Sox owner Harry] Frazee advised me he had installed special police in the pavilion where the gamblers congregate. They were put there solely to break up the practice."52
The gamblers, of course, continued to congregate -- at Fenway Park, and across the American League.
The White Sox, meanwhile, had more pertinent worries; namely, their hosiery counterparts from Boston. Swede Risberg needed a few days off to heal an infected "slider" (a hip injury caused by sliding), giving McMullin a chance to start at shortstop for a few days. Mac drove in the winning run on June 23 in a 15-inning game with Cleveland to keep the Sox 11/2 games ahead of Boston at the end of the month.53
In early September, the White Sox went on a tear. A four-game sweep of the Tigers on Labor Day weekend -- an infamous series that would be recalled 10 years later, as Swede Risberg and Chick Gandil accused Detroit of laying down -- was the start of a nine-game winning streak for Chicago. With Weaver out because of a broken hand, Mac was in the thick of it all. On September 5, he led a game-winning rally in the 11th inning to beat St. Louis, 4-1. Four days later, he initiated a clash with Cleveland's Jack Graney that resulted in a riot, and the game was forfeited to the Sox. Chicago opened up a 6-game lead on Boston to coast to the pennant.54
With the World Series in sight, manager Pants Rowland began to set his lineup for the National League champion New York Giants. Weaver's return in mid-September created a clutter in the infield and, this time, Risberg was the odd man out. The Chicago Tribune reported: "McMullin has been hitting and fielding so well that Manager Rowland hates to remove him now that Weaver has recovered."55
Los Angeles Times writer Harry A. Williams suggested that McMullin's propensity to hit left-handers might have put him over the edge: "While his general average is not large, McMullen [sic] shows a mark well above .300 against the portsiders."56 The Giants had three good ones in Ferdie Schupp, Rube Benton and Slim Sallee, who had combined to win 54 games in 1917. Chicago Tribune writer I.E. Sanborn, meanwhile, credited Mac's intellect: "McMullin is the best inside player ... as he thinks faster than the others generally. ... If you remember, the White Sox started their tremendous rush pennantward right after McMullin found himself a fixture (in the lineup.)"57
McMullin's unexpected performance while filling in during Weaver's absence brought comparisons to another "super-sub" in Chicago's past -- former infielder George Rohe, who took over for injured Hall of Fame shortstop George Davis (the same Davis who had tried to sign McMullin for the Yankees two years back) during the White Sox's first championship season, in 1906. Rohe was also one of the stars in the World Series victory over the Cubs.58
McMullin had a similar influence in Game 1 against the Giants.
He was hailed as "Chicago's hero" after driving in the first run of the Fall Classic. His third-inning double eluded New York center fielder Benny Kauff and scored Shano Collins to give the White Sox a 1-0 lead. One inning later, Happy Felsch homered to provide the decisive margin in a 2-1 victory behind Eddie Cicotte. Mac finished 1-for-3 and made two spectacular plays in the field.59
In Game 2, McMullin's RBI single to center knocked out losing pitcher Fred Anderson in the middle of the fourth inning as the White Sox scored five times and breezed to a 7-2 win. He again handled three chances in the field flawlessly.
Mac's bat went cold thereafter, as he finished the Series with one hit in his last 16 at-bats. But he remained "a tower of strength defensively" at third base, starting two key double plays in Game 5 and not committing an error.60 (Game 5 is notable in that it was the only World Series game in which all eight of the banished "Black Sox" players made an appearance.)
The Sox won their second championship with a 4-2 victory in Game 6 -- made famous by Eddie Collins' "mad dash" across an unguarded home plate as New York's Heinie Zimmerman gave chase. (The day after the Series ended, McMullin and baseball clown Germany Schaefer re-enacted the play to great acclaim in an exhibition game for soldiers at Camp Mills, New York)61
The White Sox partied hard on the train back to Chicago, where the players received their World Series bonus checks of $3,669.32. McMullin spent most of his on a small bungalow in Lincoln Heights, less than 2 miles from where he had grown up a decade earlier and a few blocks from where Delia's parents lived. He lived in that house on Baldwin Street for the rest of his life.62
Mac was a star on the winter circuit in Southern California; in November, he headlined a charity game at Los Angeles' Washington Park that benefitted a local boys home, playing alongside major leaguers Irish Meusel, Johnny Rawlings, Zeb Terry and Bill Killefer.63
Fred began the 1918 season as a strong favorite to remain as a regular at third base. The press called the White Sox infield "the best in the country," and it was said "there is no chance that Mac will have to adorn the bench this year."64
Risberg's spring performance turned heads, however, and by the end of spring training Pants Rowland was still deciding whether to remain with the lineup that won him the World Series. It was McMullin who opened the season at third base, but Risberg took over for the next two games. After rain washed out nearly a week of games, McMullin was put back in and the Sox promptly won four straight.65
Mac took advantage of the opportunity and, by May 11, he was hitting an even .400 -- second only to Boston's Babe Ruth (.407) in the American League, and ahead of Tris Speaker (.393) and teammate Joe Jackson (.378). But a 4-for-27 slump over the next eight games dropped McMullin's average and, a week later, he was down to .299.66
During that stretch, on May 15, he played all 18 innings (and got two hits off Walter Johnson) in a 1-0 loss to Washington. The marathon contest set a modern major league record, since broken, for longest game decided by that score.67
On May 20, he had his best game of the season, reaching base in four consecutive plate appearances. He had three hits, stole two bases and scored a run in Chicago's 6-2 win over New York. Mac had another three-hit game on May 22, as the White Sox lost to the Yankees 1-0 in 14 innings.68
But his productive season came to a halt on May 30, when he was spiked by Cleveland's Ray Chapman in the first inning of the nightcap and carried off the field with a deep gash just above his knee. He missed nearly three weeks and was only rushed back then because Weaver was out with a strained groin and Risberg was bruised up, as well. At the
time of his injury, McMullin was hitting .312, 10th in the league.69
By then, the defending World Champions were floundering just barely above .500, in fourth place. They were without the services of Jackson, who had taken a job in the shipyards. In late June, Gandil left a game in the seventh inning to make an appearance before his draft board on his plea for deferment.70 The Great War cast a great shadow over baseball in 1918, and every team was affected.
On July 1, U.S. Army Maj. Gen. Enoch Crowder's "work or fight" order went into effect -- and baseball players weren't exempt. While the season continued through Labor Day, many draft-eligible players joined the military or found "essential" wartime jobs. McMullin played on for another five weeks -- and reached a milestone in the process, hitting his only career major league home run, an inside-the-parker, on August 1 against Washington's Ed Matteson at Comiskey Park.
Chicago Tribune writer James Crusinberry recorded the details: "Hereafter when anyone says that Fred McMullin of the White Sox has no force behind his drives when batting, one may turn to the record of yesterday's combat ... and prove that the statement is incorrect."
"There was no doubt about it's being a regular homer, either. It was a direct hit in the far corner of center field. ... All the time Fred was legging it around the sacks, never hesitating. He was bent on scoring and did it without a slide when the relay to the plate was a bit high and wide."71
Mac's two-run, two-out blast, scoring Swede Risberg, was the decisive blow in a 2-1 victory over the Senators. Crusinberry credited Buck Weaver, coaching at third, with "sending Mack [sic] on in. ... Buck never hesitated ... and he played it right."
Four days later, McMullin had his third three-hit game of the season against Philadelphia, in front of a tiny crowd of less than 1,000.72 On August 7, he and Risberg decided to enlist -- Swede headed to an Army base in the Bay Area, while Mac joined the Navy and was placed at a submarine base in San Pedro, outside Los Angeles. There, he joined a service league that included future Hall of Famers Harry Heilmann and Sam Crawford, as well as major leaguers Irish and Bob Meusel, Howard Ehmke and Red Killefer, among others.73
After the Pacific Coast League had shut down in mid-summer, Los Angeles Angels owner John Powers created the Southern California War Service League and stocked it with established professional players who were based in the area. Games were played every weekend until the region was hit hard by the deadly influenza epidemic and large gatherings of people were prohibited.74
McMullin joined a Pasadena team that included fellow Los Angeles High alumnus Johnny Rawlings and continued to play until the Armistice on November 11 -- when draft deferments became no longer necessary. After his discharge, McMullin joined a local team in the California Winter League but few games were played after crowds stayed away due to fears of the flu.75
Mac's best season in the big leagues ended with a .277 average, one home run, 16 RBI and 32 runs scored in 70 games. With the war over, he and the Sox looked forward to another run at a championship. Baseball anxiously prepared to begin the 1919 season. Worries about post-war attendance caused owners to shorten the season to 140 games and cut players' salaries.
McMullin signed for $2,750 after staging a holdout through late March. The Los Angeles Times reported that McMullin again was seeking a trade back to the Pacific Coast League, but White Sox owner Charles Comiskey seemed to ignore his demands.76
While the holdout likely didn't play a role, Mac found himself opening the season on the bench as Risberg beat him out for a starting spot in the infield. After a solid year in 1918 and a contributing role in the 1917 championship stretch, McMullin's lack of playing time drew the attention of The Sporting News: "Can you beat it the way managers are letting this fellow hang around the Sox bench when one of them could grab him off -- a player good enough to help win the league and flag and clinch a world's pennant, and at the height of his game in the big leagues!"77
But the White Sox, on the backs of pitchers Eddie Cicotte and Lefty Williams, soared to a 24-7 start to take a five-game lead on Cleveland. McMullin received scant playing time in the first three months -- his longest stretch was in replacement of an injured Eddie Collins at second base for a few games in late May. When the Sox slumped in June, falling out of the American League lead for the first time on June 23, new manager Kid Gleason -- a longtime White Sox coach who had taken over for Pants Rowland -- decided to shake up his lineup.
For the second time in three seasons, McMullin was brought in to provide a spark. Just like in 1917, Buck Weaver moved back to shortstop and Mac took over at third base. "This arrangement, the same that was used in humbling the New York Giants ... proved a lucky one in the first game after it was made. The Sox defeated the Browns, and McMullin made two hits. Whether it makes a turning point in the club's fortunes remains to be seen," reported The Sporting News.78
It did. Just like in 1917, the White Sox immediately got hot. After leaving St. Louis, Chicago took three of four from Cleveland and came home to win four of five against Detroit to storm back atop the standings. McMullin's best effort was a 4-for-5, two-triple performance on July 13, equaling his career high for hits.79
Despite entering July with less than 30 at-bats, Mac had boosted his average to .333 -- seventh in the league, if he had qualified for the batting title -- after earning a starting spot. Teammate Joe Jackson was pacing the AL at .352. In the opener of a crucial series against the second-place Yankees on July 20, Jackson hit a game-ending home run before 30,000 fans at Comiskey Park to put the Sox ahead by a season-high 6 games.80
By the end of August, Chicago's lead was up to 8 games, and the pennant was "a foregone conclusion." The Atlanta Constitution's Dick Jemison reported then that the White Sox were a 7 to 10 betting favorite over the National League champion Cincinnati Reds. The odds dropped to 5 to 6 by late September, and late betting before the Series began made the Reds a 7 to 10 favorite in some places. The reason would soon become clear.81
Jackson clinched the Sox's pennant for good on September 24 with another game-ending hit, this one a ninth-inning single to score Nemo Leibold in a 6-5 victory over St. Louis. For the final week of the season, McMullin was assigned to travel to Cincinnati to scout the Reds in their last series against the Cubs.82
Whether he followed manager Kid Gleason's orders and returned with accurate scouting reports remains up for debate, nearly a century later.83 What is known is that sometime that fall, McMullin found himself involved in what historian Harold Seymour called "baseball's darkest hour": the fixing of the 1919 World Series.84
Most sources, possibly following the lead of Eliot Asinof's acclaimed book about the scandal, Eight Men Out, seem to agree that McMullin's involvement in the plot happened by chance.85 He overheard a conversation with good friend Swede Risberg, in a locker room or a bathroom or a hotel room, and asked to share in the profits. Some have claimed that McMullin, along with first baseman Chick Gandil, was one of the instigators of the fix.86 (In fact, Eddie Cicotte was among them -- the White Sox pitcher later testified that "the idea of the fix had originated in a conversation with Gandil and McMullin.")87 The truth might be somewhere in between. He certainly was present for most of the meetings before the Series discussing the fix, he roomed with pitcher Lefty Williams, a co-conspirator, at the Hotel Sinton in Cincinnati, and he was rarely seen without Swede Risberg, his fellow Californian, by his side throughout the Series.88
What compelled McMullin to risk his career for a promised payoff of $20,000? Perhaps he was angry over his lack of playing time -- he had certainly played well enough to warrant a starting job in the major leagues, and the White Sox had never seemed to give him a fair chance at that. Or maybe he was frustrated at Comiskey's dismissal of his desire to be closer to Los Angeles, near his family. His preseason holdouts usually had been accompanied by demands for a trade. And while Comiskey's reputation as a penny-pinching magnate has lived on despite the fact that his payroll was near the top of the American League89, McMullin's salary of $2,750 was among the lowest on the team. A nearly 1,000-percent raise for a week's worth of work would go a long way.
Perhaps the answer is more basic: It looked like an easy score. Indeed, gambling had been a part of baseball since the sport became popular and rumors of fixed games, even in the World Series, had been rampant since the first one in 1903.90 Money often changed hands from player to gambler and from player to player. Back in 1917, it was well known that the White Sox players had collected a pool of $45 apiece to pay off the Detroit Tigers -- ostensibly as a "reward" for beating the rival Boston Red Sox in a crucial series down the stretch, but more likely it was to "thank" them for laying down in those infamous Labor Day doubleheaders which Chicago had swept.91
McMullin certainly knew the story of Hal Chase, formerly a teammate of some of his White Sox pals and widely suspected to be the most corrupt player in baseball. Chase had been accused numerous times of taking bribes and had openly tried to entice other players to do the same. After one such incident in Cincinnati, Chase was suspended by Reds manager Christy Mathewson, who reported it to National League president John Heydler. Instead, Chase was acquitted. Mathewson, infuriated, ran him off the team. It made no difference to Chase; he was soon picked up by John McGraw's New York Giants, and continued fixing games without repercussions. Chase -- who, like Gandil, Risberg and McMullin, had California connections -- also became involved in the World Series fix, reportedly as a middleman for gamblers Bill Burns and Abe Attell (although his role remains unclear to this day), and he was later indicted during the grand jury proceedings in 1920.92
Whatever his motivation actually was, McMullin didn't receive many opportunities -- at least on the field -- to "earn" the $5,000 he reportedly received for agreeing to help throw the World Series. He singled in a pinch-hit appearance off Reds starter Dutch Ruether in the eighth inning of Game 1, and grounded out against Cincinnati's Slim Sallee to end Game 2. Both were White Sox losses. Chicago went on to lose the best-of-nine Series in eight games.
Despite his lack of playing time, Mac's name quickly surfaced behind the scenes as rumors swirled that the World Series was not on the level. It was a charge that McMullin vehemently denied, threatening to "punch anybody in the nose who dared suggest he was in on any wrongdoing."93 But St. Louis gambler Harry Redmon allegedly tipped off manager Kid Gleason to McMullin's involvement, and when White Sox owner Charles Comiskey sent a private detective, John Hunter, to California to investigate talk of a fix, McMullin was one of the players he tried to interview.94
For a few weeks, Comiskey withheld World Series bonuses -- the loser's share came out to $3,254.36 that year -- for the eight players rumored to be involved. But McMullin and two other players complained to American League president Ban Johnson, and the checks were soon on their way.95
The Los Angeles Times reported that McMullin returned home "all upholstered like a davenport, ... [with] a sufficient sum to make him fair picking for the profiteers this winter." It was an ominous note.96
McMullin played winter ball for a team called "Killefer's All-Stars," headlined by Chicago Cubs catcher Bill Killefer and including stars such as Gavy Cravath, Sam Crawford and Jimmy Austin. Buck Weaver also headlined a team, "Weaver's All-Stars," whose main attraction was newly crowned home run king Babe Ruth.97
Talk of the fixed World Series died down as the 1920 season began. Comiskey, eager to put all the rumors to rest, offered Mac a substantial raise, from $2,750 to $3,600, for his fifth season in Chicago. McMullin quickly sent back his signed contract and reported for spring training in Waco, Texas, where he took over at third base while Weaver moved to shortstop. Risberg staged a holdout until early April.98
On the field, Mac's season was forgettable: he posted career lows in every statistical category, batting just .197 in 46 appearances. Off the field, there were persistent doubts about his activities -- he was said to be the "point man" for gamblers in games that the White Sox were supposed to have thrown, a rumor that was even brought up by American League president Ban Johnson.99
If any games were lost purposely by the White Sox that year, there is no first-hand documentation of which ones they were, and McMullin's involvement never has been clarified. In Eight Men Out, Eliot Asinof specifically lists an April 27 loss to Cleveland as being one of them. On May 9, the "careless Sox" dropped another suspicious game to the Indians. There were reports that Mac offered Buck Weaver $500 to help throw a mid-season game, which Weaver "angrily" declined.100
The pattern continued throughout the summer. Chicago stayed within range of the American League lead -- but was only in first place for eight days after May 7. Ban Johnson had claimed he heard that "the Sox would not dare win the pennant" because of their ties to gamblers.101
By September, the talk of corruption in baseball was too loud to ignore. A grand jury was convened in Cook County, Ill., and McMullin was implicated along with Buck Weaver, Chick Gandil, Swede Risberg, Joe Jackson, Eddie Cicotte, Lefty Williams and Happy Felsch for fixing the 1919 World Series.
During the season's final week, the rumors made Mac a target for opposing fans -- and ballplayers. Tris Speaker, the Cleveland manager, scuffled with McMullin before a game at League Park, snapping, "When you birds get back to Chicago and you feel like talking, you can do a lot of it before the grand jury, and your role won't be that of a witness, either!"102
McMullin was a major focus in one of the last stories before Cicotte made his confession to the grand jury -- on September 25, the Chicago Tribune wrote about a "mystery package ... in the shape of currency" that Mac had reportedly delivered to Buck Weaver's home during the Series. The Tribune claimed it was the first evidence that the players had been paid to throw games the previous fall, and that new witnesses would be called to verify it. Mac immediately denied the charges that he had paid Weaver, and few sources since have claimed that Weaver ever received money. The story is mostly forgotten now.103
After Cicotte's confession on September 28, owner Charles Comiskey immediately suspended McMullin and the other six players (Chick Gandil had held out in a contract dispute the entire season.) They were indicted a few weeks later for the vague charge of "conspiracy to commit an illegal act." McMullin and Buck Weaver, accompanied by attorney Thomas Nash, each paid a $10,000 bond on November 5. Joseph Kauffman, a local tailor, signed their bonds. McMullin went back home to California and took a job as a carpenter as he awaited trial.104
While in Los Angeles, McMullin worked for the Universal film studio and accepted an invitation to play ball in a winter league for that company's team (which included his brother-in-law, Charlie Barnabe.) Investigator Harry Neily, in a letter to AL president Ban Johnson, wrote that McMullin "enjoys a very good reputation out here and the natives were reluctant to believe that he was guilty of misconduct."105
Still, there was some grumbling about his presence until the local Manager's Association -- which controlled dozens of independent and semipro teams in Southern California -- passed a "vote of confidence" in January, allowing Mac to play. One week later, Philadelphia Phillies owner William F. Baker levied a $100 fine against outfielder Emil "Irish" Meusel for playing in a game with the disgraced "Black Sox" infielder, and other teams in organized ball threatened to do the same. It was understood, The Sporting News reported, that McMullin was persona non grata on the same field with "honest" ballplayers. So Mac resigned from the team on Jan. 12, reportedly "because of the embarrassment which it was causing some of the other players." He kept his job at the film studio, however.106
Even out of uniform, McMullin wasn't welcome around baseball. In May, he paid his way into Washington Park to visit with former White Sox teammates Byrd Lynn, Ted Jourdan and Joe Jenkins, who were playing for the Salt Lake club in the Pacific Coast League. But there developed "a situation so tense as to be almost painful," as manager Gavvy Cravath "turned his back" on McMullin and gave him "a stony stare" when he approached the bench. The Los Angeles Times opined that "Mac would save himself, the management and his friends ... a lot of embarrassment if he would absent himself, or at least keep in the background." McMullin called the treatment a "persecution."107
Meanwhile, in Chicago, the conspiracy trial was no closer to opening and indictments were returned for a second time in the spring of 1921. McMullin was "in hard luck" financially, according to a wire report, and could not afford to travel back to Illinois. He "sent word" that the state would have to pay his way for him to be able to stand trial, but his requests -- and, indeed, the charges against him -- were ignored by all parties. He declined to pay his new bail of $7,500, and a warrant was issued for his arrest. But the state of California refused to extradite him (it also had refused to extradite Hal Chase, on the grounds that a proper warrant for his arrest had not been issued.) Amazingly, the trial began in June -- without McMullin.108
Why was McMullin not put on trial with the other Seven Men Out, the only player to be dismissed from prosecution, even though his involvement in the fix was confirmed by almost everyone there? No one knows for sure. The trial itself was "in many ways a sham," according to author Gene Carney in his 2006 book, Burying the Black Sox: How Baseball's Cover-Up of the 1919 World Series Fix Almost Succeeded. The prosecution wasn't even sure what to charge them with; there was no law in Illinois against fixing or throwing games. Besides, baseball's first commissioner, Kenesaw Mountain Landis, had already suspended the eight Chicago teammates in November 1920 after the grand jury returned the first indictments against the players. Landis had made it known: "regardless of the verdict of juries," he still might not let them play in the majors again.109
The trial was beset by prosecutorial clumsiness -- star witness Bill Burns, one of the conspirators, was nowhere to be found until American League president Ban Johnson launched a small manhunt to "capture" him in hiding near the Mexican border -- and the confessions of three players disappeared during the middle of the proceedings. Before the jury began deliberation on August 2, Judge Hugo Friend stated that he would overturn guilty verdicts against Happy Felsch and Buck Weaver because so little evidence had been presented against them.110
So McMullin watched from afar as a jury failed to convict his seven former teammates, returning their verdict at 11:22 p.m. But whatever hope he had of returning to the White Sox was short-lived, as Landis famously banned them all the next day. McMullin's professional career was over.
Like many players of that era, McMullin kept quiet about the scandal in the decades afterward. How did he feel about losing his livelihood and being banished from the game at 29 years old? Only he knew. Unlike Buck Weaver, he never applied for reinstatement to the major leagues. Unlike Joe Jackson, he never proclaimed his innocence publicly. He did not give interviews, and if anyone asked him about it, what he revealed in those conversations is probably lost to history.111
The common perception is that McMullin disappeared after the trial. The phrases "dropped out of sight," "quietly vanished" and "mysterious" were all used to describe his life after baseball by writers who brought up the Black Sox. Eliot Asinof, in "Eight Men Out," did not even mention his whereabouts.112
But he never really went anywhere. His sister, Faye, moved in with Fred and Delia for a year before moving back home to Inglewood, where she later married the city's first elected mayor, Hugh Lawrence. Meanwhile, Fred continued to work as a carpenter around Los Angeles through 1922, when a second child, Ionia, was born. (A second daughter, also named Delia, was born in 1923.) Fred took various office jobs until the end of the decade. In 1928, he signed on as a traffic manager with the Thomas Haverty Co., where his brother Dale worked as a salesman. But they both lost their jobs a few years later when the Great Depression hit home. That fall, Fred registered as a Democrat for the first time after spending most of his adult life as a Republican. Presumably, he voted in favor of Franklin D. Roosevelt's New Deal in the presidential election.113
Both son William and daughter Ionia exhibited their father's skill on the diamond, playing for their high school teams in the mid-1930s. Fred attended their games regularly, and was also seen at various semipro games in Lincoln Heights and at Brookside Park in nearby Pasadena.114 Ionia later earned a degree from UCLA, as did her younger sister, Delia.
In 1941, Fred began a new career, in law enforcement, that would last the rest of his life. He took a job as a Los Angeles County deputy marshal, where his duties included acting as a bailiff for the Municipal Court, enforcing repossessions and serving arrest warrants and eviction notices -- incidents that sometimes required the same quick and brave reactions he used when he played third base in the major leagues.115 McMullin showed a sense of compassion on the job, once delaying an eviction order against a blind woman after watching her struggle to pack up her four kids' belongings in her upstairs flat.116 After four years, he earned a promotion to senior court officer (he was among the highest in his class in a written examination, although he finished last in the interview portion), and in 1947 moved up another rank, to captain, where he supervised a division of marshals. Even then, his salary was just $417 per month -- less than what some of his White Sox teammates had been making in 1919.117
When the marshal department and municipal courts were reorganized by the Civil Service Commission in 1950-51, McMullin and another captain, Harry G. Hurley, who had joined the marshals around the same time as McMullin, were reassigned and lost their rank. They sued the commission in March 1952 and Superior Court Judge Frank Swain ordered County Marshal Roy W. Carter to restore their ranks and salary, also awarding them back pay of $286.50 apiece.118
McMullin would not live to benefit from the judgment for very long. In his final years, he suffered from arteriosclerosis, a heart ailment. On November 19, 1952, just over a month after his 61st birthday, he had a stroke that caused hemorrhaging in the brain; he died a day later, at 4:40 p.m. on November 20. He was buried at Inglewood Park Cemetery.119
Acknowledgements
I would like to thank the following people, many of whom are members of the Society for American Baseball Research, for their generous assistance: Mark Armour, Carlos Bauer, Marc Blau, Gene Carney, Sesar Carreno, Judy Cash, Timothy Gay, Shav Glick, Tracy Greer, Bob Hoie, Bill James, Brian Kamens, Mike Kopf, Len Levin, Jim McConnell, Ray Nemec, Rod Nelson, Rob Neyer, Mike Nola, Gabriel Schechter, Ron Selter, Bob Timmermann, David Turk, Dr. Ben Wedro, Paul Wendt, and the staffs at the public libraries in Los Angeles, California; San Bernardino, California; San Diego, California; Tacoma, Washington; and the National Baseball Hall of Fame Library in Cooperstown, New York.
Notes
1 "The White Sox Lucky Man," Chicago Tribune, July 15, 1919, p. 16
2 Green, Paul. "After the Scandal: The Later Lives of the Banished Sox," Sports Collectors Digest, April 22, 1988, p. 198.
3 Information from United States Census via Ancestry.com and RootsWeb.com, accessed online Jan. 24, 2007. Two of the nine McMullin children died in infancy.
4 Bell, Christopher. Scapegoats: Baseballers Whose Careers Are Marked By One Fateful Play, McFarland & Co.: Jefferson, N.C., 2002, p. 21; Los Angeles Times, Dec. 28, 1930; March 25, 1936; May 5, 1940;
5 McConnell, Jim. "Football Wasn't Pasadena's Only Game in Town," Pasadena Star-News, March 25, 2002; Berman, Jay. "A Streetcar Named Obscurity," The National Pastime, Society for American Baseball Research, 2000, pp. 58-60.
6 Walker, H.M. "Senators Twice Humble Angels in Extra Innings," Los Angeles Examiner, Sept. 26, 1910, p. 11; The Sporting News, Oct. 6, 1910, p. 8; "Fred McMullin." SABR Minor Leagues Database. (Accessed online at http://www.minors.sabrwebs.com/cgi-bin/person.php?milbID=mcmull001fre)
7 "Northwestern League." Spalding's Official Base Ball Guide, 1915. (Accessed online at http://memory.loc.gov/ammem/spaldinghtml/spaldinghome.html). New York: A.G. Spalding & Bros., pg. 225.
8 Dille, Russ. "When Giants Walked Seattle." The Online Encyclopedia of Washington State History. (Accessed online at http://www.historylink.org/essays/output.cfm?file_id=7124). Curated by David S. Eskenazi.
9 "Indian Catcher May Be 'Find'." Tacoma Daily News. March 23, 1914.
10 "How They Will Bat." Tacoma Daily News. April 14, 1914; "Bengals Finish Strong, Win In Eleventh." Tacoma Daily News. April 18, 1914; "Bees Run Bases As They Please." Tacoma Daily News. April 23, 1914.
11 "McGinnity Weeds Out His Players." Tacoma Daily News. June 16, 1914.
12 "Tigers Start Well, Slip in the Second." Tacoma Daily News. June 26, 1914.
13 "Winning Streak is Broken by Misplays." Tacoma Daily News. July 24, 1914. "Ball Talk." Tacoma Daily News. July 25, 1914.
14 "Ball Talk." Tacoma Daily News. Aug. 12, 1914. "Ball Talk." Tacoma Daily News. Aug. 14, 1914.
15 Murnane, Tim. "Red Sox Hammer Dubuc's Curves." Boston Globe. Aug. 28, 1914; "Poor Picking for Feds Among Tigers," The Sporting News, Aug. 27, 1914, p. 3; "American League notes," The Sporting News, Aug. 20, 1914; p. 5.
16 "Sporting Notes." Racine (Wis.) Journal-News. Jan. 7, 1915, p. 7; "Options Exercised By Minor League Ball Clubs," The Sporting News, Sept. 10, 1914, p. 2; "Recruits Absorb Detroit Interest," The Sporting News, Sept. 10, 1914, p. 2.
17 McNeil, William F. The California Winter League: America's First Integrated Professional Baseball League, McFarland & Co.: Jefferson, N.C., 2002, p. 47-49.
18 Williams, Harry A. "Stars Come Cheap To Locals." Los Angeles Times. Aug. 18, 1915.
19 Williams, Harry A. "Harkness and M'Ardle Are Released By Tigers." Los Angeles Times. Feb. 12, 1915.
20 Williams, Harry A. "Orr and Gedeon Figure In Most Double Plays." Los Angeles Times. June 4, 1915.
21 Williams, Harry A. "All Stars." Los Angeles Times. Aug. 25, 1915.
22 "Fred McMullen, Spiked by Schaller, Out for Two Weeks." Los Angeles Times. July 23, 1915; "McMullen Gaining, is Word to Angels," Los Angeles Examiner, Aug. 4, 1915, Sec. II, p. 2.
23 Marriage license for Fred McMullin and Delia Barnabe, Registration No. 19154000776, Orange County Clerk-Recorder's Office, Santa Ana, Calif.
24 "Charlie Barnabe," SABR Minor Leagues Database (http://minors.sabrwebs.com/cgi-bin/person.php?milbID=barnab001cha), accessed Aug. 23, 2008; "Charlie Barnabe," Baseball-Reference.com (http://www.baseball-reference.com/b/barnach01.shtml), accessed Aug. 23, 2008.
25 Information from 1900-20 United States Census via Ancestry.com, accessed online Aug. 20, 2008.
26 Milliken, Stanley T. "Nationals Are Bidding For Two New Infielders." Washington Post. Aug. 6, 1915; "Comiskey Fails to Take Angel Star," Los Angeles Examiner, Aug. 17, 1915, Sec. II, p. 3; "Yankees Dicker for Zeb Terry," Los Angeles Examiner, Aug. 20, 1915; "Jackson is Sold to Sox for $15,000 and Three Players," Los Angeles Examiner, Aug. 21, 1915, Sec. II, p. 2; Edwards, Henry P. "Comiskey is Kind Indeed to Somers," The Sporting News, Aug. 26, 1915, p. 4; "They Were Traded For Jackson." Reno (Nev.) Evening Gazette. Sept. 8, 1915.
27 Williams, Harry A. "New York Club Wants Piercy, Love, Bodie." Los Angeles Times. Aug. 27, 1915; "Sox Get Trio of Players." Chicago Tribune. Aug. 27, 1915; Vaughan, Irving. "Baseball's Gambling Table," Chicago Tribune, Jan. 27, 1939, p. 23.
28 Williams. "New York Club Wants Piercy, Love, Bodie."
29 Crusinberry, James. "A.L. Sanctions Move to End Diamond War." Chicago Tribune. Dec. 16, 1915.
30 Hoefer, R.W. "Stars of the World's Series." Atlanta Constitution. Sept. 29, 1917.
31 Sanborn, I.E. "Jones' Browns Nose Out Hose In Farce, 6 to 5." Chicago Tribune. April 17, 1916.
32 Sanborn, I.E. "Sox Overcome Lead and Beat St. Louis, 6-5." Chicago Tribune. April 18, 1916.
33 Sanborn, I.E. "Indians Crush White Sox, 9-2, Before Bards." Chicago Tribune. April 26, 1916.
34 Sanborn, I.E. "Boss' Shakeup Drives Hose to Nip Indians, 5-3." Chicago Tribune. April 28, 1916.
35 Sanborn, I.E. "Fournier Hands Indians Game by Wild Throw in Tenth, 2-1." Chicago Tribune. April 29, 1916.
36 "Sox-Cleveland Score." Chicago Tribune. May 8, 1916; "Smith, of Indians, Leads American." Atlanta Constitution. May 14, 1916.
37 Crusinberry, James. "Hose Tackle Yanks Today in First Tilt." Chicago Tribune. June 3, 1916; "American League." Washington Post. June 4, 1916; "Speaker Betters His Hitting Mark." Atlanta Constitution. June 18, 1916.
38 "White Sox Notes." Chicago Tribune. June 26, 1916.
39 Murnane, T.H. "Red Sox Drop Double-Header." Boston Globe. July 11, 1916; Crusinberry, James. "Sox Get Boston Twice; Cubs Upset By Braves." Chicago Tribune. July 11, 1916; "Notes." Chicago Tribune. July 11, 1916.
40 "Senators Stop White Sox." New York Times. Aug. 5, 1916. "First Game." Chicago Tribune. Aug. 5, 1916.
41 Crusinberry, James. "Sox Lose to Senators, But Hold First Place." Chicago Tribune. Aug. 7, 1916.
42 Williams, Harry A. "Chance Day Turns Out to be Howling Success." Los Angeles Times. Nov. 6, 1916.
43 Williams, Harry A. "Fred M'Mullen Upsets All Precedents; Asks Darmody to Buy Him From Majors." Los Angeles Times. Jan. 25, 1917.
44 Ancestry.com, California Birth Index, 1905-1995 (database online), Provo, Utah: The Generations Network, Inc., 2005. Alcock, John. "Clubs Wait for Order to Engage Drill Masters." Chicago Tribune. Feb. 28, 1917; "Fred M'Mullin Signs Contract." Los Angeles Times. Feb. 28, 1917.
45 "Chick Gandil." www.baseball-reference.com. Accessed Oct. 12, 2006. Transaction information copyrighted by www.retrosheet.org.
46 "Risberg Man To Take Berth of Von Kolnitz." Chicago Tribune. March 14, 1917; Sanborn, I.E. "Five White Sox Appointed Corporals." Chicago Tribune. March 11, 1917; Williams, Harry A. "Three Coast Boys Battle." Los Angeles Times. March 23, 1917.
47 Sanborn, I.E. "Faber Left Behind As White Sox Start Swing Around West." Chicago Tribune. May 2, 1917.
48 Sanborn, I.E. "Boston Halts March of Sox By 2-1 Triumph." Chicago Tribune. May 21, 1917; "Sox Shut Out Waterloo, 7-0." Chicago Tribune. May 29, 1917; Crusinberry, James. "Sox Show Off For Rooters in Jersey; Beat Newark, 9-3." Chicago Tribune. June 4, 1917.
49 Martin, Edward F. "Fans Crowd on Fenway Diamond." Boston Globe. June 17, 1917; Crusinberry, James. "Fans In Boston Riot on Field as Sox Win, 7-2." Chicago Tribune. June 17, 1917.
50 "Two Sox Served With Warrants." Chicago Tribune. June 19, 1917.
51 "White Sox Notes." Chicago Tribune. Aug. 1, 1917; Crusinberry, James, "Riot at Sox Game Started by Gamblers of Boston." Chicago Tribune. June 18, 1917; Lindberg, Richard, Who's On Third: The Chicago White Sox Story, Icarus Press: South Bend, Ind., 1983, pp. 39-40.
52 Alcock, John, "Sox Riot Brings Vow of War on Gamblers by Prexy Johnson." Chicago Tribune. June 18, 1917.
53 Crusinberry, James. "Faber Strikes Winning Gait; Trims Indians." Chicago Tribune. June 23, 1917.
54 Sanborn, I.E. "Kid Williams Wins For Sox in 11 Rounds," Chicago Tribune, Sept. 6, 1917; p. 11; Sanborn, "Tribe Revolts, Ump Forfeits Clash to Sox," Chicago Tribune, Sept. 10, 1917; p. 15.
55 "Shifts White Sox," Chicago Tribune, Sept. 19, 1917; p. 13.
56 Williams, Harry A. "A Look at the Big Series," Los Angeles Times, Sept. 25, 1917, p. 16.
57 Sanborn, I.E. "White Sox Vs. Giants: National Leaguers Far Superior at Third Base Unless Zim's 'Goat' Wanders off the Reservation," Chicago Tribune, Sept. 27, 1917, p. 10.
58 Purman, Paul. "Will McMullin Be Another Geo. Rohe for the White Sox?" Sheboygan (Wis.) Press, Aug. 20, 1917, p. 3; Hamilton, H.C. "Weaver's Transfer to Short Strengthens the White Sox," Warren (Pa.) Evening Times, Oct. 2, 1917.
59 Martin, Edward F. "White Sox Take First Game From Giants, 2-1," Boston Globe, Oct. 7, 1917, p. 1; Fitzgerald, J.V. "White Sox Take First Game of World Series By Score of 2 to 1," Washington Post, Oct. 7, 1917, p. 1.
60 Sanborn, I.E. "Sox Beat Giants, 8 to 5," Chicago Tribune, Oct. 14, 1917, p. 1.
61 "Zim's Great Race Seen by Soldiers," New York Times, Oct. 17, 1917, p. 17; Fitzgerald, J.V. "Chicago Americans Baseball Kings," Washington Post, Oct. 16, 1917, p. 1.
62 Crusinberry, James. "White Sox Make Trail of Mirth of Return Trip," Chicago Tribune, Oct. 18, 1917, p. 11; "World Series Gate Receipts and Player Shares," Baseball-Almanac.com; accessed June 22, 2008; http://www.baseball-almanac.com/ws/wsshares.shtml; Los Angeles city directories, 1918-42.
63 "Baseball Stars In Benefit Game," Los Angeles Times, Nov. 16, 1917; p. 13.
64 Fitzgerald, J.V. "The Round-Up," Washington Post, March 26, 1918, p. 10; Sanborn, I.E. "Boss Rowland Picks Hargrove for Trial With Sox First Team," Chicago Tribune, March 28, 1918, p. 16.
65 Sanborn, I.E. "M'Mullin to Get Risberg's Job on Third Base with Sox," Chicago Tribune, April 26, 1916, p. 11.
66 "Babe Ruth Best in the American," Atlanta Constitution, May 12, 1918, p. A4; "American League figures," Washington Post, May 19, 1918, p. SP2.
67 "18-Inning, 1 to 0 Marathon Second Between Nats, Hose," The Sporting News, June 18, 1947.
68 Sanborn, I.E. "Sox Take Heart with Felsch Back, Bumping Yanks, 6 to 2," Chicago Tribune, May 21, 1918, p. 13; "White Sox Make All Their Ten Hits Count," Washington Post, May 21, 1918, p. 8; Sanborn, I.E. "Sox Lose 14 Round Battle to Yankee Slab Rookie, 1 to 0," Chicago Tribune, May 23, 1918, p. 11.
69 Sanborn, I.E. "Sox Break Even with Cleveland, but Lose Fred M'Mullin," Chicago Tribune, May 31, 1918, p. 12; "White Sox Notes," Chicago Tribune May 31, 1918, p. 12; "White Sox Notes," Chicago Tribune, June 21, 1918, p. 11; "American League Averages," Washington Post, June 16, 1918, p. 20.
70 "White Sox Notes," Chicago Tribune, June 25, 1918, p. 8.
71 Crusinberry, James. "Fred M'Mullin Hits Homer to the Fence, Beating Griffs, 2-1," Chicago Tribune, Aug. 2, 1918, p. 9; "White Sox Notes," Chicago Tribune, Aug. 2, 1918, p. 9; Fitzgerald, J.V. "Error By Lavan Leads to Runs That Beat Griffs, 2-1," Washington Post, Aug. 2, 1918, p. 8.
72 Crusinberry, James. "Macks Turn on Sox in Counter Attack; Help Perry Win, 5-2," Chicago Tribune, Aug. 6, 1918, p. 14.
73 "M'Mullin and Risberg Leave Sox to Enlist," Chicago Tribune, Aug. 8, 1918, p. 14; "Fred M'Mullin to Play With Divers," Los Angeles Times, Aug. 9, 1918, p. 16.
74 Bauer, Carlos. "1918: The Year the PCL Threw in the Towel." Posted Jan. 4, 2006, to http://minorleagueresearcher.blogspot.com/2006/01/1918-part-two.html.
75 McNeil, The California Winter League, pp. 61-62.
76 "Powers is After Demon White Sox Players," Los Angeles Times. Feb. 15, 1919, p. 14; Crusinberry, James. "Trio of White Sox, Rearin' For Action, Start Own Training," Chicago Tribune, Feb. 19, 1919, p. 15; Sanborn, I.E. "Fred M'Mullin Back in White Sox Fold; Men Work in Squads," Chicago Tribune, April 2, 1919, p. 19.
77 Robbins, George S. "Both Chicago Clubs Begin to Realize Hard Going Ahead." The Sporting News, June 19, 1919, p. 1.
78 Sanders, Elbert. "Chicago Fans Give a Sign of Impatience with Mitch." The Sporting News, July 3, 1919, p. 1.
79 Crusinberry, James. "Sox Crush Red Hose in Old-Fashioned Swat Battle," Chicago Tribune, July 14, 1919, p. 15; "The White Sox Lucky Man," Chicago Tribune, July 15, 1919, p. 16.
80 "How They're Hitting," Washington Post, July 20, 1919, p. 21; Crusinberry, James. "Jackson's Homer Beats Yanks, 2-1, Before 30,000 Fans," Chicago Tribune, July 21, 1919, p. 15.
81 Jemison, Dick. "Wager 7 to 10 White Sox Beat Reds in Big Series," Atlanta Constitution, Aug. 31, 1919, p. A4; "New York Betting Favors Reds to Win by 7 to 10," Chicago Tribune, Oct. 2, 1919, p. 21.
82 "Jackson's Hit Gains Honors for White Sox," Washington Post, Sept. 25, 1919, p. 12; Carney, Gene. Burying the Black Sox: How Baseball's Cover-Up of the 1919 World Series Fix Almost Succeeded, Potomac Books, Inc.: Washington, D.C., 2006; pp. 168, 215-17.
83 Kopf, Mike. "Advance Scouting ... Black Sox-Style." From Rob Neyer's Big Book of Baseball Blunders, by Rob Neyer, Simon & Schuster, Inc.: New York, 2006; In the article and in several personal e-mails with the author on July 17, 2008, Kopf suggests that McMullin's scouting reports might have contributed to the so-called "Clean Sox," including Eddie Collins, Nemo Leibold and Shano Collins, each having a subpar Series against Cincinnati pitching. "Could McMullin have told them to watch for curveballs when they should have been bracing for heat?" he asks. "Now more than ever I think that Fred McMullin was indeed an underrated crook."
84 Seymour, Harold. Baseball: The Golden Age, Oxford University Press: New York, 1989.
85 Asinof, Eliot. Eight Men Out, Henry Holt and Co.: New York, 1963, p. 17.
86 Pietrusza, David. Rothstein: The Life, Times and Murder of the Criminal Genius Who Fixed the 1919 World Series, Carroll and Graf Publishers: New York, 2003, p. 150. Pietrusza reports that Cubs owner Charles Weeghman recalled a meeting with gambler Mont Tennes at the Saratoga horse track in New York in August 1919, and "as Weeghman remembered it," Gandil and McMullin were "the players involved" in the fix. In "Eight Men Out," Eliot Asinof relates Eddie Cicotte's Grand Jury testimony: "Then Gandil and McMullin took us all, one by one, away from the others and we talked turkey."
87 Carney, Gene. "New Light on an Old Scandal," The Baseball Research Journal, Society for American Baseball Research, 2007, pp. 74-81. Parts of Cicotte's Grand Jury testimony from 1920 was read back to him when he was deposed four years later in Milwaukee. Happy Felsch, Swede Risberg and Joe Jackson had each sued the White Sox for back pay due to them. Juries awarded them a pittance of what they seeked.
88 Asinof, Eight Men Out, pp. 17, 91. "Black Sox Scandal (American League records)," National Baseball Hall of Fame Library archives via the SABR Baseball Research Center, San Diego (Calif.) Public Library.
89 The White Sox's team payroll has been estimated to be about $90,000-$100,000 for the 1919 season, according to contract cards filed with the American League president's office. Those cards are held in the National Baseball Hall of Fame library archives in Cooperstown, N.Y.
90 Carney, Burying the Black Sox, p. 44.
91 No players were punished by Commissioner Landis as a result of this "bribe," which Swede Risberg and Chick Gandil brought to light in 1927. Landis called for hearings to discuss the matter at his Chicago office, but dismissed the accusations for lack of evidence. The only consequence of this series was that the practice of "rewarding" opposing players, which was common in those days, was formally banned.
92 Asinof, Eight Men Out, p. 14; Carney, Burying the Black Sox, p. 250; Kohout, Martin Donell. Hal Chase: The Defiant Life and Turbulent Times of Baseball's Biggest Crook, McFarland and Co.: Jefferson, NC 2001, pp. 244-46.
93 Brown, Warren. The Chicago White Sox, G.P. Putnam's Sons: New York, 1952, p. 99.
94 Carney, Burying the Black Sox, pp. 50, 55; Asinof, "Eight Men Out," p. 131.
95 "Plan Probe of Cohan-Tennes Losses on Sox," Chicago Tribune, Sept. 24, 1920, p. 1; Stein, Irving. The Ginger Kid: The Buck Weaver Story, Elysian Fields Press: Dubuque, Iowa, 1992, p. 224; "Black Sox Scandal (American League records)," San Diego Public Library.
96 "Baseball Notes," Los Angeles Times, Oct. 14, 1919, p. 13.
97 McNeil, The California Winter League, pp. 63-65.
98 Carney, Burying the Black Sox, p. 15; Asinof, Eight Men Out, p. 141.
99 "Plan Probe of Cohan-Tennes Losses on Sox," Chicago Tribune, Sept. 24, 1920, p. 1; Asinof, Eight Men Out, p. 145. Carney, Burying the Black Sox, p. 212.
100 Stein, The Ginger Kid, p. 216; Veeck, Bill, with Linn, Ed, The Hustler's Handbook, G.P. Putnam's Sons: New York, 1965, p. 284; Pietrusza, Rothstein, p. 409; Vaughan, Irving. "Risberg Spiked As Careless Sox Drop 4-3 Clash," Chicago Tribune, May 10, 1920, p. 19.
101 Stein, The Ginger Kid, p. 224.
102 "Speaker Calls Turn on McMullin," Van Nuys (Calif.) News, Nov. 25, 1920.
103 Crusinberry, James. "First Evidence of Money Paid to Sox Bared," Chicago Tribune, Sept. 26, 1920, p. 1; "Baseball Scandal Has New Branches," New York Times, Sept. 26, 1920, p. 21; "New Inquiries into Gambling Expected," Boston Globe, Sept. 27, 1920, p.1; Asinof, Eight Men Out, p. 167.
104 "Two White Sox Stars Admit Throwing Big 1919 Series," Boston Globe, Sept. 29, 1920, p. 1; "Indictments Returned by Grand Jury," Atlanta Constitution, Oct. 30, 1920, p. 7; "Fred M'Mullin and Buck Weaver Out Under Bond," Atlanta Constitution, Nov. 6, 1920, p. 10; "Three Sox Players Give $10,000 Bonds," Chicago Tribune, Nov. 6, 1920, p. 12; Carney, Burying the Black Sox, pp. 215-17; Asinof, Eight Men Out, pp. 138-42.
105 "Black Sox Scandal (American League records)," San Diego Public Library.
106 "Fighting the Crooks Starts on All Fronts," The Sporting News, Jan. 20, 1921, p. 4; Williams, Harry A. "Smut on Baseball Bib," Los Angeles Times, Jan. 12, 1921; "McMullin Not to Play Again," Los Angeles Times, Jan. 13, 1921, p. 12; Gallagher, Matt. "Four For One Deals Make Coast Teams," The Sporting News, Jan. 20, 1921, p. 8; Sheridan, John B. "Back of the Home Plate," The Sporting News, Jan. 27, 1921, p. 4; "Black Sox Scandal (American League records)," San Diego Public Library.
107 "Fred McMullin Pays Visit to Baseball Park," Los Angeles Times, May 9, 1921, p. 12.
108 "New Bill Brings White Sox Men Closer to Trial," Chicago Tribune, March 2, 1921; The Associated Press. "McMullin In Hard Luck." Fort-Wayne (Ind.) News Sentinel. Aug. 3, 1921, p. 19; "Tell of New Men in Baseball Scandal," New York Times, April 5, 1921, p. 20; "Jury Frees Baseball Men," Chicago Tribune, Aug. 3, 1921, p. 1; Carney, Burying the Black Sox, pp. 215-17; Kohout, Hal Chase, p. 246.
109 Carney, Burying the Black Sox, preface, p. xiv; Carney, p. 138.
110 Carney, Burying the Black Sox, pp. 142-44, 147.
111 Green, "After the Scandal," pp. 197-98.
112 In order, those phrases were used in the following articles: Considine, Bob. "On the Line," Waterloo (Iowa) Sunday Courier, Jan. 12, 1947; Lardner, John. "Remember the Black Sox," The Saturday Evening Post, April 30, 1938; "Concessions, Denials, Obscurity," Sports Illustrated, Sept. 17, 1956, p. 63.
113 Los Angeles city directories, 1921-31; "Inglewood Agog Over Wedding of Mayor Lawrence," Los Angeles Times, Feb. 5, 1931; California Voter Registrations, 1900-1968, accessed online at Ancestry.com, July 20, 2008.
114 Dyer, Braven. "The Sports Parade," Los Angeles Times, May 24, 1936; Los Angeles City Directory, 1938; Glick, Shav. "He's A Rose By Any Other Name," Los Angeles Times, Jan. 21, 2004; Shav Glick, e-mail correspondence with author, July 14, 2005.
115 Los Angeles city directories, 1941-42; "Woman's Eviction Arrest Denounced," Los Angeles Times, April 1, 1949, p. 2; Harry G. Hurley and Fred D. McMullin v. Roy W. Carter, et al, Case No. 597431, Los Angeles County Superior Court, Filed March 27, 1952.
116 "Blind Woman and Children Put Out of Flat," Los Angeles Times, March 24, 1948, p. 2.
117 Hurley v. Carter, 1952.
118 Hurley v. Carter, 1952; "Restoration of Rank Won by Two Deputies," Los Angeles Times, May 20, 1952, p. 2.
119 "Chisox Star of '17 Dies," Los Angeles Mirror, Nov. 21, 1952, p. 71; "Ex-Angel Star, McMullen, Dies," Los Angeles Examiner, Nov. 22, 1952, Sec. II, p. 2; "Ex-Chicago White Sox Baseball Player Dies," Los Angeles Times, Nov. 22, 1952, Part III, p. 3; "McMullen Rites Set For Monday," Los Angeles Herald and Express, Nov. 22, 1952, p. A-9; "Fred McMullin Dies at 61; Former Chisox Infielder," The Sporting News, Dec. 3, 1952, p. 38; "Certificate of Death: Fred D. McMullin." Filed Nov. 21, 1952. State of California, Department of Public Health, Reg. Dist. 1901, File No. 19321. Informant: Mrs. Delia McMullin, Los Angeles, California.