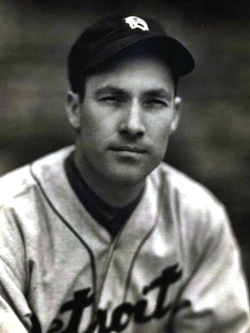 Clyde Melno Hatter was born to Claude Melnow Hatter (the father's middle name had a "W" at the end while the son's did not) and Tressie Lay Hatter in Poplar Hills, Jefferson County, Kentucky, on August 7, 1908. He was the last of three children, with an older sister, Florence, and an older brother, Cecil. Clyde never married and had no children, apparently living his entire life in the original family home.
The first stop on Hatter's baseball career was as a pitcher at Middlesburg High School in Middlesburg, Kentucky. From Middlesburg it was on to Eastern Kentucky University (then called Eastern Kentucky State Teachers College). It was written of Hatter in his college yearbook, The Milestone, "He was particularly shining in varsity baseball here at the college and many of the alumni will remember his consistent playing." The highlight of his time at Eastern was a no-hitter he pitched against Kentucky Wesleyan. He received valuable experience at the college level, and from there Clyde progressed to the ranks of professional ball.
Hatter's start in the minor leagues was inauspicious. For the Class B Dayton Aviators — to which he was optioned after being signed by the Louisville Colonels of the American Association in 1929 — he was 12-15 with an ERA of 5.14 and 173 walks in 247 innings pitched in 1930. Louisville brought him back for the 1931-34 seasons. In these four years Clyde never won more than he lost, and in 1932 and '33 he went a cumulative 6-22. Following those two seasons, though, his ERAs grew more respectable — 3.39 in 1934 and 2.88 in 1935 — meriting Hatter a call-up to the majors.
The Detroit Tigers of the early twentieth century were a team being built on good management and great players. The talents of players like Ty Cobb, Sam Crawford, Wild Bill Donovan, and others brought appearances in three straight World Series; 1907-09, but they could only manage American League pennants and not a World Series championship. There were no other trips to the Series until 1934, when the Tigers met the St. Louis Cardinals' Gashouse Gang. The Tigers lost four games to three. This was Mickey Cochrane's first year as manager and things were beginning to change for the Tigers. The fiery catcher had been purchased from the Philadelphia Athletics for $100,000 and Cochrane was putting together a team that was designed to compete for a long time.
While the 1934 Series was a heartbreaking loss, the Tigers were poised to compete for a win in the Fall Classic in 1935. Detroit had a starting infield with future Hall of Famers Hank Greenberg at first base, Charlie Gehringer at second, and plenty adequate Billy Rogell at shortstop, not to mention Marv Owen at third. In the outfield were Goose Goslin (also a member of the Hall) in left field, Pete Fox in right, and Jo-Jo White and Gee Walker sharing the duties in center. The pitching staff was anchored by stalwarts Schoolboy Rowe, Tommy Bridges, Elden Auker and Alvin "General" Crowder (who was obtained midway through the season). It was a formidable lineup indeed.
Hatter was signed by the Detroit Tigers in 1934 and was intended to be a big part of the run to the 1935 championship — with an eye to many more championships to follow. He had a good fastball, a variety of curves, and a baffling change of pace. It was said that he knew how to "mix them up." Hatter was also unusual in the fact that he batted right and threw left.
It must be understood that as he was reaching the pinnacle of his profession, things were beginning to creep into Hatter's life and career that would greatly affect him. It seems there were discipline problems that included excessive drinking. These problems peaked in 1937. Hatter, nicknamed "Mad" as a reference to Lewis Carroll's "Alice in Wonderland" character, also exhibited signs of a heart problem.
On April 23, 1935, Hatter pitched in his first big-league game, against the White Sox at Comiskey Park in Chicago in a relief stint. He pitched two innings and gave up one run. The Tigers lost the game 7-2 but Hatter got some much-needed experience. He pitched two days later with similar results, the Tigers losing 9-8. Hatter pitched one inning and pitched well, giving up no hits and no runs. His next outing was at Cleveland where he pitched his most to date, 4 2/3 innings of three-hit one-run ball. The next game for Clyde was May 11 in Detroit against the Washington Senators. Tigers skipper Cochrane saw fit for Hatter to start the first game of his career. He went 6 2/3 innings, allowed five hits, gave up three runs, struck out two — and walked nine. Except for the walks, it was a respectable outing. Hatter's next game was another start, against the Red Sox, in Detroit. It did not turn out quite as well as his first start in that he only lasted 3 1/3 innings, gave up seven runs — four earned — on four hits (two of them home runs), three walks and two strikeoust. The next two outings were in relief against New York and Washington and he struggled.
Hatter's next, and last, game of the season was versus the Philadelphia A's at Shibe Park in Philly. It was a disaster for both the Tigers and Clyde. They lost 18-5 with Hatter pitching 6 1/3 innings in relief, giving up 19 hits, 11 earned runs, five walks and one strikeout. (He was not on the World Series roster when the Tigers won their first World Championship that October.) To sum up 1935, Hatter pitched in eight games, and the Tigers lost all eight. Soon after this lambasting, Hatter was sent to the Milwaukee Brewers of the American Association. He pitched very well for the remainder of the year, going 7-3 with a 2.88 ERA. He was then relegated to the Brewers for the 1936 season where he continued to pitch well, going 16-6 albeit with a 4.52 ERA.
But 1937 saw Clyde Hatter being given a second chance at a major-league career. Back with Detroit, he came in once more from the bullpen for his first game on April 29, when the game against Cleveland was already getting out of hand. He pitched three frames, gave up four hits, four runs and he walked four. The Bengals lost 12-3. Another loss wasn't in the cards against the White Sox on May 3 at Navin Field when the Tigers won 12-9. Hatter pitched in relief for 5 1/3 innings, giving up 11 hits, five runs, four walks and two strikeouts. Hatter wasn't able to close out the game, leaving with one out in the ninth. Vic Sorrell picked up the save with Clyde getting his one and only major league win. Hatter's last game was against the A's, in Detroit. He pitched one inning, surrendering three runs, two hits, and three free passes.
In May 1937 Hatter was sent down to Toledo. He only pitched 43 innings from May to September with three wins and no losses. He began having problems in Toledo stemming from the discipline and substance-abuse issues that had started bedeviling him a few years earlier. Hatter was suspended for 30 days by the Mud Hens for an undetermined infraction. After the suspension, on July 6 he was taken to the hospital when he was found unconscious in a taxicab, the result of an overdose of sleeping pills.
After the end of the 1937 season, Clyde headed home from Toledo. When home, he got his father to drive him to Danville, Kentucky, to send some telegrams. On the way back, Clyde got in the back seat to lie down and take a nap. When they arrived back at home, father Claude went to arouse Clyde from his sleep but was unable to. Clyde Hatter had breathed his last. The date was October 16, 1937, and he was just 29. The official document, the death certificate, signed by the county coroner, said, "Died suddenly before I was called – Probably Heart Disease." However, there was another account that must be taken seriously. In the 1980s Tigers third baseman Owen said this, referring to an incident earlier in 1937: "Hatter did not show up for a couple of games, prompting (me) to check Hatter's room. Hatter told (me) he had been sick, and (I) called the team doctor." The doctor concluded that Hatter was drunk, found two glasses of whiskey in Hatter's bureau drawer, and reported his findings to manager Cochrane. Hatter was sent to the minor leagues in Toledo, Ohio. Owen reported Hatter's death this way: "He went home that winter and they found him dead in the back of his father's car. From booze."
When examining the career of Clyde M. Hatter we see a great deal of potential and promise, almost all of which was lost. When we look at the life of Hatter, the loss is even more profound. It is a tragedy.
Sources
E-Yearbook.com, for quotes from Eastern Kentucky University yearbook The Milestone.
Baseball-Reference.com
Retrosheet.org
Baseball-almanac.com.
Some information on circumstances of Hatter's death was found in Clyde M. Hatter's file at the National Baseball Hall of Fame and Museum archives courtesy of Bill Francis.
Richard Bak, Cobb Would Have Caught It: The Golden Age of Baseball in Detroit (Detroit, MI: Wayne State University Press, 1993), 239.
Some information taken from Brooklyn Daily Eagle, October 28, 1937.