Gene Conley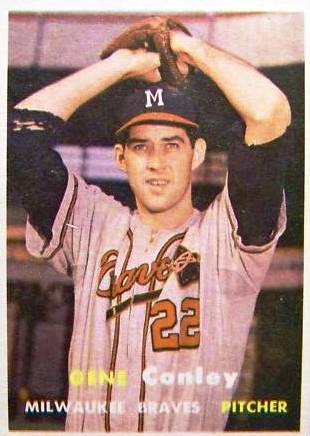 Gene Conley excelled at the major league level of two sports and is the only athlete to own dual-sport championships. Besides pitching for the World Series Champion Milwaukee Braves in 1957, he was a member of three National Basketball Association championship teams with the Boston Celtics. He was the first player to earn Minor League Player of the Year honors two times and appeared in three major league All-Star Games. His 15-year career as a professional athlete totaled 23 seasons that included 11 in baseball's major leagues and six in the NBA. At one point he packed 12 major league seasons into six years with not a day off between those seasons.
The middle of three children of Raymond Leslie "Les" Conley and Eva Beatrice Brewer Conley, Donald Eugene Conley was born on November 10, 1930, in Muskogee, Oklahoma. His heritage includes Irish, German, English and Cherokee. He was introduced to sports as a boy in Muskogee. He participated in swimming, football and basketball and was a knothole gang member of the Class D Muskogee Reds.
The Conley family moved to Richland, Washington, when Gene was 12. There at Columbia High School, he earned letters in baseball, basketball and track. He enjoyed a productive senior year in all three sports. In baseball he lost only one of ten starts (to the eventual state champions) and batted at a nearly .500 clip. He represented the Northwest in the Hearst All-Star (baseball) Game. The Hearst contest pitted high school all-stars from the greater New York area against the top players from the rest of the country. Gene was named the United States All-Stars captain for the game played in Yankee Stadium. He was the starting and winning pitcher, besting Frank Torre of the New York team. In basketball he averaged more than 15 points per game, led the Richland Bombers to their first-ever state tournament berth and was selected to the all-state team. He was runner-up in the state track meet in the high jump with a leap of 6 feet 3 inches. He has been made a member of the Richland Bomber Hall of Fame.
As an 18-year-old and near his mature height of 6 feet 8 inches, Conley chose Washington State from the many prominent basketball schools that had offered him scholarships. At WSU he was also afforded an automobile and expenses by a grateful alumnus. Conley captained the freshman basketball team and as a sophomore led the varsity to the Northern Division championship of the Pacific Coast Conference. He was the top scorer for the Cougars, who lost to UCLA for the overall Pacific Coast championship on a buzzer-beater. During the spring of 1950, Conley starred for the Washington State baseball team that finished 29-6 and was runner-up in the national championship. He pitched in 16 games, winning five, including two shutouts, saving two more and averaging .417 at the plate. He was inducted into Washington State University's Hall of Fame in its inaugural class.
Conley's pitching attracted scouts from most of the major league teams. He initially resisted, citing his desire to finish college, but signed with Bill Marshall of the Braves, then in Boston, in October of 1950. He began both his professional sports career and his marriage in the spring of 1951. He married Kathryn Disney, whom he had met the previous fall.
The Braves assigned Gene Conley to their Class A team at Hartford of the Eastern League for 1951. His debut season was outstanding, with 20 wins, an earned run average just over two and a strikeout-to-walk ratio well over 3-1. He was honored as his league's Most Valuable Player and named Minor League Player of the Year by The Sporting News. His success came because of only two pitches, a fastball and a curve, which was his complete repertoire for his entire career.
Basketball reentered Conley's life late in the 1951 baseball season. Kathryn R. "Katie" Conley told the story in her biography of her husband, One of a Kind. She related that during the Hartford club's last trip to Wilkes-Barre, Pennsylvania, Gene was invited to suit up for a scrimmage with the American Basketball Association Barons. The Barons' head coach and owner, Eddie White, was impressed and offered him a contract for $5,000. When the Braves learned Gene was considering playing professional basketball, he was summoned to a meeting with general manager John Quinn. At the meeting, Katie Conley wrote, Gene "had been given a $1000 check in return for his promise never to play basketball again." Gene honored the deal and labored as an ironworker during the off-season.
Gene's 1951 season earned him a serious look by the Braves, who promoted him to the big league club as the fourth starter for 1952. His stay was short because of four dismal and winless starts. He was assigned to the Braves' top farm club, Milwaukee of the American Association. He did not get his first start there until the season was well into June but still finished with 11 victories for the pennant-winning Brewers. He chipped in with a .338 batting average, aided by a five for five day against the Indianapolis Indians. Earlier in the 1952 season, on April 26, Conley was the 90th overall pick in the National Basketball Association draft, selected by the Boston Celtics. Katie and Gene decided, for financial reasons, that Gene should try to make the club. He did so and, surprisingly, secured Quinn's permission to play. He played sparingly for Red Auerbach but established that he had the ability to play in the league. The Celtics made the NBA playoffs and lasted two rounds before being eliminated. As a consequence, Gene was late in reporting for spring training in 1953.
The year of 1953 was one of promise for Gene Conley as he fully expected to make the big league baseball club. But he did not. He was again sent to the Braves' top minor club, which had been displaced to Toledo when the Braves moved from Boston to Milwaukee. He started fast and kept up the pace until late in the season when he was sidelined by a troublesome back. He won 23 games before his early exit and was named the American Association's Most Valuable Player. For the second time The Sporting News selected him as the Minor League Player of the Year. He was the first player to be so honored more than once. After a week's stay in a Toledo hospital, he was fitted with a back brace that he was told to wear for six weeks and then begin a therapy regimen. He immediately discarded the brace and, after a couple of weeks, his back was feeling fine, fine enough that he again made the Boston Celtics for the 1953-1954 season. Once again Quinn intervened but this time matched the Celtics' offer of $5,000 to induce Gene not to play basketball. Conley accepted and spent the winter working in Toledo.
Enroute to Florida for 1954 spring training the Conleys were involved in a serious auto accident. Though their car was destroyed, they sustained only minor injuries, and Katie's pregnancy was not compromised. Conley, now well-prepared by his three years and 54-22 record in the minors, made the Braves opening day roster. However, because of the Braves' solid and deep pitching staff, headed by Warren Spahn and Lew Burdette, Gene was not initially placed in manager Charlie Grimm's four-man starting rotation. After Conley recorded a few solid starts, Grimm revised his plans and went to a five-man rotation. The rookie responded and was selected for the 1954 All-Star Game. By the end of August he had notched 14 wins, but his season was cut short again because of back problems. Conley finished third in an outstanding class for Rookie of the Year honors in 1954. Wally Moon and Ernie Banks finished in the top two spots while Hank Aaron rounded out the group.
As he had the previous summer, Conley recovered quickly from the back ailment with treatment and rest. Once again he tried out for and made the Boston Celtics, but shocked the Celtics by resigning on the eve of the season's opening game. He said he wanted to spend more time with his family and was not sure he would be able to continue as a two-sport athlete. Conley made a difficult decision that he hoped would prolong his baseball career.
Conley went to spring training in 1955 without a contract—he was a holdout. Once in camp, he was able to negotiate a $20,000 contract with Quinn, double his rookie salary. He started the campaign very well and was 8-3 going into a June 15 game against Philadelphia. During that game, according to Kathryn Conley, there was a "horrible sound of something popping or cracking, as he delivered a pitch to Granny Hamner that even our catcher, Del Crandall heard from his crouched position." This injury to his rotator cuff would plague him for the rest of his career and would have ended it except for regular cortisone injections. He estimates that he had more than 100 injections.
He left that game but took his next regular turn five days later and beat the Pirates. He was struck on the injured shoulder by a batted ball in his next game against Brooklyn and was forced to leave. He missed only a single start before resuming his spot in the rotation, but his pitching arm was still hurting. For the second time in as many years, Conley was selected for the National League all-star team, but was not slated to pitch as he had only one day's rest. He was forced into action when the National League came back from a 5-0 deficit to send the game into extra innings. Gene was called in to pitch the 12th inning in his home County Stadium and struck out Al Kaline, Mickey Vernon and Al Rosen in order. Stan Musial slammed a home run leading off the bottom of the 12th to hand the win to the National League and Conley. Gene would not win another game that season. He lost a pair following the All-Star Game and was rested for three weeks before he went on the disabled list for the balance of the season. He was sent to the Mayo Clinic, where he was prescribed exercises, but he self-imposed complete rest.
The shoulder problems were still with him at the start of the 1956 season and he was, once again, on the disabled list. Therapy promoted healing and he returned to the team and won for the first time, in relief, on May 28. Conley was used sparingly by new Braves' manager, Fred Haney, over the remainder of the season. He won only eight times in yet another injury-shortened season as Milwaukee finished in second place, just one game behind the Dodgers. The following season Gene again alternated between starting and the bullpen, avoided the disabled list for the first time and won nine games. The Braves continued their fine play and won both the National League pennant and the World Series. Lew Burdette beat the Yankees three times, while Conley had a single lackluster relief appearance.
The pitching career that had been so promising just a few years earlier came unraveled in 1958. His shoulder was still a bother and the Braves' pitching was stronger than ever. Conley, when used, saw mostly relief action and became frustrated, began drinking heavily and was constantly at odds with manager Haney. He finished the season winless and did not appear in the World Series, again against the Yankees.
Following the horrible and disappointing season of 1958, Gene decided to give basketball another try. He called Red Auerbach and was told that Boston didn't need him and that Red didn't think that he could make the team anyway. Auerbach gave in to Gene's demands for a tryout, but refused to pay the expenses for his trip to Boston. By his sheer determination Gene made the Celtics and signed a contract over the objections of the Braves. On the court he was strong, hustled and could out-jump most anyone in the league and excelled on defense and in rebounding. He would prove that he had staying power as he played three seasons with the Celtics, who were NBA champions all three years, followed by two more with the New York Knickerbockers.
The Celtics' playoff run was cause for Conley not to report to the Braves in the spring of 1958. As a result, Gene was traded to Philadelphia on March 31, 1959. The deal was made by the Phillies new general manager, John Quinn, who had just moved over from Milwaukee. The Celtics wrapped up the NBA championship on April 7 and Gene Conley had his second championship ring. He was the first and is still the only athlete to play on championship teams in two professional sports.
A few days later Conley was in Florida, albeit late, for spring training. It was early May before he was ready to pitch. He began in relief but was moved to the starting rotation shortly thereafter and finished with 12 wins for the last-place Phillies. His 12th win came on August 19, a three-hitter against the Cubs. In the third inning he was hit on the pitching hand while batting against Glen Hobbie. The resulting fracture ended what was his finest season in the making, but not before he completed the game while allowing only a single over the last six innings. He was picked by his former manager, Fred Haney, for the 1959 All-Star Game, where he pitched two perfect innings that included a strikeout of Ted Williams. He was also named Comeback Player of the Year by The Baseball Writers' Association of America. Following the season he signed two contracts, one with the Phillies and another with the Celtics. He helped the Celtics to another championship.
The 1960 baseball season was not much different from the previous one, but his wins dropped off to eight. The Phillies offered him $20,000 to forego basketball the next winter. He made a counter-offer that ended the negotiations and resulted in his being traded to the Boston Red Sox on December 15, 1960. Gene calls it the "biggest trade in baseball" because at six feet eight inches he was swapped for Frank Sullivan, who stood six foot seven. As in the previous two basketball seasons, the Celtics were kings of the National Basketball Association for the 1960-1961 season. Conley now had three basketball championships to go with his World Series title.
Including his previous appearances with the Boston Braves, he was about to become the only athlete to appear for three major league teams in the same city. The Celtics wrapped up the NBA championship against the St. Louis Hawks on April 11, 1961, at the Boston Garden. Conley was quickly off to Florida for an abbreviated spring training and came back to Boston to face the Washington Senators on April 25. Just two weeks removed from the basketball court, he made his first appearance in a Red Sox uniform and pitched eight shutout innings. After just a few games the pain returned to Conley's pitching shoulder. He kept the recurrence of the rotator cuff injury to himself and continued through the season, pitching 200 innings and winning eleven games for the sixth-place Red Sox.
Conley had been left unprotected by the Celtics when the National Basketball Association held an expansion draft in the spring of 1961. He was drafted by the Chicago Packers but did not report, intending to take the winter off. Instead he signed with the Washington/New York Tapers in the fledgling American Basketball League. While with the Tapers, he often accompanied team owner Paul Cohen on sales calls for his Tuck Tape Company. The experience would prove to be valuable when Gene established his own company after his playing days.
The Tapers' season ended in time for Conley to participate in most of spring training with the Red Sox in Arizona. Gene parlayed a productive spring and a resolve to control his alcohol use into a productive 1962 season. He recorded career highs in wins and innings. The season was not without incident, however, as the shoulder pain returned along with his drinking. Following a 13-3 shellacking on July 26 in Yankee Stadium in which he gave up eight runs in two-plus innings, Conley embarked on a venture that is signature to him to this day. When the team bus became mired in New York City traffic, Conley and teammate Pumpsie Green stepped off to find a restroom. This was later dubbed Conley's "intentional walk" by the press. When the players returned the bus was gone. Left in New York, the pair did some drinking before Green realized he was in trouble and left Gene to return to the club. Conley continued his binge for several days and at some point decided to go to Jerusalem. He went so far as to buy a ticket and went to the airport, but was denied access to the flight because he had no passport. The bizarre incident was well covered by the press and resulted in a fine by the Red Sox, but he eventually returned to the good graces of the club.
Before the 1962 baseball season had ended Conley's NBA rights were traded from Chicago to the New York Knickerbockers. He signed on and played center for what turned out to be the NBA's worst team that year. Two injuries ended his basketball season prematurely, a broken index finger on his pitching hand and a severely sprained ankle.
Because of his early exit from basketball in 1963, Conley was able to participate in an entire spring training. The basketball injuries proved to be a major issue, as was the chronic shoulder injury. He was unable to pitch smoothly and without pain during the exhibition season. He struggled during the early going of the regular season but came back late in the year. He didn't know it at the time but when he started and won on September 21, 1963, it would be his last major league appearance.
As was now usual, Gene picked up basketball, again with New York. He was of little use to the Knicks because of injuries and exhaustion. The team was going nowhere and let him leave early to attend spring training. Just after the 1964 baseball season got underway and before he made an appearance, the Red Sox released Gene Conley. Gabe Paul of Cleveland signed him as a free agent for one dollar and offered him a trial with the Indians' Burlington, North Carolina team. He pitched only two games there before becoming convinced that his shoulder would not come around and he could no longer be effective. He retired from baseball.
Gene and Katie made their home in Foxboro, Massachusetts, for forty years. They established and operated together, for 35 years, the Foxboro Paper Company that dealt in industrial packaging supplies. Gene had his last drink in 1966. Katie Conley relates that a baseball fan told Gene that he was too good to be drinking and that he (the fan) did not like to see him that way. Gene later said, "That was it. I haven't had a drink since." Also in 1966 he was asked to try professional basketball again and played and coached in the Eastern League for Hartford and New Haven on weekends for two years.
Following his professional sports career, he continued to be active with skiing and golf. He never had his rotator cuff repaired. The Conleys were instrumental in gaining pensions for the National Basketball Association's pre-1965 players. Conley credits Katie as the catalyst for forming the NBA Old Timers Association, which lobbied NBA commissioner David Stern to provide pensions for players who retired before 1965. Their initiative proved successful in 1988 when the NBA and the Players Association agreed to extend benefits to early players. In 1989 Gene helped Katie through a life-threatening surgery to remove a brain tumor. Together they reared three children who have given them seven grandchildren.
Sources
Conley, Kathryn R., One of a Kind. Advantage Books, 2004.
Hilton, Michael. "Doubling His Pleasure." Sports Illustrated, April 2, 1979.
Paschke, Jim. "Two-Sporters."
www.nba.com/bucks/news/paschke_020411.html+Gene+Conley&hl=en
Riley, Jim. "Richland's Conley Set Standard Yet Unequalled For 2-Sport Athlete." In
Tri-City Herald, December 30, 1999.
http://richlandbombers.1948.tripod.com/Conley/1999-12-30TCHtop100.htm
Witter, Greg. "Cougar Baseballers Wake the Echoes of a Legend." Posted at
http:/washingtonstate.scout.com/2/867723.html
Congressional Hearings on "Pension Fairness for NBA Pioneers," July 15, 1998.
Author's interviews with Gene Conley by telephone on May 17, 1988; June 4, 2002; and January 3, 2010; in Orlando, Florida, on February 14, 2005.
baseball-reference.com
basketball-reference.com
nba.com
retro-sheet.com
wikipedia.org
Photo Credit
The Topps Company