Ty LaForest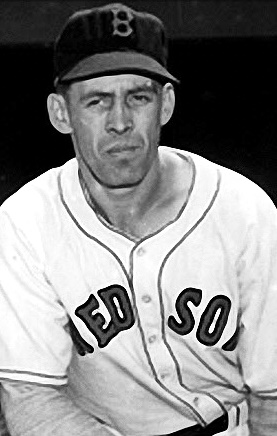 Third baseman Ty LaForest had one of the best home debuts in Boston Red Sox history. Just 21 months later, he was dead – not long after he had turned 28.

LaForest was a local kid, called up to the big leagues after a superlative season in Double-A (then the top minor-league classification). Playing his first game on the road in Washington on August 4, 1945, he did pretty well. LaForest played in both games of a doubleheader, and went 3-for-8 with a double and two runs batted in. It was a long, long road trip and LaForest appeared in 24 games away from home before he got to Fenway Park. He was hitting .273 at the time.

On August 26 the Red Sox hosted Philadelphia in a doubleheader. The Boston Globe's Clif Keane wrote of the game, "Byron LaForest, a scrawny-looking Dorchester kid, with muscles that looked no bigger than eggs rolled in a handkerchief, crashed big league baseball in sensational fashion in his first appearance before the home folk."

LaForest was 2-for-3 (with a base on balls) but came up in the bottom of the ninth with two outs, nobody on base, and the Red Sox losing, 3-2. He hit a solo home run to tie the game; the Red Sox scored once in the bottom of the tenth for a 4-3 win (giving Boo Ferriss his 20th win of the season). In the second game, he was 1-for-2 with a home run when he came up to bat again in the bottom of the eighth. The Athletics had just tied the game, 3-3. This time, LaForest had a runner on base, and he doubled in his teammate with the go-ahead run, leading to another 4-3 victory.

From the time he'd joined the team in early August, LaForest played almost every game that remained on the schedule. In just the two months of August and September, he appeared in 52 games. His hitting tailed off; he finished with a .250 average. He had two home runs and drove in 16 runs.

There was no Rookie of the Year award at the time, but Philadelphia manager Connie Mack said his choice would be LaForest, even over Boston's 21-game winner, Boo Ferriss: "Ferriss is a fine pitcher, but LaForest is a day-in and day-out competitor whose strong arm, fine fielding and consistent hitting mean more to a team in the long run."[1]

Byron Joseph LaForest was his given name, bestowed on him in Edmundston, New Brunswick, when he was born on April 18, 1919. The LaForest family moved to the Boston area in 1921, and Byron attended Catholic school in Watertown for eight years, then started at Waltham High School. He played baseball but was told he was too small to play professionally. He was 5-feet-5 and weighed no more than 120 pounds at the time. (His obituary in The Sporting News said he weighed only an improbable 84 pounds.) After his sophomore year in high school, LaForest dropped out and joined the CCC (Civilian Conservation Corps), a Depression-era federal work-relief program. He grew a few inches more, and put on more 30 pounds during his 17 months in the CCC, a good part of which was spent fighting fires. He then took a job in a grocery warehouse in Boston and playing for the Lynn Frasers, a local semipro team.

LaForest was relatively small even as a major leaguer, measuring at most 5-feet-9 and weighing 150 to 160 pounds but he was a tough young man.

LaForest's son Gary reported to the Hall of Fame that he finished his studies at Dorchester High School. His father, Henry, worked as an automobile mechanic. His mother, Mary Laura (Martin) LaForest, kept house raising Byron and his five younger siblings: Maurice, Patrick, Gertrude, Annette, and Frederick.

At the age of 22, Byron married Gladys Marion Hanson, in October 1941. The couple had two sons, Theodore and Gary.

LaForest's first foray into professional athletics was as a boxer, but he gave it up when he got married (J.G. Taylor Spink, the editor of The Sporting News, wrote that his pro ring career lasted one bout).[2] He played semipro baseball in the Boston area park leagues for several years, and had a couple of tryouts but was rejected. Scouts considered him too small. "I hung around Fenway Park for four years, just begging to catch the eye of a Red Sox scout," he said. "Hugh Duffy was conducting his morning baseball classes then, but a fellow weighing only 140 pounds might just as well have stayed in bed and read Dick Merriwell novels. You just weren't big enough to attract any attention."[3]

Ty (the nickname he preferred) finally succeeded in getting noticed, by a Red Sox scout, Jumping Joe Dugan, at a baseball school the old ballplayer operated. Dugan was keeping an eye out for players to fill the roster gaps left as many major leaguers went off to military service in World War II. LaForest had tried to enlist, but was rejected because of a perforated eardrum, and was classified 4-F, thus not subject to the draft.

Dugan introduced LaForest to Red Sox farm director Herb Pennock, who set up a tryout with Hugh Duffy, who liked the young man's hustle. He signed LaForest in December 1942 and showed some empathy for his status as the father of a young boy, assigning him to play under Nemo Leibold at Scranton of the Eastern League rather than at a lower rung on the ladder, entitling LaForest to a somewhat larger salary.[4]

Ty's first season with Scranton was a partial one, 62 games in 1943, and he hit .248 before his season was cut short by a broken leg in August. It was his drive and perseverance that impressed manager Leibold. LaForest blossomed with a full year under his belt in 1944, hitting .296 and driving in 102 runs for the Miners while also leading the league in stolen bases. He was a fiery player, at one point firing his bat "high against the grandstand" after being called out on strikes in a game in Albany on July 23.[5] A vote of Eastern League managers placed LaForest as utility outfielder on the league's All-Star team. His .983 was the best fielding percentage of outfielders in the league.

Promoted to the Double-A Louisville Colonels in 1945, he had a tremendous season playing every position in the infield and outfield except first base. More importantly, he was batting for a .353 average through 91 games when he got the call to join the Red Sox. In a game against the Minneapolis Millers on May 14, he had a 6-for-6 day, setting an American Association record at the time. Unsurprisingly, the league's baseball writers selected him to the 1945 All-Star team.

When the Red Sox' Jim Tabor went in the Army after the 1944 season, they tried to fill in with Jim Bucher and Jackie Tobin, but Bucher sprained his ankle and Tobin's hitting went south. LaForest, however, had come on strong in Louisville and got the call.

When he reported in Washington, team trainer Win Green had a couple of questions to put to him. Why was he missing two front teeth? "I just stood up when I shoulda kept sittin' down," he said, indicating, he'd "got into some kinda fight and didn't do so good."[6] Then there was the six-inch-long scar on his right forearm. Bit by a pig? That's what he said. A few days before he was been summoned to the Red Sox, there was a carnival night in Louisville to attract more fans to the ballpark. There was a $40 war bond prize for anyone who could catch a greased pig and carry it 80 yards. LaForest won, but bore a scar after being bitten by the pig. "I don't blame him much. I was handling him pretty rough, I guess," Ty commented. He caught a couple of guinea hens, too, during the animal-catching activities. He added, "I hope the guys in the big league won't think I was clumsy enough to get myself spiked like that," he said. "It was that squirming pig that upset me."[7]

When LaForest made his debut in that August 4 doubleheader in Washington, he was playing on maybe an hour's sleep, having sat up on the train to Washington. The second game of the twin bill featured two matters of note. During the 12-run fourth inning, Boston's Tom McBride drove in six runs with a bases-loaded double and a bases-loaded triple. And the game also featured the pitching of Washington's Bert Shepard, back from work as an Army Air Force pilot in World War II. He'd been shot down and captured by the Germans, and was playing with a prosthetic leg after amputation following the crash of his plane. It was his only big-league game but he was – by far – the best pitcher for the Senators in the 15-4 game, throwing the final 5 1/3 innings and allowing just one run.

Sportswriter Fred Lieb noted Ty as a "prospect for the future," but in 1946 a raft of returning veterans filled the rosters and the Red Sox management felt LaForest might benefit from more time in the minor leagues. When cutdown time game in 1946, manager Joe Cronin sent LaForest back to the Colonels for more seasoning. Pinky Higgins and Rip Russell played the hot corner in Boston.

LaForest was with Louisville for 52 games and then, under an option agreement with the Athletics, went to the Toronto Maple Leafs for another 53 games. He hit for a combined (and disappointing) .228. He was formally recalled to the Red Sox at the end of the season.

Over the winter of 1946-47 LaForest contracted pneumonia and was still in a weakened condition when he reported to San Antonio for spring training in 1947. The March 5 issue of The Sporting News reported that Louisville had sold his contract to San Antonio in the Texas League. He collapsed after just three days in training camp, suffering what was later diagnosed as a heart attack. After eight days in an area hospital, he drove himself back to Boston – no small undertaking in the days before the interstate highway system was built – and soon entered Symmes Hospital in Arlington, Massachusetts, where he died of congestive heart failure due to aortic regurgitation at 4:30 in the afternoon of May 5.[8] He'd just turned 28 less than three weeks earlier.

December 5, 2011

Sources

In addition to the sources noted in this biography, the author also accessed LaForest's player file from the National Baseball Hall of Fame, the online SABR Encyclopedia, the Encyclopedia of Minor League Baseball, Retrosheet.org, and Baseball-Reference.com.
---