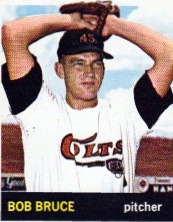 There were many historic baseball "firsts" that spring afternoon in Houston, Texas, in 1965: the first base hit; the first put out; the first home run – a third-inning two-run shot struck by Philadelphia Phillies slugger Richie Allen (although the first unofficial home run was clubbed by the far more famous Baseball Hall of Fame inductee, Mickey Mantle, in an exhibition game three days earlier). All these "firsts" were attributed to the first major-league baseball game ever played under a roof, a remarkably special feat for its time, and an event taken largely for granted a mere few years later.
Among those "firsts" was the first official pitch ever thrown in a domed stadium, and that honor was awarded by Houston Astros manager Lum Harris to his 32-year-old, 6' 3" 210-pound veteran hurler, Robert James ("Bob") Bruce. On that day, April 12, 1965, Bob and Phillies lefty Chris Short matched up in a classic pitching duel, culminating in a 2-0 victory for the visiting team in front of an announced crowd of 42,652 – 435 over the season's stated seating capacity for the Astrodome. The honor bestowed upon Bob was not undeserved, for in the preceding year he had established one of the finest season-long pitching performances the new Houston franchise had ever witnessed.
But getting to this singular honor had been a long haul for this blond-haired, right-handed hurler, as injuries and a military commitment served to derail a once-promising career.
Twelve years prior to the Opening Day assignment, Bob was inked as an amateur free agent into the Detroit Tigers organization by General Manager Muddy Ruel. Having been scouted by such former Tiger notables as Schoolboy Rowe and Pete Fox, they apparently liked what they saw as the signing included a nice $20,000 bonus. At the time, Bob was pitching on a baseball scholarship at Alma College in Alma, Michigan, 130 miles from his hometown of Highland Park (a small community in the middle of Detroit).
At a minimum, Bruce's hereditary roots in Michigan date back to a paternal grandfather who, according to family lore, was the head lumberjack in the town of Michigamme. His offspring, Herbert A. Bruce, would encounter a young teacher at a one-room schoolhouse in Drummond Island, Michigan, and Bob would become the only child of this pairing. Bob's upbringing might be described as one of "hardscrabble" – Herbert was ill, leaving Lillian as the primary breadwinner. Born into the teeth of the Depression, Bob sought out work at a very early age to help put clothes on his back, going so far as to lie about his age to secure a job at the local super market (minimum age for employment at the store was 14, and at the time Bob was only 12 years old). As much as he enjoyed sports, a regular regimen of school and work left little time for extra-curricular activities. Had it not been for the prompting of a high school coach during Bob's senior year, he might never have taken up baseball at all. Eventually, Bob completed his senior year, graduating from the very same high school that produced Chisox lefty Billy Pierce six years earlier.i
Bob moved on to college, and to this day he still has one particularly strong recollection of performing for the Alma Scots: a game against the University of Detroit which he claims ultimately led to his signing as a professional. The scouts were in attendance -- but not for him. Their attention was drawn to a pitcher whose last name he only recalls as "Hughes." Bob struck out 19 opponents that day, and thereafter the scouts began following the Alma team very closely. It wasn't long before Bob was inked with the Tigers.
Promptly after the signing, Bob travelled a mere 560 miles away from home and made his professional debut with the Wausau Timberjacks, the Tigers' Class D affiliate in the Wisconsin State League. Timberjacks player-manager Wayne Blackburn had a very successful minor-league managing career, and 1953 was no different. He steered the Timberjacks to a .608 winning percentage that received a large boost from their new righty, Bob Bruce, who led the staff with 18 wins and 25 games started (despite a remarkably high 6.2 walks per nine innings).
The next year, 1954, saw Bob much further from home, elevated to the Tigers' Class B affiliate Durham Bulls in the Carolina League. The jump in leagues had little effect on the success experienced in his debut season, as Bob's .619 winning percentage (13-8 for a team that finished barely above .500) gave the Tigers a strong indication that Bruce was on a fast track to the parent club. The progress achieved in Durham resulted in another promotion before the season played out, as Bob was elevated to the first-place Wilkes-Barre Barons (Class A) in the Eastern League. Unfortunately, things came to a screeching halt in Pennsylvania, as five appearances in relief resulted in two losses, a 7.80 ERA, and an ugly 19 walks in only 15 innings pitched. This regression resulted in a demotion back to Durham for the start of the next season.
His return to Durham was brief – nine total appearances – before another promotion to Class A insured a modicum of success between Class A-AAA over the next season and one-half (including a sterling 1.71 ERA at Class A Augusta in the South Atlantic League.) Then Uncle Sam came calling. Not unlike many other athletes of his day, Bob's military commitment served to shave two years of minor-league development from his career resume, arresting the course of progress exhibited over the preceding three seasons. Interestingly, during Bob's engagement at Fort Lee, Virginia, he was befriended by Chicago Tribune columnist Ray Bendig, who thereafter never seemed to tire in his quest to convince the Chisox to secure Bob from the Detroit franchise.
The 1958 season was already underway when Bob was assigned to the Class AA Birmingham Barons of the Southern Association after his military charge was fulfilled. In a league notorious for offense, Bob's 4.46 ERA generally mirrored the league average of 4.16, and he would go on to win the Game Three victory in the Dixie Series against Corpus Christi. The Tigers organization showed their continued faith in Bob by elevating him to the Charleston Senators (American Association) before the season expired, and it was here that he toiled through 44 appearances over the course of a calendar year (leading the league in strikeouts with 177 in 1959) before the parent team beckoned.
The Tigers had not crossed the finish line above fourth place since the 1950 season, and 1959 would be no different. The team sported an ERA that, had it not been for the woeful Kansas City Athletics, would have been the worst in the league (and the Tigers were particularly susceptible to the gopher ball, giving up a league-leading total of 177 dingers, 29 more than their closest competitors). In an effort to stem the bleeding, Detroit made a late-season call to two young pitching prospects – Mr. Bruce and 24-year old righty Jim Proctor – in hopes of determining what contributions they could provide in both September and the next season. Thusly, the two made their major-league debuts in the same game, with Bob following Proctor to the mound in a mop-up effort of a 5-0 loss (a line-drive double play sparring him a scoreless frame in the eighth after two walks). Bob followed Proctor again, this time in starting efforts for both youngsters on the last and next-to-last days of the season, respectively. Neither survived past the first inning in logging his first major-league decision;whereas Bob would go on to log an additional 119 wins/losses over the course of his career, Mr. Proctor would never don a major-league uniform again.
Detroit's skid continued in 1960, as the team used nine different pitchers (minimum of six starts each) in an effort to ameliorate a staff decimated by injuries or general ineffectiveness. Bob started the season in the pen, and did not appear in a starting effort until June 25, when his mound opponent happened to be his future Houston teammate Hal Woodeshick. Neither starter figured into the decision as the Tigers sustained an extra-inning loss, but seven-plus innings of five–hit ball earned Bob two additional starts. Unfortunately, both of these starts were far less impressive, and Bob was relegated back to the pen. On August 7, in search of a healthy arm to pitch the nightcap of a doubleheader, manager Joe Gordon again turned to Bob, who delivered a gem – giving up one run in eight innings in a shutout loss. Excluding a relief appearance on August 11, Bob remained in the starting rotation through the end of the season, posting four wins in eight decisions thereafter, including a two-hit complete game victory against the defending American League champion Chicago White Sox. In fact, over the course of the four losses, Bob's teammates scored an average of less than two runs per game, hurting his chances of closing out the season on a much brighter note.
Seemingly having secured a solid lock in the starting rotation, Bob turned in a masterful performance in the seventh game of the 1961 season, taking a shutout into the ninth inning and earning a 3-1 victory over the visiting Los Angeles Angels. Unfortunately, the paths of the Tigers and Bob Bruce were thereafter divergent: the Tigers cured a decade-long malaise by winning 101 games and garnering a second-place finish to the New York Yankees, while a shoulder injury limited Bob to an additional 36-plus innings of work for the remainder of the season. The Tigers sent Bob to Winter Ball in Puerto Rico, and it was while he was there that he learned he'd been traded. On December 1, Bob was packaged in a deal with pitching prospect Manny Montejo to the newly-formed Houston Colt .45s for aging veteran Sam Jones (who, less than two months earlier, was secured from the San Francisco Giants as the 25th pick in the expansion draft). As Bruce would later recall, "…it was the best thing that could have ever happened to me. I had an opportunity to truly develop under the watchful eye of coach Cot Deal, who was probably the best mentor I ever labored under. I had a lot of real good experiences there…[all while w]e learned to fend off mosquitoes and stuff like that."
In Houston's inaugural season, Bob once again started the year out of the pen, but four straight shutout appearances (12-plus innings total) earned him a permanent place in the starting rotation thereafter. On June 30, Bob won a rain-shortened complete game victory over the defending National League champion Cincinnati Reds, and his season record stood at 6-1 with a fine 3.33 ERA. Unfortunately, a team-wide swoon in July produced a mere five victories for the club, and Bob's statistics suffered similarly. He closed the season at 10-9, and the right-handed batter also produced his career-best offense effort – a .200 batting average in 55 at-bats.
Of particular note, Bob helped to co-author a total of 1,047 strikeouts for the team, becoming only the fifth major-league staff at that time to attain the 1,000 mark (the Los Angeles Dodgers also attained the same mark in 1962, indicating that the increase from 154 to 162 games per year had much to do with this milestone).ii Incidentally, this achievement has longsince been obliterated in the record books with the advent of more free-swinging sluggers at the plate.
The following 1963 season witnessed a rough beginning for Bob (including a 7-0 drubbing by the San Francisco Giants, wherein the winning pitcher was Bob's high school alum, Billy Pierce), and after three starts his record stood at 0-1 with an atrocious 12.96 ERA. Fortunately, he righted himself quickly with two of the finest outings of his career: his first major-league shutout, a brilliant one-hitter at Colt Stadium against the hard-hitting Cincinnati Reds (Frank Robinson, Vada Pinson, et al); and a victory over the New York Mets wherein twice Bob "was one strike away from a two-hit, 4-0 shutout…[winding] up with an unfinished three-hitter and 11 strikeouts, a [then] career high for him."iiiTwo years later, Bob established his all-time career high of 13 strikeouts in a complete-game victory, again over the Reds.
Unfortunately, over the course of the 1963 season, it appeared that Bob and his mound mates would have to pitch goose eggs in order to secure a victory. For the second of three straight seasons, Houston ranked dead last in runs scored in the National League, reminiscent of the latter part of the 1960 season for Bob while he was with the Tigers. His 5-9 season record was deceiving, as the team could only muster an average of one run per game in those nine losses. Far more disturbing, Bob's shoulder injury resurfaced, and excluding two brief relief appearances in September, he was basically shut down after his August 13 loss in St. Louis.
Bob returned the following season in fine form, and he would establish career highs in a variety of pitching categories, placing him in select company among the pitching leaders in the National League. His 15 wins for the still-anemic Houston offense accounted for nearly 23% of the team's total victories, and his career-high four shutouts contributed nicely to a 2.76 ERA, the tenth best in a league famous for fine pitching (of the nine pitchers ranked ahead of him, five were later inducted into the National Baseball Hall of Fame in Cooperstown). During this season, Bruce also etched his name into a unique piece of baseball history: on April 19, 1964, he joined the short list of pitchers all-time (46 total, as of 2012) who struck out three batters on nine pitches in one inning. Interestingly, Sandy Koufax accomplished the same feat the preceding day, marking the only time in the long history of the game where this feat occurred on consecutive days. This sterling season-long performance garnered Bob the honor of the historic Opening Day start the following year (ironically, Bob also threw the last pitch in Colt Stadium in a 1-0, 12-inning victory over the Los Angeles Dodgers on September 27, 1964).
Regrettably, the Opening Day start at the Astrodome was one of Bob's few highlights during the remainder of his stay in Houston. In 1965 his ERA was a respectable 3.72 (league average: 3.54), but that did not prevent him from a career-high 18 losses for the ninth place Houston Astros, as the offense again failed to make much of a dent – only 20 total runs scored over those same 18 losses! But 1966 fared much worse. A mysterious eye infection marred a sizeable portion of the season (Bob missed seven weeks, on the disabled list), and when he did return he could never get back to full strength. He later opined, "I got racked up, really hit hard. It was an uphill battle and I couldn't win."iv His ERA mushroomed to 5.34, and he closed out the season with a 3-13 mark. Manager Grady Hatton was quoted as saying "[y]ou can find a lot of reasons for Bruce's record…[b]ut we'll have to be realistic when we start making plans." Columnist John Wilson interpreted this to mean that Bob would "have to come to camp next spring and beat out some of the younger pitchers to get a job."v
Bob did not get that opportunity to compete, because on the last day of the calendar year, he was traded to the Atlanta Braves in a package deal that included future Hall of Fame inductee Eddie Mathews going to Houston. The trade provided an opportunity for Bob to resurrect his career with a pennant contender, as the Braves (in their inaugural season in Atlanta after relocating from Milwaukee) had fallen a mere ten games off the pace of the National League Champion Los Angeles Dodgers. Arguably, the pitching corps was one of the reasons the Braves fell short, as their once-promising lefty, Wade Blasingame, struggled with injuries, contributing to the Braves use of 13 separate starters throughout the 1966 season. The team hoped that the addition of Bruce would help to solidify this corps in the next season, in preparation for another pennant run.
These hopes were quickly dashed, as the Braves team batting average plummeted 23 points (from .263 to .240), and a league-leading 782 runs scored in 1966 dropped to a middling 631 in 1967. The pitching staff fared little better, as another former mainstay, Tony Cloninger, followed Blasingame onto the disabled list, and the team crumbled to a seventh-place finish. Manager Billy Hitchcock used Bruce sparingly (due in large part to injury – a cracked rib), and by late June, Bob had logged fewer than 39 innings through 12 appearances (seven starts). It was apparent that the Braves were looking elsewhere for solutions, and shortly thereafter it was reported that "[t]he Braves have recently added a couple of pitchers, Cecil Upshaw and Ed Rakow, calling them up from the Richmond (International) club…Sent out were pitchers Bob Bruce and Clay Carroll. Both went to Richmond, and both went with some reluctance."vi
Reluctant or not, Bob reported to a minor-league franchise for the first time in six years and pitched with an intensity that reflected his desire to return to the parent club: a 7-2 record with a masterful 1.87 ERA. Still, the Braves appeared content to move forward with a younger mound presence, so that by the end of the year, at age 34, Bob Bruce removed his baseball uniform for the last time.
Nearly a half-century later, Bob Bruce is still pitching – real estate (presumably injury-free). A successful post-baseball career that included managerial responsibilities with a home construction builder in Michigan, he has since moved to Texas and owns a real estate brokerage firm in the Dallas/Fort Worth metroplex that bears his name -- with a website that prominently displays a reference to a once-thriving baseball venture. Besides this website display, Mr. Bruce also appears amenable to events that praise the achievements of the past, evidenced by his attendance in Houston on April 10, 2012 when he and a number of his former Colt .45/Astros teammates were honored on the field at Minute Maid Park to commemorate the 50th anniversary of the franchise's first game ever. A few weeks after this celebratory event, Bruce related the joy of seeing old friends and teammates, and mourned the fact that so many are no longer around to enjoy such occasions, adding "they are all in a better place."
Bruce has been married and divorced twice, but will readily state that he remains good friends with both of his ex-wives. The father of four – Robert Jr., Patrick, Michael and Mary Ann – Bob is also the proud grandparent of 11(six boys/five girls).
Still, after all these years, whether Bob is pitching property worth thousands, or even millions, of dollars, one is left to wonder if his thoughts might occasionally hark back to that historic 1965 pitch that ushered in the advent of indoor baseball?
Acknowledgements
Thanks for assistance from Jan Finkel, Gary Gillette, and Bill Nowlin. Sandra Talmadge and Josh Triana both contributed to this biography.
Sources
Interview with Bob Bruce, May 31, 2012
http://footer.mlblogs.com/2012/04/10/the-stars-come-out-to-celebrate-the-Astros/Colt-.45s-big-birthday
en.wikipedia.org/wiki/List_of_Major_League_Baseball_pitchers_who_have_struck_out_three_batters_on_nine_pitches
www.astrosdaily.com/players/interviews/Bruce_Bob.html
Notes