2017 SABR Analytics: The Chicago Cubs' Five-Year Journey to the World Series
Members of the Chicago Cubs front office will share stories on the evolution of the franchise from a struggling team with a poor farm system to a World Series championship in 2016 at the sixth annual SABR Analytics Conference in Phoenix, Arizona.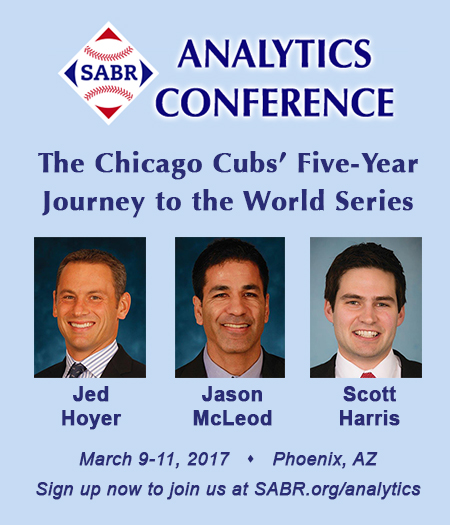 The SABR Analytics Conference will be held Thursday, March 9 to Saturday, March 11, 2017, at the Hyatt Regency Phoenix. The conference is open to all baseball fans. Early registration is only available through February 15, so click here to register!

Here are the panelists for The Chicago Cubs' Five-Year Journey to the World Series panel, which is scheduled for Friday morning, March 10 at the SABR Analytics Conference:
Jed Hoyer is entering his sixth season as the Executive Vice President/General Manager of the World Series champion Chicago Cubs. Last year, the Cubs ended the franchise's 108-year drought by defeating the Cleveland Indians in a historic Fall Classic. They were baseball's best team in the regular season, winning 103 games and the NL Central Division crown, before knocking off the San Francisco Giants and Los Angeles Dodgers in the playoffs to capture their first National League pennant since 1945. Jed joined the Cubs in November 2011 after serving two seasons as the Executive VP/General Manager with the San Diego Padres. He worked in the Boston Red Sox front office with Theo Epstein from 2002-09, helping guide the club to two world championships in 2004 and 2007.
Jason McLeod is entering his sixth season as the Chicago Cubs' Senior Vice President of Scouting/Player Development. His influence on the 2016 World Series champions was clearly felt, as in his first three amateur drafts, the team selected outfielder Albert Almora, National League MVP Kris Bryant, and catcher Kyle Schwarber, all of whom contributed to the Cubs' game-winning rally in the 10th inning of Game 7 against the Cleveland Indians. Prior to joining the Cubs, Jason spent two seasons as the San Diego Padres' assistant general manager and six seasons with the Boston Red Sox front office, along with his colleagues Theo Epstein and Jed Hoyer, helping the team win two World Series.
Scott Harris is entering his fifth season as the Chicago Cubs' Director of Baseball Operations, where he assists the front office in Major League roster moves, player acquisitions, waivers and rules compliance, and salary arbitration and negotiations. He spent two years at Major League Baseball as the Coordinator of Major League Operations and was an intern with the Washington Nationals and Cincinnati Reds following his 2009 graduation from UCLA with a bachelor's degree in Economics. He completed his MBA from Northwestern University's Kellogg School of Management in 2015.
Moderator: Dan Migala is the co-founder of PCG, a Chicago-based team marketing advisory firm and SportsDesk Media, a next generation digital media, analytics and marketing company with clients in MLB, NBA, NFL, NHL, NCAA and International sports organizations. He has helped design some of Major League and Minor League Baseball's most innovative revenue-generating concepts and has been recognized by the National Baseball Hall of Fame in Cooperstown for his creative advancement of baseball promotions.
Our all-star lineup of speakers and panelists at the 2017 SABR Analytics Conference is also expected to include: Hall of Fame pitcher Randy Johnson and postseason legend Luis Gonzalez, sabermetric pioneer Bill James, Seattle Mariners GM Jerry Dipoto, Arizona Diamondbacks GM Mike Hazen, ESPN analyst Jessica Mendoza and broadcaster Jon "Boog" Sciambi, MLB Network host Brian Kenny and analyst Eric Byrnes, MLB Advanced Media's Tom Tango, Mike Petriello, and Daren Willman, SABR President Vince Gennaro, FanGraphs writer Eno Sarris, Arizona Diamondbacks broadcaster Mike Ferrin, Chicago Cubs broadcaster Jim Deshaies, deCervo co-founder Jordan Muraskin, sports ophthalmologist Daniel M. Laby, Brian Murphy of StriVR, and many more. Click here to learn more about our speakers.
In its first five years, the SABR Analytics Conference has brought together many of the top minds of the baseball analytic community under one roof to discuss, debate, and share insightful ways to analyze and examine the great game of baseball. Please note: All speakers are subject to change depending on availability.
For more information, or to register for the SABR Analytics Conference, visit SABR.org/analytics.
This page was last updated February 10, 2017 at 11:11 am MST.