Mannis: Cubs World Series panel at SABR Analytics proves patience pays off
By Max Mannis
The sixth annual SABR Analytics Conference continued Friday, March 10, 2017, with more powerhouse panels and guest speakers.
Sabermetric pioneer Bill James spoke about his journey as a baseball author and the future of statistical analysis, while Seattle Mariners general manager Jerry Dipoto and Arizona Diamondbacks general manager Mike Hazen gave insight about life in a major-league front office. Tom Tango, Mike Petriello, and Daren Willman of MLB Advanced Media gave attendees a peek into the future of baseball and how Statcast and other technological advances can help fans get an alternative look on the game.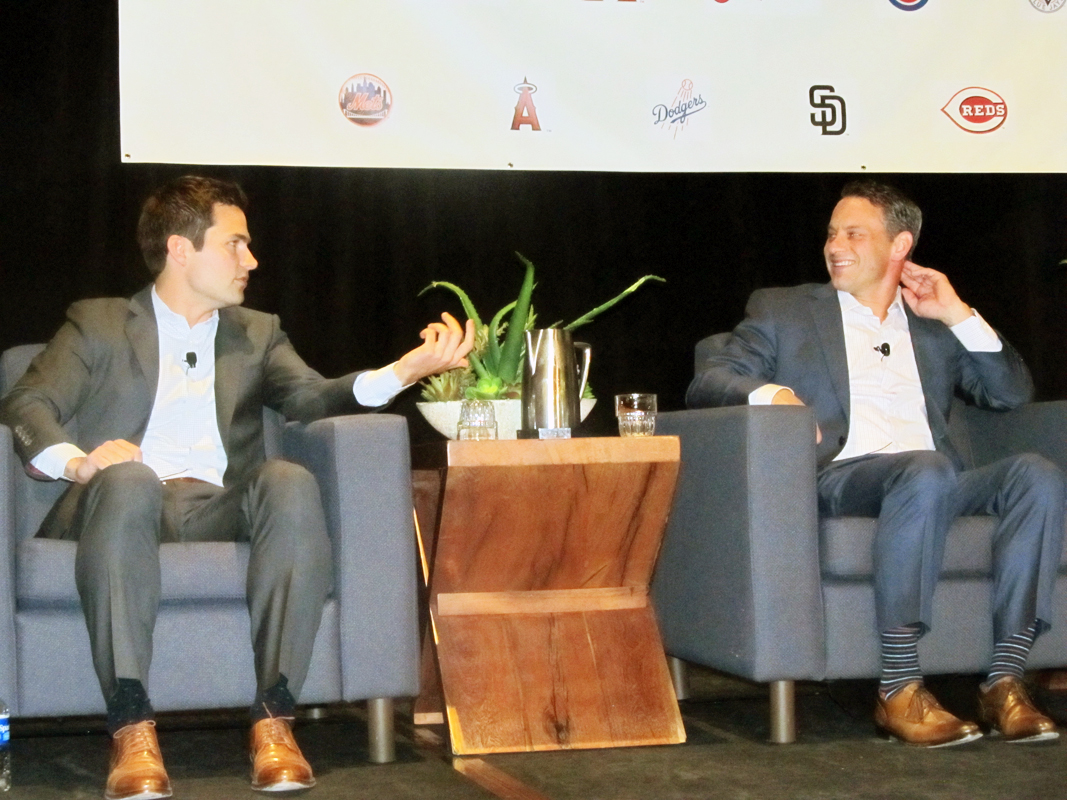 One highlight of Friday's events was a panel focused on the Chicago Cubs' Five-Year Journey to the World Series. Cubs Executive Vice President/General Manager Jed Hoyer and Director of Baseball Operations Scott Harris described the team's path from a long rebuilding process to eventual world champions.
The panel began with a discussion about Game Seven of the 2016 World Series, arguably one of the greatest baseball games of all time. "The bottom of the ninth was one of the longest 10 to 12 minutes of my life," Hoyer said.
When a sudden rainstorm forced a brief delay before extra innings, he found himself in a room with MLB Commissioner Rob Manfred, Cubs President of Baseball Operations Theo Epstein, and others. While that break allowed the team's players to regroup, it was a very different experience for those in the front office.
All of a sudden," Hoyer said, "you're in this room in the middle of Game Seven of the World Series — and you're trying to have a conversation. … Every single moment of that ninth inning was agonizing."
Harris said it was incredible to watch players they had drafted just a few years earlier — such as National League MVP Kris Bryant and Kyle Schwarber — blossom into postseason heroes and key pieces in the team's World Series run. Harris said he looked up at the scoreboard and thought to himself, "We have six players under the age of 25 in the starting lineup for the Chicago Cubs in the World Series."
Hoyer said that rebuilding the team was far from an easy process. At the beginning of his tenure with the Cubs, he said, "Theo and I probably spent three weeks talking about what we were going to do. I think it was pretty clear to us that this was going to be a full rebuild."
Did it pay off at the end, bringing back a World Series title for the Cubs for the first time in 108 years? Absolutely. Was the whole process of the rebuild a fun time? Not at all.
To me, the hardest season by far was 2013," Hoyer said of a team that went 66-93 and finished last in the NL Central. "Our farm system wasn't developing as fast at that point."
Harris added that the expectation among fans and media is often that any progress a team makes in a rebuild is going to be linear. "That's rarely the case," he said.
Hoyer described how the patience of Cubs chairman Tom Ricketts was crucial to the team's success. Ricketts was on board with whatever the front office felt was necessary to rebuild the team. "He never pushed us to speed up our timeline," Hoyer said.
But when Epstein and Hoyer approached the owner about going after the highly coveted free agent pitcher Jon Lester in the 2014-15 offseason, Ricketts was enthusiastic about the deal. Maybe even more enthusiastic than the front office was. "You do feel a lot of pressure. You do feel a lot of stress," Harris said. "Especially when you're spending over $100 million on a player."
Click here for more highlights from the Chicago Cubs' Five-Year Journey to the World Series panel. Visit SABR.org/analytics for complete coverage of the 2017 SABR Analytics Conference.
---
Originally published: March 11, 2017. Last Updated: March 11, 2017.
https://sabr.org/wp-content/uploads/2020/03/research-collection4_350x300.jpg
300
350
admin
/wp-content/uploads/2020/02/sabr_logo.png
admin
2017-03-11 02:19:34
2017-03-11 02:19:34
Mannis: Cubs World Series panel at SABR Analytics proves patience pays off