Charlie Hemphill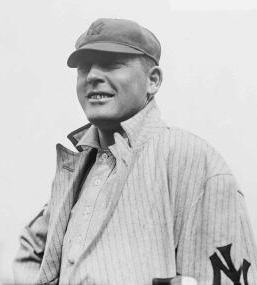 At his best, Charlie Hemphill was a strong-armed, fleet-footed outfielder and solid hitter who drew walks. In 1910, Alfred Spink described him as "a cracking good batsman and when right is a hard man to beat." At his worst, however, Hemphill was a poor fielder known to misjudge balls in the air, and an inattentive base runner. Hemphill's career was also marred by several bouts with dissipation. After his major league career was over, Hemphill's drinking cost him his managerial post with the Atlanta Crackers and his chance for a long career in the minor leagues. Hemphill is in the "All Deadball Era" outfield for both the Browns and Yankees, reflecting a weakness of both teams.
Charles Judson Hemphill was born in Greenville, Michigan on April 20, 1876 to Frederick and Louisa, natives of Canada and probably recent immigrants. Three of his grandparents were born in Ireland, one in England. During Charlie's childhood Frederick worked as an engineer, while his wife stayed at home, raising the couple's four sons. Two of them, Charlie and Frank, would play in the major leagues.
Charlie played for Saginaw in 1895-96, missed the 1897 season with Dayton because of illness, but was reserved for 1898 and played with Grand Rapids late that year until June 1899 when he was acquired by St Louis. Batting third and playing center field in a June 27 game against the Phillies, Hemphill fouled out, then homered off Wiley Piatt in a 6-4 win. In eight games, he posted a .389 on base percentage, but was benched, owing to his terrible fielding—playing three times more that season, he finished with five errors in 10 games as an outfielder for a glaring .750 fielding average. In August, Hemphill was transferred to the Cleveland Spiders, en route to the worst record (20-134) in major league history. When judged against the low standards set by his teammates, Hemphill acquitted himself well in Cleveland, rapping out a .277 batting average in 55 games, of which the Spiders won only three. His fielding remained problematic; for the year he posted an abysmal .837 fielding percentage.
With the contraction of the Cleveland franchise at the end of the season, Hemphill was transferred back to St. Louis for the 1900 campaign. But with the St. Louis roster overcrowded with players, Hemphill sat on the bench for the first three weeks of the season before the Cardinals loaned him to the Kansas City Blues of the American League, then in its final season as a minor league. Hemphill joined the team on May 10 and soon established himself as the club's leadoff batter and center fielder. Despite his late arrival, Hemphill led the league in triples and ranked fourth in runs scored and batting average. On June 30, according to the Chicago Tribune, "Hemphill, who has never been suspected of being a phenomenal fielder, robbed the White Stockings of what appeared to be a certain victory" by making "three of the greatest catches ever made."
St. Louis reserved him for the 1901 season, but Hemphill jumped his contract to sign with the Boston Americans. The Boston Globe introduced Hemphill as "the poorest outfielder in the league," but it was his hitting that proved to be the biggest disappointment. Dropped from second to fifth in the batting order in early June, Hemphill finished the year with a .261 batting average and .332 slugging percentage, both figures worse than all but two of the 24 American League outfielders who played more than half their team's games that season.
Despite standing 5'9" and 160 pounds, no better than average size for his day, Hemphill was often described as big by contemporary sportswriters, perhaps by some illusion of build or the way he wore his uniform. A left-handed batter and thrower with good speed but no special talent for using it either on the base paths or in the field, Hemphill boasted below average power at the plate and failed to distinguish himself as a hitter, a shortcoming which, coupled with his defensive failures, made him expendable. He went unsigned after the 1901 season, became a free agent and the following February joined the Cleveland Bronchos, a bad team rapidly on the rise. At the start of the season, Hemphill was used as a substitute in right field for the injured Zaza Harvey. Hemp batted .266 in 25 games before drawing his release. He quickly signed on with the St. Louis Browns, where he became the club's regular right fielder and number three hitter. Hemphill enjoyed one of his best seasons with the 1902 Browns, leading the team in batting average (.317), slugging percentage (.447), triples (11), home runs (6) and steals (23).
The following spring, Hemphill reported to Sportsman's Park "a trifle fat" according to one reporter. During a four game pre-season series with the Cardinals, Hemphill could be seen running around the park "five or six times as a flesh reducer." Following the series, one writer noted that "Hemphill is a hard worker who is often guilty of stupid baserunning." And weak hitting. By August, Hemphill was benched, then suspended for "dissipation," and finished the year under a doctor's care in Youngstown, Ohio. For the season he batted .245 with only 12 extra base hits in 383 at-bats.
Despite spending part of his off-season boiling out in Hot Springs, Arkansas, in 1904 Hemphill again reported for duty out of shape, and finished the year with a .256 batting average in 114 games. The following off-season St. Louis farmed him out to the St. Paul Apostles of the American Association, where the left-hander rediscovered his hitting stroke. At season's end, Hemphill led the circuit in batting average (.364) and hits (204), a performance which earned him another chance with the Browns in 1906.
Batting in the top third of the St. Louis order, Hemphill showed significant improvement at the plate over his 1904 totals, and finished the year with a .289 batting average, 62 RBI, 33 stolen bases, and a career-best 90 runs scored. In better shape, Hemphill also spent 114 of his 154 games patrolling center field, where he used his improved foot speed to offset his other defensive shortcomings. The following year, however, Hemphill was mediocre at best, batting .259 with 38 RBI and 66 runs scored in 153 games. That November the Browns traded him, along with Fred Glade and Harry Niles, to the New York Highlanders for Jimmy Williams, Hobe Ferris and Danny Hoffman.
Joined by Jake Stahl and Willie Keeler in the outfield, Hemphill played center for the Highlanders and put in the best season of his major league career. In addition to his .297 batting average, Hemp swiped a career-high 42 bases and drew 59 base on balls, also a career-best, to give him a .374 on-base percentage, third best in the American League. Meanwhile, the Highlanders, who started out the year 16-8, finished the season with a ghastly 51-103 record, a collapse which sportswriter Francis Richter characterized as "the most cruel disappointment of major league history."
Hemphill's 1909 campaign was marred by illness. Vaccinated twice that spring for smallpox after teammate Hal Chase was quarantined in Atlanta, Hemphill played the opening game of the season, then went home with a sore throat. Sidelined with an illness rumored to be, by various media accounts, smallpox, tonsillitis, tuberculosis and diphtheria, Hemphill eventually returned to the lineup but batted poorly and finished the season as the team's fifth outfielder. Despite his .243 batting average, however, Hemphill posted a solid .357 on-base percentage in 216 plate appearances.
Back in the starting lineup in 1910 following Keeler's retirement, Hemphill split his time between right and center and held the leadoff spot for three months before his poor hitting again relegated him to the bench. He finished the year with a .239 batting average, but once again posted an excellent on-base percentage (.350) thanks to 55 walks. In 1911, his last season in the major leagues, Hemphill played in only 69 games but batted .284 with a .397 on-base percentage, thanks to 37 walks in 244 plate appearances. Though it went mostly unappreciated at the time, Hemphill had transformed himself into a very different hitter by the end of his major league career. Prior to joining the Highlanders, Hemphill's walk rate had hovered around 7 or 8 percent each season. In 1908, his first in New York, he walked more than 10 percent of the time, and in his final three seasons he reached base via the walk nearly 15 percent of the time. Unfortunately, he also had lost what little power he once had, collecting a mere 25 extra-base hits in 879 plate appearances over the same period.
Hemphill started out the 1912 campaign as player-manager of the Atlanta Crackers of the Southern Association. After a fair start, the team slipped into last by July 15. Everything unraveled for Hemphill during a weekend series with New Orleans, when Hemphill drank too much to play in the Saturday game. When he did not report for the Monday July 22 game in Montgomery, he was summoned home, deposed as manager, suspended as player, and peddled to clubs in the American Association. Kansas City was interested; Columbus made the purchase.
He lasted only a week with the Senators before management suspended him "for failure to get into condition" and complained to the National Board for refund of the $1500 purchase price. Columbus was eventually awarded $250, the difference between the purchase price and the next-best offer Atlanta had for Hemp. Hemphill spent the rest of the season playing for Youngstown of the Inter-State League, though he remained Columbus property. Sold to St. Paul in the off-season, Hemphill spent the winter boiling out in Hot Springs. In April 1913, the National Commission denied Hemphill's request for 60 days of back pay which he claimed the Atlanta and Columbus clubs owed him from 1912. After a hot start, Hemphill faded during the summer and was suspended again on August 27 for "failure to keep in condition" and "failure to report at the park for that day's game."
Many old ballplayers moved up during the Federal League years but Charlie Hemphill moved briskly down. In 1914 he batted .277 for St. Paul and .225 for New Orleans. In 1915 he appeared in 15 games for the local club, batting .119. By then Hemphill was also making his offseason home in Youngstown with wife Theresa (whom he had married in 1905) and their three children.
By 1930, the family had moved to Detroit, where Charlie worked as an automobile iron master. He died there on June 22, 1953, at the age of 77.
Note
This biography originally appeared in David Jones, ed., Deadball Stars of the American League (Washington, D.C.: Potomac Books, Inc., 2006).
Sources
For this biography, the author used a number of contemporary sources, especially those found in the subject's file at the National Baseball Hall of Fame Library.