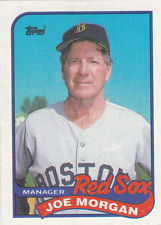 There have been two big leaguers named Joe Morgan – and it's not hard to tell them apart. Joseph Michael Morgan played fractions of four seasons in "The Show," finishing with three games for the 1964 Cardinals. He is white. Joe Leonard Morgan's Hall of Fame career ran from 1963 to 1984. He is black. Joe L., who became a broadcaster, talks more than much of his audience would like to hear. Joe M., who became a manager, does not. Harry Fanok, a minor-league teammate, said, "He didn't say a hell of a lot, but he was one tough dude!"1
But when Walpole Joe speaks, his Boston roots are audible. Despite nearly 40 years in pro ball, Joseph Michael Morgan is best remembered as manager of the Red Sox, whom he led from July 1988 through 1991. His teams won the American League East in 1988 and 1990, although the Oakland A's swept the playoffs both times. Yet even before the Red Sox finally wiped away 86 years of disappointment by winning the 2004 World Series, Morgan was a local blue-collar hero. He is also a classic salty raconteur with a well of stories; this brief career overview cannot do them justice.
Joe Morgan was born on November 19, 1930, in Walpole, about 18 miles southwest of Boston. This town has always been industrial; Joe's father, William Morgan, was an engineer for Kendall Mills. William and his wife, Mary Kennedy Morgan, had four other children: sons Billy and Jim, daughters Mary and Theresa.
Morgan was a two-sport star at Walpole High School and Boston College. Longtime Red Sox announcer Joe Castiglione called him one of the two best high-school hockey players in Boston area history, and he became an All-American center at BC.2 In 2009 Morgan said, "If I was born in Canada, I would have played in the NHL for a long, long time. That's the way I see it. I had the ability; all I needed was more ice time growing up."3
Instead, the shortstop went with Boston's other big-league baseball franchise back then, the Braves. In June 1952 Lucius "Jeff" Jones, the team's chief scout for New England, signed both Morgan and catcher Mike Roarke. Roarke, a fellow Boston College Eagle, later played and coached in the majors too (he also worked for Joe as pitching coach at Pawtucket, the Red Sox' top farm team).4
Jones no doubt also saw both men as they played in the Blackstone Valley League, a local semipro circuit. In 1988, Joe remembered his days as shortstop for Hopedale (1949-51). "It was a pretty good league, with a lot of guys who went on to Triple-A and some [like Walt Dropo] who played in the majors. I know I struggled to hit .270. The league folded after 1952 because of economics."5
New Yorkers on the Hopedale team also coined a nickname for Joe: Mumsy. In 1988 Morgan explained, "Every time I went out in the sun, I'd burn. So I never got any sun. I was as white as a mummy."6 The label stuck into the '60s.
Morgan played in 72 games at Hartford (Class A) in 1952, but batted just .229 and dropped back to Class B for 1953 (when he graduated from BC). He then spent the rest of 1953 through 1955 in the US Army, "mostly at Fort Sill, Oklahoma. I played service ball with Daryl Spencer and other big-leaguers."
Joe resumed his pro career in 1956, hitting .300 at Jacksonville (Class A). That year he also married Dorothy "Dot" Glebus. "She was from Walpole also – we met in church."
The lefty swinger hit .316 at Atlanta (Double-A) in 1957. He reached Triple-A in 1958, but Johnny Logan remained a fixture at shortstop in Milwaukee, where the Braves had moved in 1953. Morgan shifted to third base that season, and his hitting declined to .251 at Wichita. The following spring, Baseball Digest wrote that he "didn't bridge [the] gap." Its scouting report read, "Could fill in for some major league club but no chance to make it as a regular. Good arm but average in running and short of power at the plate."7
Joe made the major-league roster to begin the 1959 season, mostly pinch-hitting but also starting four games at second base. In early June the Braves sent him down to Louisville, where he mainly played the outfield. On August 20 the Kansas City Athletics purchased his contract, and he spent the rest of the season there. He did almost nothing but pinch-hit, appearing just twice at third base in 20 games with the A's. With the two teams he hit for a combined .205 average.
One of those hits was speecial, though – on September 12, Morgan appeared at Fenway Park for the only time as a big-league player. In the seventh inning, facing Jerry Casale as a pinch-hitter, he hit an RBI triple off the Green Monster. "Half the town of Walpole was there," he recalled in 2011.
In April 1960 Kansas City returned Morgan to Milwaukee. He started that season with Louisville, but on June 23, he went to the Philadelphia Phillies in exchange for Alvin Dark, then in his final season. Joe played a lot at third base over the next several weeks, but in early August the Cleveland Indians bought his contract. Morgan got his only two big-league homers with the Tribe that year. His .192 average for the year, however, was even lower than the year before.
Morgan appeared in four games for the Indians early in 1961, but in May, Cleveland dealt him to St. Louis. He did not resurface in the majors for nearly 2½ years. Instead, Joe provided veteran leadership for the 1962-63 Atlanta Crackers, the Cardinals' Triple-A affiliate in the International League. "Apparently I was a little too old for expansion clubs," he said in 2010.
Mumsy became a player-coach in 1964. He set a fine example, becoming the International League's Most Valuable Player as Jacksonville won the league pennant. In mid-September 1964, the Cards called up Morgan; he made his last three big-league appearances as a pinch-hitter. He struck out the first two times, and grounded into a force out the third time. All told, Morgan hit .193 in 187 at-bats over his 88 games in the majors. Although he was not eligible for the '64 World Series, the team did vote him one-eighth of a winning share (he did not get a ring).
Morgan spent one more season at Triple-A in 1965 for the Cardinals. He then went to Class A in 1966 for his last year as a player – and first as a manager. "Harry Walker, who I played for in '63 and '64, got me the job with the Pirates in Raleigh, North Carolina." Walker had become Pittsburgh's manager in October 1964.
Joe remained in the Pirates chain through 1973, managing in Single-A, Double-A, and Triple-A ball. He guided his teams to three first-place finishes in the regular season (1967, '69, and '73), though without any championships. He spent 1972 as infield/batting coach with the big club under Bill Virdon, but had to step back down again because the Pirates made retiring star Bill Mazeroski a coach.8
In the winter of 1973 Morgan heard of an opening with the Pawtucket Red Sox, Boston's top farm club. He seized the opportunity to get back to New England. "Filling out loading slips at his brother-in-law's sand and gravel business in Walpole," Joe called Boston general manager Dick O'Connell at home and asked for the job. Said O'Connell, "A lot of people want that job. I have a long list, but the job is yours."9
In his nine years with the PawSox, Morgan won a club-record 601 games and guided many future big leaguers. He was International League Manager of the Year in 1977, when Pawtucket won the regular-season championship (though the team lost the playoff finals).10 Among other things, he was ejected in the 22nd inning of the longest game in pro baseball history, the 33-inning marathon with the Rochester Red Wings that started on April 18, 1981. For a while Joe watched from a peephole behind the backstop – though he later recalled, "Sand was flying through at an enormous rate, so I bailed out!"11
Another nickname – Turnpike Joe – came from this period. For 10 winters, from 1976 through 1985, he drove a snowplow on the Massachusetts Turnpike (a stretch that included the record-setting blizzard of February 1978). This perfectly captured the man's no-frills approach. He joked, "The side benefit was the money you'd find in snowbanks. But about all I got was cat food, mayonnaise and salad dressing."12
In 1980 Morgan was a candidate to succeed Don Zimmer as manager in Boston, but Ralph Houk was hired instead. Joe said, "Sure, I'd like to manage the Red Sox. I've spent all my life in the minors. It's that simple. I'm in the game for that reason, to get to the majors." He added, "It is a little frustrating, but, still, if you love baseball like I do, it's not all that tough. I don't mind bus rides." Morgan joked about the "good fresh air out on the Pike" but turned prophetic when he said, "I'm only 49 years old. There's all kinds of time."13
Joe also turned down an opportunity to join Joe Altobelli as a coach in San Francisco in the late 1970s. In 1982 he said, "It would have meant moving west and would have cost me money. Still, if I'd done it I might be managing in the majors right now." That story called Morgan daring and innovative, noting his love of tactics such as five-man infields and the hidden ball trick.14
In early January 1983 the Red Sox bumped up two other minor-league managers and made Morgan a "special assignment scout." The noted baseball commentator Peter Gammons, then a Boston sportswriter, thought the demotion hurt Joe's chances of qualifying for his major-league pension (he was 1½ years short at that time). Nonetheless, Morgan loyally served scouting director Eddie Kasko as a cross-checker.
In October 1984 John McNamara replaced the retiring Houk, although Morgan was again considered.15 Joe joined McNamara's staff. He coached first base in 1985, the bullpen in 1986 (finally quitting the Mass. Pike that winter after receiving his World Series runner-up share), and third base in 1987 and early 1988.
The '88 Red Sox were underachieving. A shakeup came at the All-Star Break. As Morgan recalled in 2003, "I saw [co-owner] Haywood Sullivan going into John McNamara's office in one door. Then in the other door [general manager] Lou Gorman was coming in and he walked over to me and he said we're going to make a managerial change and you'll be the interim manager. That's the story."16
Joe became the first Boston-area native to lead the club since Shano Collins in 1932. The Red Sox promptly reeled off 12 straight wins and 19 out of 20, as well as 19 straight at home – a run called "Morgan's Magic."
Boston had considered many other managers, including old Boston College mate Mike Roarke. Yet Joe declared to a reporter, "Interim, sir, is not in my vocabulary."17 After his seventh game, at Fenway Park on July 20, the tag was removed.
That game showed how Mumsy's toughness remained intact – slugger Jim Rice found out who was boss. Rice was furious after Morgan dropped him in the batting order and then pinch-hit for him with Spike Owen. He pulled Morgan into the runway and a confrontation ensued. Said Red Sox outfielder Mike Greenwell, "The amazing thing was that Joe didn't back down. If Jimmy wanted to fight, Joe was willing to fight."18
"A flushed and furious Morgan returned to the bench alone and announced, 'I'm the manager of this nine!' "19 This line, with its old-timey flavor that is a Morgan trademark, immediately entered Red Sox lore. Then, in the bottom of the 11th inning, Boston came back to win, 9-7. Co-owner Mrs. Jean Yawkey said, "Give that guy a contract for the rest of the year."20 In fact, just a couple of weeks later the team extended his contract through 1989. Mrs. Yawkey said, "Joe has rekindled the enthusiasm and optimism of the players and the fans."21
Jean Yawkey, who was as generous as her late husband, Tom, rewarded Morgan further after the season, despite the playoff sweep by Oakland. As Joe Castiglione recalled, "Mrs. Yawkey had a dinner [at a Walpole restaurant] to show her support for Joe. . . . [She] came in and gave Joe a manila envelope. He put it in his pocket unopened. Mrs. Yawkey said, 'Joe, I think you should open that now.' So he did: inside was his bonus for having such a great half season: $50,000. He couldn't believe it."22
As a manager Morgan played hunches. He relied on his knowledge of talent and superb memory; computers were not his thing. He always told it like he saw it.
The Red Sox finished third in 1989 but won their division again in 1990, as Joe got the best out of a low-scoring lineup and thin pitching staff. However, they faded late in 1991, a season marred by injuries and discord. Despite getting his third straight one-year contract extension that June, Morgan lost his job two days after the last game. He "took the news hard. He knew he'd been fired because he managed without regard to the size of players' contracts, and it had cost him. In the free-agent era, the manager was not necessarily the most powerful man in the clubhouse."23
Joe's final meeting with Haywood Sullivan and other team executives featured typically blunt and memorable parting words: "Your team is not as good as you think it is."24
Morgan retired, turning down an offer to become a special assistant to Lou Gorman. "I didn't want to manage anymore," he said in 2003. "I did plenty of roaming around this country. In and out of hotels and planes and all that jazz. Plus I was old enough the following year to take my pension, which I did. Without that pension plan, I'd probably still be working somewhere."25
In his 80s, Morgan still enjoyed occasional visits to Fenway Park. He threw out the first pitch before the game of July 30, 2013, which celebrated the 25th anniversary of "Morgan's Magic," When asked how he would fare if he managed today, Morgan said, "I'd be dynamite. What else would you expect?"
Another noteworthy appearance came on January 15, 2015, when Morgan delivered the keynote address at the annual Baseball Night for his alma mater, Boston College. Held at Fenway's State Street Pavilion, the event marks the unofficial start of BC's baseball season.
Morgan still showed his command presence. After returning a call to update this story and chatting for a while, he said, "I got a tip for you."
"Yes, Joe?"
"Don't go rattlin' off your number like you're callin' the sixth race at Belmont. I hadda listen to it 14 times to get it straight! 2 [pause] 0 [pause] 7. Like that! Got me?"
"Thank you, Joe." 
Joe and Dottie lived together in the same house in Walpole – two blocks from where Joe grew up – from 1958 until Dottie passed away in June 2016.26 They had four children (Cathy, Joseph, William, and Barbara Jean), six grandchildren (Anthony, Ashley, Rachel, Paige, Jake, and Michael), and even became great-grandparents. Joe still enjoys his long-cherished pastimes, gardening, candlepin bowling, and golf. The 25th annual Joe Morgan Celebrity Golf Tournament, which benefits the Walpole Scholarship Foundation, took place in 2016 as usual, on the first Monday in October. His hometown also dedicated Joe Morgan Memorial Field in 1989.
Almost 20 years after he left the Red Sox, people still remember a Morgan catchphrase, "Six, two, and even." Many fans were baffled by what this meant – even Joe himself didn't really know. Humphrey Bogart said it in The Maltese Falcon, but Morgan picked it up from his old minor-league manager, Joe Schultz (who was also full of little sayings).27
"[Schultz] used to say, 'six, two, and even' all the time and when I'd ask him what it meant, he'd just shake his head. It wasn't until I was out of baseball about 15 years that I met this old guy, he was 94, who was a bookmaker in the 1920s." It refers to betting odds on horse races.28
Joe Castiglione summed up this man aptly. He said, "Joe is a very honest, down-to-earth, upbeat guy who can talk with anybody about anything. . . . I learned (and continue to learn) more about the game of baseball from Joe Morgan than from anybody else."29
This biography was originally written in 2010 and published in "Drama and Pride in the Gateway City: The 1964 St. Louis Cardinals" (Society for American Baseball Research, 2013). This version, which contains minor updates, appeared in "The 1986 Boston Red Sox: There Was More Than Game Six" (SABR, 2016), edited by Bill Nowlin and Leslie Heaphy. Grateful acknowledgment to Joe Morgan for his memories (letter to author, June 2010; telephone interview, February 11, 2015).
Sources
http://www.baseball-reference.com
http://www.walpolescholarshipfoundation.org
Notes