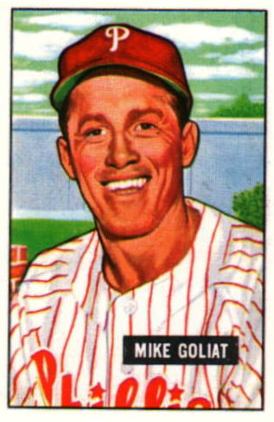 Mike Goliat had a bit more than a cup-of-coffee career in the major leagues. He was a good fielding second baseman with a strong arm, but his hitting left something to be desired. (Though if you asked Don Newcombe, the ace of the Brooklyn Dodgers staff in 1950, how he felt about Goliat, he might have flinched and said, "That guy owns me.")
Goliat was a good minor-league player with a home-run bat. But the major leagues were struggles for him. Still, playing a position he had never played in the minor leagues, for one defining season he helped the Philadelphia Phillies win a long-overdue pennant. He and his teammates, who became known as the Whiz Kids because of their relative youth, claimed for the Phillies their first National League pennant in 35 years.
His manager, Eddie Sawyer, said of Goliat in 1950, "He hit the better pitchers in the league. The ones that got him out were the lesser pitchers. Mike was a pretty good ballplayer but of course he was playing out of position. He did a reasonable job at second base for someone who hadn't played there. He was a first and third baseman but we needed a second baseman so we played him at second. But he helped us a lot, especially against the Dodgers." Teammate Robin Roberts said, "He really had a strong arm."
Goliat was a tough kid from Yatesboro, Pennsylvania, in the coal country near Pittsburgh. He was born on November 5, 1921. The area boasted of having the most millionaires during the 1880s because of the discovery of oil and natural gas and its bituminous coal mines, but Mike's father worked in the coal mines, and Mike followed him there as a teenager. At 19 he joined the US Army, and while stationed in Japan with the occupation troops after World War II, he played baseball with some minor leaguers and more than held his own. So he decided he would try to make baseball his career. After being discharged in 1947, he went to a Phillies tryout camp in Vandergrift, Pennsylvania, about 12 miles from his home. After taking a look at Goliat, the Phils signed him to a contract and assigned him to the Vandergrift team in the Class C Middle Atlantic League. There he became the regular third baseman, and in his first year in professional baseball playing in 94 games, Mike batted .371 with 133 hits, 31 doubles, 12 home runs, and 86 runs batted in.
In 1948 he was a teammate of Robin Roberts At Wilmington in the Class B Interstate League. Mike played at both third base and first base. He batted .315 with 17 homers and led the league in runs scored. Moving up in 1949, he was with Toronto in the International League. He batted .286 before being called up to the Phillies early enough for him to play in 50 games at second base and five at first base. He made his major-league debut on August 2, replacing Eddie Miller at second base in a game against the Cincinnati Reds. He found the major-league pitchers tougher and batted just .212 in 189 at-bats, with six doubles, three triples, three home runs, and 19 runs batted in. Life was a bit easier for Goliat than for most rookies because Robin Roberts, Richie Ashburn, and Curt Simmons invited him to stay with them at a rooming house that was run by Ashburn's mother, providing him with a place to stay, some comradeship, and good cooking.
In 1950 Goliat, by now 28 years old, helped set the tone for the Phillies right out of the gate when he pounced on the Dodgers' Don Newcombe on Opening Day with four hits as the Phillies won, 9-1. Playing in 145 games, all of them at second base, he batted .234 (his highest average in the major leagues), but had 13 home runs and 64 RBIs, including some important runs against the Dodgers, and helped the Phils stave Brooklyn off to win the pennant.
Goliat's value to the Phillies extended beyond his statistics. New York Giants manager Leo Durocher said of him, "He doesn't look like a major leaguer. But all I know is that I haven't seen him make an error yet and every time I look up he's making a double play to take us out of a rally."
On August 4, 1950, Mike married Eleanor Dalpra, a nurse from Cleveland, whom he had met in Florida in 1949. On the 5th he celebrated his wedding by smashing a two-run homer to beat the St. Louis Cardinals, 2-1.
The Phillies won the pennant but not without some scary moments. They finally clinched the crown with a victory over the Dodgers on the last day of the season. The Phillies were swept by the New York Yankees in the World Series. Goliat was 3-for-14 in the four games, with three hits and one RBI. The Phillies had only five runs and 26 hits in the Series.
Goliat reported to 1951 spring training 30 pounds overweight, a harbinger of things to come. By June his hitting was so poor that that the Phillies shipped him to their International League farm team at Baltimore. The Phillies recalled him, but on September 12 sent him on waivers to the St. Louis Browns. At Philadelphia he batted .225 in 41 games. With the Browns he got into just five games and batted.182. In 1952 he appeared in three games with the Browns before being released on April 27. His major-league career career was at an end after one full season and three partial seasons, 186 hits, 20 home runs, 99 RBIs and a .225 batting average.
Goliat's time in the majors may have been over, but his career wasn't. He played Triple-A ball until 1961, most of the time with the Toronto Maple Leafs. His offensive numbers in the minors were much better than they had been in the major leagues. For seven straight seasons (1953-59), he was in double figures in home runs. In 1956, he was voted the Most Valuable Player in the International League as the Maple Leafs won the pennant. He played for Montreal in 1959 and 1960, and was a player-coach for Spokane, in the Pacific Coast League in 1961. He retired from baseball after that season. After leaving baseball he operated a small trucking business in Cleveland and then worked for five years for the Ford Motor Company. He became proficient at bowling and enjoyed hunting trips. He and his wife lived outside Cleveland.
Goliat died of heart failure on January 13, 2004, at 82. He was living in Seven Hills, Ohio. He was buried in All-Saints Cemetery in Northfield, Ohio. Besides his wife, he was survived by two sons, Michael Jr. and Dr. Steven Goliat; three grandsons; a sister; and a brother.
Sources                              
 Baseball-reference.com
Murray, Arch, column in the New York Post, August 3, 1949, included in Goliat's file at the Bart Giamatti Library, National Baseball Hall of Fame.
 Roberts, Robin, and C. Paul Rogers III. My Life in Baseball. Chicago: Triumph Books, 2003.
 _____. The Whiz Kids and the 1950 Pennant. Philadelphia: Temple University Press, 1996.