Robin Roberts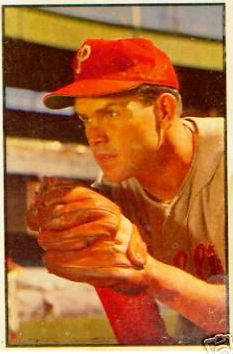 It's unusual to call a ballplayer both a journeyman and a star, but the description fit Robin Roberts. From 1950 to 1955, he was the top right-hander in the National League; for most of the remained of his career he was a crafty veteran hanging on with a mix of decent, fair, and poor seasons. Either way, he would go out, take his turn on the mound without saying a word, and do his job. The players behind him seemed to play with a little more intensity when Roberts pitched. The standing joke was that Andy Seminick and Stan Lopata, who caught Roberts, always took their rocking chairs with them when Roberts was pitching, in testament to his outstanding control. Time magazine's Dick Seamon wrote of Roberts in 1956: "He never bothers with fancy stuff but makes do with what he has: a dinky curve, a sneaky but unspectacular fast ball, and a frustrating change of pace. He offers no single dramatic talent -- he has no counterpart of Carl Hubbell's spectacular screwball, Walter Johnson's terrifying fastball, Bobby Feller's strike-out touch. Pitch for pitch, many of his contemporaries have what the trade calls 'more stuff,' pitches that are harder, faster, or trickier. But better than any of them now on the mound, Robin Roberts can put the ball where he wants. There is one precious-diamond word for him -- control." Seamon compared Roberts to Walter Johnson. Seamon compared Roberts' character and approach to Walter Johnson's, citing Roberts' "stubborn refusal to toss bean balls," wait for umpires to discard scuffed balls, use the brush-back pitch to intimidate hitters, or issue an intentional walk.
Robin Roberts was one of the last of a breed of pitchers who completed ballgames. Today a pitcher hurls 100 pitches and is relieved by a specialist. Seven innings and out seems to be the rule. A pitcher may get the win or loss many times, but he's rarely standing on the mound at the finish. This wasn't the case with Roberts, who recorded 305 complete games in his career.
Roberts was a hard-nosed competitor. He did not try to finesse the hitters; he dared them to hit the ball. When there were men on base, he reached back and burned the corners for strikes. Roberts' slow deliberate windup and delivery was so fluid that hitters could not wait for the pitch to come. It looked so easy; then the ball would explode over the plate, astonishing the hitters. "He's so close, you gotta watch him like an eagle," said umpire Jocko Conlan.
Off the field, Roberts was a big easygoing guy and a gentleman. His ability to remember events and details was amazing, and he put it to good use with delightful stories. However, once he took the mound, the competitive fires burned intensely.
Robin Evan Roberts was born in Springfield, Illinois, on September 30, 1926, to Tom Roberts, a Welsh coal miner, and Sarah Roberts of England. His parents had two children when they immigrated to the United States in 1921.
Tom Roberts served in the British Army during World War I, and fought in the ferocious Gallipoli campaign in Turkey. After the war, Tom Roberts returned to the coal mines of Bolton in Lancashire, but was put out of work by a strike in 1921. A friend in Bolton informed Tom that he could find steady employment in American soft-coal fields around Springfield, Illinois.
But when Tom and his family reached Illinois, they found little prosperity -- at one point the mines in Springfield operated only one day a week. The family lived in a two-room farmhouse. In 1929, Tom left coal mining and farming and found a job with the Sangamo Electric Company as foreman in the plant's maintenance department.
Robin was the fifth of six children, following Tom Jr., Nora, Joan, and John. After Robin there was a younger brother, George. Tom Jr. was killed in a submarine accident in 1942, at the age of 21.
As a boy growing up on a family farm, Sarah Roberts remembered, Robin "never had a ball out of his hand." He hated farm work. When Robin deliberately broke one of his father's hoes to avoid farm chores, Tom Roberts paddled his son with a fly swatter, saying, "It doesn't hurt your hand and it don't mark the kid." But Robin went on playing, talking his three brothers into playing catch, using an old mattress propped against the garage door, hurling the ball into a hole in the middle for hours. Roberts later said, "If people knew what I thought about pitching, they'd think I was nuts. They make it so complicated. They're always saying I studied control from the time I was a little kid. That's silly. It's just that it's tough to play catch when nobody's around. I threw to that mattress for fun. I never thought about control at all. It just never entered my mind that the purpose of pitching wasn't to get the ball over the plate."
Robin had his first exposure to organized sports when he entered the fifth grade in a two-room schoolhouse at East Pleasant Hill. C. B. Lindsay, a new teacher, had arrived at the school, and made learning fun with his energetic manner and enthusiasm. He encouraged his students to enter into athletics, to put on plays, and enter county competition in such areas as math, public speaking, dramatic and humorous sayings. Lindsay's energy motivated Robin, who won blue ribbons in all these areas.
Robin and his brother George became avid Cub fans. With the radio on an open window sill, they would go outside the house, imitating the ballplayers during the play-by-play. His mother would also listen to the Cubs games. At 12, Robin was playing baseball in a league the neighborhood kids organized.
When Robin was in eighth grade, Lindsay held a sports banquet and invited Hall-of- Fame pitcher Grover Cleveland Alexander to speak at the dinner. Alexander, suffering from alcoholism, gave a short, terse, speech: "Boys, I hope you enjoy sports, they are a wonderful thing. But I warn you about one thing: don't take to drink, because look what it has done to me." Then Alexander sat down.
Alexander's speech foreshadowed Roberts' future. Roberts came up to the majors with the Phillies, as did Alexander. In 1950, Roberts became the first 20-game winner for the Phillies since Alexander had achieved it in 1917. In 1958, Roberts won his 191st game for the Phillies, breaking the club record held by Alexander. And in 1976 Roberts became the first Phillie ballplayer elected to the Hall of Fame since Grover Cleveland Alexander.
Roberts played baseball, football, and basketball for Lanphier High School in Springfield, Illinois, crying over losses, still refusing to do chores, telling his mother, "Naw, Mom, I'm a ballplayer. You just wait until I get into the major leagues. Then I'll build you a house." Tom Roberts was impressed by his son's determination. In 1956, he said, "You just had to go along. He wouldn't do nuthin' else."
After graduation, he was offered a basketball scholarship to Michigan State University. But World War II intervened, and Roberts was enrolled as an Army Air Force Flying Cadet at MSU. After the war, Roberts re-enrolled at Michigan State, and earned a B. S. degree in physical education.
Roberts was a fine basketball player for the Spartans. In 1946-1947 he was the leading scorer for MSU, and captained the basketball team for one season. Oddly, he floundered at baseball for a while. He tried out for the first base job, but could not make the grade. In the outfield, his lack of speed hampered him, but John Kobs, the coach at MSU, noted his strong arm and suggested that Roberts try pitching. Kobs later said, "I liked his motion. He threw [the ball] someplace around where the catcher held his glove, and that made sense."
The suggestion worked: Roberts blossomed as a pitcher, hurling two no-hitters. One of the no-hitters was against the University of Michigan, coached by ex-big league pitcher Ray Fisher, who had toiled for the undistinguished New York Yankees from 1910 to 1917 and for the World Champion Cincinnati Reds in 1919. Fisher saw a raw youngster with an iron arm who sometimes threw the ball before getting the catcher's sign in his over-eagerness. Fisher would play a major role in Roberts' development.
During the summer months, Fisher managed a semi-pro team in Montpelier, Vermont, the Twin City Trojans. Players who were interested in becoming professional baseball players were encouraged to compete in that league. In 1946 and 1947, Roberts spent summers pitching in Montpelier for Fisher's Trojans. Fisher expanded Roberts' pitching repertoire by showing Roberts how to throw the curve and several other pitches.
Roberts majored in physical education at Michigan State. He figured if he did not make it as a professional ballplayer he would get his teaching certificate and teach physical education at a school.
For the Twin City Trojans in 1946, Roberts compiled an 11-8 record and pitched a no-hitter against the Keene, New Hampshire, Blue Jays. In 1947, again pitching for the Trojans, he amassed an 18-3 mark with a 2.33 earned run average. The Trojans won the Northern League title that year as Roberts won 17 straight.
Roberts started attracting Major League scouts. Five teams pursued him: the Boston Braves, the Philadelphia Phillies, the Boston Red Sox, the Detroit Tigers, and the New York Yankees.
Phillies scout Chuck Ward followed Roberts for two years from his college and Montpelier days. Ward said, "To get one player like Roberts you look at 1,000 kids and sometimes it seems like 10,000."
In 1947, Ward offered Roberts a $10,000 bonus, but the pitcher hesitated. Ward upped the ante to $25,000, and Roberts signed. "I would have signed for $2,500," Roberts said. "Only they didn't know it. When they got up to $25,000, I knew I was going to be able to buy a pretty good house for Mom, so I said yes. She really got a belt out of that house."
And Roberts did just that, purchasing a $19,000 home for his mother and father, keeping his childhood promise. Robbie also bought a car and some new clothes with the remainder. At the time, Roberts was not aware of the income taxes on his earnings and wound up owing the Internal Revenue Service. His father loaned him the amount he needed. Robbie was able to pay back his father after he received his World Series check in 1950.
Roberts also maintained his relationship with Fisher for many years. In 1955, for example, he stopped off after season's end in Ann Arbor, and asked Fisher's permission to work out with the University of Michigan pitchers. Fisher granted permission, and watched Roberts uncork a few pitches. Right away Fisher saw that Roberts had replaced his three-quarters motion with a sidearm delivery, to favor a sore arm.
.
"Robby, you've changed your delivery, haven't you?" Fisher asked. Roberts smiled in relief, saying, "That's what I wanted to know. You know, in Philadelphia, I'm Robin Roberts, and they won't tell me anything."
In 1948, the Phillies sent Roberts to their class B farm club in Wilmington, Delaware, in the Eastern League. He did not linger long at Wilmington or the minors. Roberts skipped over A ball, AA ball, and AAA ball. He compiled a 9-1 record in 11 starts while at Wilmington and joined the Phillies on June 17, 1948.
In his first start against the Pittsburgh Pirates, Roberts was impressive in a losing cause, giving up only five hits in the 2-0 defeat. Roberts admitted being nervous when the game began. He walked leadoff hitter Stan Rojek on four pitches. Then he went to a deep count on Frankie Gustine before striking him out on a bad pitch. That ended his mound nervousness -- for all time.
Roberts gained his first major league victory in his very next start on June 23, beating the Pirates, 2-0. Roberts soon had his trademark ritual in place -- adjust the right pant leg, tug on his cap, and he was ready to go. He became one of the quickest pitchers in baseball.
Cy Perkins, a former catcher with the A's and Yankees and a coach for the Phillies, became Roberts' biggest fan. Perkins told Roberts that he had the talent and the guts to be a first-rate pitcher. When things were going badly for Roberts, Perkins gave Roberts his support, putting an arm around Roberts and boosting his spirits. When Robin was going great, Perkins left him alone. Benny Bengough, a coach with the Phillies, also gave Roberts some advice about his curve ball. He noticed that Roberts held the ball far back in his hand when he delivered a curve. Bengough suggested that Roberts use his fingers more and not hold the ball far back in his hand.
Roberts struggled a bit in his first season, going 7-9. He pitched 146 2/3 innings, gave up 148 hits, walked 61, struck out 84, with a decent ERA of 3.19. He also took naturally to the intense and competitive environment of major league baseball: like his teammates, he was morose and silent after defeats, stared blankly out of bus and train windows, and killed time on road trips going to every movie in town. "I don't care what's playing. I like them all," he said. When in Philadelphia Roberts, along with Curt Simmons and other Phillies, stayed at a family-style boarding home run by Richie Ashburn's parents
When Roberts came home after his rookie season, he asked his sister Nora if she knew any girls he might date. Nora set him up with Mary Ann Kalnes, a grade-school teacher who had just graduated from the University of Wisconsin. Mary had never seen a major league game, and Roberts' only discussion topic was baseball. So they went to movies, where they didn't have to talk. "We evidently got along," Robin said. In December 1949, they got married.
The 1949 season found Roberts a 15-15 pitcher, hurling 226 2/3 innings, giving up 229 hits, walking 75, and striking out 95, with a 3.69 ERA.
After the season and their wedding, the Roberts family moved to Philadelphia's suburb of Meadowbrook. Mary Ann would go to the ballpark to watch her husband pitch, and follow his road games on radio or TV, but admitted never being much of a baseball fan. She wouldn't even check the standings.
At the end of the 1949 season, the Phils were starting to come together under Manager Eddie Sawyer, with Del Ennis, Willie Jones, Dick Sisler, and Granny Hamner. Eddie Waitkus, another fine ballplayer, was on the inactive list part of the 1949 season, recovering from a gunshot wound inflicted in Chicago's Edgewater Beach Hotel, by Ruth Steinhagen, the obsessed fan who along with Waitkus became a seed of Bernard Malamud's novel The Natural. Andy Seminick, the brawny catcher, whose clever handling of such young pitchers as Roberts, Bubba Church, Curt Simmons, and Bob Miller, helped cement the battery of the Phils. And there was "Mad Monk" Russ Meyer, who was known to blow sky-high when things were not going his way.
Harry Grayson, sports editor of the Newspaper Enterprise Association, is the person given credit for the christening the young and talented 1950 Phillies "Whiz Kids." He was the only writer who picked the Phillies to win the 1950 National League pennant.
The Phils began that season with high hopes and took over first place in July. Jim Konstanty was saving game after game for the Phils, and Del Ennis was having a terrific season with the bat. Second baseman Mike Goliat did not hit for average but wore out tough starters like Don Newcombe with quality at-bats and timely hits.
Nearing the end of the season the Phillies had a seven-game lead, but things began to sour when the Phils went into a losing streak. It was worsened when Curt Simmons was called to active duty by the Army Reserves. The Phils soon found that their lead had shrunk to one game over the Dodgers.
Roberts was also struggling and always took his losses hard. One time he lost a tough one to the Cubs 3-2 on a late inning homer by Hank Sauer. Robin usually would get rid of his despair by walking back to the hotel. This time he lingered in the clubhouse mulling over the defeat. Dick Sisler and Robin were the last two players in the clubhouse. The other remaining person was the visitors' clubhouse boy. Roberts and Sisler ended up in the shower together. Neither said much to each other. Suddenly, Dick said, "My old man [Hall of Fame slugger George Sisler] says anytime you let a home-run hitter beat you in a late inning game, you are a bad pitcher."
Roberts was in no mood to hear that. So he replied, "I'll tell you something. If you hit like your old man, I wouldn't be in so many close ballgames." Sisler gave Roberts a hard look and left the shower. Roberts wondered if they would tangle in a fight with only the clubhouse boy to break it up and potentially disastrous consequences for the team and their careers.
When Roberts stepped out of the shower, Sisler reappeared with a beer in each hand. Sisler gave Roberts one of the beers and said, "That wasn't called for. We've talked enough haven't we?"
Roberts answered, "Yes we have, Dick." The two sat in the clubhouse and drank beer together, amity restored.
With one game left in the 1950 season, the Dodgers were one game behind the Phils, and were set to host the Phillies at Ebbets Field for the season finale on October 1. The Dodgers could force a three-game playoff if they won.
Robin Roberts was selected to pitch against Don Newcombe of the Dodgers, in a clash of aces. Nineteen-game winner Roberts was making his third start in five days. Newcombe was also after his 20th win. It would not be the first or last time the two rival aces would face off. During the 1950s, Roberts and Newcombe would match up against each other 23 times.
October 1, 1950, saw temperatures in Brooklyn hit 88 degrees on a sunny day. Despite the game being televised on Channel 9 in New York, some 35,073 fans squeezed into Ebbets Field, whose official 1950 capacity was 32,111. Fans were lining up at Ebbets Field at midnight for tickets. Those who could get in sat on aisles, stood behind seats, and climbed girders. Those who could not get in milled around the old ballpark and packed the roof of a six-story apartment building at 250 Montgomery Avenue to see the game.
Newcombe and Roberts pitched scoreless ball for five innings. The Phils managed to get a run in the top of the sixth inning on singles by Sisler, Ennis, and Willie "Puddin' Head" Jones.
In the bottom of the sixth, Roberts disposed of the first two Dodger batters bringing Pee Wee Reese to the plate, a man Roger Kahn later called "the best .260 clutch hitter in baseball." The Ebbets Field right field fence stood only 297 feet from the plate with a high screen atop the wall. Reese hit a long fly to right. The ball hit the screen. If it stuck on the screen, it would have been a ground-rule double. But the ball dropped down onto a ledge and stayed there. Reese knew his ballpark's odd ground rules, and that the ball was still in play, and raced at top speed around the bases for a game-tying homer.
A boy aged about 13 crawled along the top of the right field wall between innings, retrieved the ball, tossed it to a pal, and all three -- retriever, pal, and ball -- evaded the stunned ballpark cops, and the ball vanished from history.
The score was still tied at 1-1 in the bottom of the ninth inning. Cal Abrams led off the bottom of the eighth for the Dodgers by drawing a walk. After two failed bunt attempts, Reese lined a single to left field, putting runners on first and second and no one out, and Duke Snider coming up to bat. Things looked dismal for the Phillies. Roberts was in a jam. If he gave up a hit, the Dodgers would win the game and force the playoff. Jim Konstanty was warming up in the bullpen, but manager Eddie Sawyer stayed with Roberts.
Roberts and others figured that Snider, a powerful hitter, would not swing away but would attempt to lay down a bunt to get both runners in scoring position. But Snider crossed everyone up by lining the first pitch into center field. Richie Ashburn, also anticipating a bunt, had moved in a couple of steps to field any wild throws. Ashburn fielded Snider's hit on the first bounce. Ashburn was reputed to have a weak throwing arm, and Dodger third base coach Milt Stock decided to test Richie's arm by sending the slow-footed Cal Abrams home. Abrams had hesitated as the ball went by second base to make sure Goliat did not field it. Ashburn's throw was strong and on the money, a one-hopper to catcher Stan Lopata, who tagged out Abrams 15 feet up the third base line.
Later theorists suggested that Lopata had signaled to Roberts to throw to second and try to pick off Cal Abrams. Ashburn supposedly saw the signal from Lopata and moved in closer to second in case of an errant throw. Did Roberts miss the signal? Anyway, he threw the pitch that Snider singled to center. Ashburn then threw out Abrams easily.
The Phils and Roberts were not out of the woods yet. There was still only one out, men on second and third, and two dangerous batters coming up. Eddie Sawyer ordered Roberts to walk Jackie Robinson in order to set up a force at all bases. Carl Furillo was the next hitter, and Roberts got Furillo on a pop foul to first baseman Eddie Waitkus. The threat still loomed as Gil Hodges came to bat. Hodges lifted a fly ball to Del Ennis in right field. Right field was the sun field at Ebbets and Ennis, battling the sun, finally gathered the ball in by cuddling it against his chest. After the game, Ennis showed his chest where the seams of the ball had made an imprint on him.
The game went into the 10th inning. Roberts led off the top of that inning with a base hit up the middle. Then Waitkus looped a single to center field, and the Phils had two men on base and no outs. Ashburn laid down a bunt, but Newcombe made a fine play, throwing out Roberts at third base. Dick Sisler came to bat and found himself quickly in a hole, as Newcombe got ahead of him 0-and-2. Sisler battled back, fouling off several pitches. Then Sisler ripped a low line drive to left field that carried over the fence some 350 feet away, and the Phillies now led, 4-1. Sisler's teammates surged out of the dugout to congratulate him and celebrate their three-run lead.
Roberts made the lead stand up when he quickly set down the Dodgers in the bottom of the 10th. The Phillies had won their first pennant in 35 years (won when Grover Cleveland Alexander was their ace) and given Roberts his 20th win. Roberts went 20-11 with an ERA of 3.02. The Whiz Kids were the youngest team ever to win a pennant. Some 30,000 ecstatic fans jammed Philadelphia's 30th Street Railroad Station to welcome back their bone-tired heroes.
After Roberts' pitching career was over, he was amazed at the number of Brooklyn fans who would tell him how unhappy they were about the 1950 pennant race and Roberts' many confrontations with the Dodgers. Actors Danny Kaye and Eli Wallach seriously bemoaned the loss of the 1950 pennant to Roberts and the Phils. Historian Doris Kearns Goodwin wrote in her book Wait Till Next Year, that as a little girl rooting for the Brooklyn Dodgers she was hoping that something would happen to Roberts so he would not be able to pitch against her beloved Bums.
The Phillies were now about to face Casey Stengel's mighty New York Yankees in the World Series. The Yankees, whose lineup included Joe DiMaggio, Whitey Ford, Allie Reynolds, Yogi Berra, and MVP Phil Rizzuto, were prohibitive favorites to take the series.
Just before the start of the series opener in Philadelphia, Granny Hamner, the Phils' shortstop and player representative, came into the clubhouse and said, "Nobody take the field until we settle something with the Commissioner and owners." For the first time in baseball history, the Gillette Razor Company had put up $1 million to sponsor the 1950 Series TV broadcasts. The only problem was that very little of that largesse was going to the Players Pension Fund.
Granny Hamner and Tommy Henrich, the player representative for the Yanks, had been meeting with Commissioner Happy Chandler, National League President Ford Frick, and American League President Will Harridge, to discuss how the television money should be distributed. The Players Association Pension Fund was still very new and on shaky financial ground. After discussion, Chandler agreed that a good share of the money should go to the Players Pension Fund. This was Roberts' first brush with baseball's labor relations issues.
Ace reliever Konstanty started the first game against the Yanks, hurling a masterful game, giving up only four hits and one run. But Vic Raschi was better, and the Yanks won 1-0. Roberts started the second game for the Phils against Allie Reynolds. In the second inning, Roberts gave up a run to the New Yorkers. The Phillies finally broke through to score their first run of the series, knotting the score at 1-1. The Phils wasted opportunities in the seventh and ninth innings as Reynolds kept them at bay.
Roberts went to the mound with the score tied 1-1 in the 10th inning. The first batter was the Yankee Clipper, Joe DiMaggio. Four straight times Roberts had forced Joe to pop up. This time Roberts got behind in the count and threw DiMaggio a pitch his former mentor Ray Fisher had told him never to throw, a high outside and reachable fastball. DiMaggio rifled it onto the second deck of the left field stands in Shibe Park, putting the Yanks up 2-1.
The Phillies threatened in the bottom of the 10th, getting a man in scoring position, but Reynolds then retired Ashburn and Sisler. The Phillies were down 2-0 in the Series. After the game, Stengel told reporters, "Yes, sir, them Philadelphians is a very fine team, make no mistake. It is difficult to beat them, which is why it took us an extra inning today."
The New Yorkers wrapped up the Series with four straight wins. The Phillies pitching was good, but their bats were silent, scoring only a total of seven runs in the four-game series.
Spring training in 1951 found most Phillie fans expecting another run at the pennant. But it was not to be. Roberts gave everything he had. He won 21 and lost 15. He hurled 315 innings, walking only 64 while striking out 127, with an ERA of 3.03.
In 1952, Roberts had his best year, going 28-7. He also saved two games. His iron-man ability allowed him to pitch 330 innings, giving up only 45 free tickets, striking out 148 with a 2.59 ERA. His 28 wins 10 more than his closest competitor. Not surprisingly, The Sporting News voted him Major League Player of the Year and National League Pitcher of the Year. It seemed logical that he would be voted the National League's Most Valuable Player, but Hank Sauer of the Chicago Cubs received that honor. Sauer reasoned (inaccurately) that since he beat Roberts with homers in some close games, he deserved the MVP award, but the SABR Encyclopedia shows that he failed to homer against Roberts that year. Moreover, the Athletics' Bobby Shantz--24-7 with a 2.48 ERA--was the AL MVP, making Roberts' missing out on the award difficult to understand.
For the next three years, Roberts was the picture of consistency. In 1953, he was 23-16, working 346 2/3 innings, walking 61 and striking out 198, with an ERA of 2.75. Roberts finished 23-15 in 1954, hurling 336 2/3 innings, while issuing 56 passes, striking out 185, posting a 2.97 ERA. In 1955, he recorded a 23-14 mark with a 3.28 ERA over 305 innings, and was rewarded with a second Sporting News Pitcher of the Year Award. That was the last season he would hurl 300 innings. For six consecutive years Roberts had pitched 300 innings or more, while winning 20 games or more.
Roberts never pitched a no-hitter, but he came close twice. On April 29, 1954, he pitched a one-hitter to beat Warren Spahn and the Milwaukee Braves. Roberts gave up a double to Del Crandall in the third inning. Two weeks later, pitching against Cincinnati at Connie Mack Stadium (Shibe Park having been re-named), Roberts gave up a leadoff homer to Bobby Adams and then proceeded to set down the next 27 batters in a row.
Years later Roberts met Ted Kluszewski, the slugging first baseman of the Reds. Kluszewski asked Roberts if he remembered that game. Roberts did indeed. Kluszewski said, "I remember it for a different reason. You struck me out three times. That was the only time in my career someone did that to me."
In the midst of all this first-rate pitching, Roberts was gradually but steadily becoming involved in the economic, business, and political side of the game
Between the 1951 and 1952 seasons Granny Hamner stepped down as the Phillies' player representative. The players elected Roberts to succeed him. Roberts talked with manager Eddie Sawyer about taking the position. Sawyer advised him not to do so because he thought it would interfere with Roberts' pitching. But Roberts believed that since his teammates had voted for him, he was obligated to represent them.
The first meeting Roberts attended as player representative for the Phils was a lesson in baseball's labor relations. The meeting took place at the Broadmoor Hotel in Colorado Springs. Walker Cooper, Terry Moore, and Ralph Kiner were in attendance. The focus of the player representatives was on the pension plan. The players wanted its value increased. The big question was how the rapidly-increasing television money should be distributed. This resulted in plans for a meeting between American League player representative Allie Reynolds, National League player representative Ralph Kiner, and Commissioner Ford Frick in Atlanta.
The Players Association wanted attorney J. Norman Lewis to help them in their negotiations. Frick vetoed the idea of having a lawyer present. Roberts said that the players should go ahead with the meeting with the lawyer staying outside the room, making him available for consultation by the players. However, Roberts' idea was voted down, and the meeting never took place.
Roberts learned from this experience that his thoughts about the commissioner's working in the best interests of baseball and the players were wrong. At the time of the aborted meeting, Roberts was unaware that the owners did not renew Happy Chandler's contract as Commissioner of Baseball because of his pro-labor view of the players and their needs.
After the events in Atlanta, Reynolds and Kiner hired Lewis to work with Hank Greenberg and John Kenneth Galbreath, who represented the owners, to hammer out a compromise deal. It was agreed that 60 percent or $1.8 million of the new TV revenue would go to the Players Association Pension Fund. Roberts became aware that this would create a controversy over the money every time a new TV contract was written.
After the 1954 season, though still a productive player, Kiner was traded from the Chicago Cubs (the Pirates having traded him to Chicago in 1953) to the Cleveland Indians and was no longer the National League's player representative. (A skeptic or cynic might suspect that the Cubs made the deal with Cleveland to rid themselves of a "troublemaker.") Whatever the Cubs' reasoning, Roberts was elected to replace Kiner.
During Roberts' tenure another controversy came up, for which he admittedly had no training. It involved the Players Association attempt to break the reserve clause. The union proposed that a player with six years' service with one team could become free to negotiate and sign with another team of his choosing. After six years, he would again become a free agent. In addition the Players Association wanted to have a say in the election of the commissioner. The owners and commissioner quickly tabled these proposals, and the reserve clause rolled on.
After the 1959 season, Roberts went to a Players Association meeting intent on resigning, believing that his involvement was hurting his pitching. Roberts' honesty about his involvement was his feeling of inadequacy. He knew that certain things had to be done but felt he did not know how to get them done. Roberts told the group that he was resigning but strongly advised the association to consider hiring an executive director to represent them. Roberts resigned but continued to follow the Association's work.
In the fall of 1964, with the World Series fast approaching, Roberts knew that a new television contract was about to be agreed upon and a battle of how much revenue would go to the Player Association Pension Fund would ensue. The players needed professional representation.
Roberts called pitcher Bob Friend, by then the player representative for the National League, and asked if he could speak at a meeting of the Players Association. Friend gave Roberts the floor. Roberts spoke to the members and convinced them that they needed to hire a full-time executive director. Roberts admitted that he was unaware at the time he advanced the idea of an executive director that it would result in radical changes over free agency and the reserve clause. All Roberts had in mind was that an executive director would see that the Players Pension Fund would be dealt with fairly and that the players' licensing rights would be protected.
Backed by the players, Roberts and Jim Bunning (another Phillie pitching ace and Hall of Famer, and current Republican senator from Kentucky) approached a veteran steel union economist and negotiator named Marvin Miller, asking the longtime Brooklyn Dodger fan to become Executive Director of the Players Association, whose only asset to date was a single, battered filing cabinet. Miller said yes, provided the membership ratified his appointment. Roberts and Bunning backed Miller for the job.
Miller went to all the spring training camps, and communicated his four advantages to the conservative, frequently ill-educated, and often easily intimidated (by management) players: immense experience, absolute integrity, clear understanding that the labor-management relationship was adversarial, and enormous intelligence. Conversely, baseball owners told their players through managers, coaches, and general managers that Miller was a labor goon sent to destroy baseball. When the players realized that the owners were against Miller, they rallied round the labor leader, and ratified him as executive director in a 489-136 vote. Within 12 months, Miller had forced owners to raise the minimum major league salary from $7,000 to $10,000 and make greater contributions to the pension fund. Doubtless Roberts' endorsement of Miller helped Miller's cause.
Roberts himself was doing better than that. In 1956, Roberts earned $60,000 from the Phillies and various endorsements. That year, he was still the team's pitching ace, winning 19 and losing 18 for a fifth-place (71-83) team. "If we had another like Roberts," said Manager Mayo Smith, "It would make a tremendous difference. I agree with Connie Mack that pitching is 70 percent of the game. If you have it, you're always in the game."
The next year, Roberts fell to 10-22. He rebounded in 1958, with a 17-14 record. In 1959, Roberts was 15-17. In 1960, he dropped to 12-16 with a team that was 59-95. Roberts was having trouble shifting from pitching with power to pitching with finesse. "Once he lost the hop on his fastball," Arthur Daley wrote in The New York Times, "Roberts lost everything."
Roberts and the Phillies had a disastrous year in 1961. The team lost 107 games, winning only 47. Roberts contributed to this ghastly record with a 1-10 season, and an ERA of 5.85. "Roberts can't pitch his fastball past his Aunt Matilda," said manger Gene Mauch. The Phillies figured they could finish last without him, and sold him to the Yankees on October 16, 1961.
In 1962, Roberts went to spring training with the Yankees. The reigning World Champions figured that Roberts' experience would help, particularly with starters Ralph Terry and Bill Stafford vulnerable to military call-up. He went north with the team, but rain and off-days prevented Roberts from ever making a regular-season appearance with the Yankees. Neither Stafford nor Terry was drafted, and Rollie Sheldon and rookie Jim Bouton emerged as solid starters. Manager Ralph Houk didn't need a 35-year-old finesse relief pitcher, so Roberts was released on April 25. Not even the expansion Houston Colt .45s or the New York Mets wanted him. A Met spokesman said, "If he couldn't help the Yankees, how could he help us?"
At this point, Roberts was prepared to quit baseball. He received a call from his friend Cy Perkins, who was always ready when Roberts needed a lift. Perkins told Roberts not to quit, that he still had something to offer to a ball club. Shortly after his talk with Perkins, Roberts received a call from the Tokyo Giants asking him to play in Japan. But Roberts did not want to uproot his family and turned down their offer.
Roberts called Freddie Hutchinson, manager of the Cincinnati Reds. Roberts worked out with the team. Hutchinson liked what he saw and offered him a contract for $15,000. Roberts balked at this amount and said he would sign only if they matched his last salary of $35,000. The negotiations went nowhere, and he did not sign with the Reds. Roberts called Lee MacPhail of the Baltimore Orioles, who signed Roberts for his requested $35,000. Robbie was particularly happy about playing with the Orioles because Baltimore was only 100 miles from Philadelphia and he could visit his family often.
Roberts started his first game for the Orioles on May 27, 1962, against the Boston Red
Sox. He pitched well, leaving after seven and two third innings with a 2-2 tie. After that he was in the starting rotation. Roberts went 10-9 for the Orioles in 1962, posting a 2.78 ERA. Moreover, in recognition of his career and life off the diamond, the Phi Delta Theta fraternity honored him with their Lou Gehrig Award.
In 1963, with the Orioles he was 14-13, with a 3.33 ERA. The next year he posted a 13-7 mark for the Orioles with a 2.91 ERA. Roberts split the 1965 season between the Orioles and the Houston Astros, being released by Baltimore on July 31 and signed by Houston on August 4. He was 5-7 with an ERA of 3.38 for Baltimore and 5-2 with a 1.89 ERA for Houston.
In 1966, Roberts pitched for both the Astros and the Chicago Cubs. He went 3-5 with an ERA of 3.82 for Houston, and was released on July 4. The Cubs signed him on July 13, and he posted a 2-3 record with a high 6.14 ERA for Chicago. He was released by the Cubs on October 4, 1966.
Although Roberts pitched reasonably well (5-3, 2.48) for Reading in the Eastern League, nobody wanted his services as a pitcher. Roberts believed he still had something to offer as a pitcher and possibly could pitch until he was 45. But on June 15, 1967, after 20 years of professional baseball, Robbie was done.
For three months Roberts pondered what to do with the rest of his life. He had been offered a job as pitching coach with the Cubs but turned it down because it meant he would be away from his family for long periods of time. Roberts' main concern was how he was going to support his wife and four children in the manner to which they had become accustomed. He believed he needed $40,000 a year to take care of them properly.
Roberts received a call from a friend, Jim Castle, who ran a small investment firm. He offered Roberts a job with a salary of $25,000. Roberts took the job. He was also offered a job with radio station WPEN in Philadelphia to do an early morning sports show at $15,000 a year. Roberts had his $40,000. He would do his sports show in the morning and then go to the investment job. He worked in the investment business for 10 years, doing well enough not to need the sports show, but he wasn't happy. He still missed baseball.
In 1972, Ruly Carpenter, the son of Bob Carpenter, the Phils president, succeeded his father as the president. As a youngster Ruly had always hung around the clubhouse and had become a close friend of Roberts. Roberts called Ruly Carpenter to congratulate him. Roberts also informed Ruly that he would like to be considered for the Phillies' general manager's position. Ruly said he would talk to his father. At first Bob Carpenter said, "Okay let's meet for lunch." However, Bob Carpenter cancelled the meeting.
Roberts later heard that Wister Randolph, the vice-president of the Phils, had asked if there was a position for Roberts with the Phils. Bob Carpenter replied, "Who's going to take care of me when I'm old?" Roberts felt the remark was unfair and uncalled for. Roberts never broached the subject about working for the Phillies again with Bob Carpenter.
What did Bob Carpenter have against Roberts? It turned out that Carpenter resented that Roberts had been deeply involved in the Players Association and the subsequent hiring of Marvin Miller as executive director.
Ruly Carpenter did interview Roberts for the job of field manager of the Phils, along with Andy Seminick, Richie Ashburn, Jim Bunning, and the man who got the job--Danny Ozark, then a coach with the Los Angeles Dodgers.
Next, Roberts had an interview with the Philadelphia 76ers basketball team for general manager. At the meeting, he was asked to see a psychiatrist. After answering questions in the psychiatrist's office, Roberts awaited a call from the Sixers. It never came. Roberts wondered if he had not come off well with the psychiatrist.
Ed Piszek, the founder of Mrs. Paul's Frozen Foods, contacted Roberts and asked if he would help him run a minor league hockey team, the Philadelphia Firebirds. Roberts, along with his eldest son Robbie, agreed. For one year, he and his son helped run the hockey team. Roberts decided one year was enough and went back to the investment business.
Roberts' new investment firm was Lehman Brothers. He was a broker in the money management division. The new job required his traveling to New York City three days a week. Though he did well financially, he was still not happy. He discussed his pain with his wife Mary. She pointed out that financially he was doing very well. He agreed, but inside he still yearned for a baseball job.
That yearning would become fulfilled. In the fall of 1976, he received a call from Dick Bowers, the athletic director at the University of South Florida in Tampa, about the baseball coaching position. Dick Bowers had first called Bobby Richardson, coach of the University of South Carolina, about the position, but Richardson declined and suggested that Bowers call Robin Roberts. Roberts had his degree from Michigan State University and was qualified to coach baseball at the Division I level. He told Mary, who rolled her eyes and said yes. Roberts had his baseball job and was a happy man.
They pulled up stakes from their Philadelphia home and headed for Tampa with their youngest son Jimmy. Roberts was elated about getting the coaching job at South Florida, but found that he would only have a budget of $5,000 a year. Many of his colleagues said that sum was not enough to attract good talent. But Roberts ignored all that and coached for eight years at South Florida and had fun doing it.
In 1982, Roberts coached his best club. South Florida went 49-13 and won the Sun Belt Conference Championship. The team went to the NCAA Regionals in Miami where they defeated the University of Florida but lost to Miami and Stetson. Roberts' son, Jim, was the first baseman on the South Florida team.
Roberts decided he had enough of coaching at USF and resigned in 1986. He wanted more time to relax and play golf.
Mary and Robin Roberts had a family of four boys. None went on to become major league players, but they were successful in other ways. Robbie, the oldest, runs a golf course outside of Philadelphia. Danny was baseball coach of the United States Military Academy at West Point for 17 years, and is now coaching in the Phillies' minor league system. Ricky is in the restaurant business in Atlanta. Jimmy, the youngest, is in banking in Tampa. Roberts' wife Mary Ann died in Temple Terrace, Florida, on June 23, 2003, at the age of 77.
After Roberts' career ended in 1965, he had to wait five years to become eligible to be considered for induction into the Baseball Hall of Fame. He became eligible in 1970. Six years later in 1976, the Baseball Writers' Association of America elected Roberts, and he was inducted into the Baseball Hall of Fame, with a class that included Bob Lemon (BBWAA vote), Roger Connor, Cal Hubbard, Fred Lindstrom (all by Veterans' Committee vote), and Oscar Charleston, by Negro League Committee vote.
Rich Westcott, author of A Century of Philadelphia Sports, chose Roberts as the best athlete of the 1950s in Philadelphia. Westcott felt that Roberts was so good that he topped such stars as Chuck Bednarik of the Eagles; University of Pennsylvania quarterback Reds Bagnell; Philadelphia Warriors basketball players Tom Gola, Paul Arizin, Neil Johnston, Hal Lear, and Guy Rodgers (all but Johnston, an Ohio State man, had played college ball in Philadelphia: Gola at LaSalle, Lear and Rodgers at Temple, and Arizin at Villanova); as well as Phillies stars Del Ennis, Richie Ashburn, and Ferris Fain; boxer Jersey Joe Walcott, and tennis great Vic Sexias.
Westcott went on to praise Roberts for his longevity in completing ball games. During one stretch in the early 1950s, Roberts completed 28 consecutive games, and eight times completed 21 or more games during a season. Roberts completed 33 games in 1953 after completing 30 in 1952.
Roberts led the National League five times in complete games and seven times made more than 40 starts in a season. Roberts was named Major League Pitcher of the Year four times and named to the All-Star Team seven times. Roberts was the starting pitcher for the National League in the All-Star Game five consecutive times. His career totals are 286 wins, 245 losses, a 3.41 ERA, 4,688 2/3 innings pitched, 902 walks, 2,357 strikeouts, 25 saves; with a winning percentage of .539.
Roberts himself was humble about his abilities. In 1956, he told Time, "I've been given credit for stuff I don't do. I don't even divide people into the tough and easy. It's never the same. With Willie Mays, for example, I don't put on anything special. I just try to mix up the pitches on him. I can't pinpoint what I pitch. I pitch the same to everybody -- low and away, or high and tight.
"You don't have to make a fantastic proposition out of anybody. I live and pitch by a few basic rules. You don't have to make a big study of batters beforehand. When I have good stuff I throw four fastballs out of five pitches. You can basically confuse yourself by typing each hitter or worrying too much about righthanders and lefthanders. I don't have any special trouble with lefthanders.
"Anyway, when you take up a hitter in a clubhouse meeting, no matter what his weakness is, it's going to end up low and away or high and tight, and the curve ball must be thrown below the belt. That's the whole story of pitching.
"I try to tell people and they don't believe me. They want to believe you have everyone taped and baseball is like mathematics or something. But I'm telling the truth. It's like I say, keep your life and your pitching real simple and you'll get along."
Gene Conley, a roommate of Roberts when he was with the Phillies, was in awe of Roberts. One day he asked Roberts. "Robby, when you've got a runner on third and you need something extra on the ball do you find yourself pushing off the mound a little harder?"
"No Slim, (Roberts called Conley "Slim"). I pitch the same all the time. The first pitch goes in the same way as the last one."
"That can't be true," Conley said, "because I notice when there's a man on third and less than two out that the ball pops a little better."
"Well," Roberts said, "You can't see what I'm doing, Slim, that comes from within."
David Nemec wrote that Roberts played with many clubs that were mediocre at best. It makes one wonder how many games he would have won if he had played with better teams. Nemec points out that Roberts averaged 323 innings pitched and 27 complete games a year between 1950 and 1955. Of modern pitchers, Tom Seaver seems to have come the closest to the smooth, fluid style of Roberts. Seaver had the same drop-and-drive move on the mound that Robbie had.
Johnny Podres of the Dodgers had this to say about Roberts: "He'd pitch ballgames just as hard as he had to. I used to watch him, time after time, get into a jam, bases loaded and nobody out or something like that. You'd get the feeling on the bench: 'Okay, we got him now. One more hit will do it.' But damn, that hit wouldn't come. All of a sudden the guy is reaching back and firing harder and harder. Next thing you knew there were two strikeouts and a ground ball and you were wondering where the hell your rally went. Roberts always had it when he needed it."
In Baseball: An Illustrated History, Geoffrey Ward and Ken Burns picked a team that they thought represented the best of the 1950s. This included players from both leagues. Such stalwarts as Roy Campanella, Stan Musial, Jackie Robinson, and the peerless Ted Williams were among those picked. The pitchers included Warren Spahn, Whitey Ford, Robin Roberts, Bob Lemon, and Early Wynn.
Hugh Brown, a writer for Sport, wrote about an interview he had with Roberts in August of 1956. "As athletes go, Roberts can safely be called one of the more complex. In conversation he is at least two I.Q. notches above most of his compatriots, yet he admits that his intellectual interests are confined mostly to television viewing when he is home and Western movies when he is on the road." This goes along with the star/journeyman aspect of him. He is both an astute, intelligent person and yet a down-to-earth individual.
Roberts was a close friend of James Michener. Michener, a Phillies fan most of his life and the author of Sports in America, particularly liked Roberts. They had become friends in the process of Michener writing a book called Sports in America. Roberts had helped Michener with the book, and they became close friends. In the book Michener explained the major role sports played in American society. Roberts was among the people to whom he dedicated the book.
Robin Roberts still resides in Temple Terrace, Tampa, Florida. He is now 81 years old. The son of a Welsh immigrant, Roberts had the talent, heart, and intelligence to become one of the best pitchers in the Major Leagues. But he also helped strike down the slave-like reserve clause, helped to establish the Players Pension Fund, and helped bring on board Marvin Miller to fight for the rights of the players in their negotiations with the owners. Securing Miller was not popular with the owners and some commissioners, but Roberts had the courage to fight, not only for his fellow players, but also for those who came after him. Current players owe Roberts their gratitude for the rich contracts they are receiving even though Roberts' top major league salary was only $57,000.
Indulging in a bit of understatement, Tom Roberts, who had fought at Gallipoli and labored in the coal mines of Lancashire, Wales, and Illinois, summed up his talented son in 1956: "Ah, well, he could have done a lot worse."
Sources
Baseball Hall of Fame Archives. Cooperstown, New York.
Clayton, Skip, and Jeff Moeller. 50 Phabulous Phillies. Champaign, IL: Sports Publishing, 2000.
Golenbock, Peter. Bums: An Oral History of the Brooklyn Dodgers. New York, Putnam, 1984.
Honig, Donald. A Donald Honig Reader. New York: Simon & Schuster, 1988.
James, Bill. The New Historical Baseball Abstract. New York: Free Press, 2001.
Kahn, Roger. The Era: 1947-1957 -- When the Yankees, the Giants, and the Dodgers Ruled the World. New York: Ticknor & Fields, 1993.
Light, Jonathan Fraser. The Cultural Encyclopedia of Baseball. 2nd ed. Jefferson, NC: McFarland, 2005.
McKelvey G. Richard. The MacPhails: The First Family of The Front Office. Jefferson, NC: McFarland, 2000.
Nemec, David, and Saul Wisnia. Baseball: More Than 150 Years. Lincolnwood, IL: Publication International LTD, 1997.
Roberts, Robin, and C. Paul Rogers. My Life in Baseball. Chicago: Triumph Books, 2003.
_____. The Whiz Kids and the 1950 Pennant. Philadelphia: Temple University Press, 1996.
Ryczek, William J. The Yankees in the Early 1960s. Jefferson, NC: McFarland, 2008.
Seamon, Dick. "The Whole Story of Pitching," Time, May 28, 1956.
Shannon, Bill, and George Kalinsky. The Ballparks. New York: Hawthorn Books, Inc., 1975.
Vincent, Fay, ed. We Would Have Played for Nothing: Baseball Stars of the 1950s and 1960s Talk about the Game They Loved. New York: Simon & Schuster, 2008.
Ward, Geoffrey, and Ken Burns. Baseball: An Illustrated History. New York: Alfred A. Knopf, New York, 1994.
Westcott, Rich. A Century of Philadelphia Sports. Philadelphia: Temple University Press, 2001.
Photo Credit
The Topps Company