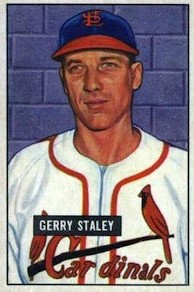 On September 22, 1959, with one out and the bases loaded in the ninth inning at Cleveland's Municipal Stadium, Chicago White Sox manager Al Lopez signaled to the bullpen for his top reliever, Gerald Lee Staley. The big right-hander from Washington would not only save this game, but he would also lead the American League in 1959 with 67 appearances, all in relief, while racking up 14 saves. With the game and the pennant on the line, the White Sox needed a double play. A sinkerball pitcher with good control who also threw a good fastball, a slider, a changeup, and sometimes a knuckler, Staley could get the job done. As he would later recall about Chicago in 1959, he grew a little fatigued by September. The fatigue caused him to throw the sinker a little slower, making the ball drop better when it reached the batter--the perfect pitch for starting a ground-ball double play. Staley, a onetime sawmill worker in the postwar years, entered the game to face Cleveland's right-handed batting Vic Power. A Gold Glover at first base and a good contact hitter, he swung at Staley's first pitch--the trademark sinkerball. Power bounced the ball to smooth-fielding shortstop Luis Aparicio, who started the game-ending double play.

To the delight of the White Sox faithful, who had to look all the way back to 1919 for the club's last pennant, Staley's clutch pitch helped Chicago clinch the AL pennant over second-place Cleveland. The New York Yankees, the league's powerhouse for most of the 1950s, finished in third place. The "Go-Go" White Sox would meet the National League champion Los Angeles Dodgers in the 1959 World Series. In the end, the Dodgers defeated the White Sox in six games, thanks in part to Los Angeles bullpen ace Larry Sherry closing the door on Chicago's best hitters in several clutch situations. But without Staley, a two-time All-Star with the Cardinals, Chicago probably would not have won the pennant. The relief ace also helped keep his club in the World Series, hurling 8.1 innings, allowing only two earned runs, and compiling a 2.16 ERA in October.

A veteran hurler who pitched his first eight years for the Cards, Staley fashioned a career mark of 134-111 with a solid 3.70 ERA. He enjoyed five double-digit winning seasons for the Cardinals, peaking with 19, 17, and 18 victories from 1951 through 1953. Mainly a starter in his early years, Jerry made 10 starts in 27 appearances after his trade to the White Sox in 1956. Beginning in 1957, he became a relief specialist. After going 4-5 in 1958 and 8-5 in 1959, he led the American League in relief wins with 15 in 1960.

Born to lumberman Adelbert Randolph Staley and the former Clementine Steelman on August 21, 1920, in Brush Prairie, Washington, Jerry (which is Staley's preferred spelling) grew up in Clark County outside Vancouver. Like many youths during the 1920s, he played baseball. "Both of my older brothers were better ballplayers than I was," Jerry recalled in a 2003 interview. "But they just never got the break that I got."

Jerry attended high school in nearby Battle Ground. After graduating in 1938, the young man worked for two years at Alcoa Aluminum in Vancouver. On the weekends he played baseball in a sandlot league against teams from nearby towns and from across the river in Portland, Oregon. Jerry, a six-footer with a strong arm, often played shortstop because he could make the long throw to first. In his third season he also pitched. That led to the "break" he mentioned, signing a contract to play minor league ball in the class C Pioneer League in 1941.

"I was working for Alcoa in 1940," Jerry remembered in 2003, "and I was working with a fella who had played [Pacific] Coast League ball. And he knew Jim Keesey, who was going to manage the Boise Pilots in the Pioneer League. The two were friends, and they talked over the situation, whether there were any ballplayers in the area that had a chance to go play for them. The fella I was working with asked me if I wanted to go and try out, and I did. Jim Keesey got several fellas together early in the spring of 1941, and we played three or four games. I wasn't old enough to sign a contract, so Jim Keesey talked to my parents. I had two older brothers who had played sandlot ball too, and they all wanted me to go play pro ball. So I quit the aluminum plant and went to spring training with Boise, and I made the club. I played two years with Boise, and I did pretty well."

Staley made an excellent start, going 22-8 with a 2.79 ERA for first-place Boise in 1941. He led the league in games (39), innings pitched (261), and in wins. The right-hander was named as one of two pitchers on the league's All-Star team. But in the end, Boise lost the playoff title to Ogden, Utah, three games to one. Probably because the club's owner wanted too much money to sell Staley, the right-hander returned for the 1942 season, the first year of World War II for the United States. Again pitching well, he went 20-10 with a 2.73 ERA as Boise finished second. After the regular season ended, Boise lost the playoffs to first-place Pocatello, four games to three. The league did not name an All-Star team during the first war year.

After the season, Staley was inducted into the Army at Fort Lewis, Washington. His unit was shipped to the desert near Needles, California, for basic training. He received additional training to serve in the Medical Corps. His 21st Evacuation Hospital Unit trained to go to Africa. But the Allies won that campaign in early 1943, so Jerry's hospital group trained for the Pacific. After leaving San Francisco that summer, the 21st made stops in New Caledonia and Guadalcanal before arriving in Bougainville in the fall of 1943. After duty there, Jerry's unit was stationed in the Philippines in 1944. He spent most of two years in the archipelago. The Army sent the unit stateside for discharge in the fall of 1945. Jerry arrived in Vancouver in time for Christmas with his family. Staley also played service baseball in 1945. In mid-July, pitching for the 21st Evacuation Hospital in the Manila service baseball championship, the right-hander lost a 1-0 game to the 841st Engineers. Ten thousand fans packed Rizal Stadium in Manila, the Philippines, to see Frank Bess, of Hinton, West Virginia, outduel Staley. According to the New York Times, Staley had pitched "five no-hit, no-run games while overseas." Later, Jerry's Army Evacuation Hospital team won the Bougainville island championship over the 49th Coast Guard in two games, 1-0 and 3-2. The big right-hander won the finale, scattering three hits and fanning 11 hitters in seven innings.

"I went in the service after the 1942 season," Staley recalled. "I was in the Army's Medical Corps. I spent most of my time in the South Pacific. After the war, St. Louis had an agreement with Sacramento of the Coast League. St. Louis could take one serviceman who came back from the war in payment for the Sacramento franchise going independent. The Cardinals could get one ballplayer from the service roster. They had a half-dozen players to choose from, and the Cardinals picked me. That's how I ended up with St. Louis."

Staley pitched for Sacramento in 1946, producing a 13-12 record with a 2.94 ERA: "We weren't contenders, but we had a pretty good club. We had some ex-major leaguers and some who played in the major leagues during the war. We had Joe Marty, who played for the Cubs and Phillies before the war. We had Al Smith, a lefthander who played for the Indians during the war. We had Jo-Jo White, who played for the Tigers in the 1930s, and he played during the war, and Bill Ramsey, who played for the Braves in 1945, and some others. The Coast League was real good during those years, because they had a lot of players who played in the major leagues during the war. When the war was over, the servicemen who had been in the major leagues came back. That eliminated a lot of players who were just on the verge of being major leaguers, so a lot of them went to the Coast League."

Staley went to spring training with the Cardinals in 1947 and made the club. The rookie started once, in September, pitched a complete game, and won. Overall, he worked 29.1 innings in 18 games, posting a 1-0 mark with a 2.76 ERA. But the Redbirds had a veteran ball club. After winning the National League pennant in 1946, St. Louis defeated the Boston Red Sox, four games to three, in one of the most dramatic of all World Series. In 1947 the Cardinals finished in second place, five games behind the Brooklyn Dodgers. St. Louis had a good mound corps, including five pitchers who won 12 or more games: right-handers Murry Dickson, George Munger, rookie Jim Hearn, and southpaws Harry "The Cat" Brecheen and Al Brazle. Southpaw Howie Pollet suffered an off-year at 9-11.

Staley began the season with St. Louis and worked occasionally in relief. On July 23 the Redbirds sent the right-hander to Columbus of the American Association. Pitching for fifth-place Columbus, he contributed six wins while losing once. "I went to spring training and started the season with the Cardinals," Jerry recalled, "and they sent me to Columbus in late July. I spent a month over there and won a few games for them. Then I went back to the Cardinals and started one game toward the end of the season. What happened is that Columbus had a lefthanded pitcher who wasn't doing them any good. They needed somebody they thought could win some games. So the Cardinals farmed me out to Columbus. Harold Anderson, the manager, said they should have sent me sooner, because Columbus missed getting into the playoffs by a couple of games." On September 25, after his return to St. Louis, Staley pitched the distance and won, 3-1, in the second game of a doubleheader against the Pittsburgh Pirates at Forbes Field. The twin victories assured the Cardinals of second place. Staley scattered eight hits, including two singles by Ralph Kiner, who failed to boost his major league leading home run total of 51.

In 1948 Staley returned for his first full season. The talented Cardinals again fielded a good ball club, led by the potent bat of Stan Musial. Stan the Man, as he was known, enjoyed a career year as he led the majors with a .376 average, 230 hits, 46 doubles, 18 triples, 135 runs scored, and a.702 slugging percentage. Musial also led the National League with 131 RBI and slugged a career-high 39 homers. Still, St. Louis finished 6 ½ games behind the pennant-winning Boston Braves. Veteran Harry Brecheen led the St. Louis mound staff with a 20-7 record and a league-best 2.24 ERA. The Redbirds had four more starters who won in double digits--Dickson, Pollet, Munger, and Brazle--but all had high ERAs. Further, Ted Wilks, a 5'9½" right-hander, was the club's best hurler out of the bullpen, posting a record of 6-6 with a 2.62 ERA and 13 saves.

Staley, big and strong at six feet and 190 pounds, appeared in 31 games, starting three times. He finished with a 4-4 mark, losing one of his three starts. While his ERA rose to a career-high 6.92, the sinkerballer enjoyed a highlight day on Monday, July 5, 1948. Playing under intermittent rain and sunshine at Sportsman's Park in St. Louis, the Cardinals (in their second doubleheader in two days) defeated the Chicago Cubs twice, and the Washington native won both games in relief. Murry Dickson started the opener and hurled 6.2 innings, and Ted Wilks got the final out in the seventh. The Cardinals rallied for four runs in the eighth. Staley came from the pen, pitched hitless ball for the last two innings, and got credit for the 6-3 victory. Jim Hearn started the rain-shortened nightcap and worked 3.1 innings. Staley completed the game's last 2.2 innings, Stan Musial drove in two runs with a pair of singles, and the Cardinals won 5-2. During an era where the major leagues played mainly afternoon games, the contest was called due to darkness after the Cubs batted in the top of the sixth. Again, Staley was the winner. "I didn't become a regular in 1948, because they still had their pitchers from the year before. So I pitched mostly in relief. I became a regular in 1949 when they sold Murry Dickson to the Pirates. That deal opened the way for me."

In 1949 manager Eddie Dyer's veteran club finished in second place for the third straight year. While the Cardinals enjoyed a 96-58 season, the Dodgers won the NL pennant by a one-game margin. Howie Pollet led the Redbirds with a 20-9 record, Harry Brecheen finished at 14-11, Al Brazle was 14-8, George Munger added a 15-8 mark, and Ted Wilks went 10-3 with a team-high 10 saves. Staley produced only a 10-10 record, but his 2.73 ERA paced St. Louis pitchers.

In 1950, however, the Cardinals slipped to fifth place. The NL's powerhouse team of the 1940s, St. Louis won pennants in 1942, 1943, 1944, and 1946. Also, the Redbirds won three of those four World Series, losing only to the Yankees in 1943. Musial, despite nagging injuries, continued to shine; Red Schoendienst led the league with 43 doubles; Enos Slaughter drove in 101 runs. The three future Hall of Famers were a strong nucleus, but the Cardinal offense had little else. Injuries limited the play of several Cardinals, and many regulars had grown older together. The pitching rotation hovered around .500. Staley produced his second season of double digit wins, going 13-13 and adding three saves, but his ERA rose to 4.99. In addition, only Howie Pollet and Max Lanier won in double figures.

Staley, a rugged athlete with blue eyes, brown hair, and a down-to-earth personality, enjoyed another career highlight in 1950. On May 30 he again won both ends of a twin bill, this time over the Pirates at Forbes Field. In both games St. Louis produced big innings in the eighth -- scoring seven times in the eighth inning of the first slugfest for a 17-13 victory. Cloyd Boyer started the first game for St. Louis, but lasted only two innings. Right-hander Freddie Martin pitched one frame, leaving with a tie score of 3-3. Staley worked 3.1 innings, and Brazle got the last out in the seventh. But the Cards scored seven times with Staley on the mound. Leading 10-7, St. Louis piled on seven more runs in the eighth, and Brazle got a save in the 17-13 win. George Munger started the nightcap for St. Louis and worked six innings, leaving with the Pirates ahead, 2-0. Boyer came in from the bullpen in the seventh, giving up three hits and two runs without recording an out. Eddie Dyer quickly summoned Staley, who worked the last three innings, allowing one run in the eighth and none in the ninth. After the Cards rallied for six in the eighth and two more in the ninth, Staley had his second victory of the day, improving his 1950 record to 5-3. Staley's clutch hurling made him the first reliever in the history of baseball to win both ends of a double header twice.

The Cardinals finished third in the NL in 1951, fourth in 1952, and sixth in 1953, and Staley topped the pitching staff for three straight seasons. He came through with records of 19-13 in 1951, 17-14 in 1952, and a career-best 18-9 in 1953. Thanks to those good seasons, he made the NL All-Star team in 1952 and 1953, although he didn't pitch in either game.

Asked about his best pitches, Jerry said, "I always did have a knuckleball, but I just used it once in a while. I'd throw a knuckleball on a good hitter after I got ahead of him by throwing the sinkerball, which was my main pitch. But I'd use the knuckleball for a change-of-pace. Basically, I was a sinkerball pitcher, but you changed speeds on the sinker. You'd also throw a curveball and a slider every now and then, just to let 'em know that you had one. If I got ahead of the batter with two strikes and no balls, I could come in with the knuckleball. But the knuckler breaks so much that you had a hard time getting the darn thing over the plate! We always had a real good bunch of ballplayers in St. Louis. We had Stan Musial, and he was a real gentleman. In my early years we had Musial, Harry Walker, Terry Moore, Enos Slaughter, Marty Marion, Red Schoendienst, and we had a half dozen guys who played first base. And we had Del Rice and Joe Garagiola catching."

The Cardinals gave Staley a certain home-field advantage at old Sportsman's Park (renamed Busch Stadium in April 1953 when August Busch purchased the Cardinals, but commonly called Sportsman's Park for years). In the year 2000 Carl Erskine of the Dodgers recalled, "In St. Louis the infield was very hard, except on nights when sinker baller Jerry Staley pitched. On those occasions, the grounds crew would wet down the area in front of home plate so opposing batters would beat that sinker into soft turf for easy ground balls."

Former Cardinal Marty Marion, the premier defensive shortstop of his day, was hired in 1951 to move the Cardinals back into pennant contention. The club finished third, and Staley, who led the mound staff, fashioned a 19-13 record. Staley, however, experienced the usual up-and-down season known to most major league pitchers. Jerry knew there would be days when his stuff was working well, and days when he'd be off his game. On April 27, for example, he spaced six hits and improved his record to 2-0 by whitewashing the Cubs at Chicago's Wrigley Field, 3-0. Five days later, at Braves Field in Boston, he lost his first game when ace Warren Spahn twirled a six-hitter, blanking the Cardinals, 5-0. Staley got into trouble in the first inning when Boston scored on a hit batsman, a single, and a sacrifice fly. The Braves put the game away with four runs in the sixth, thanks to three hits, a walk, and an error. George Munger pitched the last two innings for St. Louis.

On May 21 at Sportsman's Park, Staley improved his record to 6-3 with a five-hitter, stopping the New York Giants, 5-2. The margin of victory came when Redbirds first sacker Nippy Jones hit a bases-loaded double in the fifth, providing the game's final score. On May 27 in St. Louis, when Stan Musial hit home runs number seven and eight and knocked in five runs, Staley won his seventh game with a seven-hitter, defeating the Cincinnati Reds, 6-1. But on June 6 at Ebbets Field in Brooklyn, right-hander Ralph Branca and Dodgers beat Staley and the Cards, 3-2. Jerry yielded just five safeties, but Branca's pitching made two Brooklyn runs in the second and another in the fourth stand up for the victory.

On June 21 at Sportsman's Park, Staley won his ninth game, tossing a five-hitter to blank the Giants, 2-0. A right-handed batter, Jerry also started a two-run rally in the third inning by doubling just inside the third base line. Solly Hemus singled to center for one run, advancing to second when Willie Mays misplayed the ball. Red Schoendienst finished the scoring with a double. On the Fourth of July at Wrigley Field, Staley's record climbed to 11-7 when he allowed eight hits but stopped the Cubs, 10-5. The Redbirds produced 12 hits to back Staley, including homers by Hal Rice, Wally Westlake and Billy Johnson.

On July 16 at Shibe Park in Philadelphia, Staley saw his record slip to 12-9 when he gave up a bases-loaded two-out triple to Tommy Brown, a recent Phillies acquisition, in the eighth frame. Rookie right-hander Jack Crimian relieved Staley, but Del Ennis tripled for another run and Granny Hamner beat out a bunt, producing the final margin of 5-2.

Continuing his ups-and-downs on August 10, Staley relieved a tired Harry Brecheen, pitching and batting the Cards to a 4-3 win over the Reds in sweltering St. Louis. With the score tied at 3-3 when he took the mound in the seventh, Staley blanked Cincinnati on two hits over four innings. In the Cardinals' half of the tenth, the sinkerball specialist won his 13th game by hitting a two-out bases-loaded single off southpaw Ken Raffensberger.

On August 29 at Shibe Park, Staley moved his ledger to 15-13 with a 3-2 squeaker over the Phillies. Jerry gave up six hits, including a single by Eddie Waitkus in the ninth. With St. Louis ahead, 3-2, the crafty Brecheen came out of the pen to save the game. The Cat retired Richie Ashburn on a sacrifice bunt, fanned Dick Sisler, and induced Bill Nicholson to fly out, ending the game.

Thereafter, Staley won his last four games in a row, getting his 19th victory against the Cubs at Wrigley Field. On September 30, working the second game of a doubleheader, Cubs strong man Hank Sauer blasted his 30th homer in the opener, and Sauer won the game with an RBI single in the ninth. But in the nightcap, shortened to six innings by darkness, Sauer couldn't get his big bat on Staley's sinking slants, as Staley threw a four-hitter for a 3-0 victory

In 1952, as Staley paced his club with a 17-14 season, new manager Eddie Stanky piloted the Cardinals to another third-place finish with a record of 88-66. Staley started strong, winning five straight. His fifth win came on Sunday, May 4, against the Braves in St. Louis. With the game tied 3-3 in the seventh, Eddie Stanky doubled and Solly Hemus's third single gave the Redbirds a 4-3 lead. Staley, who shut down the Braves after the third frame, turned in another complete game, this time in ninety-degree heat. After his fifth victory, Staley in a United Press story carried by The Sporting News on May 6, said, "I'm pleased with my start, but you never know what'll happen." He refused to predict a 20-win season. "I had a 7-and-3 mark after the first one and a half months last season and stubbed my toe in midsummer. I had a hard time winning number eight." Calling him a "mixup artist," the UP story said the 29-year-old "relies on a fluttery knuckleball and a sinker in the pinch and sports a good fast ball. He said there's nothing new in his repertoire to account for his fast getaway this year."

But on May 8 at Sportsman's Park, Staley suffered his first setback, a 3-0 defeat at the hands of the Giants. The right-hander departed for a pinch-hitter in the eighth. Lefty Dave Koslo won his first game of 1952 (but his ninth straight win against St. Louis over three seasons) on a four-hitter, two of which were doubles by Musial. Thereafter, Staley's wins and losses balanced each other. After he lost a four-hitter against the Dodgers at Ebbets Field on June 25, thanks to a three-run homer by catcher Roy Campanella, Jerry's ledger stood at 9-6. On July 10 in St. Louis, as the Cardinals won their tenth game in a row, Staley notched his twelfth win against eight losses, a 10-3 victory over the Phillies. Six weeks later, on August 25 at Sportsman's Park, Staley saw his record slip to 14-12 as he lost to the Dodgers, 3-1, yielding two runs in the seventh on three singles and a sacrifice fly. John Rutherford, a 155-pound rookie right-hander, improved his record to 5-4 with a two-hitter that jolted the Cards' pennant hopes.

On September 20 at Wrigley Field, Staley suffered another close loss, his fourteenth (and last) of the season, 4-1 to the Cubs. Right-hander Warren Hacker handcuffed the Redbirds on three hits, while Staley gave up all seven hits to the Cubbies--not to mention four runs--during his seven-inning stint. But the Washington native ended the season on a winning note, notching victory seventeen at home six days later. The Cards knocked Hacker out of the box, ripping him for nine hits, including Enos Slaughter's two-run double in the fifth. Staley turned in his career-high fifteenth complete game, spacing six hits and coasting to a 10-3 win.

Returning in fine form for 1953, Staley again anchored the Cardinals' staff, this time with a career-best 18-9 record, although his ERA rose from 3.27 in 1952 to 3.99. The sinkerballer made 32 starts in 40 appearances, pitched 10 complete games, and contributed four saves from the bullpen. He shared Cardinals mound honors with rookie lefty Harvey Haddix, who compiled a 20-9 record and a 3.06 ERA. Veteran Al Brazle went 6-7, but produced a league-high 18 saves.

Staley opened the season on a disappointing note, pitching a complete game at Milwaukee's County Stadium against the transplanted Braves. On April 14 in a seesaw struggle witnessed by 36,001 fans, Bill Bruton connected for a dramatic tenth-inning home run on Staley's first pitch. Bruton lashed the ball deep to right center, and Enos Slaughter, who had lost a step to age, raced back, reached for the ball, and saw it bounce off his glove and over the four-foot high wire barrier. Umpire Lou Warneke at first called the hit a ground rule double, but after a conference, the umpires ruled it a home run. At the Polo Grounds two weeks later, Staley upped his record to 2-1 with a brilliant six-hitter. The Cardinals--who scored all three runs on four straight singles with two out in the third--beat the Giants and Dave Koslo, 3-2. Staley proceeded to win his next five starts. But at Ebbets Field on June 7, the Dodgers drove him from the box after four innings. The Brooks blasted Staley and two relievers for 15 hits, as right-hander Carl Erskine picked up his third victory, 10-1. But with the loss, Jerry's mark remained a lofty 7-2.

Staley rebounded with four successive wins. On June 28 he posted his eleventh victory against two losses in the first game of a twin bill against the Phillies in St. Louis. While the Cards pounded ace right-hander Robin Roberts for 14 hits en route to a 7-4 win, he scattered 10 safeties and shut out Philadelphia after the fourth inning.

Staley continued his winning ways after the All-Star break. At the Polo Grounds on July 21, he improved his mark to 13-4 with a victory over the Giants. After the Cards scored four in the first frame and four more in the fourth, Staley coasted to the win, yielding single runs in the eight and ninth for the final score of 10-6. Thereafter, Jerry balanced wins and close losses. On August 18, for example, he stopped the Cubs at sportsman's Park, 5-1, raising his record to 15-6. The victory made him the second NL hurler to reach fifteen; Cards teammate Harvey Haddix had fashioned a 15-5 mark to date. Winding up his 1953 season on September 26 in Chicago, Staley gave up eight hits in five innings, including a two-run blast by slugger Ralph Kiner in the sixth. Kiner's blow put the Cubs ahead, 4-3, and Warren Hacker won his twelfth game by blanking the Redbirds in the last three innings. But with an 18-9 season under his belt, Staley could look forward to 1954 with pleasure.

During those years his main pitches were the sinker and the knuckleball, and his strong suit was good control. As he explained to Brent Kelley in 1991, Staley often worked games where he threw less than 100 pitches: "There were a lot of games I was in the 80- to 90-pitch range. I had pretty good control and they were hitting the first pitch or the second pitch all the time, which is a great help for any pitcher."

But fame is fleeting in the major leagues. In 1954 the Cardinals fell to sixth place, while the club's rising mound star was Harvey Haddix. But the lefty didn't get much run support from his teammates, and his record was 18-13 with a 3.57 ERA and four saves. Rookie right-hander Brooks Lawrence came through with a sterling 15-6 mark and a 3.74 ERA. Staley, meanwhile, saw his ledger slip to 7-15 and his ERA soar to 5.26. "Three years in a row I had pretty good years," Staley recalled in 2003. "But in 1954 I'm not sure what went wrong. I didn't have any arm trouble, or anything like that. I think it was one of those years where the opposing batters weren't hitting the ball hard, but they were hitting it out of reach of everybody."

On April 17, in his first start of the season against the Cubs at Wrigley Field, Staley was hit hard, yielding seven safe blows and seven runs in the first two innings. The Cards paraded four more hurlers to the mound, but Chicago routed St. Louis, 23-13. Not only was the game the longest to that point in NL history at 3 hours and 43 minutes, but the Cubs ran up their largest score since defeating the Phillies, 26-23, in 1922. Later, on July 6 in St. Louis, Staley produced a more typical outing -- hurling a nine-hitter and whitewashing the Reds, 6-0. The win lifted his record to 5-7. Although he appeared in a then career-high 48 games, the right-hander started 20 times (down from 32 in 1953) and completed just three starts. As he became less effective, Eddie Stanky began using him more in relief. Jerry's mark out of the pen was 3-6 with two saves.

On August 21 at Busch Stadium in St. Louis, Staley recorded his seventh -- and final -- win of the season against the Redlegs. In an 11-inning 6-5 victory, he worked the last four frames, allowing Cincinnati's batters just two hits and one run. The victory raised his record to 7-9. But for the remainder of the season, Staley proved ineffective, losing his last six decisions. Writing after the season, Dan Daniels pointed out, "Staley used to be one of the star hurlers of the National League." Citing his 54 combined wins 1951-1953, Daniels said, "This year he got off to a bad start and never was able to right himself."

Given his late-season performance, Cardinals management figured the 34-year-old sinkerballer was past his prime, and they gave up on him. On December 8, 1954, St. Louis swapped Staley and third baseman Ray Jablonski, a good hitter but an erratic fielder, to Cincinnati for 6'3" right-hander Frank Smith, who posted an 8-1 record as a reliever in 1953. In 1955 Staley finished with a 5-8 record as a starter for Cincinnati, but the way he pitched was no different from when he won big for St. Louis in 1953. Speaking to Brent Kelley in 1991, Staley said, "The year I was in Cincinnati, it seemed that everything they hit -- no matter whether they hit it hard or soft or what--was just in a hole. They just weren't hitting the ball at anybody. That can make a heck of a lot of difference."

Staley proved expendable to the Cincinnati front office. On September 11, the Yankees, looking for bullpen help, bought him for the waiver price. But the right-hander did not get any decisions for New York and didn't make the club's World Series roster.

The two-time All-Star's career took an unexpected turn for the better on May 28, 1956, when the Yankees waived him to the White Sox. Marty Marion, now Chicago's manager -- formerly the Cardinals' fine shortstop and later the club's manager for the 1951 season -- knew Staley's strengths and figured he could still do the job. Staley first impressed Marion and the White Sox with a seven-inning effort against the Indians in the nightcap of a Memorial Day doubleheader. Chicago won, 9-8, and Marion only removed Staley because the sinkerballer had not pitched more than a few innings in a year. When the season ended, Jerry had given Chicago an 8-3 ledger, hurling five complete games in 10 starts and going 1-1 in relief. In 1957, when Al Lopez became manager of the White Sox, he used the veteran right-hander strictly out of the bullpen. Thereafter, Staley's career enjoyed a major rebirth.

Chicago's relief pitching also enjoyed new life. In The Sporting News for September 18, 1957, Edgar Munzel pointed out that White Sox relievers, from August 21 to September 9, had allowed only three earned runs in 43 innings. Munzel excluded a rough two-inning stretch on August 27, when the Yankees scored six runs off Bill Fischer, Paul La Palme and Jim Hughes. But even counting those runs, the bullpen's ERA was 1.83 per game during that time.

"The year that Marion was there," Staley told Bob Vanderberg for his 1982 book Sox: From Lane and Fain to Zisk and Fisk, "I started a lot of times (10 of his 27 appearances were starts). Then the next year, Lopez came and he figured he needed some people in the bullpen. They were loaded with starters--Pierce, Harshman, Donovan, Wilson, Keegan. He needed to work somebody into the bullpen, and he needed somebody there who wouldn't take too long to warm up, and who wouldn't come up with arm trouble, and--after one or two pitches--I'd be ready to go in."

Speaking in 2003 about the way Chicago employed him, Staley said, "We didn't have 'closers' in those days. How much I pitched depended on the game. If the starter got into trouble in the third, fourth, or fifth inning, I would come in. Several times I finished up a whole game. As long as you were having good luck and holding the other team down, you stayed in the game." In 1957 Jerry made 47 appearances, all in relief, and finished with a 5-1 record and a 2.06 ERA. In 1958 the rubber-armed hurler went 4-5 with a 3.16 ERA in 50 games.

Lopez, meanwhile, developed the "Go-Go" White Sox, building his club around base hits, speed, heads-up base running, the hit-and-run, good defense, and solid starting and relief pitching. The whole mixture came together in 1959 when the ChiSox outdistanced the Indians by five games and won the franchise's first pennant in 40 years.

Asked if he relied more on the knuckleball as years passed, Staley said recently, "I threw a few more knucklers, but mostly I relied on the sinker and changing speeds on the sinker. If you kept the ball down between the knees and the ground, the hitters would hit the ball on the ground. "We had a good defensive team. We had Luis Aparicio at short and Nellie Fox at second. We had three or four fellas at third, like Billy Goodman and Bubba Phillips. We had Earl Torgeson at first, then Ron Jackson, and we got Ted Kluszewski partway through the 1959 season." In addition, the roster featured star catcher Sherm Lollar and dependable outfielders Jim Landis, "Jungle Jim" Rivera, and Al Smith. Nellie Fox was the spark plug, forging his way to the Most Valuable Player Award.

The White Sox staff ace was former Indian right-hander Early Wynn, who was traded to Chicago in 1958. Wynn led the AL with 22 victories, 37 starts, and 255.2 innings pitched on his way to winning the Cy Young Award. Later a Hall of Famer, Wynn lost 10 games and produced a 3.17 ERA. Right-hander Bob Shaw went 18-6 with a 2.69 ERA and three saves, while longtime star southpaw Billy Pierce was 14-15 and 3.62. The next best hurler for Chicago was 31-year-old right-hander Dick Donovan, who compiled a 9-10 mark with a 3.66 ERA. Chicago's best reliever was 38-year-old Staley, who led the majors with 67 appearances--all from the pen--posted an 8-5 mark with a fine 2.24 ERA and14 saves.

Reflecting in 1982 on the Cleveland game in which Chicago clinched the 1959 pennant, Jerry observed, "As a reliever, you're coming in to close ballgames with men on base. So you've got to keep the ball low so they don't hit it out of the park. In the spot I came into that night, the situation is that you're gonna try to make the guy hit the ball on the ground. That's all you can do. You're not out there to--well, yes, you'd like a strikeout--but your main purpose is to get him to hit the ball on the ground so there is a possibility of a double play. Make sure you throw the ball where you have that possibility."

Asked if he threw Vic Power a good sinker, Jerry laughed and said, "Well, evidently. When he hit it, I knew it was on the ground. And it was headed in the right direction--to Aparicio. As long as he fielded the ball clean, we were at least gonna get one out and we'd still be one ahead."

Staley was modest, and Aparicio was the AL's best shortstop. Next the White Sox entered the World Series against the resurgent Dodgers, a club that tied the Milwaukee Braves for first place in the regular season with an 86-68 record. The Dodgers, a vastly different ball club than the Brooklyn team that beat the Yankees in the 1955 World Series, had won the first two games in a best-of-three- playoff against the Braves to capture the NL pennant.

At Chicago's Comiskey Park for Game 1 of the Fall Classic, the Pale Hose, fueled by Ted Kluszewski's two homers and RBI single, blasted the Dodgers, 11-0. Early Wynn started and pitched seven shutout innings, and Staley blanked L.A. over the last two frames.

In Game 2 Chicago's Bob Shaw had a 2-1 lead with two outs in the seventh, when Chuck Essegian, pinch-hitting for veteran southpaw Johnny Podres, hit a game-tying homer. After Jim Gilliam walked, Charley Neal, who hit a solo homer in the fifth, slugged a two-run blast for a 4-2 L.A. lead. Rookie right-hander Larry Sherry, who was 7-2 with a 2.19 ERA and three saves in 1959, allowed one run but made the lead stand up. The Dodgers won, 4-3.

On October 4 at rectangular--and cavernous--Memorial Coliseum in Los Angeles for Game 3, the attendance boomed at 92,394. Right-hander Don Drysdale pitched a strong game, longtime Dodgers star Carl Furillo delivered a two-run pinch single in the seventh inning, Sherry pitched two-plus tough innings, and the Dodgers won, 3-1. Dick Donovan started for Chicago and pitched shutout ball for six and two-thirds innings. Relieving Donovan with the bases loaded in the seventh, Staley gave up Furillo's game-winning hit. In a disappointing outing, Jerry pitched 1.1 innings, allowing two more hits and another run.

Game Four was a heartbreaker, the White Sox losing, 5-4, when another longtime Dodger hero, Gil Hodges, homered off Staley, clearing the screen in left field--where the distance from home plate to the foul pole was 251 feet. Hodges' homer broke a 4-4 tie, and Larry Sherry, working two scoreless innings in relief of right-hander Roger Craig, saved the victory. Staley recalled, "We were playing in the Coliseum in L.A., the little 'short porch' down there. Outside the first game, which we won by a big score, things didn't go our way. Hodges hit a little fly ball to that short left field. It was really a football field. Evidently I made a bad pitch. That hit would have been an out in Comiskey Park."

But Chicago rebounded and won Game 5, 1-0, thanks to a great pitching effort from Bob Shaw, 1.2 scoreless innings of relief by Dick Donovan, and a great running catch in right center by Jim Rivera, who turned Charley Neal's smash into the third out--stranding runners on second and third. As it turned out, the White Sox scored the game's only run on a double-play grounder by Sherm Lollar in the fourth.

Back in Chicago, the Dodgers won the Series with a 9-3 victory, thanks to good pitching by Johnny Podres and 5.2 innings of scoreless relief from Sherry -- who came in after Podres gave up Ted Kluszewski's three-run homer. Dodgers star Duke Snider hit a two-run home run for LA in the third, and Wally Moon's two-run homer sparked a six-run fourth. Staley worked two shutout innings, the sixth and seventh. But by then the Dodgers held an 8-3 lead. Adding an insurance run for a 9-3 margin, L.A. won the 1959 World Series in six games.

Undaunted, Staley came back with a fine 1960 season, leading the AL in relief wins with 13 and relief losses with eight. To go with his 13 victories and 2.42 ERA in 64 games, the sinkerballer added 10 saves, after having saved 14 games in 1959. Former White Sox pitching coach Ray Berres recalled in 2003, "Jerry was very cooperative, kept in training, and was ready and willing to pitch, regardless of the situation. He did a masterful job in 1959 especially, and he deserved the remark of having 'ice water in his veins.' Jerry was also a lot of fun to be around."

Staley showed his continuing value in clutch situations when he stopped New York in a Mother's Day game at Yankee Stadium on May 8, 1960. Entering the game with the bases loaded and no outs in the ninth, Jerry's sinker induced pinch-hitter Hector Lopez to ground one to third baseman Sammy Esposito, who threw home for the force. Staley then got Yogi Berra to ground to Ted Kluszewski, who threw home for out number two. Pinch-hitter Kent Hadley hit a scratch single to tie the score, as Nellie Fox slipped on wet grass behind second base.

But Staley got the third out, the White Sox rallied for five runs in the tenth, and the ace reliever shut down the Yankees for an 8-3 White Sox victory. Afterward, sportswriter Dan Daniel praised Staley's effectiveness as a "short relief-chore wizard." Making the All-Star team in 1960, Staley didn't pitch in the first of two games played that July. In the second contest he worked the sixth and seventh innings, allowing one run in the NL's 6-0 victory--a solo homer by his old teammate, Stan Musial.

Still, Chicago slipped to third place in 1960, ten games behind pennant-winning New York. The Baltimore Orioles ranked second, eight games off the pace. Despite an 87-67 season, the White Sox did not get a chance for redemption in another World Series.

By then Staley was nearing the end of his career. Early in the 1961 season, the 40-year-old hurler was traded to the Kansas City Athletics, who later traded him to the Detroit Tigers. Overall, Jerry went 2-5 with four saves and a 3.96 ERA in 52 games. In 1962 he went home and served as pitching coach for Triple-A Portland of the Coast League. He also pitched on occasion, posting a 2-4 mark. The sixth-place Beavers played home games at Multnomah Stadium, which stood across the Columbia River about 15 miles from Jerry's longtime home.

Staley married Shirle A. Lockhart in May 1947; they would have two sons and a daughter. Once the season was over, he'd work in his family's lumber mill. Following his baseball career, Staley served as superintendent of the Clark County Parks system for 17 years, retiring in 1982. Recognizing his stellar achievements in baseball, the Washington Sports Hall of Fame inducted him in 1977.

"I was fortunate to play in an era where there was a lot of good ballplayers," Staley reminisced. "They didn't have so many teams, and the teams were all congregated more closely than the teams are today. We had a lot better teams to play with and against than they do today. "I got to play with and against a lot of great-name ballplayers, from Stan Musial and Enos Slaughter to Nellie Fox and Ted Kluszewski, to name a few. I was fortunate enough to be on All-Star teams in both leagues, and I played in a World Series. I couldn't ask for much more."

An underrated pitcher and a modest big leaguer who earned the distinction of being a stellar starter and also an ace reliever, three-time All-Star Jerry Staley enjoyed several first-rate seasons for several very good Cardinal and White Sox clubs.

Jerry Staley passed away on January 2, 2008.


Sources

This essay about Gerald "Jerry" (his preferred spelling) Staley's baseball career is based on statistics from The Baseball Encyclopedia (Macmillan, 9th edition, 1993); minor league stats from profile furnished by Pat Doyle, creator of the Professional Baseball Player Database (version 6); clippings from the Staley file in the National Baseball Hall of Fame's Library; a variety of newspaper game stories from ProQuest, mainly for his Cardinal seasons; interviews with Jerry Staley, July 2003; letters from Staley, August 10, 2003, January 25, 2007; "Gerry Staley: A Sinker to Vic Power," chapter in Bob Vanderberg's Sox: From Lane and Fain to Zisk and Fisk (Chicago: Chicago Review Press, 1982), pp. 203-208; Brent Kelley, "Jerry Staley: Forerunner to Today's Dennis Eckersley," Sports Collectors Digest, July 12, 1991; John Lawrence, "Nuggets Galore at [Washington] Hall of Fame Banquet," Tacoma News Tribune, February 6, 1977.