Cuban League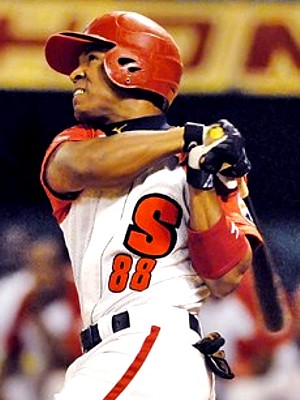 The popular national sport of baseball maintained and even tightened its hold on the island nation of Cuba in the aftermath of the 1959 socialist revolution. In fact the national game actually expanded in popularity and elevated in talent level during several decades immediately following Fidel Castro's mid-century rise to power. Once the four-team professional winter league loosely affiliated with North American major league baseball was shut down after the 1961 season, the door was finally thrown open for establishing a truly island-wide baseball circuit that would feature homegrown talent rather than imported foreign professionals. And this newly revised version of Cuban League baseball would also launch a five-decade domination of international tournament competitions that now stands as the centerpiece of nearly a century and a half of island baseball history. With its novel brand of post-revolutionary "amateur" baseball Cuba would also develop throughout the second half of the 20th century a genuine "alternative universe" to better publicized professional circuits represented by the North American and Japanese professional leagues.

The political estrangement between Cuba and the United States after 1962 not only largely ended the earlier moderate flow of Cuban ballplayers to North American major and minor league teams but also cast an aura of mystery over baseball circumstances on the island. North American fans have known precious little over the past five full decades about Cuban baseball developments. Island league stars have thus played in the same virtual obscurity as did the North American Negro leaguers of the first half of the 20th century. One obvious result of this isolation from the mainstream North American sporting press is an unfortunate persistence of several widespread myths concerning Cuba's post-revolutionary baseball era. First and most damaging has been a notion that the level of Cuban baseball diminished dramatically once the professional winter league was scrapped for a new form of "amateur" diamond competition. A related and equally false notion is one suggesting that inferior amateur-level play for the first time replaced superior professional competitions as the central focus of the Cuban national sport.[1]

Those maintaining this latter view overlook the historical fact that widespread pre-1950 amateur leagues across the island drew far more interest and produced more native island talent than did the Havana-based pro circuit of the pre-Castro era. The Cuban winter league of the earlier epoch attracted most of its star players from the ranks of imported North American Negro leaguers, drew a fan following among few Cubans living outside the capital city, and produced only a tiny handful of native big leaguers of true all-star stature – namely Adolfo Luque (1920s), Orestes Miñoso (1950s), and Camilo Pascual (1960s). It is also indisputable that a half-dozen Cuban Leaguers who abandoned the island during the late 1990s and early 2000s for big league careers in the United States have of late far outstripped the achievements of the small cadre of pre-revolution Cuban big leaguers. Among the new generation of superior Cuban major leaguers originally trained in the post-1962 Cuban circuit we find slugger Kendry Morales of the California/Anaheim Angels; flashy infielder Alexei Ramírez of the Chicago White Sox; pitchers Orlando "El Duque" Hernández, José Contreras, and Liván Hernández; and more recently the fastball phenom Aroldis Chapman. Chapman (recipient of a $30 million extended contract from the Cincinnati Reds) would become the most heavily recruited native Cuban on record, and both Hernández half-brothers walked off with big-league post-season MVP honors during the late nineties.

The current Cuban League – known as the Cuban National Series – opened its fiftieth season with the first pitch tossed in November 2010. This yearly National Series competition has slowly evolved through several distinct manifestations over the past five decades. While geographically based league teams have always represented provinces (states) or groups of provinces, these league clubs have often changed names from year to year and have only in recent seasons been consistently labeled for a home-base province, with a team nickname attached (e.g., Cienfuegos Elephants, Villa Clara Orangemen, Camagüey Potters). Current league structure involves 14 provincial teams and two added ball clubs (the Industriales Lions and Metropolitanos Warriors) representing the capital city of Havana.[2] There have also been several manifestations along the way of a second (often shorter) Cuban League season. A Selective Series (usually with the 14 provincial clubs combined into eight regional all-star squads) operated in late spring and summer between 1975 and 1995. And an even shorter four or five-team Super League was staged in June during four early years of the new millennium (2002-2005). Before the idea of the additional Selective Series competition was conceived, a single "Series of the Ten Million" was staged in the early summer of 1970 with six clubs engaged in a marathon 89-game slate. The name for the three-month event was drawn from President Castro's proclaimed goal of reaching ten million tons in that year's sugar cane harvest, and the series was thus promoted as special entertainment for sugar industry field laborers.

The Selective Series season played from the mid-seventies to mid-nineties was never considered a true league championship by most island fanatics. It did, however, contribute several highlight moments of Cuban League history and on several occasions provided the longest stretch of the year's domestic baseball action. During its first nine campaigns the Selective Series was actually longer than the National Series: first 54 games compared to 38 (1975-1977) and then 60 games compared to 51 (1978-1983). Across a final dozen episodes the Selective Series season dipped to 43 contests per team (1984-1985), ballooned out to 60 games (1986-1992), then shrunk again to 45 (1993-1995). It was during this competition in 1980 that Cuba celebrated its first .400-plus hitter (Héctor Olivera, Las Villa, .459); Omar Linares did not reach that plateau in the National Series until five years later. It was also in the Selective Series where Orestes Kindelán produced the first 30-plus home run total (30 in only 63 games), with Alexei Bell not reaching that same milestone in the National Series until as late as 2008 (31 in 90 games). The Selective Series also provided seven of the island's 51 rare no-hit, no-run pitching performances.

The half-dozen even shorter "second" seasons played during the past several decades – after the Selective Series tradition was finally scrapped – proved even less successful and therefore less sustainable. Two Revolutionary Cup campaigns in the 1990s (both won by Santiago de Cuba under manager Higinio Vélez) were memorable for a handful of individual record-setting performances and little else. Both 30-game events produced .450-plus batsmen (Yobal Dueñas, 1996 and Javier Méndez, 1997) and Santiago's Ormari Romero claimed 14 pitching victories without defeat across the same stretch. The four-year Super League experiment was a larger failure still although it did witness a playoff no-hitter tossed for Centrales by Maels Rodríguez. The idea of having provincial teams combined into a smaller number of regional squads never gained much traction with island fans. Super League games also fell during the hottest (and wettest) part of the year, and most games staged in the month of June were played to empty stadiums and disappointingly sparse television viewership.

Failure of these experimental extra seasons to garner any true fan enthusiasm is largely explained by a unique feature of island baseball which is also the basic strength of Cuban League structure. Since league teams are government properties overseen by a national sports ministry (INDER, National Institute of Sports, Education and Recreation) – not corporate businesses run for profit – there is no trading or transferring of Cuban League players, with all athletes serving on teams representing their own native province.[3] Like all Cuban athletes, ballplayers rise through the ranks of regional sports academies, performing for their neighborhoods on various age-group youth clubs and eventually graduating to Developmental League (the Cuban minors) and National Series teams. With the rarest of exceptions, a Cuban League star spends his entire playing career with a single local ball club. The huge plus sides of this unique system are both the deep-seated loyalties between fans and players and the rabid fanaticism attached to local clubs that truly do represent a fixed geographical locale. (A big-league equivalent would be a Boston Red Sox club employing only players raised and trained in the New England region.) The downside, of course, is that the Cuban League – like the majors in the era before free agency – is not exceptionally balanced. Larger provinces enjoy larger talent supplies and thus usually better teams; Havana and Santiago teams (along with occasional inroads by Pinar del Río and Villa Clara) have dominated championship play throughout league history.

Because of such hometown fan loyalties and attachments to local stars, shorter seasons with fewer teams have failed to garner support if only because the teams playing are not the usual fan favorites. Seeing the local heroes attired in strangely colored uniforms and competing for strangely named squads has little appeal for rooters attached by birthright and home base to Industriales, Pinar del Río or Sancti Spíritus. What might Boston Red Sox fans make of any two- or three-month season featuring Sox players joining forces with Yankees, Mets and Phillies stars on a team now relabeled as the Eastern Seaboard Lions? Fanaticism based on long tradition – and in Cuba also on the concept of local neighborhood stars – disappears in a league featuring several months of what are widely perceived as mere all-star exhibition contests.

National Series play was inaugurated in mid-January of 1962 and involved only a handful of teams during its earliest campaigns. Players were drawn from all areas of the island, but the initial clubs known as Occidentales, Azucareros, Orientales and Habana played the bulk of their first-season 27-game schedule in Havana's spacious Cerro Stadium (home of the pro winter circuit in the 1950s, rechristened as Latin American Stadium in 1971, and still in use today). The concept initially mandated by the new Castro government was to replace commercial baseball with a dedicated amateur play, designed to promote public health rather than financial profit (for either athletes or franchise owners) and thus more in line with a socialist spirit of government at the heart of a revamped societal system. In early seasons the players were indeed true amateurs, and the lower level of early league play reflected that fact. The first few seasons were short, and ball-playing was not yet a fulltime occupation for league athletes who maintained other professional occupations in the newly minted socialist society.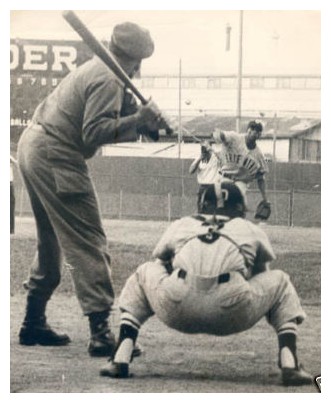 The historic initial season staged in the spring of 1962 lasted for little more than a full month and followed by less than nine months a clandestine U.S.-backed invasion attempt at the Bay of Pigs. A future league ballpark in the city of Matanzas (Victory at Girón Stadium) would eventually carry the name of the landmark 1961 invasion which solidified the Fidel Castro-led revolutionary government. An opening set of league games was celebrated in Cerro Stadium before 25,000 fans on Sunday, January 14, 1962. President Castro provided a lengthy speech and then stepped to the plate in his traditional military garb to knock out a ceremonial "first hit" against Azucareros starter Jorge Santín. When the actual ballplayers took the field, Azucareros blanked Orientales 6-0 behind three-hit pitching from Santín. In an 11-inning nightcap Occidentales edged Habana 3-1 with ace Manuel Hernández striking out 17 enemy batters.[4] A widely reprinted photograph (reproduced in this article) of President Castro stroking the season's first base hit delivered by Azucareros pitcher Modesto Verdura (not Santín) actually occurred in the same park on opening day of National Series II later in the same calendar year.

Four clubs participated in the initial month-long season, one managed by former big leaguer Fermín Guerra (Occidentales) and a second (Azucareros) directed by the former skipper of the minor league Cuban Sugar Kings, Tony Castaño. Occidentales under Guerra captured the first short-season title with the circuit's only winning ledger, and Occidentales outfielder Edwin Walter reigned as the first batting champion. The popular Havana-based Industriales ball club was organized for the following second season, which was the first to begin in the month of December and thus the first to overlap two calendar years. Industriales – the longest existing and most successful league team – would immediately launch its proud tradition by claiming four straight league titles in its initial four years of league play.

Early successes of the Cuban national team during a first decade of Fidel Castro's administration would soon redirect league structure and philosophy toward the development of strong national squads that could use baseball as something of a governmental foreign policy tool. A string of eight straight Amateur World Series titles in the 1970s demonstrated that Cuban baseball squads could score strong propaganda victories by beating the North Americans at their own game. Baseball was, after all, also the long-standing Cuban national sporting passion and therefore very much a national pastime shared with the rival Americans.[5] As a result of the new Cuban emphasis on victories abroad in Olympic-style events, government sports academes soon flourished around the island, and Cuban athletes graduating from those institutions became fulltime practitioners of their assigned sporting activities. Thus athletes were financially supported – even if at a modest level by North American standards – and they became "professionals" in at least two different senses of the word. Cuban ballplayers are now paid for performance, and consequently they devote all their effort and attention to their assigned profession of ball-playing.[6]

Over the course of its opening decade the National Series expanded to first six teams (1966) and eventually an even dozen ball clubs (1968). The number of games for each club also surged to 65 by mid-decade (1966) and eventually to as many as 99 (1968). The league reached its full stride once all provinces were represented by the mid-seventies and once post-season playoffs were introduced for the 1985-1986 season as a pressure-packed means of determining an eventual league champion. As the ever-changing league evolved in size it also regularly changed in shape, with a division into two groups or "zones" after 1988, and then four groups after 1993. The two-division structure – with a Western League (Occidental) and Eastern League (Oriente) – was once again adopted with the recent 2007-2008 season, and a 90-game schedule has been the league standard since National Series #37 (1997-1998).

Cuba's post-season playoffs have now witnessed a quarter-century history of their own and in many respects mirror their counterparts in the big leagues. Across the last decade-plus the post-season has featured quarterfinal (5 games), semifinal (best-of-seven) and final series (also seven games). The one major departure from major league post-season performance derives from the practice in the Cuban circuit of counting a player's individual statistical record as part of his cumulative career totals. Individual pitching and batting titles are determined before the post-season fray commences, but the record 487 lifetime homers of Kindelán and the career .368 batting standard of Linares do indeed include playoff performances. Recent campaigns have featured a number of thrilling seven-game final-round confrontations that have gripped the nation's television and radio audiences in early springtime. Just as big-league championships match American and National League rivals, the finals in Cuba always include the top surviving clubs representing the eastern and western zones of the island. The island's top fan favorites, Havana-based Industriales, squared off in the winner-take-all conclusion with one of their two western-sector heated rivals – either Santiago or Villa Clara – on five different occasions in the first decade of the new millennium.

The new National Series structure of the early 1960s not only spread organized league baseball island-wide for the first time, but it also extended and expanded a tradition of popular "amateur" leagues which had been at the center of the nation's baseball since its origins in the late-19th and early-20th centuries. Amateur-level baseball had always been the island's most popular sporting tradition and thus did not suddenly take hold – as popularly misconstrued – only with the Castro-led revolutionary government of the early sixties. Throughout the century's first five decades it was not the racially integrated Havana pro circuit but rather the more geographically diverse and all-white amateur league that drew both the largest fan followings and the island's top athletic talent. Many skilled players choose to remain amateurs since amateur teams ironically offered greater financial rewards (lucrative jobs with sponsoring companies such as the electric company or telephone company) and easier playing conditions (games played only on weekends). Today's government-run Cuban baseball enterprise is admittedly more commercial in nature; yet it now draws its distinctive "amateur" flavor from complete absence of any profit-motivated corporate team ownerships or ballplayer "free agency" of the type defining pro circuits in North America, Europe or Asia.

Cuban throwback-style ballparks are today one of the league's most charming features with their natural grass surfaces, absence of concession stands, minimalist non-video scoreboards, concrete bleachers, and bulky electric light stanchions. Most parks were built in the seventies and have a nearly identical appearance; construction crews were drafted from the island's population of students and field workers to erect these structures as part of the government's widespread public works projects of that era. Many stadiums are named for late-fifties revolutionary military heroes or important revolutionary battle sites, but two were christened to honor star league pitchers tragically lost in 1970s-era automobile accidents. The former include Capitan San Luis (Pinar del Río) and Nelson Fernández (San José de la Lajas); the latter are José Antonio Huelga (Sancti Spíritus) and Santiago "Changa" Mederos (Havana). The current sixteen league teams are housed in stadiums located in the capital city of each province, but most clubs also play a small portion of their league contests in smaller ballpark venues found in outlying provincial villages.

One historic older venue is Latin American Stadium housed in the Cerro district of Havana. The park was constructed in 1946 and is thus a holdover from the pre-revolution professional circuit which operated in the capital city through 1961. The last decade of that circuit found almost all league games staged in the building that was then known as Cerro Stadium or Gran Stadium. The structure received a major expansion and renaming in 1971 when the country hosted one of the numerous Amateur World Series events played in the capital city. The Havana Cubans (Class B Florida International League, 1946-1953) and the Cuban Sugar Kings (Class AAA International League, 1954-1961), two minor league clubs affiliated with Organized Baseball in the forties and fifties, also called this historic structure their home. Completely enclosed by its 1971 renovation, Latin American Stadium today boasts more than 55,000 seats in its slowly deteriorating single-deck structure of covered grandstand and open-air bleachers.

Today Latin American Stadium (Latino) features much the same appearance and aura as it had a half-century back, although the grandstand roof and home plate area box seats have fallen into slight disrepair. The sprawling park has served for several decades as home to both capital city league clubs, Industriales and Metropolitanos (more popularly called Metros). By the 2009 season, however, the also-ran and less popular Metros team was playing only at the smaller-capacity Changa Mederos Stadium located at the Havana Sports City athletic training facilities. Renovations were again done to Latino in advance of a Baltimore Orioles exhibition game versus the Cuban national team staged during late March 1999; MLB-quality outfield wall padding was provided by Major League Baseball as part of that historic exchange. A new scoreboard utilizing solar power and designed to cut usage of precious electricity was also imported from Viet Nam and installed for the opening of an historic Golden Anniversary National Series in November 2010. Post-2009 seasons in Havana have featured only daylight play due to damaged light towers (at both Latino and Changa Mederos) and an island-wide effort to conserve electricity in the face of the island's growing economic crisis.

Colorful team nicknames are also today a special feature of the Cuban League scene, although they were rarely used by the Cuban press until the final decade of the 20th century when they became a regular feature of media coverage on the island. Current teams are actually named for the provinces that host them and not for provincial capital cities which in most cases carry the same name. This has been the norm since the mid-eighties, but earlier club monikers often differed from provincial labels, occasionally indicated occupations sometimes overlapping with current club nicknames, and sometimes changed rapidly from year to year. The sixties featured squads called Occidentales, Orientales, Granjeros and Azucareros (Sugar Harvesters); the seventies witnessed clubs labeled Mineros (Miners), Oriente, Henequeneros, Constructores, and Serranos; the eighties introduced Camagüeyanos, Citricultores (Citrus Workers) and Vegueros.


Cuban League Team Names and Principal Stadiums



| | |
| --- | --- |
| Teams    | Stadiums |
|   |   |
| Occidental (Western) League |   |
| Industriales Leones (Blue Lions) | Latinoamericano |
| Pinar del Río Vegueros (Farmers) | Capitan San Luis |
| Province Vaqueros (Cowboys) | Nelson Fernández |
| Sancti Spíritus Gallos (Roosters) | José Antonio Huelga |
| Cienfuegos Elefantes (Elephants) | Cinco de Septiembre |
| Matanzas Reds (also Cocodrilos) | Victoria de Girón |
| Isla de la Juventud Pineros (Pine Cutters) | Cristóbal Labra |
| Metropolitanos Guerreros (Warrriors) | Changa Mederos |
|   |   |
| Oriente (Eastern) League |   |
| Santiado de Cuba Avispas (Wasps) | Guillermón Moncada |
| Villa Clara Naranjas (Orangemen) | Augusto César Sandino |
| Ciego de Avila Tigres (Tigers) | José Ramón Cepero |
| Las Tunas Magos (Magicians) | Julio Antonio Mella |
| Camagüey Tinajones (Potters) | Candido González |
| Guantánamo Indios (Indians) | Nguyen van Troi |
| Granma Alazanes (Stallions) | Martires de Barbados |
| Holguín Perros (Dogs) | Calixto García |



Havana's Industriales Blue Lions remain the island's most popular club, not surprisingly since that team represents the capital city region boasting a third of the nation's population. This team and its rabid following was the subject of the award-winning Cuban documentary (Fuera de la Liga, 2006) by Ian Padrón that took top prize at the 2009 Cooperstown film festival competition. The Industriales ball club has also enjoyed the greatest championship success: the Lions have claimed a dozen title banners, four more than the Santiago de Cuba ballclub representing the island's second most populous region. Former New York Yankees big league pitching star Orlando "El Duque" Hernández and 2000s California Angels slugger Kendry Morales both began their stellar careers on the Industriales roster. It is popular folklore in Havana that revolutionary war hero Ernesto "Che" Guevara was instrumental in the club's founding on the eve of National Series II (1962-1963), but that myth has no demonstrated factual basis.

Cuban baseball of the modern post-revolution era is characterized by two unique features – the league's geographical rather than corporate structure, and the fact that athletes perform for regional teams during the entire duration of their careers. Ball clubs representing provinces and not private corporate businesses means intense fan loyalties, since one's local team is always comprised of strictly hometown athletes. This feature of fan loyalty is intensified by the fact that Cuban ballplayers are never sold or traded from one club to another, thus performing their entire careers with the hometown squad. One consequence of such regional structure is the resulting imbalanced competition, since more populous regions own far greater access to ball-playing talent. But the absence of team parity seems more than cancelled out by the promise of passionate regional competitions.

Two other special features of the Cuban League also demand emphasis. One is the fact that only native-born Cuban athletes perform in the league, making it the purest example of a homegrown sporting production. The practice is in line which INDER's goal of shaping league seasons for the express purpose of training and selecting national team ballplayers. No other top circuits can boast this type of rigidly nationalistic flavor. Another oddity of league play (at least in view of traditions in Organized Baseball) is the practice of considering career statistics for individual ballplayers to be a composite not only of National Series games, but also of Selective Series, Revolutionary Cup and Super League contests. And as earlier noted, batting and pitching stats accumulated during post-season play (in effect for the past quarter century) are also counted in a ballplayer's final career numbers.[7]

The most defining element of Cuban League baseball, however, remains the mere fact that championship seasons exist with a primary purpose of training and selecting national team rosters for top-level international competitions. Since the 1960s the focus of Cuban baseball has always been on capturing international championships and thus fostering the nation's celebrated socialist-style sporting image. Cuba's national teams have as a result dominated international baseball for a half-century and counting (since the early sixties) and have in the process established a winning ledger that is easily the most remarkable in the history of the sport at any level. The most noteworthy feat has been Team Cuba's five-decade string of either winning or at least reaching the championship game of more than fifty straight major international tournaments (53 events in   total). This unparalleled streak finally came to an end with a second-round ouster of Team Cuba at the 2009 World Baseball Classic. Between the 1987 Pan American Games in Indianapolis and the 1997 Intercontinental Cup matches in Barcelona, the Cuban squad also claimed victory in 111 straight games played during major IBAF (International Baseball Federation) tournaments. Over the past five decades Cuban teams have maintained their dominance by capturing three gold and two silver medals in the five "official" Olympic baseball tournaments, as well as walking off with 18 of the 22 championship banners contested in the IBAF (International Baseball Federation) Baseball World Cup matches. Team Cuba's overall individual-game winning percentage since 1962 also stands well above ninety percent.

Cuban baseball did experience its own brief game-fixing scandal in the early seventies, though the affair was rather minor in scope when compared to the infamous big-league Black Sox affair or the widespread corruption that nearly sunk the Taiwanese pro league in the late 1990s. The hushed-up Cuban event received no media coverage on the home island at the time and involved a contingent of Industriales players who were suspended in the late 1970s without any public admission of guilt. One was promising star infielder Rey Anglada whose 10-year career was cut short by the affair. Another was slugger Bárbaro Garbey, a former league batting champion (Selective Series, 1976) and RBI leader (National Series, 1978). Garbey left Cuba in the Mariel 1980 boatlift and eventually showed up in North American professional baseball (which seemed to find his alleged misdeeds acceptable since they were easily dismissed as a blow against an enemy Cuban government).[8]  Garbey quickly proved a big-league misfit while Anglada quietly served out two decades of rehabilitation at home and then resurfaced in the early 2000s as a remarkable Cuban League managerial success story. Anglada would eventually direct his former club to three league pennants and also claim both silver (World Cup) and gold (Pan American Games) medals as the 2007 bench boss for the Cuban national team.

The Cuban League has been especially noted for numerous unmatched individual performances, some rarely if ever duplicated in the world's other top professional circuits. One of the most noteworthy has been the home-run-hitting exploits of Santiago outfielder Alexei Bell (pictured at the top of this article) who blasted a record 7 bases-loaded home runs in the league's short 90-game schedule during National Series #49 (2010). Bell's feat of launching the 2009-2010 season with remarkable consecutive "grand slam" home runs in the initial inning of the season's lid-lifter game may be the single most memorable moment in league annals. Another noteworthy slugging display in the new millennium has been the long-ball-hitting of 22-year-old Granma star Alfredo Despaigne, who established a single-season mark for home runs (32) in 2009 (one better than Bell a year earlier) and then repeated the feat in 2010. Perhaps more remarkable still were the five consecutive batting titles of Las Tunas outfielder Osmani Urrutia. Between 2001 and 2005 Urrutia compiled a remarkable five-year composite batting average above .400 (.422), a feat approached in North American major league competition only by Hall of Famer Rogers Hornsby (.402, 1921-1925).

While many Cuban league records seem suspect to North American fans because of lesser talent, shorter seasons, and several decades of aluminum bats, there are some individual performances that have no true major league equivalents. In addition to his single-inning grand slams, Bell holds two other distinctions, one being a pair of single-inning homers in a playoff game (April 18, 2007) and the second involving another post-season single-inning three-hit outburst (April 5, 2008). A player striking two homers in a single inning has occurred on several occasions in the majors (and 25 times in the Cuban League); three hits in an inning have been achieved but twice in the majors (Gene Stephens and Johnny Damon). But neither rarity has ever occurred during MLB playoff games. Still another unparalleled Cuban League event is the 14 consecutive hits by Granma's Ibrahim Fuentes (1989) which outdistanced by two th- 1952 big-league mark of Walt Dropo. A third unrivaled Cuban landmark would have be the 22 strikeout game by Faustino Corrales, two above the big league record posted on four occasions (twice by Roger Clemens and once each by Kerry Wood and Randy Johnson). Also in contention for special recognition is the 63 career shutouts achieved by Braudilio Vinent which matches the live-ball-era major league standard of Warren Spahn. Yet Vinent reached the figure in only about one-third the number of starts required by Spahn. Spahn logged 665 starts across his 21 Boston and Milwaukee campaigns (thus one shutout every 10.5 starts); Vinent reached the same total during his 20 years of combined National Series and Selective Series seasons in a mere 400 starts (meaning one shutout every 6.3 starts). Both recorded single season highs of seven (Vinent in the 1973 National Series, Spahn in both 1947 and 1951), but again Santiago's Vinent seems to hold the edge here since Cuban seasons are briefer and thus start opportunities are far fewer.

No-hit games are as much a cherished rarity in Cuba as they are in the majors, and by at least one measure they are a much rarer phenomenon. The league has witnessed only 51 no-hitters (one per year) through December 2010, the latest one thrown by Pinar's Vladimir Baños only several weeks into the historic fiftieth National Series season. Granted that Cuban League seasons are only slightly more than half as long as are big league campaigns, and twice as many ball clubs in the two MLB circuits also means approximately twice the number of daily games. Nonetheless, the modern major leagues have produced (by the finish of the 2010 season) a grand total of 269 "official" nine-inning gems or an average of 2.5 per MLB season. And this number includes only "sanctioned" MLB no-hitters in which a game must last a full nine innings and the pitcher authoring the gem must also be the game-winner. If we add in no-hitters tossed in losing efforts (there have been three), weather-shortened gems of less than nine frames (there have been 23 since 1903), plus games in which no-hitters were broken up in extra innings, after the first nine frames were hitless (13 of these), then the MLB total soars to 308 and the ratio to 2.878 MLB no-hitters per season. Of 49 Cuban National Series entering 2011, only a mere three (those ending in 1968, 1969 and 2000) have witnessed as many as three different no-hit efforts. There has only ever been one perfect game (without a single base runner) in the Cuban League (tossed by Maels Rodríguez on December 22, 1999), again making this event even rarer in Cuba than in the majors.

One no-hit-related event in Cuba stands out for special mention. The first pair of such games were thrown back in 1966, during successive starts by otherwise unheralded right-hander Aquino Abreu. Abreu, a lifetime sub-.500 hurler at 63-65 over 14 seasons (1962-1975), thus became the only pitcher in any major national professional league to match Cincinnati's Johnny Vander Meer (1938) with consecutive no-hit masterpieces. The first Aquino whitewash came on January 16, 1966, at Augusto César Sandino Stadium (Villa Clara) during the opener of a four-team doubleheader. Abreu (pitching for Centrales) permitted five base runners (including a hit batter in the ninth) yet blanked Occidentales 10-0 without permitting a single safety. Nine days later the feat was repeated with a 7-0 blanking (marred only by five free passes) against Industriales in Havana's Latin American Stadium. An added historical irony attached to Abreu's back-to-back masterpieces is that they were also the first two such games witnessed in Cuban League action.

When discussing pitching and batting feats on the island nation, Cuba's half-century-long league history might best be viewed as three distinguishable epochs. First to unfold was Cuba's version of the "dead ball era" which extended across nearly two decades into the late 1970s. Batting feats remained unimpressive and pitching marks were eye-popping, especially ERA totals. Eight league leaders in the latter department posted sub-1.00 figures across the first 15 National Series seasons, while only one slugger (Armando Capiró, 1973) was able to top the 20-homer plateau. Next came the upsurge in offense brought by the 1977 introduction of aluminum bats. This era lasted a full two decades until 1999 and the reintroduction of wooden clubs. The later event came at the time of the Baltimore Orioles exhibition visit in March 1999 and was spurred by changes in equipment rules for international tournament play. During this second era slugging exploded, paced by the home run bashing by Kindelán and the all-around batting prowess of Omar Linares, who batted above .425 on three occasions. The third and final era, post-2000, has witnessed an even bigger onslaught on the batting entries in league record books. But this latter surge likely has been due to increased league-wide talent as much as to any changes in equipment or playing conditions. So far two sluggers—Joan Carlos Pedroso in February 2009 and Yulieski Gourriel in January 2010 – have now slugged 200 or more homers playing only with MLB caliber bats.

North American fans at all aware of Cuban baseball are seemingly most intrigued with the issue of Cuban ballplayer "defections" to the North American pro ranks, although this is a subject much overblown in the foreign press while at the same time almost never discussed by Cuban media. The percentage of young prospects leaving the island has soared near the end of the first decade of the 21st century as economic conditions worsen in the homeland. But the fact remains that few recognizable stars have abandoned the socialist baseball system, and thus the impact on the level of league play has been truly minimal.[9] Cuba has long evaded the fate of all other Caribbean hotbeds (Venezuela, the Dominican Republic, and especially Puerto Rico) which have been essentially stripped clean of their local baseball operations by the constant transfer of homegrown talent to the higher paying North American majors and minors.

The three most talented and celebrated Cuban Leaguers of the past half century have (by wide consensus) been Omar Linares, Orestes Kindelán and Pedro Luis Lazo. Linares was repeatedly labeled across two decades as the top all-around third baseman performing anywhere outside the major leagues. "El Niño" Linares' top career achievement may well have been a career slugging percentage (.644) outdone only by Babe Ruth in the big league record books. Kindelán's home run slugging was legendary both on the island and in the realm of international tournaments. His career highlight came with 30 homers in only 63 games during a short Selective Series season. At the Atlanta Olympics the oversized DH belted the longest fly ball (a homer into the third deck in left-center-field) ever witnessed in Fulton County Stadium (former home of the Atlanta Braves). There has never been a Triple Crown winner in National Series play, but Kindelán came tantalizingly close on several occasions.[10]  Lazo retired in December 2010 as Cuba's all-time most successful hurler with a record 257 victories and 2426 career strikeouts (only 73 short of Rogelio García on the all-time list). On the international scene "The Cuban Skyscraper" was a dominant closer who grabbed the attention of North American audiences during the first World Baseball Classic.

The slugging feats of Linares and Kindelán seem now somewhat muted by their career-long use of the aluminum bats that were employed in Cuba from 1977 through 1999. And younger sluggers like Alfredo Despaigne and José Dariel Abreu by 2010 were already threatening many of their cherished records. Lazo is more likely to maintain his fame over the long haul in Cuba due as much to his colorful image and charismatic character as to his mere statistical legacy. In the final years of his storied career Lazo became a fixture of televised league games, regularly captured by cameras while leaning on the dugout or bullpen railing puffing on a huge cigar during live game action.

Another contemporary Cuban League figure who deserves note is veteran Isla de la Juventud hurler Carlos Yanes, one of the most remarkable "iron men" in the long annals of the sport. Now completing a 28th league season, Yanes has achieved feats unprecedented in modern era play. The Isla de la Juventud right-hander has few parallels as both a winner and loser of more than 200 games, and at the outset of the 2010-2011 campaign he continued to maintain hope of overtaking Pedro Lazo's career victory mark; to reach that goal the breaking-ball specialist would have to remain active for several more seasons (beyond the age of fifty). Despite the shorter Cuban seasons, the crafty junk-ball hurler (233-241 in December 2010) is nonetheless within easy striking distance of the unique career won-and-lost ledger of big leaguer Jack Powell (245-254), the sub-.500 MLB 200-game-winner with the largest number of both wins and losses. Had Yanes only pitched for a more successful ball club (like Villa Clara or Santiago), he would likely own all the Cuban career marks. As it is, the durable 46-year-old athlete stands at the top of a dozen categories, most of them attached to remarkable feats of durability.

Like any top professional leagues, Cuba's has produced its own collection of memorable and talented managers. National Series play serves as a proving ground for the selection of national team managers and coaches as well as national team ballplayers, and thus a handful of the top skippers have eventually distinguished themselves in international tournament play. The most noteworthy in this group are perhaps Servio Borges, Higinio Vélez and Jorge Fuentes. Borges was the most successful among the early 1970s school of coaches trained entirely in a revamped revolutionary baseball system introduced by Fidel Castro's sweeping governmental and social reforms; he also presided over the mid-seventies transition from aluminum to wooden bats. In addition to guiding eight championship squads in Amateur World Series play over a dozen summers (1969-1980), Borges also claimed two National Series crowns with Azucareros (1969, 1972). Vélez was only briefly visible to North American fans as Cuba's manager during the two editions of the MLB-sponsored World Baseball Classic. In domestic league action the most successful at winning championships over the long haul has been Jorge Fuentes in Pinar del Río, a five-time championship manager. Two skippers (Vélez, and Pedro Jova) have strung together back-to-back-to-back league titles, and two others (Antonio Pacheco and Rey Anglada) have claimed three titles in four campaigns. But only one bench boss – Ramón Carneado – has claimed four pennant victories in a row. The legendary Carneado worked his magic with Havana's Industriales club at the dawn of the new league (1963-1966) when most of his players were truly part-time amateurs. More recently, Victor Mesa – an all-star outfielder of the 1980s – proved to be the island's most colorful and also controversial manager while serving at the helm in Villa Clara from the mid-1990s to late-2000s. Mesa (before his dismissal in 2009) was known for such stunts as ejecting his entire relief corps from the bullpen to the team bus during an opposition rally, berating his bench between innings in full view of television cameras, replacing one pinch-hitter with another in mid-count of an at-bat, and substituting one pinch-runner for another after a successful steal by the first substitute. Many on the island complained that Mesa hurt his squads by always attempting to attract more attention to himself than his players.

The Cuban League has spawned a small but noticeable number of big leaguers in the early 21st century – especially pitchers. These are players who have "defected" from their homeland for various personal (and not always strictly financial) reasons. Rene Arocha was the first of the modern era national team stars to depart his homeland, doing so in the aftermath of a July 1991 exhibition series in Millington, Tennessee. Two half brothers – Liván (with the 1997 World Champion Florida Marlins) and Orlando Hernández (with the 1998 World Champion New York Yankees) made their marks on major league post-season lore in the late-nineties. José Contreras was a major star on the Cuban national team – posting a perfect 13-0 international record – before joining the Yankees in 2003. The most recent refugee hurlers have been Aroldis Chapman (Cincinnati Reds) and Yunieski Maya (Washington Nationals), both debuting with the pros in 2010. Southpaw Chapman gained much press attention with his 100-plus M.P.H. fastball (surpassed in the speed department back in Cuba only by Maels Rodríguez), but Maya, number two national team starter and 2005 league ERA champion, was perhaps a far greater loss – to both the home league and Team Cuban fortunes in international play. One non-pitcher enjoying superb successes in the big time has been California/Anaheim Angels first baseman Kendry Morales. Morales exploded on the Cuban scene in 2003 as National Series rookie-of-the-year but abandoned the island only three years later. The switch-hitter finally enjoyed a true breakout season with the American League Angels in 2009 (34 HR, 108 RBIs), but only after a long trial in the North American minor leagues.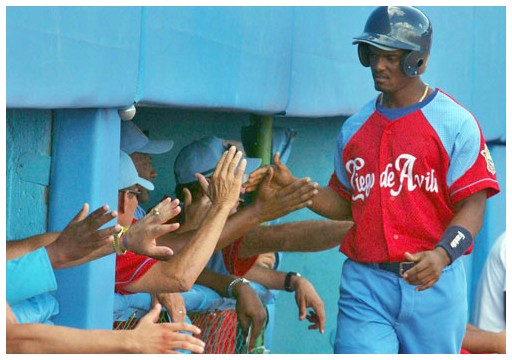 Many top Cuban stars of recent decades have ranked among the world's best ballplayers, despite never showcasing their talents in the professional North American major leagues. Pinar del Río mainstay Omar Linares – the Cuban League career batting leader with a lifetime .368 average compiled over 20 National Series and Selective Series seasons – was for two decades considered the world's best "amateur" player and the "greatest third baseman never to appear in the major leagues."[11] [11] And the inaugural two renditions of the MLB-sponsored World Baseball Classic (2006, 2009) have demonstrated that Cuban League all-stars can easily match major leaguers in top-level tournament competitions. Cuba surprised the professional baseball world by reaching the finals of the initial MLB event, while switch-hitting outfielder Frederich (Freddie) Cepeda was both batting leader and the only unanimous all-star selection at the 2009 second-edition MLB Classic. And Granma Province slugger Alfredo Despaigne established an all-time home run mark (11 in 15 games) while leading the Cuban national squad to the finals of the recent 2009 IBAF Baseball World Cup in Europe.

Cuban League baseball has provided over a full half-century an isolated yet entertaining baseball universe unparalleled elsewhere in the sport. Both the big-league successes of a small contingent of defectors and Cuba's surprise victories in the MLB-sponsored World Baseball Classic have demonstrated an undeniable truth: that this league ranks alongside the Japanese pro circuit and perhaps just below the U.S. major leagues among the trio of highest-level circuits. Cuba's self-styled brand of "revolutionary baseball" today stands out for its experiment in truly regional competitions among strictly homegrown athletes. But the greatest legacy of this league in the end has to be its production of powerhouse national teams capable of dominating world tournament competitions for decades on end.

Updated: January 2011


Cuban National Series Championship Teams

Era with Champion Determined by Cumulative Record


| | | |
| --- | --- | --- |
| Year | Series | Champion (Manager) Regular-Season Record |
| 1962 | I | Occidentales (Fermín Guerra) 18-9, .667 |
| 1962-63 | II | Industriales (Ramón Carneado) 16-14, .533 |
| 1963-64 | III | Industriales (Ramón Carneado) 22-13, .629 |
| 1964-65 | IV | Industriales (Ramón Carneado) 25-14, .641 |
| 1965-66 | V | Industriales (Ramón Carneado) 40-25, .615 |
| 1966-67 | VI | Orientales (Roberto Ledo) 36-29, .554 |
| 1967-68 | VII | Habana (Juan Gómez) 74-25, .748 |
| 1968-69 | VIII | Azucareros (Servio Borges) 69-30, .697 |
| 1969-70 | IX | Henequeneros (Miguel A. Domingüez) 50-16, .758 |
| 1970-71 | X | Azucareros (Pedro P. Delgado) 49-16, .754 |
| 1971-72 | XI | Azucareros (Servio Borges) 52-14, .788 |
| 1972-73 | XII | Industriales (Pedro Chávez) 53-25, .679 |
| 1973-74 | XIII | Habana (Jorge Trigoura) 52-26, .667 |
| 1974-75 | XIV | Agricultores (Orlando Leroux) 24-15, .615 |
| 1975-76 | XV | Ganaderos (Carlos Gómez) 29-9, .763 |
| 1976-77 | XVI | Citricultores (Juan Bregio) 26-12, .684 |
| 1977-78 | XVII | Vegueros (José M. Piñeda) 36-14, .720 |
| 1978-79 | XVIII | Sancti Spíritus (Candido Andrade) 39-12, .765 |
| 1979-80 | XIX | Santiago de Cuba (Manuel Miyar) 35-16, .686 |
| 1980-81 | XX | Vegueros (José M. Piñeda) 36-15, .706 |
| 1981-82 | XXI | Vegueros (Jorge Fuentes) 36-15, .706 |
| 1982-83 | XXII | Villa Clara (Eduardo Martin) 41-8, .837 |
| 1983-84 | XXIII | Citricultores (Tomás Soto) 52-23, .693 |
| 1984-85 | XXIV | Vegueros (Jorge Fuentes) 57-18, .760 |



ERA of Post-Season Playoffs


| | | |
| --- | --- | --- |
| Year | Series | Champion (Manager) Regular-Season Record |
| 1985-86 | XXV | Industriales (Pedro Chávez) 37-11, .771 |
| 1986-87 | XXVI | Vegueros (Jorge Fuentes) 34-13, .723 |
| 1987-88 | XXVII | Vegueros (Jorge Fuentes) 35-13, .729 |
| 1988-89 | XXVIII | Santiago de Cuba (Higinio Vélez) 29-19, .604 |
| 1989-90 | XXIX | Henequeneros (Gerardo Junco) 37-11, .771 |
| 1990-91 | XXX | Henequeneros (Gerardo Junco) 33-15, .688 |
| 1991-92 | XXXI | Industriales (Jorge Trigoura) 36-12, .750 |
| 1992-93 | XXXII | Villa Clara (Pedro Jova) 42-23, .646 |
| 1993-94 | XXXIII | Villa Clara (Pedro Jova) 43-22, .662 |
| 1994-95 | XXXIV | Villa Clara (Pedro Jova) 44-18, .710 |
| 1995-96 | XXXV | Industriales (Pedro Medina) 41-22, .651 |
| 1996-97 | XXXVI | Pinar del Río (Jorge Fuentes) 50-15, .769 |
| 1997-98 | XXXVII | Pinar del Río (Alfonso Urquiola) 56-34, .622 |
| 1998-99 | XXXVIII | Santiago de Cuba (Higinio Vélez) 46-44, .511 |
| 1999-00 | XXXIX | Santiago de Cuba (Higinio Vélez) 62-28, .689 |
| 2000-01 | XL | Santiago de Cuba (Higinio Vélez) 55-35, .611 |
| 2001-02 | XLI | Holguín (Héctor Hernández) 55-35, .611 |
| 2002-03 | XLII | Industriales (Rey Anglada) 66-23, .742 |
| 2003-04 | XLIII | Industriales (Rey Anglada) 52-38, .578 |
| 2004-05 | XLIV | Santiago de Cuba (Antonio Pacheco) 55-35, .611 |
| 2005-06 | XLV | Industriales (Rey Anglada) 56-34, .622 |
| 2006-07 | XLVI | Santiago de Cuba (Antonio Pacheco) 57-32, .640 |
| 2007-08 | XLVII | Santiago de Cuba (Antonio Pacheco) 61-29, .678 |
| 2008-09 | XLVIII | Habana Province (Esteban Lombillo) 57-33, .633 |
| 2009-10 | XLIX | Industriales (Germán Mesa) 47-43, .522 |



Cuban National Series Batting Leaders


| | | | |
| --- | --- | --- | --- |
| Year | Series | Batting Average | Home Runs |
| 1962 | I | Erwin Walter (.367) | Rolando Valdés (3) |
| 1962-63 | II | Raúl González (.348) | Rolando Valdés (3) |
| 19-6364 | III | Pedro Chávez (.333) | Jorge Trigoura (3) |
| 1964-65 | IV | Urbano González (.359) | Miguel Cuevas (5) |
| 1965-66 | V | Miguel Cuevas (.325) | Lino B etancourt (9) |
| 1966-67 | VI | Pedro Chávez (.318) | Erwin Walter (7) |
| 1967-68 | VII | José Pérez (.328) | Felipe Sarduay (13) |
| 1968-69 | VIII | Wilfredo Sánchez (.354) | Agustin Marquetti (19) |
| 1969-70 | IX | Wilfredo Sánchez (.351) | Raul Reyes (10) |
| 1970-71 | X | Rigoberto Rosique (.352) | Miguel Cuevas (10) |
| 1971-72 | XI | Elpidio Mancebo (.327) | Agustin Marquetti (11) |
| 1972-73 | XII | Eusebio Cruz (.341) | Armando Capiró (22) |
| 1973-74 | XIII | Rigoberto Rosique (.347) | Antonio Muñoz (19) |
| 1974-75 | XIV | Fermin Lafitta (.396) | Fernando Sánchez (6) |
| 1975-76 | XV | Wilfredo Sánchez (.365) | Antonio Muñoz (13) |
| 1976-77 | XVI | Eulogio Osorio (.359) | Pedro J. Rodríguez (9) |
| 1977-78 | XVII | Fernando Sánchez (.394) | Pedro J. Rodríguez (13) |
| 1978-79 | XVIII | Wilfredo Sánchez (.377) | Pedro J. Rodríguez (19) |
| 1979-80 | XIX | Rodolfo Puente (.394) | Pedro J. Rodríguez (18) |
| 1980-81 | XX | Erwin Walter (.394) | Agustin Lescaille (15) |
| 1981-82 | XXI | Fernando Hernández (.376) | Lázaro Junco (17) |
| 1982-83 | XXII | Juan Hernández (.367) | Lázaro Junco (15) |
| 1983-84 | XXIII | Wilfredo Sánchez (.385) | Luis G. Casanova (20) |
| 1984-85 | XXIV | Omar Linares (.409) | Lázaro Junco (24) |
| 1985-86 | XXV | Omar Linares (.426) | Reinaldo Fernández (18) |
| 1986-87 | XXVI | Javier Méndez (.408) | Orestes Kindelán (17) |
| 1987-88 | XXVII | Pedro L. Rodríguez (.446) | Lázaro Junco (25) |
| 1988-89 | XXVIII | Juan Bravo (.414) | LázaroJunco (20) |
| 1989-90 | XXIX | Omar Linares (.442) | Ermidelio Urrutia (20) |
| 1990-91 | XXX | Lázaro Madera (.400) | Lázaro Junco (17) |
| 1991-92 | XXXI | Omar Linares (.386) | Romelio Martínez (19) |
| 1992-93 | XXXII | Omar Linares (.446) | Lázaro Junco (27) |
| 1993-94 | XXXIII | Lourdes Gourriel (.395) | Lázaro Junco (21) |
| 1994-95 | XXXIV | Amado Zamora (.395) | Miguel Caldés (20) |
| 1995-96 | XXXV | Luis Ulacia (.421) | Ariel Benavides (25) |
| 1996-97 | XXXVI | José Estrada (.391) | Julio Fernández (15) |
| 1997-98 | XXXVII | Roberquis Videaux (.393) | Oscar Machado (24) |
| 1998-99 | XXXVIII | Yobal Dueñas (.418) | Daniel Lazo (18) |
| 1999-00 | XXXIX | Yorelvis Charles (.353) | |
| 2000-01 | XL | Osmani Urrutia (.431) | Roberquis Videaux (23) |
| 2001-02 | XLI | Osmani Urrutia (.408) | Michel Abreu (23) |
| 2002-03 | XLII | Osmani Urrutia (.421) | Joan C. Pedroso (28) |
| 2003-04 | XLIII | Osmani Urrutia (.469) | Reinier Yero (19) |
| 2004-05 | XLIV | Osmani Urrutia (.385) | Joan C. Pedroso (27) |
| 2005-06 | XLV | Michel Enríquez (.447) | Yulieski Gourriel (27) |
| 2006-07 | XLVI | Osmani Urrutia (.371) | Alexei Ramírez (20) |
| 2007-08 | XLVII | Yoandy Garlobo (.398) | Alexei Bell (31) |
| 2008-09 | XLVIII | Michel Enríquez (.401) | Alfredo Despaigne (32) |
| 2009-10 | XLIX | Alfredo Despaigne (.404) | Alfredo Despaigne (31) |



Cuban National Series Pitching Leaders



| | | | |
| --- | --- | --- | --- |
| Year | Series | ERA | Strikeouts |
| 1962 | I | Antonio Rubio (1.39) | Manuel Hernández (94) |
| 1962-63 | II | Modesto Verdura (1.58) | Modesto Verdura (55) |
| 1963-64 | III | Orlando Rubio (0.63) | Rolando Pastor (97) |
| 1964-65 | IV | Maximiliano Reyes (1.57) | Manuel Alarcón (101) |
| 1965-66 | V | Alfredo Street (1.09) | Rigoberto Betancourt (103) |
| 1966-67 | VI | Ihosvany Gallegos (0.80) | Rigoberto Betancourt (126) |
| 1967-68 | VII | Braudilio Vinent (1.03) | Manuel Alarcón (200) |
| 1968-69 | VIII | Roberto Valdés (1.03) | Santiago Mederos (208) |
| 1969-70 | IX | Rolando Castillo (0.60) | Santiago Mederos (143) |
| 1970-71 | X | Manuel Hurtado (0.67) | Braudilio Vinent (112) |
| 1971-72 | XI | Ihosvany Gallegos (0.37) | Braudilio Vinent (127) |
| 1972-73 | XII | Braudilio Vinent (0.85) | Alfredo García (160) |
| 1973-74 | XIII | Juan Pérez Pérez (1.13) | Julio Romero (160) |
| 1974-75 | XIV | Wilfredo Ruíz (0.62) | Santiago Mederos (92) |
| 1975-76 | XV | Omar Carrero (0.46) | Omar Carrero (94) |
| 1976-77 | XVI | Isidro Pérez (0.90) | Rogelio García (97) |
| 1977-78 | XVII | José Riveira (0.82) | Rogelio García (97) |
| 1978-79 | XVIII | Nivaldo Pérez (0.86) | Rogelio García (102) |
| 1979-80 | XIX | José Sánchez (0.76) | Rogelio García (132) |
| 1980-81 | XX | Rogelio García (1.31) | Braudilio Vinent (90) |
| 1981-82 | XXI | Julio Romero (1.45) | Rogelio García (144) |
| 1982-83 | XXII | José Riveira (0.63) | Rogelio García (119) |
| 1983-84 | XXIII | Manuel Alvarez (1.17) | Faustino Corrales (143) |
| 1984-85 | XXIV | Andres Luis (1.67) | Félix Nuñez (138) |
| 1985-86 | XXV | Jorge Luis Valdés (1.56) | Pablo M. Abreu (97) |
| 1986-87 | XXVI | Rene Arocha (1.31) | Juan Ramírez (91) |
| 1987-88 | XXVII | Rogelio García (2.21) | Buenafe Napoles (96) |
| 1988-89 | XXVIII | Lázaro Valle (1.93) | José Luis Alemán (87) |
| 1989-90 | XXIX | Jorge Fumero (1.44) | Osvaldo G. Fernández (118) |
| 1990-91 | XXX | José Riscart (1.51) | Juan C. Pérez (107) |
| 1991-92 | XXXI | Francisco Despaigne (0.92) | Juan C. Pérez (134) |
| 1992-93 | XXXII | Jorge Pérez (1.74) | Ernesto Guevara (117) |
| 1993-94 | XXXIII | Osvaldo Fernández (1.62) | Liván Hernández (132) |
| 1994-95 | XXXIV | Luis R. Arrojo (1.88) | Omar Luis (108) |
| 1995-96 | XXXV | Jorge Fumero (1.94) | Faustino Corrales (128) |
| 1996-97 | XXXVI | Pedro Luis Lazo (1.15) | Jose A. Contreras (135) |
| 1997-98 | XXXVII | José Ibar (1.51) | José Ibar (189) |
| 1998-99 | XXXVIII | Ciro S. Licea (1.85) | José Ibar (158) |
| 1999-00 | XXXIX | Norge Luis Vera (0.97) | Yovani Aragón (177) |
| 2000-01 | XL | Maels Rodríguez (1.77) | Mael Rodríguez (263) |
| 2001-02 | XLI | José A. Contreras (1.76) | Maels Rodríguez (219) |
| 2002-03 | XLII | Alain Soler (2.01) | Adiel Palma (179) |
| 2003-04 | XLIII | Luis Borroto (1.49) | Luis Borroto (135) |
| 2004-05 | XLIV | Yunieski Maya (1.61) | Adiel Palma (143) |
| 2005-06 | XLV | Noelvis Hernández (2.29) | Luis Borroto (117) |
| 2006-07 | XLVI | Ciro S. Licea (1.15) | Aroldis Chapman (100) |
| 2007-08 | XLVII | Jonder Martínez (1.55) | Yunieski González (111) |
| 2008-09 | XLVIII | Yadier Pedroso (1.91) | Aroldis Chapman (130) |
| 2009-10 | XLIX | Angel Peña (2.14) | Vladimir García (115) |



Cuban League Career Batting Leaguers (through 2010 season)

* Players still active in 2011



| | |
| --- | --- |
| Batting Average | Omar Linares (.368) |
| Home Runs | Orestes Kindelán (487) |
| RBI | Orestes Kindelán (1511) |
| Base Hits | Antonio Pacheco (2356) |
| Runs Scored | Omar Linares (1547) |
|   | Enrique Díaz (1535)* |
| Steals | Enrique Díaz (709)* |
| Doubles | Victor Bejerano (382) |
| Triples | E nrique Dáz (95)* |
| Slugging | Omar Linares (.644)* |
| Total Bases | Orestes Kindelán (3893) |



Cuban League Career Pitching Leaders (through 2010 season)

* Players still active in 2011



| | |
| --- | --- |
| Games Won | Pedro Luis Lazo (251) |
| Games Lost | Carlos Yanes (241)* |
| ERA | José Antonio Huelga (1.50, 871.1 innings) |
| Strike Outs | Rogelio García (2499) |
| Walks | Carlos Yanes (1304)* |
| Saves | José Angel García (127)* |
| Shutouts | Braudilio Vinent (63) |
| Innings | Carlos Yanes (3827.0)* |
| Games | Carlos Yanes (710)* |
| Relief Appearances | Yolexis Ulacia (399)* |


Sources

Alfonso López, Felix Julio. Con las bases llenas: Béisbol, historia y revolución. Havana, Cuba: Editorial Cientifico-Técnica, 2008.

Bjarkman, Peter C. A History of Cuban Baseball, 1864-2006. Jefferson, NC and London: McFarland & Company Publishers, 2007. [Chapter 8: Cuba's Revolutionary Baseball (1962-2005), and Chapter 7: Havana as Amateur Baseball Capital of the World]

_____. Diamonds around the Globe: The Encyclopedia of International Baseball. Westport, CT: Greenwood Press, 2005. [Chapter 1: Cuba: Béisbol Paradiso]

_____. "Omar Linares." The Baseball Biography Project (Society for American Baseball Research). www.bioproj.sabr.org.

_____. "Milestone Performances from a First Half-Century of National Series History". www.BaseballdeCuba.com (January 16, 2011).

_____. "Bell Rings in Cuban Season with Spectacular Home Run Display." www.BaseballdeCuba.com (November 5, 2009).

_____. "The Remarkable Saga of Cuba's Rubber-Armed Carlos Yanes". www.BaseballdeCuba.com (April 23, 2009).

Cases, Edel; Jorge Alfonso and Alberto Pentana. Viva y en juego. Havana: Editorial Científico Técnica, 1986.

González Echevarría, Roberto. The Pride of Havana – A History of Cuban Baseball. New York: Oxford University Press, 1999.

Guia Oficial de Béisbol Cubano. Havana: Editorial Deportes, various years. (Annual Cuban Baseball statistical guide published most years in the 1960s and 1970s and then regularly since 1998.)

Jamail, Milton. Full Count: Inside Cuban Baseball. Carbondale and Edwardsville: Southern Illinois University Press, 2000.

Moore, Marvin. "Chasing Dreams: Cuban Baseball Defectors." www.baseballdeword.com (Parts I and II, January 15-16, 2010).

Rucker, Mark and Peter C. Bjarkman. Smoke: The Romance and Lore of Cuban Baseball. New York: Total Sports Illustrated, 1999.

Toledo Menéndez, Dagoberto Miguel. Béisbol Revolucionario Cubano, La Más Grande Hazaña – Aquino Abreu. Havana: Editorial Deportes, 2006.

Photo Credits

Author's Collection
---