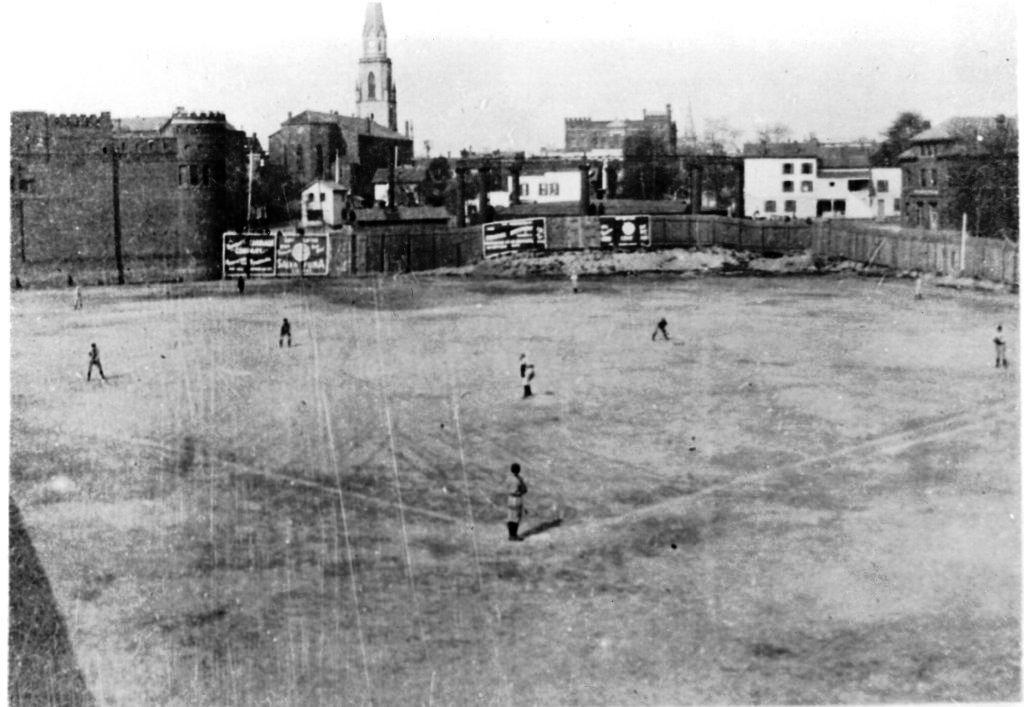 This article was written by John R. Husman
---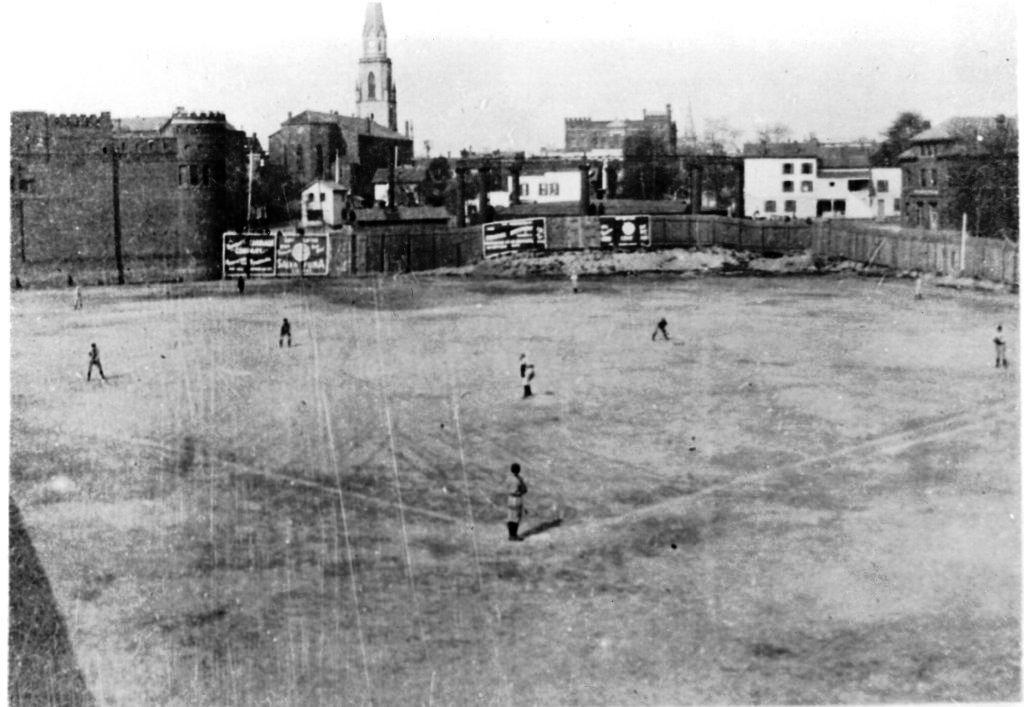 It seems that baseball has many fathers. Perhaps, for all he had do with the development of the game in the city, we might call Charles J. Strobel the Father of Toledo Baseball. It was during his tenure that the nickname of Mud Hens was coined and Toledo was admitted to the American Association. He may have been the best manager Toledo ever had. But most of all he had the vision to build Toledo's landmark park, Armory Park, more than a century ago. And he built it downtown.
Professional baseball has been played in Toledo since 1883. The early game lacked staying power and suffered from an identity crisis, with frequent changes of ownership, league affiliations, players, club nicknames, and ballparks. Twelve parks have been in use, but only four since the turn of the 20th century. The first of these, Armory Park, was the brainchild of the owner and field manager of the Toledo Base Ball Club, Charles J. Strobel. Armory Park opened its gates on May 29, 1897, and ushered in an era of new-found stability for the national pastime in Toledo.
The city's early parks came and went with the owners. During 11 seasons prior to Armory's opening, Toledo teams played at nine venues. Since Armory opened, only three more parks have been home to Toledo teams. League Park, Speranza Park, Olympic Park, and the Ewing Street Grounds were primary 19th-century parks preceding Armory Park. Riverside Park, Presque Isle, Casino Park, and Whitestocking Park were sometimes used for Sunday games, or on a time-sharing basis.
Toledo's initial season, 1883, was a rousing success, but not a sign of things to come, as the Blue Stockings captured the high minor-league Northwestern League championship. Their home was League Park, located on the north side of Monroe Street between 13th and 15th Streets. That success landed Toledo a berth in the major-league American Association in 1884, and they finished a poor eighth in the 12-team circuit. The business of baseball fared even worse as it took a $4,000 bailout from a benefactor for the club to be able to complete the season. Toledo has reveled in its major-league status ever since, in part because that early team was integrated. Moses Fleetwood Walker and his brother Welday Wilberforce Walker became the first two blacks to play in the major leagues. But objectively, Toledo's major status is somewhat tainted, as major-league baseball that season had grossly overextended itself to three leagues and 34 clubs. True, Toledo shared major-league status with the likes of New York, but it did so with Altoona as well. The next year the majors cut back to more reasonable levels and Toledo found itself in the low minor-league Western League, which folded in June. There was no professional baseball in Toledo in 1886 and 1887.
The Ketcham brothers, Valentine H. Jr. and George H., backed baseball for another try for three seasons beginning in 1888, hosting home games at Speranza Park. The team had some success and again attained major status for the 1890 season, in the American Association. But baseball had again succumbed to overexpansion. And once again the hometown Black Pirates played poorly and major-league baseball fared poorly as well. There were two major leagues the next year and just one league the year following. John W. Gunnels brought baseball to Olympic Park, off Indiana Avenue near Hawley in 1892, but completed only a portion of the season. There was no professional baseball in Toledo in 1893.
Dennis A. Long entered the Toledo White Stockings in the Western League in 1894. He utilized two parks, Whitestocking, on Lagrange Street between Hudson and Oakland, and the Ewing Street Grounds, near Dorr Street. He favored Ewing as it had twice the seating capacity of Whitestocking, and had hoped for fan support from the neighborhood as Ewing was in a residential district. Long's plans backfired, however, as the problem of Sunday baseball and Toledo's blue laws came to a head in 1895. Long had not scheduled Sunday games in 1894 and knew that the difference between success and failure was the lucrative weekend gate. After being offered financial incentives and guarantees, he moved the team to Terre Haute in the middle of the 1895 season.
Blue laws had been on Toledo's books since 1864 and said, in part, "It shall be unlawful for any person or persons to play ball, or billiards, or cause any disturbance within the city of Toledo on Sunday." As early as 1890 the blue laws, as a result of initiatives from the Law Enforcement League and Toledo's clergy, became a factor. On Sunday, April 6, the entire Toledo and Wheeling teams were arrested at Speranza Park. Bonds were posted and play continued, but each player was later fined $2.00 by the court. Despite the protests, Sunday games continued and drew well; on May 5 "fully 5,000 gathered at the park." On two Sundays in 1892, May 22 and 29, both teams along with their managers and the umpire were arrested. All the offenders were hauled downtown to the police station on streetcars. On the second occasion, the detective force was present among the crowd, "taking names of prominent persons present." It was found that many who had signed anti-Sunday baseball protests were at the game. In fact, Sunday baseball was extremely popular among the working class as many could not attend on any other day. The Toledo Blade reported that on Sunday, May 8, "attendance was beyond anything ever seen in Toledo at a ball game" and that "a conservative estimate places the number of people present at 7,500." This huge crowd may have been Toledo's largest before Swayne Field opened in 1909.
The issue became moot as the Western League disbanded in July, there was no baseball the next year, and in 1894 the club scheduled no Sunday games. But it did in 1895. Common Pleas Court Judge Charles Pratt issued a temporary restraining order before the first scheduled Sunday game prohibiting the White Stockings from playing baseball on Sunday. The injunction was later made permanent and no Sunday ball was played that season, shortened because Long moved the club away.
Gunnels returned to ownership in 1896 fully aware of the Sunday baseball problem, and set about to solve it. And solve it he did by arranging to play Sunday games outside the city limits. He struck a deal with David Robison Jr., owner of the Toledo Electric Street Railway Company and the Casino at the northern end of the Summit Street Line at the present Bay View Park. Sunday games would be played at Casino Park while the Ewing Street Grounds continued to be used during the week. The plan worked, but Gunnels sold his interest to Charles J. Strobel on July 26, 1896. Strobel continued the dual grounds scheme, but planned a new park for the next season.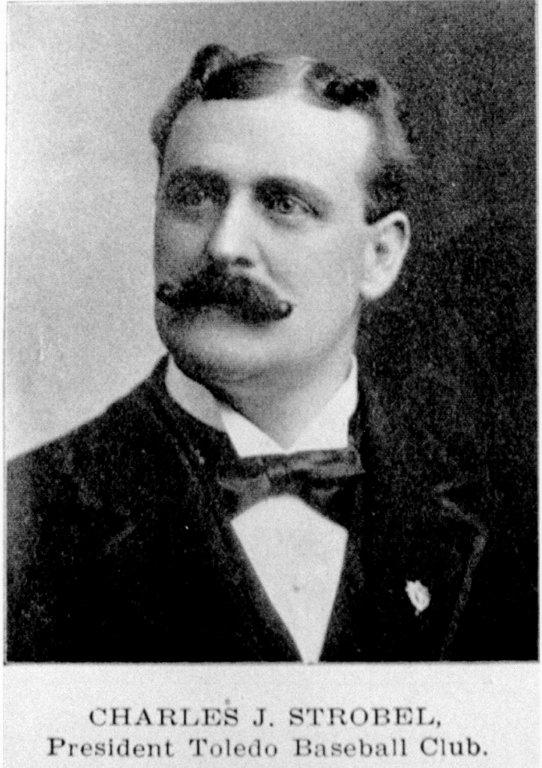 Strobel, a native of Sandusky, Ohio, and an oil magnate, came to Toledo via the state of Washington in 1896 as a musician and businessman. His purchase of the Toledo Base Ball Club was the first of his numerous business ventures in the city. He poured his heart and soul and his money into Toledo baseball, personally running the business as well as the team on the field. The season of 1896 was spli,t and the Strobel team enjoyed immediate success, winning the second-half championship.
Over the winter of 1896-97, Strobel searched for a site for a new park to replace the Ewing Street Grounds. As late as early April he had not yet found the location, as he was still considering the old Speranza grounds at Cherry and Franklin. But by mid-May, he had secured a downtown site at Jackson and Spielbusch, adjacent to Toledo's Armory, and had started construction. By today's standards his timetable was extremely ambitious as he planned to play at the new grounds on May 24, 1897. On the 17th the Blade was enthusiastic in its support of Strobel's efforts: "There will be no professional base ball in Toledo until next Monday, when New Castle will be here for the first time, and when it is expected the initial game will be played on the new down town grounds. It is anticipated that every seat will be filled, and that the boys will be given a royal welcome home. Manager Strobel is going to an enormous expense in fitting up the grounds, and deserves liberal patronage for his pluck and determination to give the fans of Toledo base ball where they can go and see it without taking half a day to do so, and being dumped off the track every day in the bargain."
Construction delays and wintry weather caused the opening to be postponed until May 29. Strobel did all he could to speed completion by paying the contractor a bonus, and took to supervising the finishing work himself. Even with the delays, the weather was less than perfect. The game scheduled the previous day at Casino Park had been postponed because of "frost," and the Blade suggested that "banks of snow and ice may block the base lines" for the opener. The first game was called at Armory Park, sometimes called Military Park during its early days, under "slightly frigid" conditions. The Mud Hens warmed about 3,000 spectators, an "immense crowd," by beating Mansfield twice, 13-5 and 13-7, in an Inter-State League doubleheader.
Armory Park stood on the present location of the United States District Courthouse on Spielbusch Avenue. Home plate was located near Spielbusch between Jackson and Orange, with center field in the direction of the intersection of Orange and Ontario (Ontario then continued through what is now the Civic Center Mall). A batter would see a "brick monster" of a wall in left field – it was the Ohio National Guard Armory. Beyond the left-center-field fence he would see the high-rising steeple of St. Mary's Catholic Church on Cherry Street. He would no doubt eye the short right-field fence along Ontario Street, so short that a ball struck over it would allow the batter only two bases by ground rule. Later there would be grandstands along both baselines and bleachers in right field. Even then, advertisers placed their messages on the outfield fence.
Armory Park served as the home of the Mud Hens until July 1909, all or parts of 13 seasons. Its longevity exceeded that of any previous park by more than four times as it became Toledo's first permanently established — and only downtown – grounds. Initially, Armory gave up its weekend games to Casino/Bay View Park as the blue law controversy continued. But the election of Samuel "Golden Rule" Jones as mayor in 1897 changed all that. A champion of the working people and ever mindful of those who had put him in office, Jones refused to enforce the ban on Sunday baseball. So beginning in 1901, Armory Park enjoyed the added distinction of being Toledo's first full-time baseball park.
Strobel held ownership of the Toledo Base Ball Club through the 1904 season and managed the club on the field for all but the last two years he had the team. He had unprecedented success in his early going and set durability and winning standards for Toledo managers, some of which still stood in the 21st century. During more than a century of baseball, only Strobel, Casey Stengel, and Cal Ermer have served six or more seasons as manager of the club.
Strobel followed his first half-season championship with a full season crown in 1897 and then a runner-up spot. Then came three consecutive third-place finishes. For 1902 he entered Toledo as a charter member of the minor-league American Association along with Columbus, Louisville, Indianapolis, Kansas City, Minneapolis, Milwaukee, and St. Paul. The league was highly competitive and Toledo finished in last place its first three years and never was a regular contender for top honors. However, Strobel had secured a place for Toledo in a minor league with the highest classification, a relationship that would last (with one minor exception) for more than 50 years.
Strobel knew that the way to success at the ticket window was to field a winner. He did that for a time, and generally with players not destined for greatness. One he brought to Toledo would, however, attain stardom. Adrian "Addie" Joss came to Toledo as a young pitcher from Wisconsin. He pitched two seasons, 1901 and 1902, for the Mud Hens, winning 46 games. He then moved on to play at Cleveland, but kept his home in Toledo. His short career in Cleveland was brilliant. He won 160 games in nine seasons, notched a 1.88 career earned-run average (second for all major-league pitchers, ever), and pitched a perfect game. He was elected to the Hall of Fame in 1978. Another giant of the game who spent his formative years at Armory Park was Joseph V. McCarthy. A mediocre player during four seasons in Toledo, McCarthy went on to manage 24 years in the major leagues for the Cubs, Yankees, and Red Sox. In all, he won nine pennants and seven world championships and amassed the all-time best winning percentage for both regular season and World Series play. McCarthy was enshrined in the Hall of Fame in 1957.
The consummate promoter, Strobel sought other ways to fill his park. On one occasion he played the reigning world heavyweight boxing champion, James J. Corbett, at first base. He scheduled exhibition games with top-light competition, sometimes major-league teams, extending the season. He offered not just one but two ladies days each week. On Tuesday and Friday women were admitted at no charge; on all other days at half-price of 25 cents. Major-league baseball came to Armory Park on two occasions in 1903, the Detroit Tigers beating New York and losing to Philadelphia in American League contests. Football was a part of the scene there as well, as both Woodward Technical High School and the University of Toledo used Armory as their home field for a time.
After selling his baseball interests, Strobel continued to be active in the community as a member of the Elks and in business. He managed and was band master of Strobel's Band and Orchestra and Strobel's Military Band, and operated several other businesses that lasted but a short time. He was also a pioneer in aviation, providing financial backing and management for Roy Knabenshue's famous "dirigible balloon." He had several exhibition dirigible companies that traveled many states and Canada flying at fairs, amusement parks, and resorts. He came to believe that airplanes, as opposed to balloons and dirigibles, were the coming thing and became a builder of airplanes in his Toledo factory. He was a central figure in an aborted attempt to enter a Toledo team in the South Michigan League in 1915 (the Mud Hens were in Cleveland in 1914-1915).
Strobel made his home with his wife, Barbara, on Vermont Street or just around the corner on Bancroft all his years in Toledo. He died on June 5, 1915, of typhoid fever at the age of 51. The Strobels had no children. For all his efforts and ventures, Strobel left an insolvent estate. His burial was at Oakland Cemetery in Sandusky.

In 1909 Armory Park gave way to Swayne Field, which had double the seating capacity. In its day Swayne was as fine a stadium as there was, and it served as Toledo's outdoor sports center through the 1955 season, when it was removed to make room for a shopping center. A part of it remained in the 21st century, the only remnant of any of Toledo's predecessor parks. The original left-field wall still stands behind the row of stores off Detroit Avenue. In turn, Swayne Field was succeeded by a field at the Lucas County Recreation Center in Maumee in 1965 that came to be called Ned Skeldon Stadium in 1988. Armory Park was razed in 1910 and replaced by a temporary Christian revival tabernacle that hosted ballplayer-turned-evangelist Billy Sunday's 1911 crusade. It was during Sunday's visit that Addie Joss tragically died at the age of 31. Sunday preached the sermon at one of the largest funerals Toledo has ever seen. The present US Courthouse was opened on the site of Armory Park in 1932 as the "new federal building" and the Armory itself was destroyed by fire in 1934.
December 31, 2010
Sources
The author wishes to acknowledge the assistance of Ralph Lin Weber as well as that of Alyce and Chuck Lutomski and Rolf Scheidel.
Husman, John R. Baseball In Toledo, Arcadia Publishing, 2003.
Lin Weber, Ralph Elliott. The Toledo Baseball Guide of the Mud Hens 1883-1943, Baseball Research Bureau, 1944.
Toledo Bee
Toledo Blade
Toledo News-Bee
Toledo Times
Photos
1. This game action photograph of Armory Park dates from about 1904. Armory Park was Toledo's first permanent park and was home to the Mud Hens from 1897 until 1909. Located downtown on Spielbusch Avenue on the site of the present federal courthouse, the adjacent National Guard Armory lent its name to the park. The small field was not well suited for showcasing the legging out of triples and inside-the-park home runs and outfielders chasing down long drives, features of the game at the turn of the century. The right-field wall was so close that balls hit over it were scored as doubles rather than home runs. Visible in the background are the steeple of St. Paul's Lutheran Church and the dome of the Lucas County Courthouse, both still a part of the 21st-century Toledo skyline. The canvas to the right is a temporary wall necessary because fire had destroyed the third-base grandstand. (Rolf Scheidel)
2. This early photograph of Armory Park, built and opened in 1897, shows the National Guard Armory in left field and St. Mary's Catholic (German) church, at Cherry and Michigan, just to its right. This may not depict real game action as a catcher is not visible and the player at home plate does not appear to have a bat. Although the construction is somewhat crude, note that advertising already appears on the outfield fences. (Toledo-Lucas County Public Library)
3. Charles J. Strobel owner and manager of the Toledo Base Ball Club, 1896 – 1904.
http://bioproj.sabr.org/bp_ftp/images4/ArmoryPark1.jpg
600
800
admin
/wp-content/uploads/2020/02/sabr_logo.png
admin
2012-01-08 20:51:19
2022-11-28 20:49:56
Armory Park (Toledo, OH)