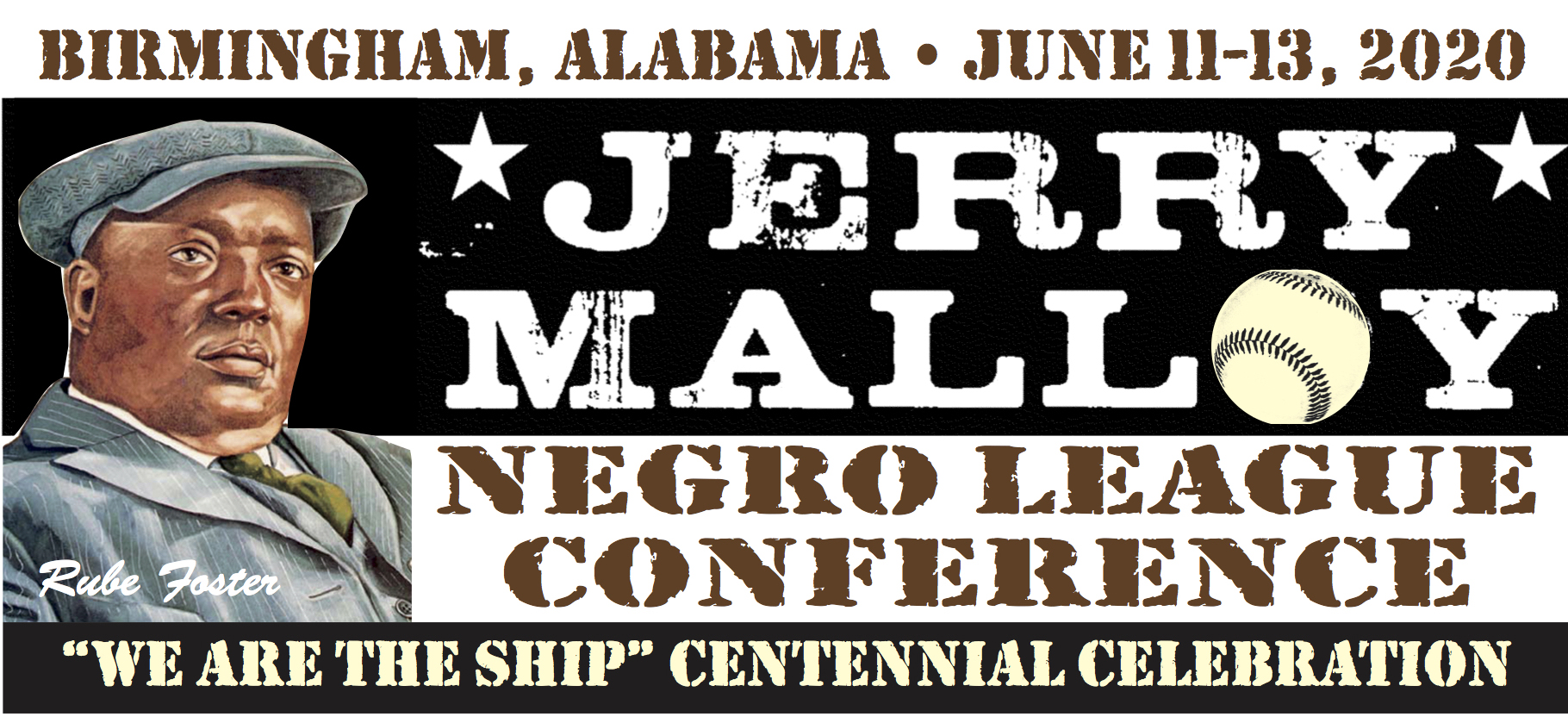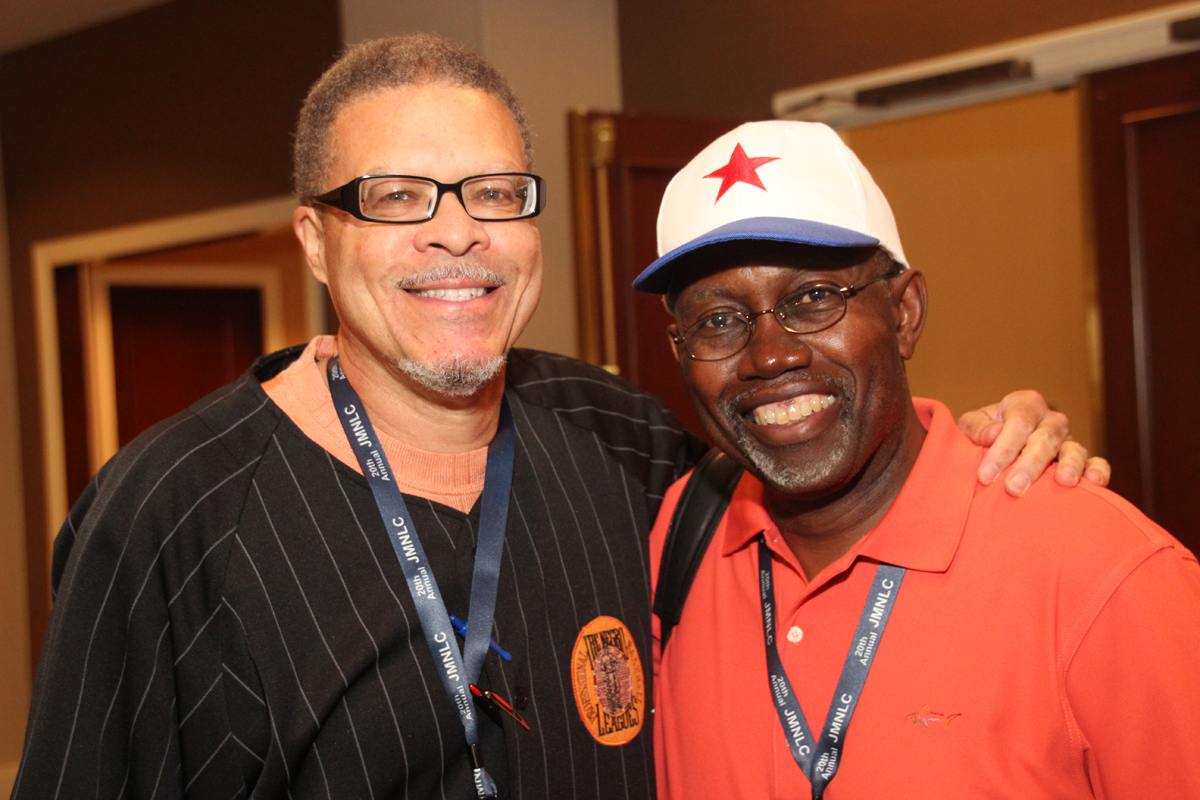 One hundred years ago, the Negro National League of Professional Base Ball Clubs (NNL) was established as a viable option for professional Black athletes barred from the all-White major leagues to showcase their talents. In 2020, SABR's Negro Leagues Research Committee will celebrate their pleasure, passion, and purpose-driven path to athletic glory and honor with a centennial celebration at the SABR Jerry Malloy Negro League Conference on June 11-13, 2020, at the Sheraton Birmingham Hotel in Birmingham, Alabama.
Click here for complete details on the registration packages available at the 2020 Malloy Conference (PDF)
NNL founder Rube Foster's mantra of "We are the ship ... all else the sea" spoke to their exclusion from Major League Baseball. Their struggles became our successes as Black baseball exploded in popularity and became an integral part of baseball Americana. This is your opportunity to honor the triumphs and accomplishments of men and women who paved the way to integrate our national game.
Register: Click here to register online for the 2020 Malloy Conference. Full registration is $175 for SABR members, $210 non-members. Students: $125 for SABR members; $150 non-members. Single-day registration is also available for $75 SABR member/$110 non-member. Extra tickets can be purchased for the Rickwood Field tours, the "meet and greet" reception at the Alabama Sports Hall of Fame on Thursday night, the Birmingham Barons ballgame on Friday night, or the awards banquet on Saturday night. All of these sessions are included in the full registration package.
Hotel: Click here to book your room online at the Sheraton Birmingham Hotel at the special group rate of $135/night (plus tax). Our host hotel is located at 2101 Richard Arrington Jr. Blvd., North Birmingham, AL 35203. Call (205) 324-5000 for questions about your hotel reservation.
Contact: For questions, email Larry Lester at NTResearch@comcast.net or Leslie Heaphy at Lheaphy@kent.edu.
The Malloy Conference promotes activities to enhance scholarly, educational, and literary objectives. Since 1998, the event has been the only symposium dedicated exclusively to the examination and promotion of Black baseball history. The conference is open to baseball and history fans of all ages. Each year, monies are targeted to donate books to schools or libraries; raise funds for the Negro Leagues Baseball Grave Marker Project; and award scholarships to high school seniors in a nationwide essay contest and an annual art contest.
The Negro Leagues Committee is one of SABR's original committees, formed in 1971. It has continued to preserve and highlight the contributions of African-American players in baseball history. The committee published the landmark The Negro Leagues Book in 1994, which featured a complete register of more than 3,000 players, team rosters and in-depth histories from leagues of the late nineteenth century to the middle of the twentieth. We hope to see you in Birmingham!
Click a link below to learn more about the Malloy Conference essay contest and scholarships, art competition, and school library grants.
The 2020 Jerry Malloy Conference welcomes proposals for oral and poster presentations from all research fields. Previous presenters have included college faculty, public school teachers, graduate students, and independent scholars. Presentations may focus on any topic related to the Negro League centennial, black baseball in Birmingham, or other related topics, especially the Negro Southern League. Some possibilities include: Rube Foster; the 1920 season; the formation of the NSL, the formation of the NNL, the original eight teams, and so much more. Please email your proposal as a Word attachment to Dr. Leslie Heaphy at Lheaphy@kent.edu before March 6, 2020. Click here for more details and criteria.
SABR's Negro Leagues Committee will award $1,000 scholarships to high school seniors in its 12th annual Thomas R. Garrett Scholarship essay contest in 2019. Students are asked to write a 1,200-word essay answering a question related to one of the Negro League figures who are the namesakes of the scholarships: Andrew "Rube" Foster, Robert Peterson, Normal "Tweed" Webb, and Jimmie Crutchfield. Click here to downlad an application for each scholarship. The deadlines to apply are May 4, 2020. Eligible applicants must be 1) a current high school senior, 2) anticipating completion of high school diploma at the time of application, 3) planning to pursue a degree at an accredited U.S. post-secondary institution, and 4) carrying a minimum 2.5 GPA at the end of their junior year of high school. Please e-mail or mail all materials to Dr. Leslie Heaphy at Lheaphy@kent.edu. Click here to learn more about the 2019 essay contest winners.
SABR's Negro Leagues Research Committee will award two $500 Dick Clark Memorial Library Grants for 2020. School and community libraries from across the country are invited to submit grant proposals centering on educating students and the community about black baseball and American history. Click here to download the PDF application, with information for eligibility requirements, submission criteria, and style guidelines. The deadline to apply is May 18, 2020. Questions can be directed to Leslie Heaphy (Lheaphy@kent.edu), Mark Moore (mmoore@cpl.org), Tim Bottorff (tbottorf@mail.ucf.edu), or Marlene Vogelsang (mvogelsang@sbcglobal.net).   
Youth Art Contest
SABR's Negro Leagues Committee's will hold its 11th annual Youth Art Contest in 2020. Please note: More information and the PDF application will be available here soon, with information on eligibility requirements and submission criteria. The cost is $10 per three entries. No limit on entries per school. The winning artist will receive a $150 prize. All schools that enter students will be placed in a drawing for a prize of $250 worth of age-appropriate Negro Leagues baseball books for their school library. Questions can be directed to Leslie Heaphy (Lheaphy@kent.edu).


---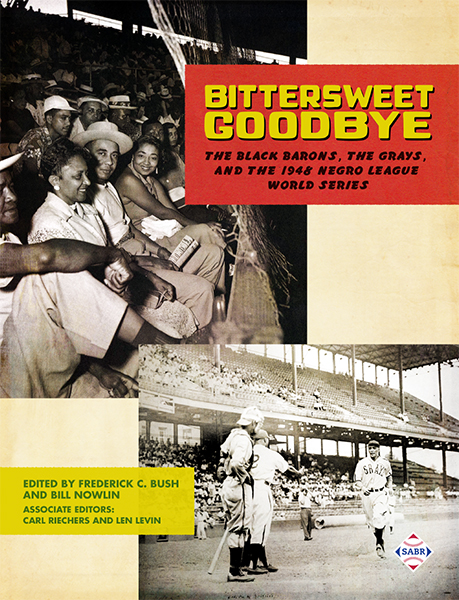 One of our newest publications from the SABR Digital Library focuses on the end of an era in black baseball. Bittersweet Goodbye: The Black Barons, the Grays, and the 1948 Negro League World Series, edited by Frederick C. Bush and Bill Nowlin, was inspired by the last Negro League World Series ever played and presents biographies of the players on the two contending teams in 1948 — the Birmingham Black Barons and the Homestead Grays — as well as the managers, the owners, and articles on the ballparks the teams called home. Also included are articles that recap the season's two East-West All-Star Games, the Negro National League and Negro American League playoff series, and the World Series itself. Additional context is provided in essays about the effects of Organized Baseball's integration on the Negro Leagues, the exodus of Negro League players to Canada, and the signing away of top Negro League players, specifically Willie Mays.
Click here to learn more or download the e-book. SABR members can download the e-book edition for free or get 50% off the paperback edition.
---
Who was Jerry Malloy?
Click a link below for highlights from past Jerry Malloy Conferences:
2020: Birmingham, AL 
2019: None held 
2018: None held 
2017: Harrisburg, PA 
2016: Kansas City, MO
2015: Pittsburgh, PA
2014: Detroit, MI
2013: Newark, NJ
2012: Cleveland, OH
2011: Indianapolis, IN
2010: Birmingham, AL
2009: Pittsburgh, PA
2008: Chicago, IL
2007: Portsmouth, VA
2006: Kansas City, MO
2005: Chicago, IL
2004: Cleveland, OH
2003: Harrisburg, PA
2002: Memphis, TN
2001: Kansas City, MO
2000: Harrisburg, PA
1999: Atlantic City, NJ
1998: Harrisburg, PA