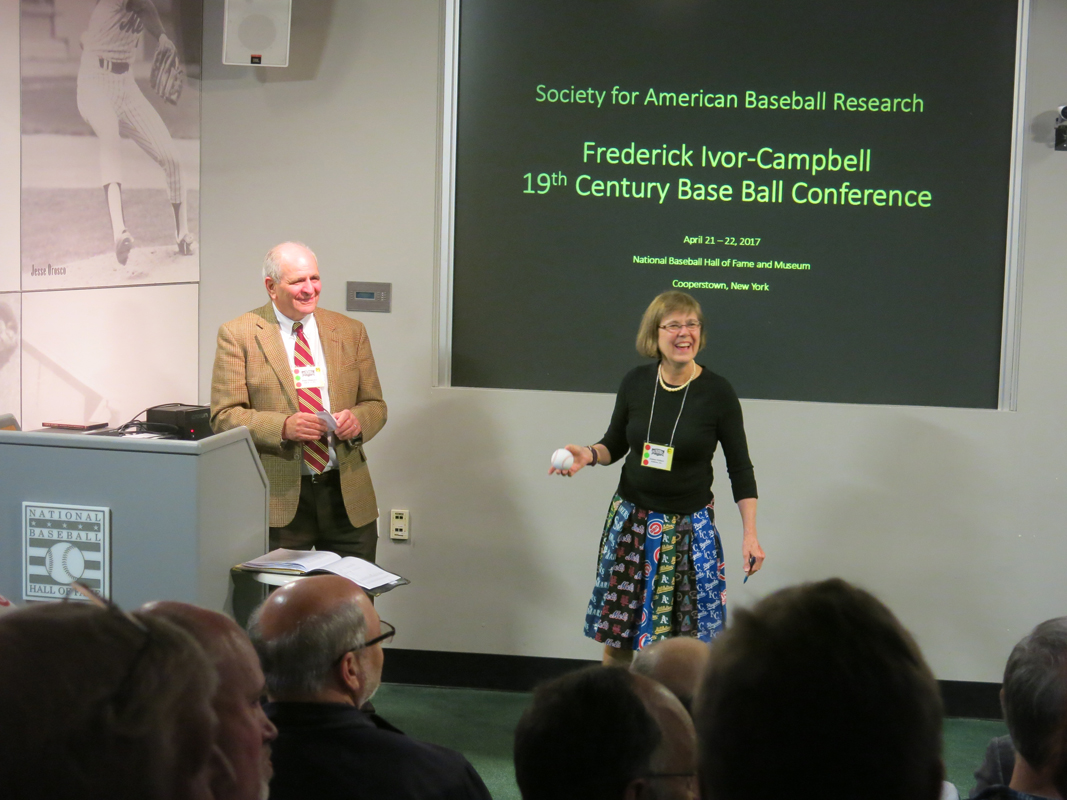 The 10th annual Frederick Ivor-Campbell 19th Century Base Ball Conference will be held April 20-21, 2018, at the Baseball Hall of Fame in Cooperstown, New York.
Conference registration is open to all SABR members and up to two non-SABR family members or friends (18 years old or over). Download the registration form for "Welcoming Dinner," "Luncheon Only," and "Post-Conference Gathering" options.
Please note: Space is extremely limited and the 2018 conference is now SOLD OUT! If you wish to be placed on a waiting list for registration in case a spot opens up, please contact Peter Mancuso at peterplus4@earthlink.net.
Registration: Click here to download the registration forms (PDF). Registrations can be accepted by mail only: send BOTH completed 19th Century Base Ball Conference registration forms to: Peter Mancuso, 6970 Ely Road, New Hope, PA 18938. Enclose your personal check for the appropriate amount and make payable to "SABR," with "Fred 19cBB Conference" written on the check's memo line.
Cost: Conference registration is $60 per person, including the Saturday luncheon. Tickets for the optional Friday evening Welcoming Dinner ($45) at Templeton Hall and Saturday evening Post-Conference Gathering ($35) at the historic Otesaga Hotel can also be purchased in advance for you or a guest. Anyone who wishes to purchase an extra ticket for a guest to attend the Saturday luncheon only ($35) can also do so.
Contact: For questions, or if you miss the registration mailing deadline, contact Peter Mancuso at peterplus4@earthlink.net to see if space is still available.
The 2018 conference will be highlighted by a keynote address from baseball historian Don Jensen, along with a panel discussion on "Playing Ball: A Tribute to Tom Altherr" with John Thorn, David Block, and Larry McCray; a special presentation by Bill Ryczek: a re-created play-by-play broadcast of the greatest 19th-century game, Red Stockings at Atlantics, June 14, 1870; a Member Spotlight interview of Bob Tholkes by Tom Simon; plus book signings, research presentations, and a welcome dinner.
Here is the list of research presentations:
Bill Humber, "A Thoroughly Modern Ballplayer: The Imaginative, Illicit, Improbable Life of Robert 'Bob' Addy"
Joanne Hulbert, "I Never Thought I'd Miss 'Tricky' Nick" (19cBB Nicknames)"
Gary Gillette, "National League Gains A New Franchise – In 1880"
Jerry Casway, "Before Greenberg There was Pike"
Marty Payne, "The Onerous Duties"
Herm Krabbenhoft, "Objective Determination of Five-Tool Players in the Nineteenth Century"
Craig Brown, "The 10 Most Influential Uniforms of the 19th Century"
Roger Hadix, "The National Pastime in the Centennial State"
Ken Mars, "John McGraw in Truxton [NY] – The Formative Years 1873-1890"
Paul Browne, "The Douglasses, the Cattos and the Age of Hope for Blacks in Base Ball"
Jon Popovich, "Wright & Ditson Sporting Goods: Official Provider to Baseball's Renegade Leagues"
Richard Hershberger, "Sixty Feet Six Inches and the Modern Pitching Delivery"
George Skornickel, "The Louisville Grays' Scandal of 1877"
Tom Gilbert, "A New Look at James Creighton and Amateur Era of Professionalism"
Eric Frost, "Arthur Irwin: The Crazy Life and Crazier Death of a Forty Year Baseball Man"
We hope to see you in Cooperstown this spring!
---
Related links:
Keynote Speakers