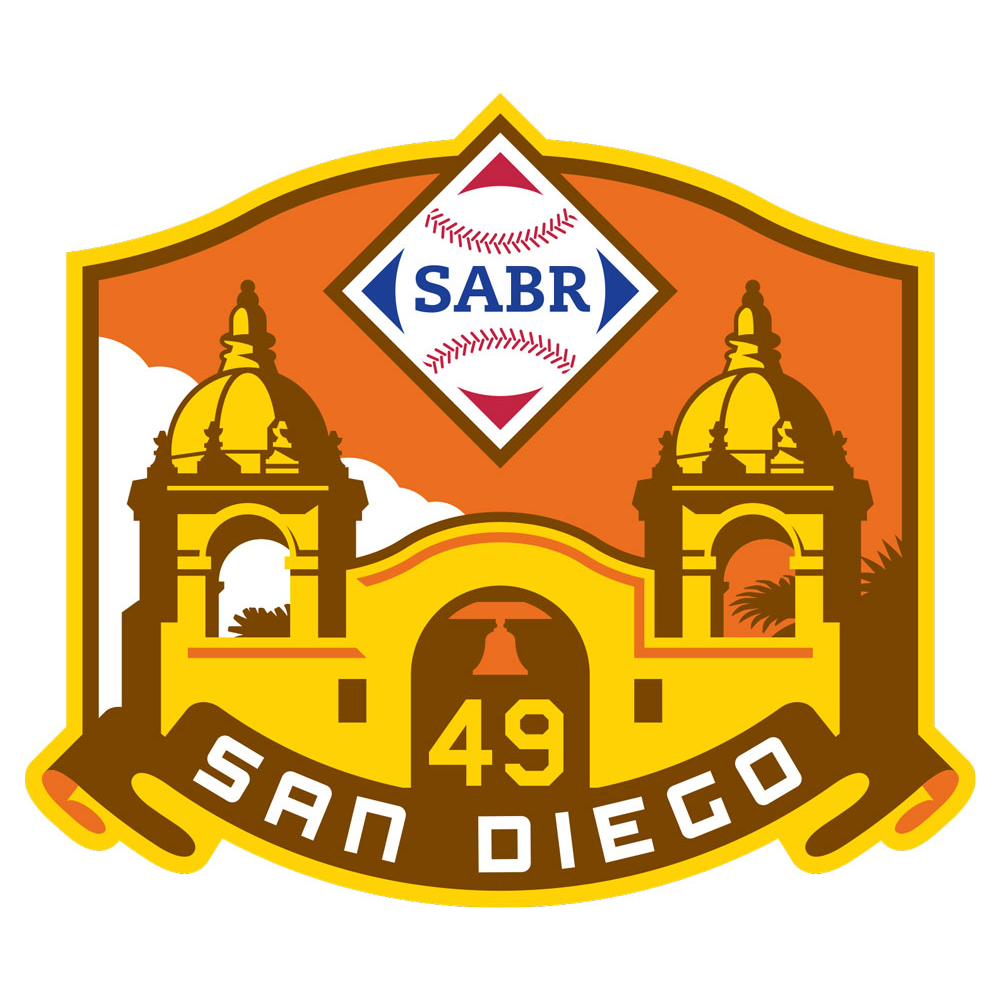 SABR 49
June 26-30, 2019
Manchester Grand Hyatt
1 Market Place
San Diego, CA 92101
Phone: (619) 232-1234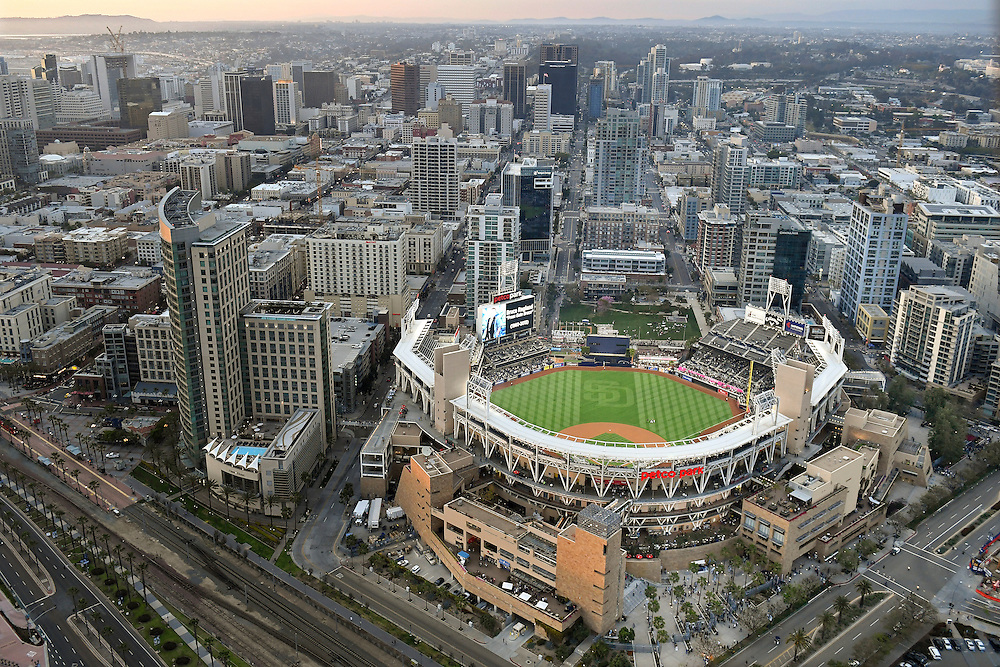 We hope you'll join us for what promises to be a spectacular SABR 49 convention this summer in San Diego. Conference and hotel registration is now available. Click here for more information on the SABR 49 All-Inclusive Package, Early-Bird Registration, and optional sessions. Click here to register for SABR 49.
The annual SABR convention, which is open to all baseball fans, includes top featured speakers from around the baseball world — front office executives, players, managers, scouts, journalists, historians, and analysts — innovative panel discussions, groundbreaking research presentations, ballgames, the SABR Trivia Contest, the Awards Luncheon, and most of all, the opportunity to make and renew baseball friendships over the course of this exciting and memorable event.
Here are some of our featured speakers and panelists:
1984 San Diego Padres Panel
Kurt Bevacqua, San Diego Padres infielder and 1984 World Series hero
Bob Chandler, San Diego Padres broadcaster, 1970-2003
Ron Rapoport, sports columnist and author
MLB Umpires Panel
Gerry Davis, MLB umpire since 1984, crew chief for three World Series, who has called more postseason games than any umpire in baseball history
Greg Gibson, MLB umpire since 1999, who called the 2011 World Series, and was behind the plate for Randy Johnson's 2004 perfect game and Clayton Kershaw's 2014 no-hitter
Click here to learn more about SABR 49 featured speakers.
The Manchester Grand Hyatt is conveniently located within walking distance from Petco Park; our host hotel, a frequent host of baseball's Winter Meetings, features a spectacular waterfront resort-like setting with shopping, dining, and entertainment venues in abundance at the nearby Gaslamp Quarter. The San Diego Central Library's Sullivan Family Baseball Research Center, just a few blocks away, is home to the spectacular SABR Collection curated by our host chapter, the San Diego Ted Williams Chapter.
Our special SABR 49 convention logo, by acclaimed designer and longtime SABR member Todd Radom, invokes the historic Mission-style architecture found throughout the San Diego area and celebrates the 50th anniversary of the Padres as a major-league team. Anyone who registers for the SABR 49 all-inclusive package will receive an exclusive lapel pin with the SABR 49 convention logo.
Click on a link below for more information about SABR 49.
SABR 49 information
Registration: Click here for complete information on the SABR 49 All-Inclusive Package, Early-Bird Registration, and optional sessions. Or click here to register for SABR 49! We're again offering a special All-Inclusive Package for the annual SABR convention. For the $369 all-inclusive rate, SABR members can get:
— Full registration to SABR 49 in San Diego (early-bird: $289; regular rate: $319)
— 1 ticket in the Upper Infield Reserved (1B) section to the Padres vs. Cardinals game on Friday, June 28 at Petco Park ($24 value)
— 1 ticket to the Awards Luncheon on Friday, June 28 ($70 value)
— 1 exclusive SABR 49 convention logo lapel pin
— 2 complimentary Continental breakfasts on Thursday and Friday mornings*
*The Continental breakfast benefit is

only

available when you register for the All-Inclusive Package.
Non-members can pay $399 for the All-Inclusive Package; the deadline to register is Monday, May 6, 2019.
Hotel: The special SABR group rate at the Manchester Grand Hyatt in San Diego of $224/night (single rate) or $254/night (double rate) is only available to registered convention attendees. After you register for the SABR 49 convention, you will receive an e-mail confirmation with details on how to book your hotel room at the SABR group rate. If you do not receive your confirmation email after registering, please contact Deb Jayne at djayne@sabr.org. There are a limited number of rooms in our group block, so be sure to register for SABR 49 early!
Awards Luncheon: SABR will host a special Awards Luncheon on Friday, June 28 at the Manchester Grand Hyatt in San Diego. The Awards Luncheon, which includes a meal, will feature the announcement of SABR's annual awards — including the Bob Davids Award, our highest honor. One ticket to the Awards Luncheon is included in the all-inclusive package or guest tickets are available for $70 when you register for SABR 49.
Research presentations: Click here to view the full list of research presentations at SABR 49.
Get your copy of The National Pastime convention journal

All SABR 49 attendees will receive a souvenir print edition of The National Pastime, our annual convention journal, focusing on baseball teams, players, and events in the San Diego and Mexicali area. All SABR members, whether you attend the convention or not, will receive the e-book edition of The National Pastime in their inboxes later this summer. Click here to register for SABR 49.
Stay tuned for our upcoming book commemorating the Padres' 50th anniversary

The SABR Digital Library is publishing a special book this spring to commemorate the 50th anniversary of the San Diego Padres' inaugural season in the National League in 1969. The book will include biographies of notable players, executives, and other figures in franchise history from the past half-century — including Hall of Famers Tony Gwynn, Dave Winfield, and Trevor Hoffman, owners Ray and Joan Kroc, GM/manager "Trader" Jack McKeon, and broadcaster Jerry Coleman — as well as game accounts of memorable moments from the 1984 and 1998 pennant-winning seasons, the team's move from Jack Murphy Stadium and Petco Park, and a special foreword from pitcher, barbeque chef, and Cy Young Award winner Randy Jones.
Visit SABR.org/ebooks for a list of all SABR Digital Library titles. SABR members can download all of our e-books for free and get a 50% discount off the paperback editions.
Pre-order your SABR 49 convention logo shirts, caps, or souvenir baseballs

Polo shirt (navy blue): $35
T-shirt (gray): $20
Baseball cap (navy blue): $30
(Each item will feature the SABR 49 convention logo)
Avoid the rush at registration and pre-order your SABR 49 convention logo polo shirt, T-shirt, or baseball cap online! Deadline to pre-order: Monday, May 6, 2019. Please indicate shirt size (adult S to XXXL) when you register. Items will be available to be picked up when you arrive at the SABR convention. (Sorry, we cannot mail out any pre-ordered items after the convention.) Caps are one-size-fit-most.

To guarantee that you get a SABR 49 convention logo shirt or cap, please place your order online by Monday, May 6.
To purchase apparel and other items with SABR's regular logo at any time, visit our online merch store at Cafepress.
---
Related links: