SABR 50
August 17-21, 2022
Hyatt Regency Inner Harbor
300 Light Street
Baltimore, MD 21202
Phone: (410) 528-1234
Join us in Baltimore to celebrate a special occasion this summer: SABR's 50th annual convention! We are beyond thrilled to celebrate with you in person.
Conference and hotel registration for SABR 50 is now available below. Click here for complete details on the SABR 50 All-Inclusive Package, Regular Registration, and optional sessions. Or click here to register for SABR 50.
The annual SABR convention, which is open to all baseball fans, includes top featured speakers from around the baseball world — front office executives, players, managers, scouts, journalists, historians, and analysts — innovative panel discussions, groundbreaking research presentations, ballgames, the SABR Trivia Contest, the Awards Luncheon, and most of all, the opportunity to make and renew baseball friendships over the course of this exciting and memorable event.
This event is well worth the wait, and we already have an All-Star lineup of featured speakers and exciting events planned, including:
Keynote address by Tim Kurkjian, winner of the BBWAA's 2022 Career Excellence Award
Opening Remarks by Sig Mejdal, Vice President and Assistant General Manager, Analytics, Baltimore Orioles
Oriole Park at Camden Yards panel with Bill Stetka (Orioles Team Historian), Greg Bader (Orioles Senior Vice President, Administration & Experience), and Joe Spear (founder of Populous)
Women in Leadership panel with Orioles executives Eve Rosenbaum (Director, Baseball Development), Nicole Sherry (Director, Field Operations), Jennifer Grondahl (Senior Vice President, Community Development & Communications), and Lisa Tolson (Senior Vice President, Human Resources)
Baltimore Orioles vs. Boston Red Sox game on Friday, August 19
Stay tuned for more speakers and panelists to be announced later this year!
The Hyatt Regency hotel sits on the waterfront at the majestic Inner Harbor and is conveniently located within walking distance from Camden Yards, home of the Baltimore Orioles. Our host hotel is also close to many area museums, historic landmarks, and other attractions like the Babe Ruth Birthplace and Museum, the Peabody Heights Brewery, and the National Aquarium.
Click on a link below for more information about SABR 50.
---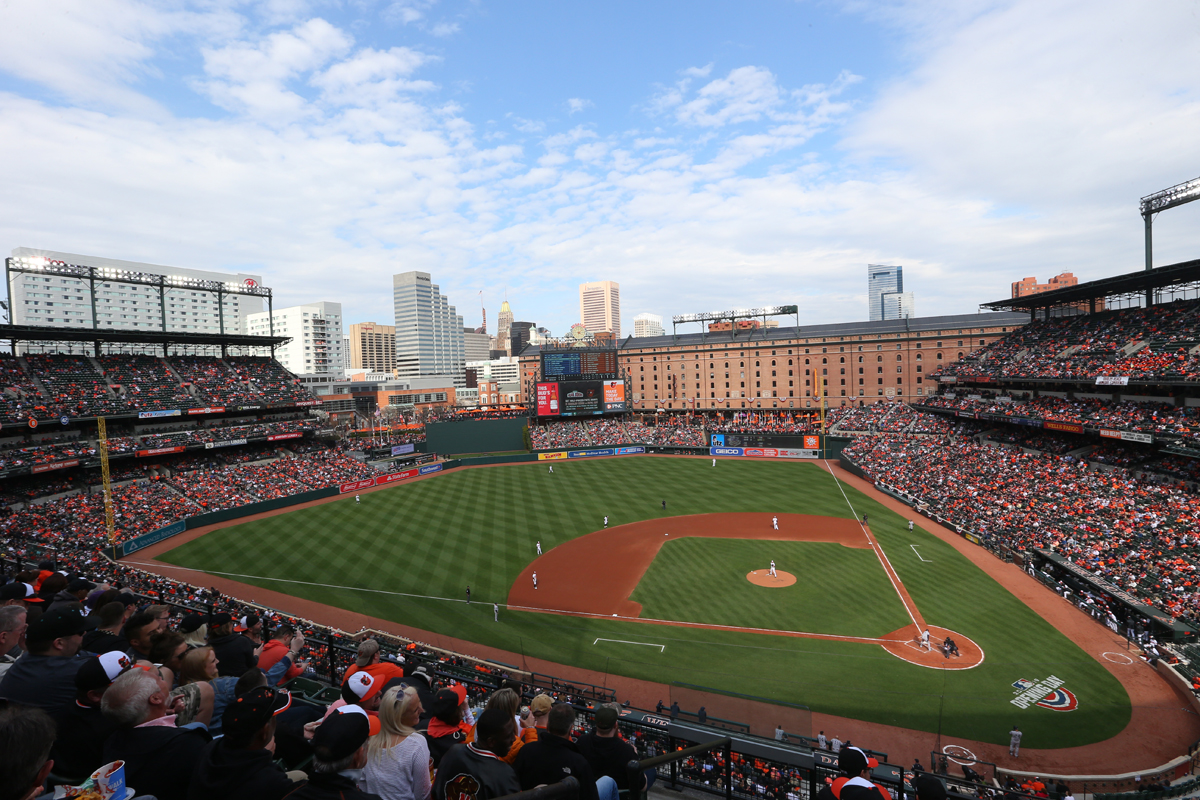 SABR 50 information
---
Students, apply now for a Yoseloff Scholarship to attend SABR 50

With generous funding from The Anthony A. Yoseloff Foundation, Inc., SABR will award up to 10 scholarships to currently enrolled high school or college students to attend the SABR 50 convention on August 17-21, 2022, in Baltimore. This scholarship will pay for registration, transportation and lodging (double occupancy) up to a total value of $1,250.
Deadline to apply: June 3, 2022. Click here to download the application form.
---
Get your copy of The National Pastime convention journal

All SABR 50 attendees will receive a souvenir print edition of The National Pastime, our annual convention journal, focusing on baseball in the minor leagues. All SABR members, whether you attend the convention or not, will receive the e-book edition of The National Pastime in their inboxes later this summer. Click here to register for SABR 50.
---
Pre-order your SABR 50 convention logo shirts, caps, or souvenir baseballs

Polo shirt: $35
T-shirt: $20
Baseball cap: $30
(Each item will feature the SABR 50 convention logo)
Avoid the rush at registration and pre-order your SABR 50 convention logo polo shirt, T-shirt, or baseball cap online! Deadline to pre-order: Friday, July 22, 2022. Please indicate shirt size (adult S to XXXL) when you register. Items will be available to be picked up when you arrive at the SABR convention. (Sorry, we cannot mail out any pre-ordered items after the convention.) Caps are one-size-fit-most.
To guarantee that you get a SABR 50 convention logo shirt or cap, please place your order online by Friday, July 22.
To purchase apparel and other items with SABR's regular logo at any time, visit our online merch store at Cafepress.
---
All guests must adhere to SABR's Event Code of Conduct at all times. We are dedicated to maintaining an open, inclusive environment at all SABR events.