SABR 50
August 17-21, 2022
Hyatt Regency Inner Harbor
300 Light Street
Baltimore, MD 21202
Phone: (410) 528-1234
Join us in Baltimore to celebrate a special occasion this summer: SABR's 50th annual convention! We are beyond thrilled to celebrate with you in person.
Please note: Full and Single-Day registration are available on-site at Hyatt Regency Inner Harbor during the convention. All baseball fans are welcome to attend.
The annual SABR convention, which is open to all baseball fans, includes top featured speakers from around the baseball world — front office executives, players, managers, scouts, journalists, historians, and analysts — innovative panel discussions, groundbreaking research presentations, ballgames, the SABR Trivia Contest, the Awards Luncheon, and most of all, the opportunity to make and renew baseball friendships over the course of this exciting and memorable event.
This event is well worth the wait, and we have an All-Star lineup of featured speakers and exciting events planned, including:
Keynote address by Tim Kurkjian, winner of the BBWAA's 2022 Career Excellence Award.
Opening Remarks by Sig Mejdal, Vice President and Assistant General Manager, Analytics, Baltimore Orioles.
One-on-One with Baltimore Orioles legend Boog Powell, interviewed by Dan Connolly of The Athletic.
Oriole Park at Camden Yards panel with Bill Stetka (Orioles Team Historian), Greg Bader (Orioles Senior Vice President, Administration & Experience), and Joe Spear (founder of Populous).
Women in Leadership panel with Orioles executives Eve Rosenbaum (Assistant General Manager, Baseball Operations), Nicole Sherry (Director, Field Operations), Jennifer Grondahl (Senior Vice President, Community Development & Communications), and Lisa Tolson (Senior Vice President, Human Resources).
SABR Ballparks panel with former Orioles president Larry Lucchino, acclaimed ballpark design director Janet Marie Smith, and longtime baseball executive Charles Steinberg.
Flood v. Kuhn: Fifty Years Later panel with Judy Pace Flood, widow of Curt Flood; Mark Armour, award-winning historian and co-writer of the MLBPA's official history; Brad Snyder, Georgetown University law professor and author of A Well-Paid Slave; and moderator Shakeia Taylor of the Chicago Tribune.
Babe Ruth panel with author Bill Jenkinson (The Year Babe Ruth Hit 104 Home Runs) and Mike Gibbons, Director Emeritus and Historian for the Babe Ruth Birthplace and Museum.
Baseball Broadcasting panel with Joe Castiglione, play-by-play voice of the Boston Red Sox Radio Network, and Kevin Brown, Baltimore Orioles primary television play-by-play announcer for MASN.
Oral History interview with Mike Bordick, Baltimore Orioles Hall of Famer.
Historic Ballparks Bus Tour on Thursday, August 18.
Baltimore Orioles vs. Boston Red Sox game on Friday, August 19.
Please note: All speakers are subject to change due to availability.

The Hyatt Regency hotel sits on the waterfront at the majestic Inner Harbor and is conveniently located within walking distance from Camden Yards, home of the Baltimore Orioles. Our host hotel is also close to many area museums, historic landmarks, and other attractions like the Babe Ruth Birthplace and Museum, the Peabody Heights Brewery, and the National Aquarium.
Click on a link below for more information about SABR 50.
---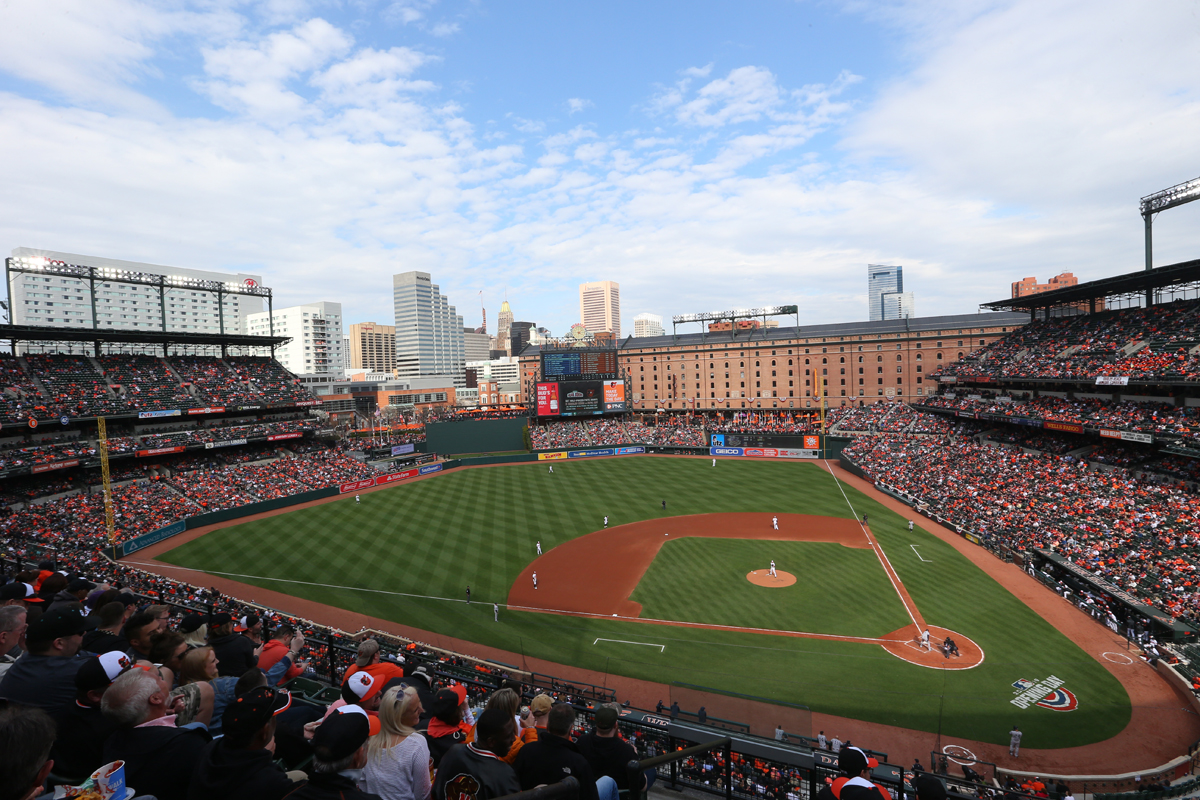 SABR 50 information
Registration: Full conference registration and single-day rates are available for purchase on-site during the convention at the Hyatt Regency Inner Harbor. Registration includes access to all panel discussions, research presentations, and committee meetings at the Hyatt Regency Inner Harbor in Baltimore.


SABR members: $275

Non-members: $305

Single Day: $115 per person

Hotel: Please note: The special SABR group rate at the Hyatt Regency Inner Harbor of $199/night plus tax (single/double occupancy) is no longer available.
Presentations: Click here for the lineup of SABR 50 research presentations.
Committee Meetings: Click here to learn more about SABR 50 committee meetings.
Exhibitors Room: Click here to learn more about our SABR 50 Exhibitors Room.
Transportation Tips/Area Attractions: Click here to learn more about getting to and around Baltimore during SABR 50.
Frequently Asked Questions: Click here to learn how to find your baseball game ticket, autographs, dress code, and more.
Awards Luncheon: SABR will host a special Awards Luncheon on Thursday, August 18 at the Hyatt Regency Inner Harbor in Baltimore. The Awards Luncheon, which includes a meal, will feature the announcement of SABR's annual awards — including the Bob Davids Award, our highest honor. One ticket to the Awards Luncheon is included in the All-Inclusive Package when you register for SABR 50. If you have any special dietary considerations, please contact events@sabr.org.
Historic Ballparks Bus Tour: From 4:00-6:30 p.m. on Thursday, August 18, SABR 50 attendees can join us for a Historic Ballparks Bus Tour through Baltimore to see the former sites of six major-league stadiums, including walking on the field at old Memorial Stadium and a stop inside Peabody Heights Brewery, the site of old Oriole Park. Cost: $15 per person when you register for SABR 50. Click here to learn more about the tour. Please note: The Historic Ballparks Bus Tour is now sold out.
Vaccination policy: Attendees for the SABR 50 convention in Baltimore must provide official documentation of COVID-19 vaccination. Please refer to the CDC's guidance on accepted vaccines and dosages. After registering, you may upload a photo or digital copy of your vaccination record to expedite your conference check-in. These records will be stored securely and privately by SABR staff. If a record is not shared via email prior to the event, a copy of your vaccination record MUST be presented in person in order to gain access to the event.
---
Get your copy of The National Pastime convention journal

All SABR 50 attendees will receive a souvenir print edition of The National Pastime, our annual convention journal, focusing on baseball in the minor leagues. All SABR members, whether you attend the convention or not, will receive the e-book edition of The National Pastime in their inboxes this summer.
---
Special ticket offers for Bowie Baysox, Aberdeen Ironbirds minor league games
SABR 50 attendees can take advantage of special offers to attend Minor League Baseball games during this summer's convention in Baltimore.
On Sunday, August 21, the Bowie Baysox — Class AA affiliate of the Baltimore Orioles — host the Somerset Patriots at Prince George's Stadium, which is about 30 miles from our host hotel in downtown Baltimore.
A special $40 SABR package includes both a game ticket and bus transportation to and from Prince George's Stadium. Buses will arrive at Prince George's Stadium at approximately 11:00 a.m. for a pre-game discussion with Baysox broadcasters, exclusively for SABR 50 attendees. The first 750 fans through the main gates will receive a hand-autographed glossy photo of a 2022 Baysox player.
Stadium gates will open at 12:00 p.m, with the start of the game scheduled for 1:05 p.m. This is an optional event for SABR 50 attendees, and ticket purchases will be made directly through the team. To purchase tickets or learn more, visit groupmatics.events/event/SABR.
In addition, the Aberdeen Ironbirds, Class A affiliate of the Baltimore Orioles, are also offering a 50% discount for tickets to any home game in July or August 2022. Click here to purchase single-game tickets at MiLB.com and use the promo code SABR50 to receive the discount.
---
All guests must adhere to SABR's Event Code of Conduct at all times. We are dedicated to maintaining an open, inclusive environment at all SABR events.