SABR Day is an annual event that brings together SABR members and friends on the same day, regardless of where they live. The 11th annual SABR Day was held on Saturday, January 25, 2020.
Regional SABR meetings are open to all baseball fans and are usually free to attend, so bring a friend! Guest speakers often include current and former baseball players, managers, umpires, executives, scouts, writers and authors.
Here are some highlights from SABR Day 2020:
Atlanta, GA (Magnolia Chapter): The Magnolia Chapter celebrated SABR Day at the Sandy Springs Public Library by reviving the history of Ponce de Leon Park, Atlanta's home for baseball from 1907 to 1964. The main presentation was made by Paul Crater of the Atlanta History Center. Paul utilized the vast archives of the AHC to show the park's pictorial history, from an early natural spring to the acclaimed steel and concrete ballpark that featured a majestic magnolia tree in centerfield. Chapter member Ken Fenster gave a stirring presentation on the 3-game series that took place at "Poncey" in April 1949 when Atlanta Cracker owner Earl Mann invited Jackie Robinson and the Brooklyn Dodgers to town. The result was the first integrated baseball games in a major city in the deep south. Presentations were also given by Andrew Mearns, selecting an all-Poncey team, and by chapter member Sam Grazdziak, telling the histories of a few one-game wonders who had ties to Atlanta. Chapter member Karl Green sprinkled in some Atlanta Crackers trivia throughout the afternoon. We had over 30 attendees and most of us met for a BBQ lunch beforehand. It was a good day to talk baseball and remember the history of Ponce de Leon Park. — Craig Brown
Austin, TX (Rogers Hornsby Chapter): Thirteen chapter members celebrated SABR Day enjoying some delicious Italian food at Romano's Macaroni Grill. They discussed the election of Derek Jeter and Larry Walker to the National Baseball Hall of Fame. Another topic discussed was the Houston Astros sign stealing scandal. Highlighting the event was a trivia quiz about home run leaders by letters of the alphabet. Jerry Miller dominated the quiz and won it scoring 79 points. The members enjoyed a great day of celebrating SABR via baseball discussions and thought-provoking trivia. Another interesting note to add is their own Hall of Fame vote at their winter meeting two weeks ago matched that of the Baseball Writers' Association of America announced last week. Click here to view more photos at SABRHornsby.org. Or click here for a recap/photos from the Rogers Hornsby Chapter 11th annual Winter Meeting on January 11 at Texas State University at San Marcos. — Monte Cely
Boston, MA (Boston Chapter): Ten Boston Chapter members met for a SABR Day dinner on Saturday afternoon at Fenway Johnnie's, which is a long fly ball away from Fenway Park. A couple of new members joined a few oldtimers for discussions about a new Red Sox manager, the upcoming season's roster, cheating scandals and other topics. Bill Nowlin hosted the event, along with Dixie Tourangeau and John Gregory. — Dixie Tourangeau

Burlington, VT (Gardner-Waterman Vermont Chapter): The Gardner-Waterman Vermont Chapter had a blast celebrating SABR Day with ESPN baseball analyst Buster Onley emceeing the festivities. The Main Street Landing Performing Arts Center hosted the Vermont Lake Monsters' annual "Winter Warmup" in Burlington, with all proceeds benefitting our local SABR chapter, and the turnout was great with many members attending. The chapter celebrated SABR Day by hosting their third SABR-VT trivia contest where Carl Backman stole the show to unseat the dynastic Chuck McGill. The day included an opportunity for members to discuss baseball research interests and projects. Boog Sciambi provided many laughs for the members with his remarkable 1986 Game 6 World Series Vin Scully impersonation and many other amusing stories. — Clayton J. Trutor
Cherry Hill, NJ (Goose Goslin Chapter): The Goose Goslin Chapter celebrated SABR Day at the All-Sports Museum of Southern New Jersey. Museum Committee members gave us a tour of the museum and shared stories about the artifacts. Some of the artifacts included Willie Mays' 1960 Gold Glove Award, a Jackie Robinson game used bat and Hall of Famer Leon "Goose" Goslin's personal collection! Dom Valella, Chairman of the museum, gifted the chapter with pictures of Goose Goslin and a copy of a $100 check that the Goose made out to Babe Ruth as a bet that he would hit more homers then the Babe in the 1932 season! After the tour, Dr. Richard Puerzer did a presentation on the 1946 Negro League World Series between the Newark Eagles and the Kansas City Monarchs! The chapter would like to thank the All-Sports Museum of Southern New Jersey for their great hospitality and Dr. Richard Puerzer for a wonderful presentation! Click here to view more photos on the chapter's Facebook page. — Anthony Arot
Columbia, SC (Larry Doby Chapter): The new Larry Doby Chapter held its first SABR Day meeting on Friday, January 31 in Columbia, South Carolina. We met at Apex Performance Training in Columbia, an impressive business to say the least. We learned about some of the technology being used in sports today, such as the K-Motion vest, Trac-Man, and the Diamond Kinetic Ball. Among the guests were Jack Wyncoop, a minor league pitcher for the Colorado Rockies; Charles Peterson, a former professional baseball player and now a scout with the St. Louis Cardinals; and Tina Whitlock, the newest female coaching in professional baseball. She will be a coach for the Cardinals affiliate in Florida. We talked about a trip to the Shoeless Joe Jackson Museum when it re-opens in the spring. We have been invited by the museum and the city of Greenville. Click here to read the full meeting recap. — Tim Deale
Cooperstown, NY (Cliff Kachline Chapter): Members of the Cliff Kachline Chapter celebrated SABR Day at the Baseball Hall of Fame's Bullpen Theater in Cooperstown. Highlights were presentations from Hall of Fame Librarian Jim Gates on the Penny Marshall Sheet Music Collection (and a Bud Fowler song!). Collin Miller spoke about the history of baseball in Delaware County. Tom Shieber, the Hall's Senior Curator, gave a presentation on Zee-nut/Home Run Kisses cards from a century ago and a milestone in baseball uniforms. Click here to view more photos on the chapter's Facebook page. — Jeff Katz
Des Moines, IA (Field of Dreams Chapter): Eleven baseball fans — 8 members and 3 guests — attended the Field of Dreams Chapter meeting on Sunday, January 26 at the Twisted Vine Brewery in West Des Moines. Due to Umpire-in-Chief Tim Rask's move to Wisconsin, we elected Steve Elsberry as only our third Umpire-in-Chief after founder R.J. Lesch and Tim. Steve vacated the position of Concessionaire and we elected Mike Coveyou for his replacement. The group discussed possible plans for future meetings and locations. Pizza was enjoyed by all and all had a good time. — Steve Elsberry

Houston, TX (Larry Dierker Chapter): A large and enthusiastic group of 40 baseball fans gathered on Monday, January 21 at the Spaghetti Western restaurant in Houston. Several guests and a new member, Richard Lowery, were in attendance. Chapter chair Bob Dorrill reviewed the participation in this year's Astros Fanfest on Saturday, January 19 at Minute Maid Park. Several staffed the booth to introduce our SABR chapter to many of the 10,000 attendees. Copies of our book on the history of baseball in Houston were sold and many, many baseball cards were given to visiting children. Sixteen prospective members were identified from those who stopped by to learn about our activities. The featured activity of the evening consisted of two mock arbitration exercises involving current Houston Astros players. Former MLB executive and arbitrator Tal Smith had presented information on the process at our November meeting and he acted as Arbitrator at this session. We were very fortunate to have had Tal's participation in this exercise. His considerable experience on both sides of the table and his thoughtful analyses were very enlightening. Those attending learned a great deal about this business aspect of the game. Click here to read the full recap. — Bob Dorrill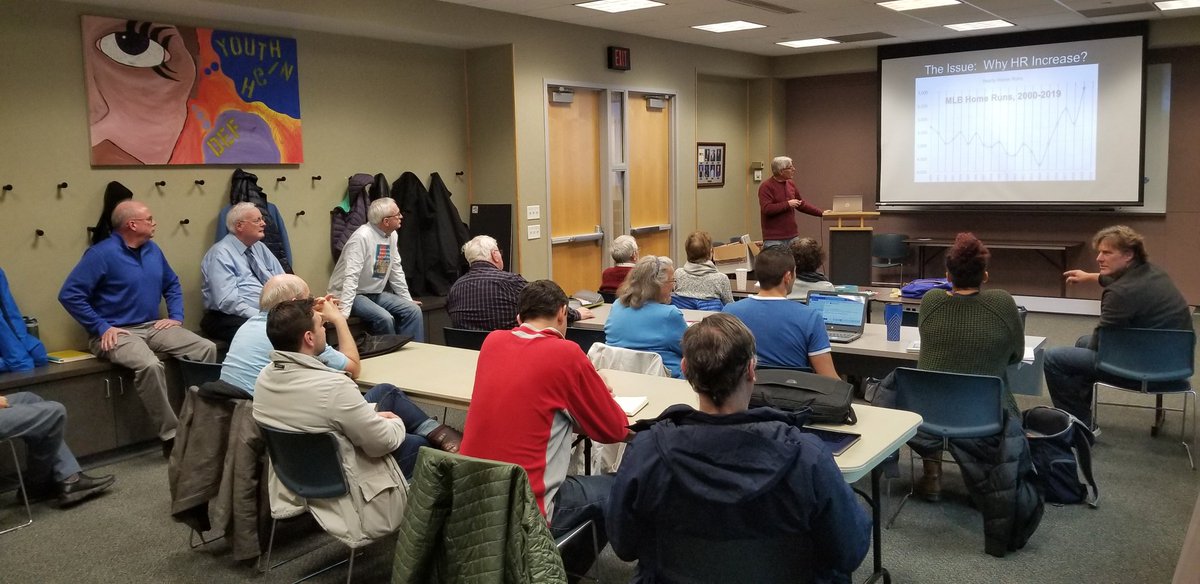 Indianapolis, IN (Oscar Charleston Chapter): The Oscar Charleston Chapter met for SABR Day at the Haughville branch of the Indianapolis Public Library.  Dan O'Brien reflected on the life of longtime SABR member Pete Cava, who died last month. Pete researched more than 300 Indiana-born professional baseball players, covering playing careers and the players' lives after retiring from the game. Alan Nathan covered his work with the MLB Home Run Committee, updating us on the developments since 2018. In essence, his group, which includes academics in math and science, concluded that reduced drag on the ball and adjusted launch conditions contributed to the 2019 home run surge. Howard Kellman previewed the Indianapolis Indians' 2020 season and discussed former Indians player Larry Walker and his recent vote into the Baseball Hall of Fame. Walker was the first Indian voted in since Randy Johnson. Tim Tassler covered the history of black baseball in northeast Indiana, including the Fort Wayne Colored Giants (1908–51) and the Fort Wayne Colored Pirates (1926–29). Click here to read the full recap. — Trent Morton

Kansas City, MO (Monarchs Chapter): SABR Day 2020 in Kansas City featured two speakers, Wichita Wind Surge broadcaster Tim Grubbs and SABR member Todd Peterson on January 25 at the Gem Theater across the street from the Negro Leagues Museum. Six members were in attendance to discuss various baseball topics and listen to the two speakers' presentations. Grubbs shared a lot of information on the new stadium in Wichita. Todd Peterson followed up with an excellent presentation on the new book he just edited, The Negro Leagues Were Major Leagues: Historians Reappraise Black Baseball. We also heard from Raymond Doswell of the Negro Leagues Museum, updating the membership on upcoming events, including the Royals' Salute to the Negro Leagues day on May 17 when the Los Angeles Dodgers visit Kansas City. Click here to view a full recap and photos (PDF). — Mike Webber
Louisville, KY (Pee Wee Reese Chapter): The Pee Wee Reese Chapter held its SABR Day meeting at the Louisville Slugger Museum & Factory and a good time was had by all. As it always so generously does, LSMF provided the Chapter with its spacious second floor meeting room along with treats for attendees. Terecia Helm of LSMF welcomed attendees and announced that the Museum was donating a to-be-personalized Louisville Slugger bat certificate as well as four LSMF tour passes. New Chapter leader Tad Myre then introduced Chapter Treasurer Ken Draut to give a quick financial report. Ken took us all through the financials (to summarize, we're holding our own). Then, to our delight and to the surprise of Harry Rothgerber, our longtime fearless leader, he presented Harry with the Pee Wee Reese Chapter's coveted "Home Plate Award," making him only the fifth recipient of our highest honor. Our first speaker was Greg Gajus, co-author of the book Baseball Revolutionaries: How the 1869 Cincinnati Red Stockings Rocked the Country and Made Baseball Famous. Greg regaled us with the story of this remarkable team, offered up with the affable delivery of a storyteller in love with the sport. Chris Betsch. Chris has been researching an early Twentieth Century baseball player by the name of John Dodge. While we all know the tragic story of Ray Chapman, few have heard of Dodge, who was also killed by a pitched ball, this time while playing in the minor leagues. We also heard from Chris Krebs on his company StatisticHouse, which will focus on the next generation of AI based sports simulations, advanced sports analytics and digital sports assets. Jack Sullivan gave his famous Trivia Quiz, won by Charlie Sawyer, nailing 20 out of the 30 questions. Click here to view a full recap and more photos. — Tad Myre

Montclair, NJ (Elysian Fields Chapter): The Elysian Fields Chapter had its best turnout in three years celebrating SABR Day at the iconic Yogi Berra Museum. They enjoyed a great panel about the history of the New York Mets with historians Bill Ryczek and Matt Rothenberg, plus an insightful presentation from Ron Kaplan about the best ballplayers connected with the Garden State. Among them was Goose Goslin, a South Jersey native for whom that region's chapter is named. Eve Schaenen, the museum's Executive Director, presented on the latest exhibit, which honors the rich history of the Negro Leagues through photographs. — David Krell
Montreal, QC (Quebec Chapter): The SABR Québec Chapter met at Madison's Restaurant in Montreal for SABR Day. There was one topic on the agenda, a presentation by members Patrick Carpentier and Marcel Dugas, historians both, on the history of the introduction of French baseball terms in Quebec. We were lucky to have with us Jacques Doucet, who broadcast the team's games on the radio, and he explained to us how certain terms that were lacking were created at that time. These include "prendre un coureur à contre-pied" (picking off a runner) or "un coup frappé à l'entrechamp" (a Texas leaguer). Modest as always, Jacques sought to minimize his role in this work. We all know how much he contributed to the use of French terms among coaches and players in the Quebec little baseball leagues during that period. This fascinating presentation, which was breaking new ground, was made even more dynamic thanks to the numerous period documents that our two presenters brought along. It was some remarkable research that illustrates what SABR does best — and therefore a perfect topic for SABR Day! Click here to read the full recap. — Patrick Carpentier
Nashville, TN (Rice-Russell Chapter): Fifteen members and guests joined us on SABR Day at the Nashville Public Library's Looby Branch. Harriet Kimbro-Hamilton, daughter of Negro League star Henry Kimbro and a member of our chapter, shared news about a project to commemorate Negro Leaguers from Nashville with a plaque at Rose Park. This initiative is an undertaking by former Nashville councilman Ronnie Greer, Belmont University, Nashville Park Board, along with Harriet and others. Christopher Ryland led a discussion about 19th-century base ball. "Books" is one of the players in the Tennessee Vintage Base Ball Association and a "digger" on protoball.org. Tom Lee, who is on a state legislative committee, spoke about sports gaming laws as it relates to MLB. Skip Nipper led a discussion on recent news surrounding cheating in baseball, MLB's antitrust exemption, and the potential new MiLB-MLB agreement that could eliminate minor league teams and affiliations. — Skip Nipper
New Orleans, LA (Schott-Pelican Chapter): There were ten attendees at the Holiday Inn in Gretna (birthplace of Mel Ott) on January 25 to celebrate SABR Day. Brother Neal Golden prepared a baseball quiz for the group.  Derby Gisclair presented a paper titled "Shreveport Sluggers" about the history of pro baseball in Shreveport. Bill Catalanatto shared an exchange he had with New Orleans Baby Cakes GM Cookie Rojas on why the team left New Orleans for Wichita.  Richard Cuicchi presented information about the recent on-line availability of The Sporting News Baseball Player Contract Cards Collection. Topics of general discussion included the Hall of Fame elections, the Houston Astros' scandal, recollections of no-hit games attended, among others. — Richard Cuicchi
Philadelphia, PA (Connie Mack Chapter): Almost 30 members of the SABR Connie Mack Chapter and their guests attended the SABR Day gathering at Temple University Center City in Philadelphia. We were treated to member presentations, a statistical performance measure of all MLB teams, two book presentations and a terrific trivia quiz. Oh, and the sandwiches were great, too. Mark Kanter gave us a new understanding of how to look at pennant races and how statistically close they actually are via his "Competition Index." Mitch Nathanson told us how he researched his upcoming book on Jim Bouton. Did you know that Bouton wrote his notes on anything he could use: napkins, hotel note paper, airline tickets and other ephemera? That he kept them in a "butter yellow box" until they were donated to the Smithsonian? Mitch told us this and a whole lot more. His book, Bouton, The Life of a Baseball Original, will be out this spring. Dan Joseph delivered a fascinating presentation on the last full year of Lou Gehrig's career in "The Last Ride of the Iron Horse". How Gehrig's ALS condition hindered his performance until a late season surge brought the old Gehrig to the fore. Ted Knorr made a case for the Hall of Fame enshrinement of outfielder Rap Dixon during his presentation of the career and life of the black ballplayer. Many Negro League contemporaries, Ted said, contend that Dixon was the best outfielder of his time. Before lunch, Matt Albertson, quizzed us on his baseball trivia. And guess what! Joe Stanton finished out of the money! First place went to Alex Cheremeteff, second to Steven Glassman and third to Andrew Milner. Click here to read the full recap and view more photos. — Seamus Kearney and Dick Rosen

St. Louis, MO (Bob Broeg Chapter): On Saturday, February 1, 47 members and guests of the Bob Broeg SABR Chapter of St. Louis celebrated SABR Day by gathering at Favazza's Restaurant, in the Historic Hill section of the city, just a few blocks away from where Yogi Berra and Joe Garagiola grew up. Our three special guests gave wonderful presentations. First up was Dr. Raymond Doswell, Vice President of Curatorial Services for the Negro Leagues Baseball Museum in Kansas City. His presentation was titled "A Whirling Demon: Jackie Robinson Steals Home & History." With a variety of photos and film clips he chronicled the 19 regular season career steals of home by Jackie, along with his most prominent one in Game 1 of the 1955 World Series. Emily Wiebe, Manager of Player Development & Performance for the St. Louis Cardinals followed. She is primarily involved with handling the data requests from the coaching and training staffs in the organization. Our third and final speaker was Dan O'Neill, former columnist and beat writer for the St. Louis Post-Dispatch and author of the recent book, Celebration-The Magic of The Cardinals in The 1980s. With photos, film clips, and anecdotes he took the audience on a trip back through the 1980s and the exciting times of Whiteyball. Click here to read the full recap and view more photos. — Jim Leefers

Santo Domingo, DOM (Juan Marichal Chapter): On Thursday, January 30, the Juan Marichal Chapter met for SABR Day at 121 Nicolas Ureña de Mendoza St. in Los Prados  Santo Domingo. Ten members of the chapter attended to exchange views about the championship of the Toros BBC of La Romana in the Dominican Winter League that took place  the night before. The Toros will go now to the Caribbean Series (Serie del Caribe) that will take place in San Juan, Puerto Rico, in February. — Julio Rodriguez
Seattle, WA (Northwest Chapter): The Northwest Chapter celebrated SABR Day on Saturday January 18 at Driveline Baseball, which commits itself to being innovative as a data driven baseball player development program. They specialize in hitting and pitching performance training informed by research and constant iteration. They received a VIP tour of Driveline's training facility, observed one-on-one training sessions, and then got a chance to talk baseball and ask questions to some of driveline's experts about their company and research. The turnout was great and there was a lot of positive feedback from all of the SABR members that were in attendance. — Tip Wonhoff
Starkville, MS (Cool Papa Bell Chapter): Michael Jaffe coordinated our first meeting of the new Cool Papa Bell Chapter on SABR Day at Oby's Restaurant in Starkville. John Cohen, Athletic Director and former baseball coach at Mississippi State University, was the guest speaker and he spoke about his experiences at the College World Series in Omaha. Thomas VanHyning did a follow-up presentation on 10 American League Rookies of the Year who played in Puerto Rico's Winter League. There was a fun trivia contest, too. — Thomas VanHyning
Tallahassee, FL (Buck O'Neil Chapter): Fifteen members and guests of the North Florida/Buck O'Neil Chapter gathered to celebrate SABR Day in the Biletnikoff Room at The Fourth Quarter Bar and Grill in Tallahassee. Jeff English gave a presentation on the MLB careers of each player who first played varsity baseball at Florida State University. Using visual aids and statistical analysis, Jeff shared his fantasy all star team which identified the best players at each position, as well as a starting rotation and bullpen for the pitching staff. Ken Silvestri Jr., who coaches baseball at a Tallahassee high school, spoke about his father Ken Sr.'s lengthy big league career, mostly as a backup catcher and later as a coach. One of Ken Sr.'s claims to fame is that he was Joe DiMaggio's roommate with the Yankees for several seasons. Ken brought several signed balls, programs, and other memorabilia to share, and his stories of life as the young son of a Major League ballplayer were very well received. The third and final presentation was made by Nick Gandy of the Florida Sports Foundation. His interesting talk focused on Baseball Spring Training in Florida, past, present, and future. Click here to read the full recap and view more photos. — Matt Keelean

Victoria, BC (Northwest Chapter): The Northwest Chapter celebrated SABR Day with 8 attendees for brunch at John's Place in Victoria. Not only did this group of baseball enthusiasts celebrate SABR day, but they also celebrated Larry Walker, the first British Columbian and second Canadian to be elected to the Baseball Hall of Fame. The members enjoyed a great day of brunch discussing various topics throughout baseball such as the Hall of Fame elections and the sign stealing scandal of the Houston Astros. — Gary Belleville
Virginia Beach, VA (Bud Metheny Chapter): We met for SABR Day at the Cypress Point Country Club in Virginia Beach to discuss the future of minor-league baseball, player movement this offseason, and an awards recap. Chris Jones gave a presentation on "Happy Anniversary! Babe's sale 100 years ago." Paul Boren spoke about the Baseball Hall of Fame's Veterans Committee; and Alexis Collins talked about her experiences at Baseball Scouting School Weekend and the Winter Meetings. Click here to view the presentation materials from our meeting at profile.sabr.org. — Drew Noe
Washington, DC (Bob Davids Chapter): The annual SABR Day for the largest chapter of SABR, which met on Saturday, February 1 at the Holiday Inn Rosslyn in Arlington, Virginia, had the usual array of interesting speakers. The first speaker was Mark Pankin, who presented a paper on BOOT (Batting Out Of Turn). The next speaker, Brian Engelhardt, covered the back story on Moe Berg: Before he was a catcher or a spy.  Jesse Dougherty, a current Nationals beat writer, talked about covering the Nationals. His book, Buzzsaw, comes out on March 24. The worst part about covering the 2019 Nats was the bullpen, the cause of many re-writes! Paul Scimonelli gave a presentation on Joe Cambria (minor league manager and scout for Clark Griffith). Matt Van Hoose, Nationals ballpark organist, talked about his interesting job. The paper by Charlie Pavitt on "Positional Discrimination in Baseball" was really eye-opening. Chris Segal, major league umpire, gave us a lot of insights from behind the plate. He's been in the ballpark for three of Bryce Harper's ejections. Jerry Crasnick of the MLBPA (Major League Baseball Players Association) gave us some insights, to the extent he could, on the state of baseball. Greg Larson presented Clubbie: A Minor League Baseball Memoir, about his time with the Aberdeen Iron Birds. His book comes out next year from the University of Nebraska Press. Click here to read the full recap at TalkNats.com. — Laura Peebles

Stay tuned for more stories, photos, and highlights from SABR Day 2020!
---
Previous coverage: