This article was written by Bill Nowlin
---
The Boston Red Sox celebrated the 100th birthday of Fenway Park on April 20, 2012. Fenway had already become the oldest park in major-league baseball, and coming off a decade of offseason renovations was envisioned to last for at least another 30 or 40 years past 2012.
Fenway has hosted more than 8,000 big-league baseball games, more than any other park.1It has also served as home park for other major-league sports; for six seasons (1963 through 1968), Fenway was home for the AFL's Boston Patriots (now the NFL's New England Patriots.) It had earlier served as home park for the Boston Redskins and Boston Yanks pro football teams, and the Boston Beacons professional soccer team. Fenway Park is also home to the longest streak of consecutive sold-out games in baseball history, beginning on May 15, 2003 and running through Opening Day 2013 – April 8. The streak ran 794 regular-season games. Including postseason games, it ran 820 consecutive games.
In the process, the ballpark has seen many of baseball's greats play on Fenway's field, from Babe Ruth, who began his career in Boston as a pitcher, to Ted Williams and Carl Yastrzemski and Roger Clemens and Pedro Martinez, to visitors such as Shoeless Joe Jackson, Ty Cobb, Walter Johnson, Lou Gehrig, Mickey Mantle, and so many more.
The Huntington Avenue Grounds was the first park built for Boston's American League baseball team — known as the Red Sox since the 1908 season — but only lasted 11 years. It was located across railroad tracks from Boston's National League Park — the South End Grounds — and less than a mile distant from where Fenway Park is today. In fact, the Huntington Avenue Grounds were in the Fenway, too, and at least once in 1904 that facility was referred to in the Boston Globe as "Fenway Park."2
Fenway Park was built in just a little over six months at an estimated cost of $650,000 by Gen. Charles Taylor and his son John I. Taylor, owners of the Red Sox and also owners of the land on which they built the new facility in 1912. There was no formal groundbreaking, but newspapers of the day show that clearing of the land began in the first half of September 1911 and construction began later in the month. The park hosted its first game on April 20, 1912.
Groundskeeper Jerome Kelley made the move from the Huntington Avenue Grounds to Fenway, and he brought some of the grounds with him as well, bringing some of the sod from the earlier park to the new one.
Asked at one point what the name of the new ballpark would be, John I. Taylor reportedly said, "It's in the Fenway, isn't it? Call it Fenway Park." That he and his father owned the Fenway Realty Company and saw some benefit in helping develop the area around the new ballpark may not have been coincidental. In fact, they'd sold most of their interest in the Red Sox in 1911 and real estate became a major interest (along with the family-owned Boston Globe newspaper.)
Though the park was constructed expeditiously, it was also constructed very solidly. Fenway was designed and built by Osborn Engineering of Cleveland, the same firm that later constructed the original Yankee Stadium in 1923 and even Jacobs Field (now Progressive Field) in 1994. James McLaughlin was the principal architect. It was a modern ballpark for its time. As former Red Sox VP for Planning and Development (and an architect by training herself) Janet Marie Smith said, "It was one of the first parks that wasn't built of wood. It was a steel and concrete park. That was a big deal in and of itself."3
That same year, three other longstanding parks were constructed: Ebbets Field, Tiger Stadium (then Navin Field), and Cincinnati's Crosley Field (originally Redland Field).
When first built, and for most of its existence, there were no upper tiers of seating. When the decision was made to add upper levels for the boxes on either side and premium seating behind home plate, the foundations already in place were sufficient to support the additions. There had been some thought from the start about adding a second deck; though it was 70 years before the first major second-level structure went up in the 1980s, the foundations had been laid. "That single decision, more than any other," writes Glenn Stout, "has allowed Fenway Park to remain viable to this day, for it has allowed the park to evolve in ways that would have otherwise been impossible."4
In his award-winning book Fenway 1912, author Stout – who himself had spent several years working in concrete construction – details the building of Fenway Park, from the land acquisition to the actual work in building the park itself.
There have been significant renovations to the park over the years, even during the very first season when additional seating needed to be added to accommodate increased crowds for the 1912 World Series.
A major renovation took place in 1934, shortly after new owner Thomas A. Yawkey took over control of the ballclub. The Red Sox and Fenway Park itself remained in Yawkey family (and its successive trust) control until the John W. Henry/Thomas Werner/Larry Lucchino group purchased the rights from the Yawkey Family Trust in 2002. The new group looked at their acquisition and faced the question of replacement or renovation.
Only a few years before, in May 1999, Red Sox management announced plans for a replacement for Fenway, to be located across the street from the current park. They said that old Fenway was not structurally sound and could not last, and that building a modern park with larger capacity and an increased number of revenue-producing luxury boxes would help the Red Sox be more competitive financially.5
That announcement prompted the launch of a well-organized grassroots movement for preservation called Save Fenway Park! The movement achieved a great deal of popular support but what may actually have scuttled the plan was the inability to raise sufficient capital to finance acquisition and construction costs estimated to run up to $700 million. When new ownership purchased the team, one of the first things they did was to commission a study regarding Fenway's structural integrity and was pleased to learn that it was indeed deemed viable. Nonetheless from 2002 to 2012, the owners put more than $270 million into renovating and slightly expanding the park. Their efforts bore fruit with a revitalized ballpark, two World Championships, Fenway's addition to the National Register of Historic Places.
The Greater Boston Convention and Visitors Bureau has noted that Fenway Park is one of the top tourist attractions in all of New England.
There has been talk of replacing Fenway Park as far back as the 1950s and much discussion about alternate sites well into the 1960s. Bud Collins even wrote a 1966 Globe column which began: "Mossbacks, unite! Join the 'Save Fenway Park!' movement before it's too late. Perhaps you don't realize it but the dear old ball park is in danger of being classified 'obsolete' and phased out."6 There was discussion at the time of building a new domed stadium that would serve as home park for both the Red Sox and Patriots.
How much of the actual park as it stands in 2013 is still original? Janet Marie Smith says:
"The façade is all original. It's been re-pointed and brick-cleaned. There were errors where the mortar had been put in incorrectly 50 years or so ago and it ended up hurting the bricks, especially on Van Ness Street where the mortar had expanded and cracked and crumbled the brick. Much of the original structure's still there, the steel and concrete structure. There's not a lot left of the original steel trusses. Many of those were cut off back in the Sixties and again in the Eighties when they did the suites, and then reinforced over time. Right field under the seats is one of the few areas of the park where the original truss structure remains. But it's got enough of its original … and even what's new has been put back in the same place and pretty much the same way so the configuration hasn't changed and is recognizable."7
Smith designed Oriole Park at Camden Yards, the park widely considered to have begun a new trend in ballpark construction away from the more symmetrical "cookie-cutter" parks of the 1970s and toward a more nostalgic feel. She has been credited with the vision to maintain Fenway's historic integrity and most observers feel the Red Sox have succeeded in doing so; even when new additions such as the "Green Monster" seats installed above the left-field wall were in place, people expressed the view that they "looked as though they had always been there."
She was even able to restore some of the original features which subsequent renovations had obscured, such as opening up the archways looking out onto the current Yawkey Way from behind the grandstand seats in sections such as 22 through 26. Smith has been generous in her praise of the stewardship of earlier ownership. If the motto "Do No Harm" can apply to ballparks, her feeling when she was tasked with studying the long-term viability of Fenway Park under the first post-Yawkey ownership was that prior owners had left the park in solid shape.
"It's a living, breathing thing," she said. "Things do change. Trends in baseball have been kind to Fenway over the years. It managed to outlive the round park era, and then even for this new wave of parks that started in the early Nineties with New Comiskey."8
Some have decried Fenway for its cramped seats (the blue wooden seats in the park today date back to the 1934 renovation) and tight spaces. The team's own clubhouse is far smaller than many larger high school facilities. But Sox star Carl Yastrzemski said he liked the old Red Sox clubhouse, because it was so small it forced you to be together as a team. Smith said she's heard from an increasing number of managers saying, "I don't want my players basking in luxury. They're here to work and I want them to be a team. I want them to walk into the door and not have a place to hide."

Non-Sox events hosted at Fenway Park
Fenway Park has hosted a range of other sporting events, especially during its first 50 years. There was baseball, of course — as of 2012, some 305 high school, college, Negro League, and service team games. The Boston Police played the Newton Police there, and the Boston Post Office team shut out the Hartford Post Office in 1924. The Bloomer Girls All-Stars played there in 1925 and the women's professional Colorado Silver Bullets played the Boston Park League All-Stars in July 1994. The Cape Cod All-Star Game and the Futures at Fenway games have also been played there for many years.
The Patriots played 39 games at Fenway, and there have been 60 other professional football games held on the field at Fenway, plus some 443 high school and college football games. There have even been two Gaelic football games. Professional soccer was first played at Fenway in 1925 and most recently the July 25, 2012 friendly between AS Roma 2 and Liverpool FC. There were 22 boxing bouts staged at Fenway between 1920 and 1954, and 17 wrestling matches up to 1969. Three basketball games, six lacrosse matches, and a hurling match. A regular season National Hockey League game was held at "frozen Fenway" on New Year's Day 2010 and 16 days of hockey and community skating were held in February 2012.
There have also been political speeches by Presidential candidates from Theodore Roosevelt (1914) to Franklin D. Roosevelt's (1944 — his last-ever campaign speech), Barry Goldwater, Eugene McCarthy, and a rally for Irish independence with Irish President Eamon De Valera. There has been a three-ring circus (1943), the National American Legion Drum and Bugle Corps Championship, and musical events including a John Philip Sousa concert in 1920, the Newport Jazz Festival in 1973, and a series of concerts from The Rolling Stones to Bruce Springsteen, Dave Matthews, Paul McCartney, and others.
World Series games and All-Star Games at Fenway
The most important events, though, were arguably the baseball ones – Fenway hosted World Series games in 1912, 1914, 1918, 1946, 1967, 1975, 1986, 2004, and 2007. The park had been borrowed by the Boston Braves for the 1914 Series, because it seated more fans than did the Braves' home park, but by 1915, Braves Field had greater capacity than Fenway so the Red Sox played their World Series games at Braves Field in 1915 and 1916. The only times the clinching game for a Boston baseball world championship have been won at Fenway were the final clinching games of the Red Sox on October 16, 1912, the Braves on October 13, 1914, and the Red Sox on September 11, 1918.
Some argue that Game Six of the 1975 World Series, when Bernie Carbo hit a three-run pinch-hit homer to tie the game in the bottom of the eighth and Carlton Fisk hit a solo homer to lead off the bottom of the 12th, remains one of the most dramatic World Series games of all time. Fisk's leaping up and down as he tried to "wave the ball fair" is one of baseball's iconic moments.
There have only been two single-game playoffs in American League history, in 1948 and in 1978. Both were held at Fenway Park and both were won by the visitors — the Indians and the Yankees.
Fenway Park has hosted three All-Star Games — in 1946, 1961, and 1999. The first and the most recent both offered special moments. There were eight Red Sox on the team and the AL beat the NL, 12-0, with Ted Williams hitting two home runs, two singles, and drawing a walk for four runs scored and five RBIs. The 1961 game ended in a 1-1 tie after nine innings and a rain delay. The '99 game's most memorable moment (and one of Fenway's most emotional moments of all time) came before the game. After the "all-century" team had been introduced and taken positions on the baselines, the final honoree — Ted Williams — emerged from the door in the center-field wall and was driven in to the mound where the all-century team broke ranks in leaving their positions; they went off-script and flocked around Williams, greeting the greatest of the greats. They were fans, too. In the game, Pedro Martinez set down five of the six batters he faced by way of the strike out.
Dimensions and Unique Features
The dimensions and capacity of the park have changed over time, but not greatly. The listed seating capacity as of 2013 is 37,493 for night games and 37,065 for day games (when bleacher seats in straightaway center field are covered and not populated to provide a better background for batters.)
The original capacity of the park is generally listed at 24,000 with figures marginally going up and down over the years, until significant additions were made under new ownership beginning in 2003.
Fenway's most prominent feature is, of course, the looming left-field wall popularly called the "Green Monster." It was once covered with advertising, but after 1947 was painted "Fenway green" and until recent years devoid of advertising. The wall itself is 231 feet in length, all but three feet in the left-field corner being in fair territory. The wall stands 37 feet, 2 inches tall. The center-field wall is 17 feet tall, the wall in front of the bullpens is five feet tall and the right field wall varies from three to five feet in height.
There has always been some uncertainty as to the precise distance from home plate to the wall in left field. The officially-cited figure is, as of 2013, 310 feet. Right field, to the foul pole, is 302 feet. Left-center field is 379 feet; center field itself is 390 feet, with deep center field at 420 feet. Deep right field is said to be 380 feet.
Fenway Park has the smallest amount of foul territory of any park in the majors. Consequently, many foul balls which might otherwise be caught as outs are not caught, rendering the pitcher's task somewhat more difficult.
Two of Fenway's most notable features are the "Pesky Pole" (the right-field foul pole, given its name because beloved "Mr. Red Sox" Johnny Pesky had hit his some of his very few home runs just inside the pole)and "the red seat" high up in the right-field bleachers. The one red seat among a sea of 6,448 green seats, in the 37th row, represents the spot 502 feet from home plate where Ted Williams hit a home run in 1946.
Affixed to the façade of the right-field deck above the grandstand are the retired numbers of seven former Red Sox players: 1 Doerr, 4 Cronin, 6 Pesky, 8 Yastrzemski, 9 Williams, 14 Rice, 27 Fisk, plus Jackie Robinson's #42, retired throughout baseball.
Renovations
The ballpark is often said to have been rebuilt in 1934, because the renovations at that time were extensive. During construction, a considerable portion of the park burned down and had to be reconstructed a second time. It was at this point that "Duffy's Cliff" was bulldozed. It was an earthen incline that rose to 10 feet and helped retain the original left-field wall against the higher ground of Lansdowne Street behind it (and on which fans sometimes sat on earlier sold-out days.) The wall effectively became 10 feet higher and the larger manual scoreboard with electric lights for balls, strikes, and outs was installed. As explained in Fenway Park at 100: Baseball's Hometown, "Concrete bleachers replaced the wooden stands beyond center field and they now stretched as far as the wall in left. Some 6,000 new grandstand seats were added and another 2,000 box seats, along with another several thousand in the right-field pavilion and spread throughout the park, bringing the capacity to 37,500. The distances to the fences also changed. The distance to the left-field wall was either now reduced to either 315' or 308' depending on whether you believe the official version or the actual blueprints. Right field shrunk from 358' to 334' and center field from 468' to 420'. Clad in a fresh new coat of green paint, Fenway definitely had a new and fresh look, one which in large part still greets visitors today. Several thousand of the original wooden slatted seats still remain, the blue seats in the Fenway of today."
The enclosed bullpens were installed before the 1940 season and were originally known as "Williamsburg" in hopes that left-handed pull hitter Ted Williams would find it easier to hit home runs to right field. Electric lighting for night games was added in time for the June 13, 1947 game.
In 1970, the center-field flagpole (behind which balls sometimes went) was removed from the field of play. After the 1975 World Series in which Fred Lynn slammed hard into the wall, the lower part of the outfield walls were covered with padding. The following year an electronic message board was added above the center-field bleachers; this has been replaced and upgraded a couple of times. The first private suites were added in 1983 and luxury seating directly behind home plate was added in 1988, originally as a fully glassed-in area.
In the post-Yawkey era, massive renovations included the addition of seats atop the Green Monster, two rows encroaching onto the field along the first-base and third-base side, initially called "dugout seats," the addition of a right-field roof deck and a number of other expansions of concourses in various locations around the ballpark.
The Red Sox came to an agreement with the City of Boston to close a portion of Yawkey Way (one of the streets outside the park, originally Jersey Street), a little more than two hours before games and during games, allowing patrons more room to gather and move about.
Fenway Park's 100th Anniversary
For Fenway's 100th anniversary, the Red Sox invited every living member of the Red Sox to the ceremonies and 213 alumni came to attend. Even not counting the current players also in attendance, it is believed to be the largest assemblage of former major leaguers at one time. Numerous books and audiovisual productions honored the anniversary as did a number of television documentaries and countless articles on the park. The sources listed here represent books on Fenway, many of which were published on the occasion of the anniversary, and served as most of the sources for this brief ballpark biography.
For decades, as the oldest and most intimate of baseball's ballparks, Fenway has been venerated and often described as a shrine, a cathedral of baseball. Now that it has entered its second century and is poised to live for decades to come, that feeling for the park is likely to endure.
Last updated: April 30, 2013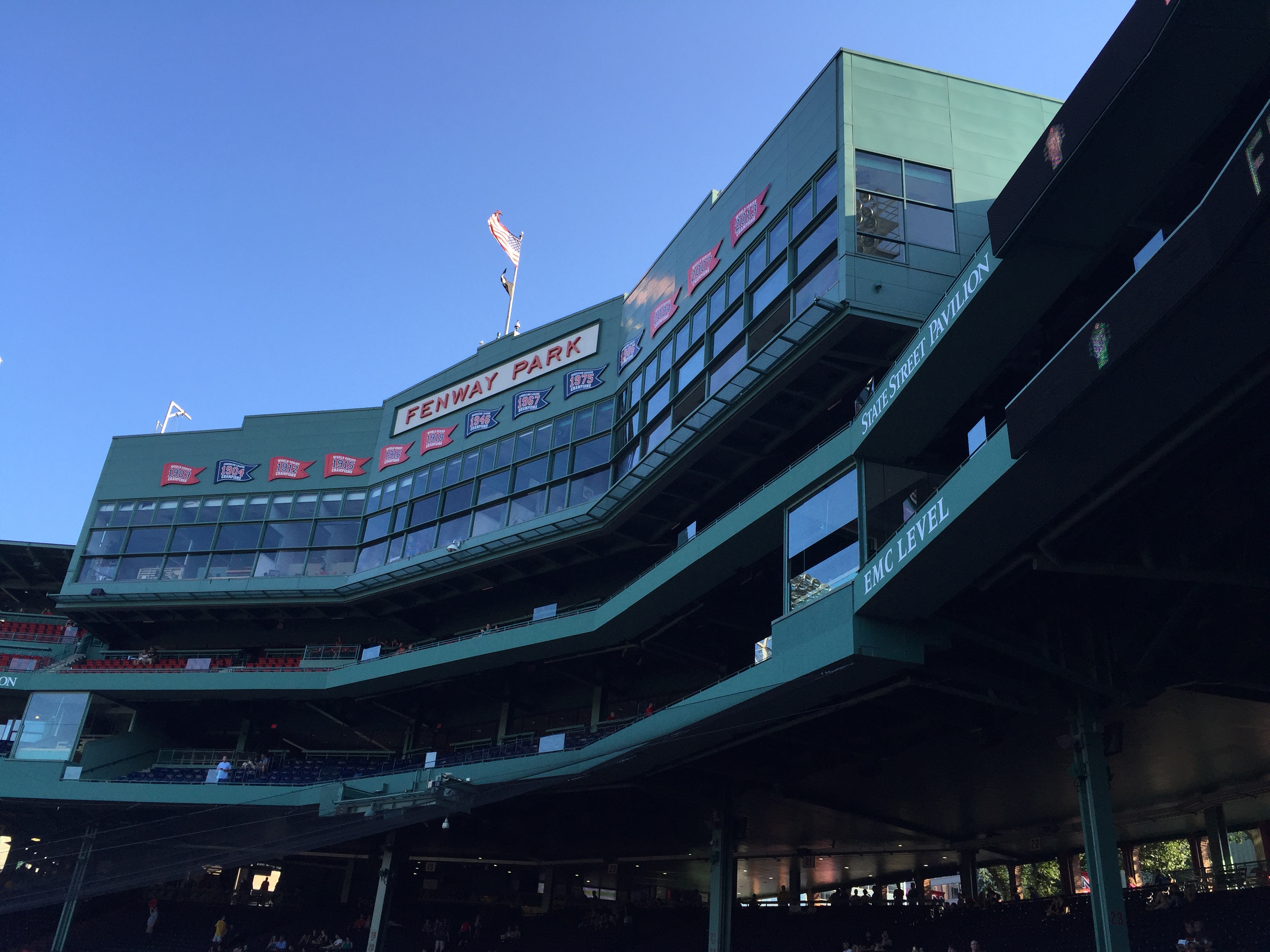 Fenway Park books
Borer, Ian, Faithful to Fenway: Believing in Boston, Baseball, and America's Most Beloved Ballpark (New York: NYU Press, 2008)
Boswell, John and David Fisher, Fenway Park: Legendary Home of the Boston Red Sox (Boston: Little, Brown, 1992)
Dame, Kevin T., Fenway in Your Pocket: The Red Sox Fan's Guide to Fenway Park (Charlottesville VA: Baseball Direct, 2004)
Editors of Sports Illustrated, Sports Illustrated Fenway: A Fascinating First Century (Sports Illustrated, 2012)
Ferguson, John, Why Fenway: Exploring the Red Sox Mystique (Chicago: Triumph Books, 2012)
Frommer, Harvey, Remembering Fenway Park: An Oral and Narrative History of the Home of the Boston Red Sox (New York: Stewart, Tabori, and Chang, 2011)
Hickey David, Raymond Sinibaldi, and Kerry Keene, Fenway Park (Charleston SC: Arcadia, 2012)
Jaspersohn, William, The Ballpark: One Day Behind the Scenes at a Major League Game (Boston: Little Brown, 1980)
Johnson, Richard A., Field of Our Fathers: An Illustrated History of Fenway Park 1912-2012 (Chicago: Triumph Books, 2012)
Kettmann, Steve, One Day At Fenway (NY: Atria, 2004)
Major League Baseball, Fenway Park: A Ballpark Pop-up Book (New York: Universe, 2009)
Major League Baseball and the Boston Red Sox, Fenway Park: 100 Years (Major League Baseball, 2011)
Martin, Len, Fenway Park: Build-It-Yourself (Reading, MA: Addison-Wesley, 1993)
Nowlin, Bill, Fenway Lives (Cambridge: Rounder Books, 2004)
Nowlin, Bill, Fenway Park Day by Day: The First Hundred Years (Burlington, MA: Rounder Books, 2012)
Nowlin, Bill and Jim Prime, Fenway Park at 100: Baseball's Hometown (New York: Sports Publishing, 2012)
Nowlin, Bill and Cecilia Tan, eds., The Fenway Project (Cambridge, MA: Rounder Books, 2004. Republished by the Society for American Baseball Research, 2013)
Nowlin, Bill and Mike Ross with Jim Prime, Fenway Saved (Champaign: Sports Publishing, 1999)
Nowlin, Bill, Fenway Park Trivia: Fact and Fancy From the First 100 Years (Burlington MA: Rounder Books, 2012)
Nowlin, Bill, ed., Opening Fenway Park in Style: The 1912 Boston Red Sox (Phoenix, AZ: Society for American Baseball Research, 2012)
Powers, John and Ron Driscoll, Fenway Park: A Salute to the Coolest, Cruelest, Longest-Running Major League Baseball Stadium in America (Philadelphia: Running Press, 2012)
Sammarco, Anthony Mitchell, Boston's Fenway (Charleston, SC: Arcadia, 2002)
Smith, Curt, Mercy!: A Celebration of Fenway Park's Centennial Told Through Red Sox Radio and TV (Washington, DC: Potomac Books, 2012)
Shaughnessy, Dan, At Fenway (New York: Three Rivers, 1996)
Shaughnessy, Dan and Stan Grossfeld, Fenway: A Biography in Words and Pictures (Boston: Houghton Mifflin, 1999)
Shea, Tim, Fenway! The Ultimate Fan's Guide to the Nation's Ballpark (self-published: CreateSpace, 2010)
Shea, Tim, Fenway Pole Finder (Minneapolis: Itasca Books, 2006)
Stout, Glenn, Fenway 1912: The Birth of a Ballpark, a Championship Season, and Fenway's Remarkable First Year (Boston and New York: Houghton Mifflin Harcourt, 2012)
Wise Guide, Fenway Park: The Fan Navigator to Fenway (Chicago: Wise Guides, 2007)
Wisnia, Saul, Fenway Park: The Centennial/100 Years of Red Sox Baseball (New York: St. Martin's, 2011)
Fenway Park children's books
Baggott, Julianna, The Prince of Fenway Park (New York: Harper Collins, 2011) children's fiction
Clark, Seneca and Sandy Giardi, Frankie Goes to Fenway (Boston: The Bean Press, 2008) children's book
Nolan, Bradford James, The Mouse Who Lived in Fenway Park (self-published, AuthorHouse, 2009) children's
Palotta, Jerry and Jimmy Dykes, F is for Fenway: America's Oldest Major League Ballpark (Ann Arbor, MI, Sleeping Bear Press, 2012) children's book
Red Sox Wives, Fenway Park From A to Z, a Children's Book By the Red Sox Wives (Barnes and Noble, 2004) children's book
Schrafft, Nichole Wadsworth, A Field Guide to Fenway Park (Rockport MA: Twin Lights, 2005) children's
We also recommend Alan Foulds' book Boston's Ballparks & Arenas (Lebanon NH: Northeastern University Press, 2005) which sets Fenway in context with other sports venues in Boston, and Philip J. Lowry's Green Cathedrals (Society for American Baseball Research, 2013).
Notes
https://sabr.org/wp-content/uploads/2013/04/FenwayParkBehind-Plate-scaled.jpg
1702
2560
admin
/wp-content/uploads/2020/02/sabr_logo.png
admin
2013-04-30 17:38:31
2021-03-10 00:47:06
Fenway Park (Boston)