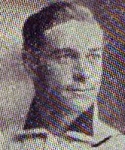 When S.C. Thompson and Hy Turkin were putting together the first edition of The Official Encyclopedia of Baseball, they had trouble identifying a "Frank Betcher" who was a utility fielder for the 1910 St. Louis Cardinals. Little did they know that all they had to do was look to a list of best-selling books to find Betcher.i
The problem was that Frank Betcher was an assumed name. He was really Frank Bettger, author of How I Raised Myself From Failure to Success in Selling, a 1949 book that was still in print in the 21st century. It has been translated into at least 17 languages and sold countless copies. The book became a bible for salesmen in the 1950s and '60s. Norman Vincent Peale said he read it cover to cover every year. In the book, Bettger expounded on life lessons, including some from his baseball playing days, to explain how he became an expert salesman that allowed him to retire at the age of 51. He followed up his best-seller with several other books, including one in 1961 that was essentially an autobiography.ii
In his books Bettger emphasized that the turning point of his life came in 1907, when he was waived by the Johnstown team of the Tri-State League. As Bettger told it, the manager, Bert Conn, called him in and told him he was cut. When Bettger asked him why, Conn replied that Bettger was lazy. Bettger protested that he was just nervous. Conn then told him that he'd better get some life into his game or he'd never play again. When he was signed by New Haven later that year, he played with enthusiasm and two years later he was playing for the St. Louis Cardinals. He found that being enthusiastic was one key to being successful.iii
It's a great story – unfortunately much of it is untrue. It's true that Bettger played for Johnstown and New Haven in 1907. But that's about it. Bert Conn wasn't the Johnstown manager, though he was a popular veteran on the team. He wouldn't become Johnstown's manager until 1910. And Bettger's .175 batting average as a third baseman probably did more to get him cut than his perceived "laziness." Finally, while he was purchased by the St. Louis Cardinals two years later, it wasn't until 1910 that Bettger actually played in a game for the team.
But the fact that Bettger's memory was faulty decades later doesn't diminish his achievements. He came from nothing and made himself one of the most influential businessmen of his generation. Dale Carnegie called him "the best teacher living today in the art of dealing with people in business." It's an American Dream story that bears repeating.iv
Franklin Lyle Bettger (at birth his last name was Boettger but the "o" was dropped sometime in the 1900s) was born on February 15, 1888, in Philadelphia. When Franklin was young, his father died, leaving his mother, Mary Bettger, to raise five children alone. Bettger claimed that his father "died a drunkard's death," leaving his mom "penniless." His mother had to take in wash to support the family. They "rarely had anything to eat for supper except for corn meal mush and milk."v
Bettger claimed he was an "invalid child" who caught numerous diseases as a child. But he credited seeing a show with famous strongman Eugen Sandow when he was 12 with inspiring him to work out and make himself stronger. He eventually went on to play baseball and football at James G. Blaine Grammar School in Philadelphia. However, he was forced to drop out of school after the eighth grade to help support his family. He worked as a plumber's and steamfitter's helper making $8 a week. He eventually took a job with the American Radiator Company putting crates together and stenciling them for shipping.vi
Bettger continued to play baseball however. By 1905, he was playing for the All-Professionals semipro team in Philadelphia. He was playing under the name "Betcher" at this point. Years later he would claim he changed his name in 1907 when his first professional baseball contract had the name "Betcher" instead of Bettger. He said he was afraid to ask them to mail another one with his correct name for fear they wouldn't send one. More likely he adopted Betcher when it started to appear that way in the Philadelphia newspapers. "Betcher" was the way to phonetically spell Bettger. In his later life, Bettger would tell people that his name was pronounced like "Bet-cher life!" using the soft "g" sound.vii
The next year Bettger, under the name Betcher, was playing shortstop for the Bridgeton, New Jersey, town team. It was later that year that he got his big break.viii
According to Bettger, he was asked to play for McDaniel's Saloon in a game against Donahue's Saloon in Philadelphia. The owner and pitcher for the Donahue's Saloon baseball team was Red Donahue, who had played in 13 major-league seasons. Bettger's play that day impressed Donahue. As a result, Donahue persuaded the Johnstown management to sign Bettger for the 1907 season.ix
When the 5-foot-11, 173-pound Bettger ended up in Johnstown, he found a father figure in manager Charlie Atherton, who kept him on the team despite his poor batting average. But after Atherton was fired in mid-May because of a poor start to the season by Johnstown, it was former major leaguer Tom Daly who took over the Johnnies and let the poor-hitting Bettger go just 12 games into his professional career. Bettger managed to hook up with Haverhill of the New England League but he played in only three games, committing six errors, before he was let go. He played in one game for the semipro Riverton-Palmyra Athletic Club in New Jersey before he finally landed with Chester of the Atlantic League. Bettger went from making $175 a month with Johnstown to $25 a month with Chester. According to Bettger, it was at this point in his life that he realized he needed to attack life with enthusiasm if he wanted to be successful.x
Whether it was enthusiasm or just the lower quality of pitching, Bettger finally did start to play better at Chester. In mid-August, New Haven of the Connecticut League signed him to a contract. Bettger claimed that it was an "old player" by the name of Danny Meehan who had recommended him to New Haven. Bettger showed enough promise for New Haven to reserve him for 1908. He still had problems hitting, batting just .191 in 28 games.xi
But instead of playing for New Haven in 1908, Bettger jumped to the outlaw Union League, lured by a former New Haven teammate, Sam Kennedy, who was now the coach of the Baltimore team. In April he was playing shortstop for Philadelphia of the Union League but by May had joined Kennedy on Baltimore's team. On June 3 the poorly run league disbanded, leaving Bettger without a job. He hooked up with a semipro team in Cape May, New Jersey, then made his way over the Delaware River to play for another semipro team in Ardmore, Pennsylvania. Finally, in mid-July, he was signed by Hazleton of the Atlantic League as a third baseman, and finished out the season there.xii
Bettger signed with Greenville of the Carolina League for the 1909 season. He had made the change to third base and though his hitting still wasn't superlative, he was fast with a strong arm and fielded his position well. Bettger made enough of an impression that on August 19, Greenville sold his contract to the St. Louis Cardinals for $1,200 with the understanding that he would report to the Cardinals for spring training in 1910.xiii
At spring training in Little Rock, Arkansas, Bettger made the most of his opportunity. He battled Mike Mowrey and Jap Barbeau for the third-base job during spring training. According to Sporting Life, Bettger was "making a good impression upon Manager (Roger) Bresnahan." In the end, Mowrey won the job and, while both Bettger and Barbeau were kept as utility fielders at the beginning of the season, Barbeau was farmed out after getting into just seven games. It was Bettger's ability to play second, shortstop, and third well that made Barbeau expendable.xiv
It was a while before Bresnahan used the switch-hitting Bettger. He was finally inserted as a pinch-hitter for pitcher Elmer Rieger in the ninth inning of a game on May 21 at Brooklyn. He collected his first hit on May 25 against Brooklyn's Nap Rucker. Bresnahan showed more confidence by playing Bettger more frequently into early July. On July 7 Bettger was batting .269. But he slumped severely after early July and by the end of the season, he limped in with a .202 batting average in 35 games. Of his 18 hits, all but two were singles, giving him a slugging percentage of .225. Mowrey, by comparison, had cracked out a team-leading 24 doubles with a .368 slugging percentage.xv
However, Bettger had shown his versatility by playing at second base (six games), shortstop (12), third base (seven) and outfield (two). It was enough for the Cardinals to reserve Bettger for 1911.xvi
But when spring training rolled around, Bettger refused to report. In subsequent years it was explained that he didn't report because he was "engaged in business" with his father-in-law. Yet years later he said he had hurt his arm and couldn't play. Whatever the reason, St. Louis officials at the time were in the dark. Bresnahan was upset with Bettger, saying that "(Lee) Magee is capable of jumping into any infield hole at any time and that if Betcher does not want to report he will not be missed." In July Bettger was ruled ineligible by the National Commission for failing to report. In August Sporting Life reported that Bettger had "quit the National Pastime for good." He never officially retired, however, so the Cardinals reserved him for 1912.xvii
Bettger still didn't report to the Cardinals for spring training in 1912 but he did start playing baseball again, albeit in the semipro ranks. He played for both Prospect Park of the Delaware County League in Pennsylvania as well as for a team from Bristol, Pennsylvania. He played well enough that he petitioned the National Commission to reinstate him. The commission acquiesced, saying that because of his "engaging in business" and not playing baseball for outlaw leagues, he could "immediately enter the services" of the Cardinals. In August Montreal of the International League purchased Bettger. He ended up playing 37 games for the Royals, batting only .179. Yet Montreal reserved him for the 1913 season.xviii
Bettger was in Montreal's spring-training camp but was sent to Chattanooga for the beginning of the Southern Association season. He played only a handful of games with Chattanooga before he was released on May 24. On May 31 he played his first game with Galveston of the Texas League. In all, Bettger played 48 games with Galveston, dividing his time between shortstop and third base. He batted only .222 before he again was released. By the end of the baseball season, he was with Charlotte. According to Bettger, he played four games with Charlotte before a pitched ball broke his arm and ended his season. Still, Charlotte reserved him for 1914.xix
But Bettger was through with Organized Baseball. He never reported to Charlotte's spring-training camp. His marriage to schoolteacher Mertie Stathem in 1913 and his tumble through the minor-league ranks no doubt led to his retirement from professional baseball. Mertie and Frank settled down in Philadelphia and by 1915 their son, Lyle Stathem Bettger, was born. Son Lyle would become famous in his own right, as a film and television character actor in the 1950s and '60s.xx
Bettger also became the head coach of the Swarthmore College baseball team, near Philadelphia, in 1915, a position he held through the 1919 season. At first he was an assistant to head coach Clarence Weymouth, who had caught Christy Mathewson when the two attended Bucknell University. But Weymouth business interests led to Bettger to becoming the de-facto head coach. Bettger was also working as a bill collector, collecting installment payments on furniture. He played baseball in the Delaware County League for Media, Chester, and Upland. In 1917 he got his big break when Charles Hodge, chairman of the Athletic Commission at Swarthmore and secretary for the Fidelity Mutual Life Insurance Company of Philadelphia, hired Betcher to sell life insurance.xxi
Bettger wrote that he had trouble at first selling insurance. But he attended a speech by Dale Carnegie that he said changed his life. By 1921 he was president of the Fidelity Mutual Life Insurance Company's Leader's Club, an internal group of company "leaders."xxii
Bettger's career, and earnings, skyrocketed during the 1920s and '30s. He became "one of the highest-paid salesmen in America." He amassed such wealth that in 1939, at the age of 51, he retired from business and bought an $80,000 estate outside of Philadelphia in the tony Main Line area. In the 1940s Bettger traveled with Dale Carnegie throughout the United States lecturing on sales.xxiii
Sometime during the period, Bettger divorced his wife, Mertie, and was remarried, to Hazel Clara Warren, a woman 22 years his junior. In 1946 Bettger's second child, Lee, a daughter, was born to him and Hazel.
In the early 1940s Bettger began work on a book that eventually became his best-seller, How I Raised Myself From Failure to Success in Selling. After six years of work, the book was published. It was at first available only through mail order via advertisements in magazines and newspapers. But when sales reached 100,000, Prentice-Hall began shipping copies to bookstores.xxiv
It was in 1952 that Thompson and Turkin were searching for the Frank Betcher who had played third base for the Cardinals in 1910. What led them to Bettger was an unusual incident. On January 5, 1952, Bettger had been carjacked in Philadelphia by a gunman. The story made the national news and mentioned that he had been a major-league player. Thompson and Turkin made some inquiries and found their man.xxv
Bettger continued to lecture throughout the 1960s and was on the faculty at the Dale Carnegie Institute. On November 27, 1981, he died at his home in Wynnewood, Pennsylvania. His first wife, Mertie, had died just three months before. He was survived by his second wife, Hazel, and his two children, Lyle and Lee. He is buried in the West Laurel Hill Cemetery, Bala Cynwyd, Pennsylvania.xxvi
Notes